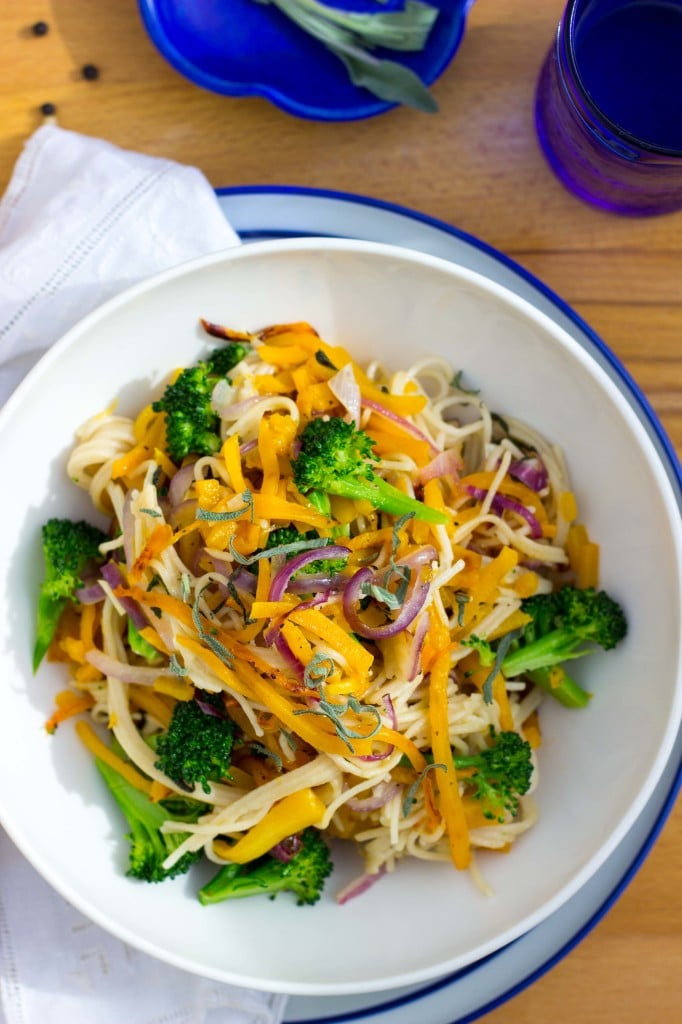 We eat a lot of pasta in our house.  It is one of those dinner options that we can both agree on and it is usually pretty quick and easy to make.  And now that my husband has decided to accept gluten free pasta into his life, I don't have to make two separate pots of pasta! 
As much as I love a good, traditional spaghetti with tomato sauce, I really love a big bowl of pasta that is packed with vegetables and lightly seasoned with some salt, pepper, and olive oil.  Sometimes it just seems to hit the spot.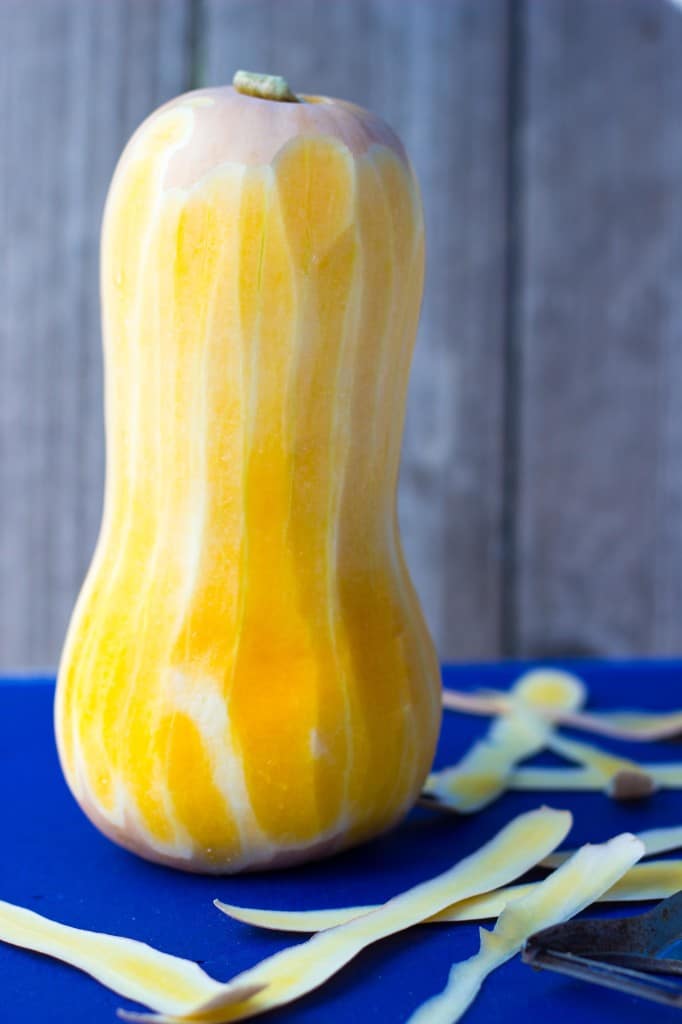 I had this great idea that I was going to make butternut squash noodles with my spiralizer, but I just couldn't get the big chunk of squash to fit into the spiralizer and it didn't take long for me to give up.  While I may have given up on that technique, I was determined to get my butternut squash "noodles" so I took matters into my own hands, literally.  I cut the butternut squash into thin slices and then I cut those into noodle like strips.  I may not be as pretty as curly veggie noodles, but trust me, it is still delicious!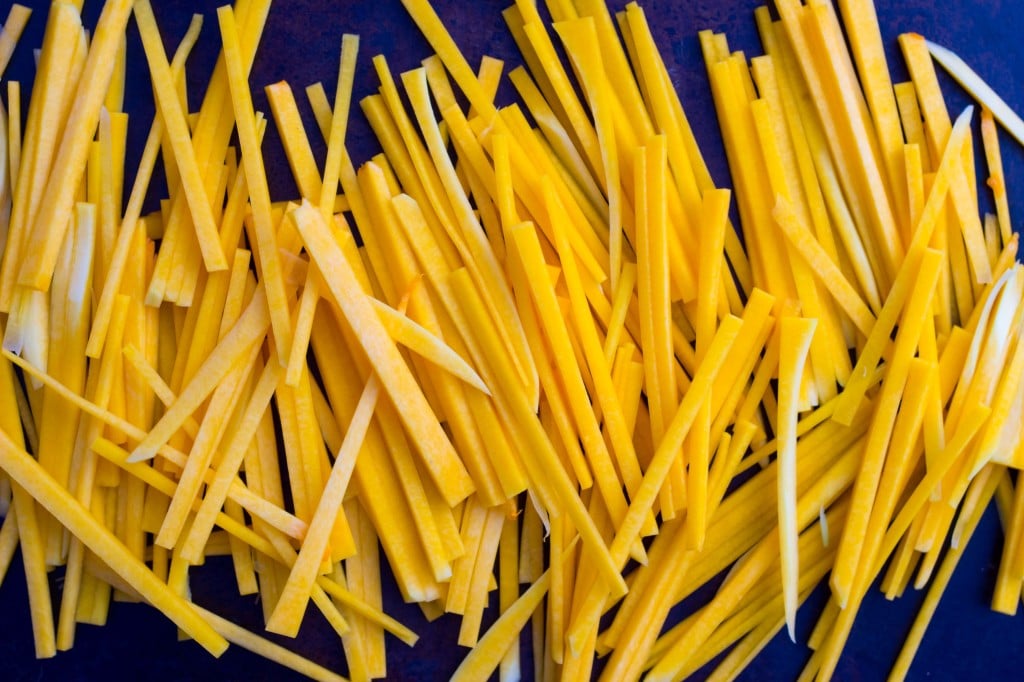 When I first started eating gluten free pasta I mostly ate the corn pasta because I think the bright yellow color of it reminded me of regular pasta, but it wasn't long until I switched the brown rice pasta.  When served hot, the texture and taste are pretty perfect.  The only slightly annoying thing I've noticed about guten free pasta is that the spaghetti noodles tend to stick together a bit when you cook them, which isn't the end of the world but not great for pasta photos!  It also doesn't seem to lend itself to leftovers much.  I find it almost inedible leftover unless I heat it up.  Fortunately, we enjoyed this pasta so much that there weren't many leftovers!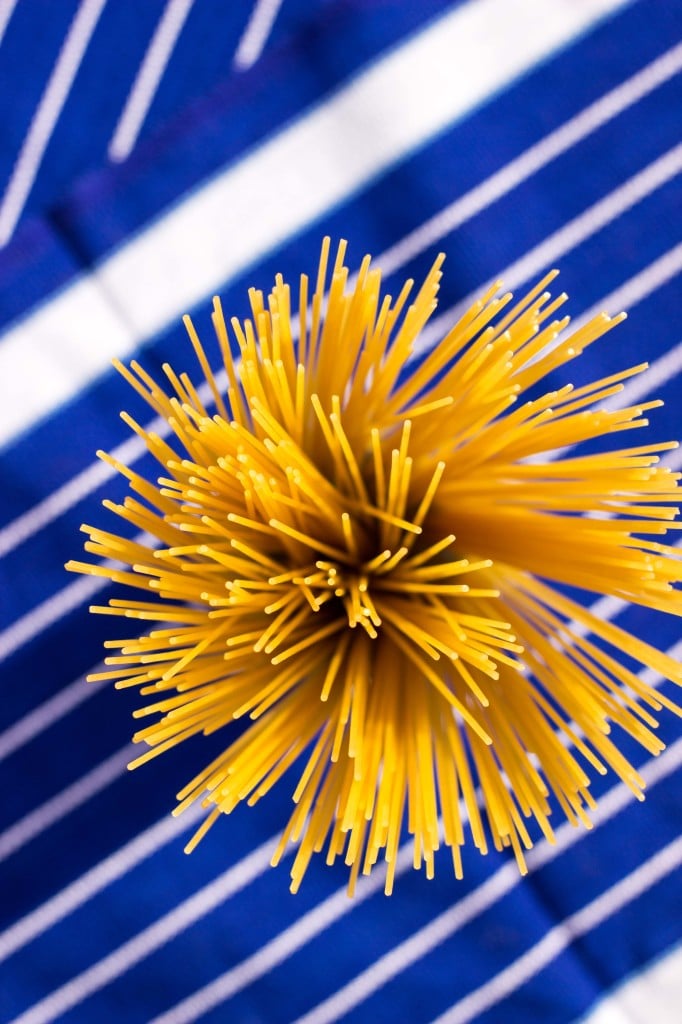 I'm not sure if I was going more for taste or looks, but the addition of the bright green broccoli, pretty purple red onion, and the wintergreen color of the sage, this dish looks just as good as it tastes.  I'm not sure if it is the food blogger in me, but when my food is pretty I always seem to enjoy it more!
 Don't forget to enter into my 1 year blog anniversary giveaway by clicking here!!!