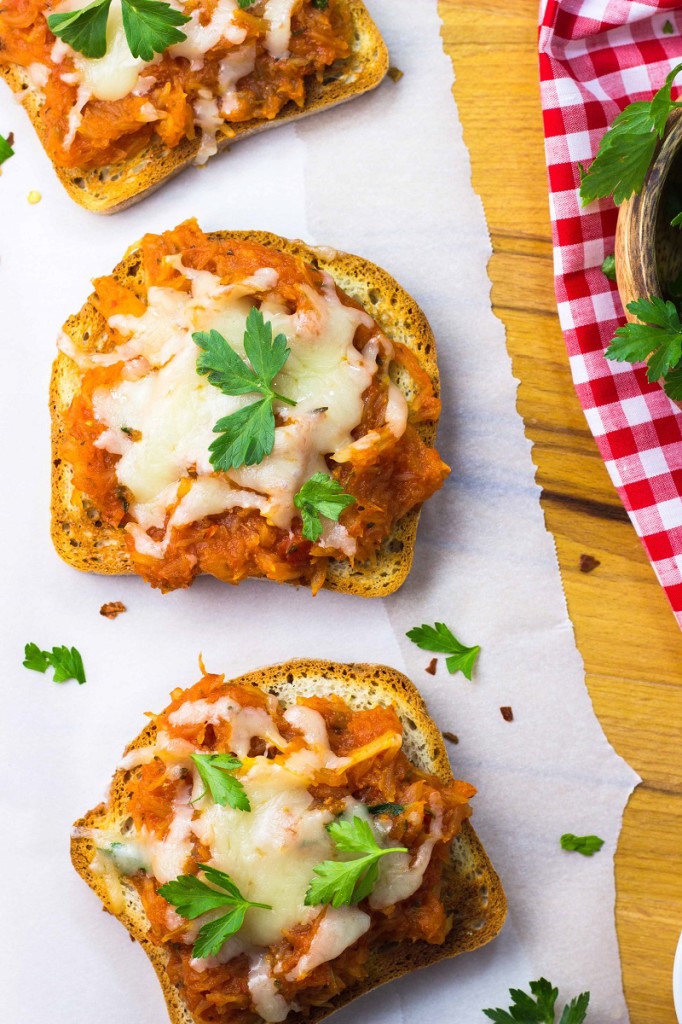 I am now on Yummly.com and have "Yum" button at the bottom of all my posts so you can easily "yum" any recipe you like!
I know that spaghetti squash is a great low carb option, especially when used in place of regular pasta, so you might be wondering why I'm putting it on top of bread, but these are seriously so good you will forget why you even questioned me!
 These cheesy spaghetti squash melts are really easy to throw together and make for a great weeknight meal!  I'm pretty impatient when it comes to after work dinners so if I don't have something quick in mind I usually end up at the Chipotle on my way home.  Today I was so hungry when I got home from work that I found myself shoveling handfuls of corn chips into my mouth while I was waited the 1 minute to heat up my sweet potato, broccoli & quinoa bowls (I've been eating these for weeks now!).  I've been known to get a little hangry when I have to wait for my dinner!
To make these really quick, I used my trusty "scrape out the spaghetti squash with a spoon" method that I used when I made my Eggs In Purgatory with Spaghetti Squash.  The spaghetti squash preparation only takes about 15 minutes from start to finish and then the melts only need a few minutes under the broiler.  I went simple with these cheesy melts, but you could also jazz them up with a few of your favorite pizza toppings!