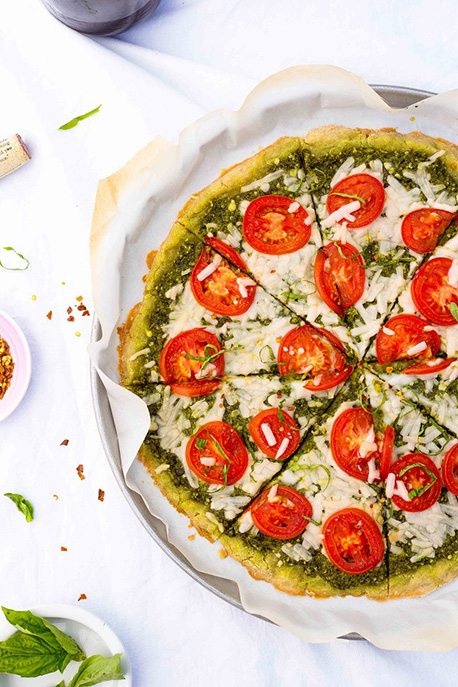 I'm gonna give you one more pizza recipe since I seriously can't stop making this gluten free pizza crust I posted last week.  Like, really, someone needs to come over and take the yeast and flour out of my hands because I've been eating an insane amount of pizza lately.  And I must say that my husband certainly isn't complaining about that
The ingredients on this pizza are pretty simple; pesto, roma tomatoes, and cheese.  But, this simple pizza is one of my favorites ever.  When you throw pesto into the pizza mix you really don't need many other ingredients to make things taste delicious.  Honestly, I'm happy eating pesto with a spoon sometimes!
Basil is one of those plants that you absolutely need to have in your garden just so you can run your fingers through the leaves on your way to work in the morning and then smell your fingers on the entire car ride.  Because basil really does smell that good!  It also really makes me think of summer so this pizza is a perfect way to welcome in the new season.  And, there aren't many better combinations than tomatoes and basil.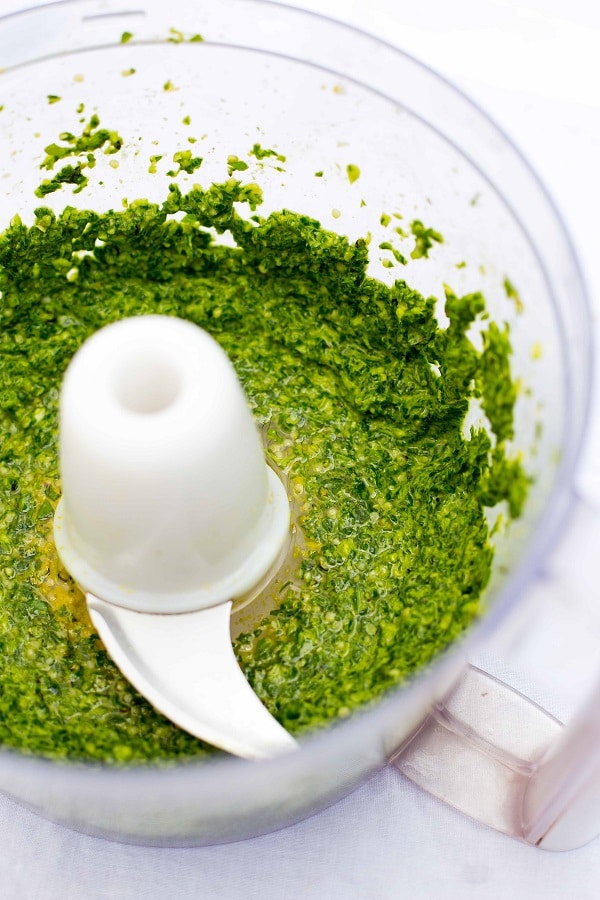 Pesto is one of those foods like hummus, there are so many different variations of it out there and you can make a great one by mixing it up and adding fun ingredients.  I kept this pesto fairly traditional by using basil, although you could also use arugula, but instead of adding the usual pine nuts I decided to throw some hemp hearts into the mix.  Hemp hearts have a great taste and they are also really good for you, so they are a definite pesto win-win! 
I also decided to make this pesto vegan by adding nutritional yeast instead of Parmesan cheese.  Nutritional yeast is kinda like powdered gold and adds an amazing cheesy taste to everything you add it to.  Besides pesto, I like to add nutritional yeast to popcorn, pasta, and Baked Cauliflower.  If you aren't familiar with it I recommend you try it out!  You can find it in the bulk section at your natural foods store
I hope you all have a great Thursday and a pizza filled weekend!