Well, it's almost Valentine's Day.  A holiday that evokes lots of different feelings for people; some good, some not so good.  For us, we are a pretty low key couple and have gotten by in the past by getting a heart shaped pizza and a bottle of wine.  I'm guessing that our celebrations this year will be pretty similar!
But, no matter what we end up doing for dinner, I can guarantee you that there will be chocolate for dessert!  Now, this cake certainly is not a healthy cake.  It has butter, refined sugar, and lots of cocoa powder.  But, I can tell you that it is really delicious and I don't think you will regret eating it for a second!  There are lots of berries in the cake too though, so that kinda makes up for things, right?!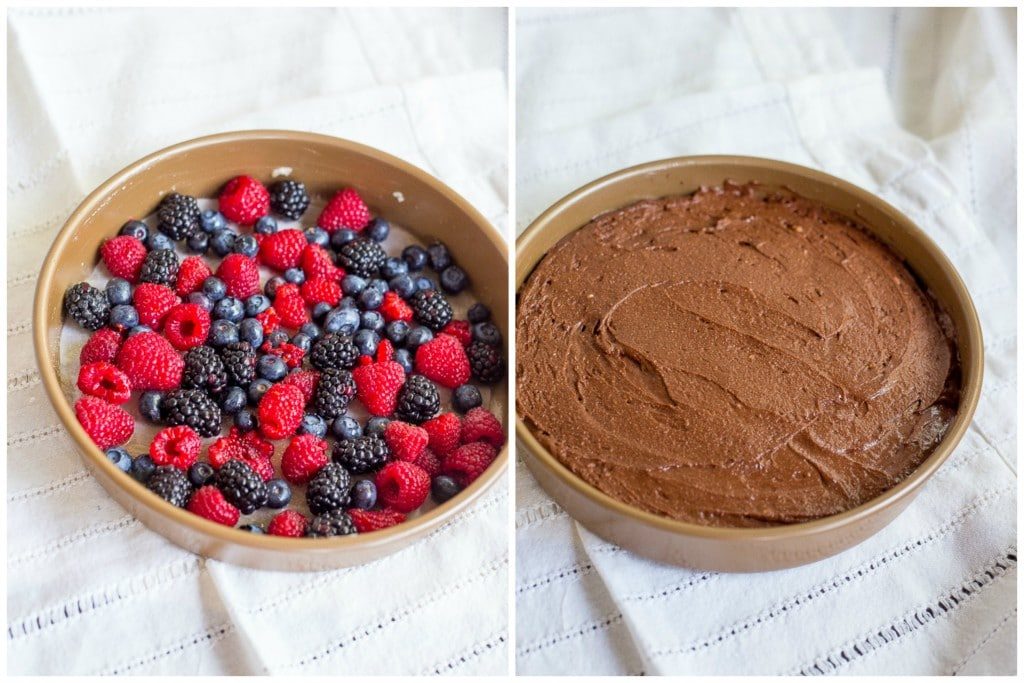 This recipe makes two cakes, because one is never enough!  I used my favorite Gluten Free Chocolate Cake base for this recipe and just cut the recipe down from three layers to make two cakes.  I lined the bottom of the pan with lots of delicious mixed berries and then spread the chocolate cake batter on top.  If you love chocolate and berries together (is there anyone who doesn't?!) then you will be as obsessed with this cake as I am!  Each bite is the perfect combination of moist chocolate cake and sweet berries that will be perfect for your Valentine's Day dessert or just a weeknight dessert!