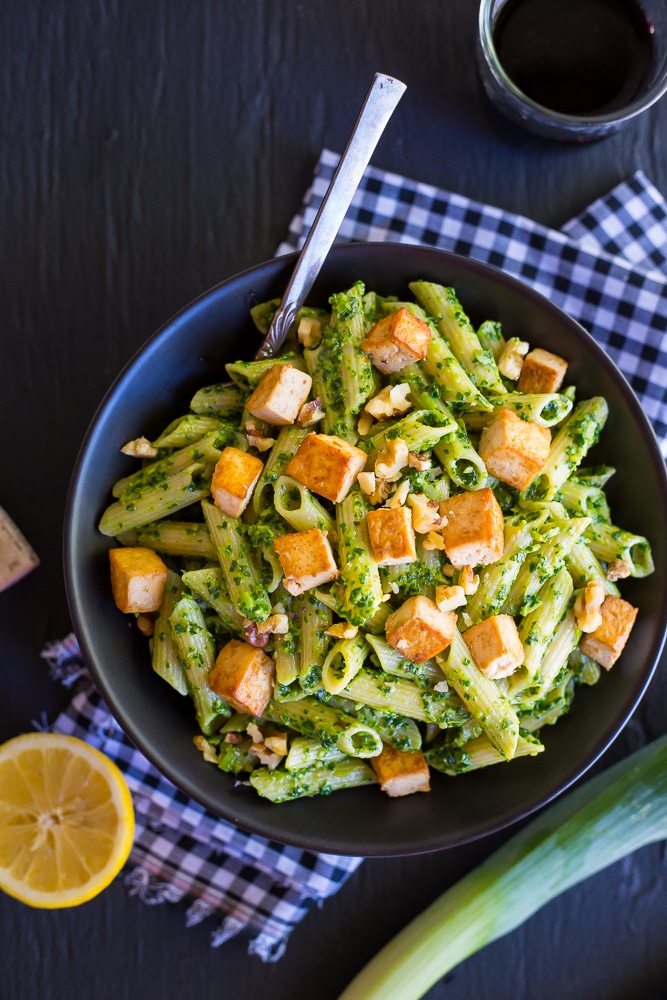 It's that time again, 30-Minute Thursday (Scroll to the bottom of the post for more 30-Minute meals from my favorite blogging friends)!  I've been in a dinner rut the last few weeks and almost dropped the ball on you guys this month.  I've been stopping at the store on my way home from work, walking around aimlessly, praying that a dinner idea pops into my head.  I've never been a meal planner, but I'm seriously thinking about converting!
I've been thinking about trying to develop a 30-minute veggie burger recipe for some time now but that proved to be a total disaster a few days ago.  It tasted delicious when I ate it in a taco, but veggie burger it was not.  I had pretty much given up on coming up with a 30-minute meal by today when I decided to look for some seasonal inspiration.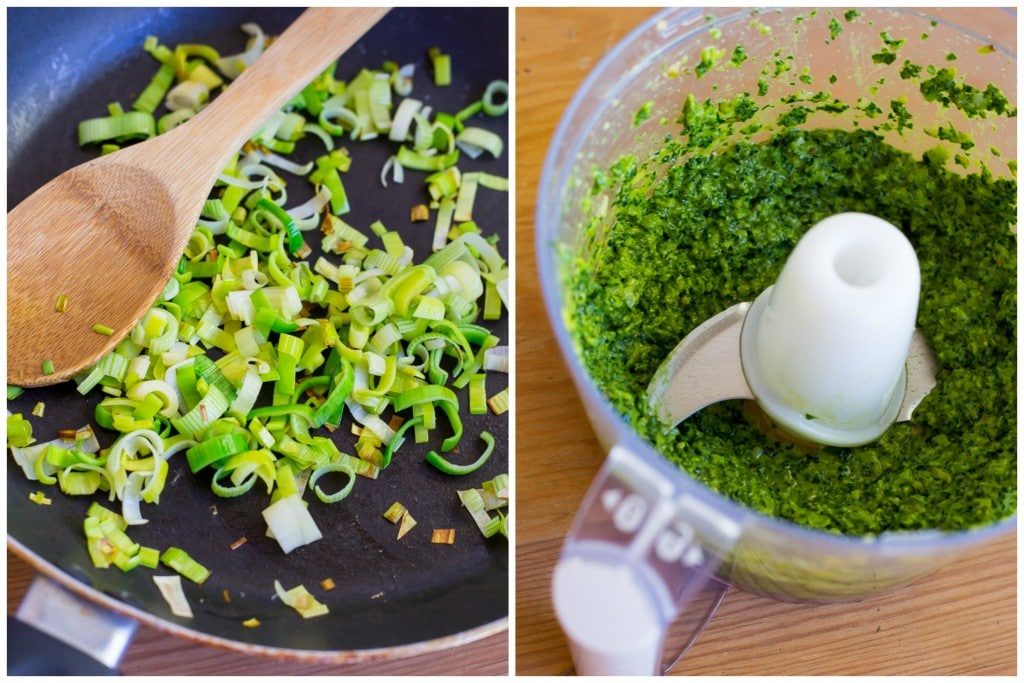 I ended up on Cookie & Kate's February Produce List.  I had already decided that I wanted to a do a pasta with tofu and all I needed was a few seasonal ingredients that I could make a quick pesto with.  I came across the kale first and instantly  knew this was going to work!  As much as I love straight kale pesto, I wanted to add another flavor in there to kick things up a bit and got pretty excited when I saw the leeks on the list.  The leeks give the pesto a nice mild onion taste that goes perfectly with the kale!
Who knew that you could not only make a delicious and filling meal in 30 minutes, but you could also enjoy a meal that has homemade pesto on it in 30 minutes!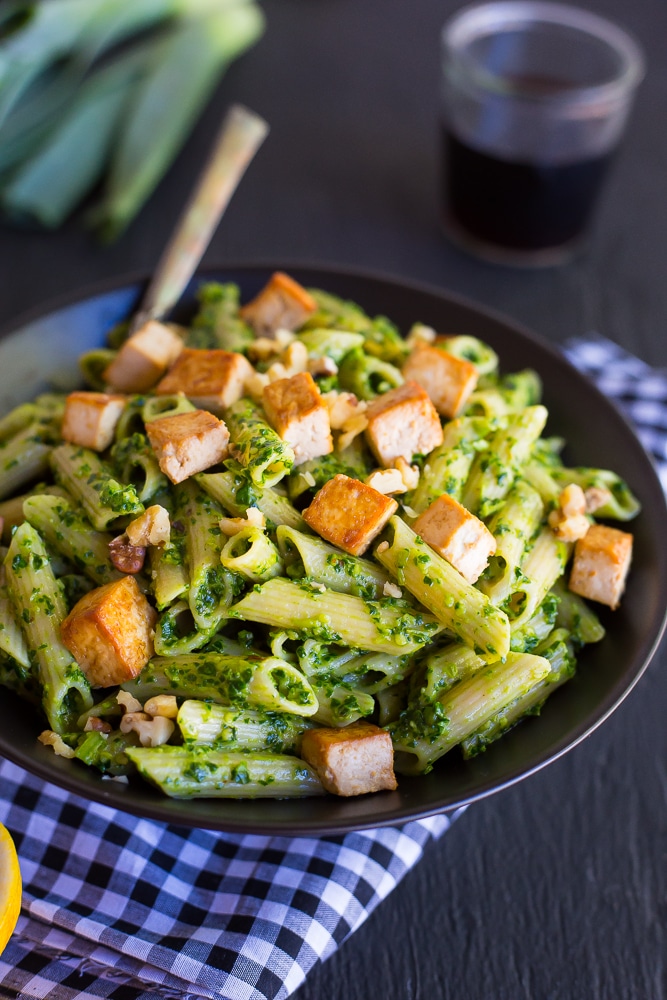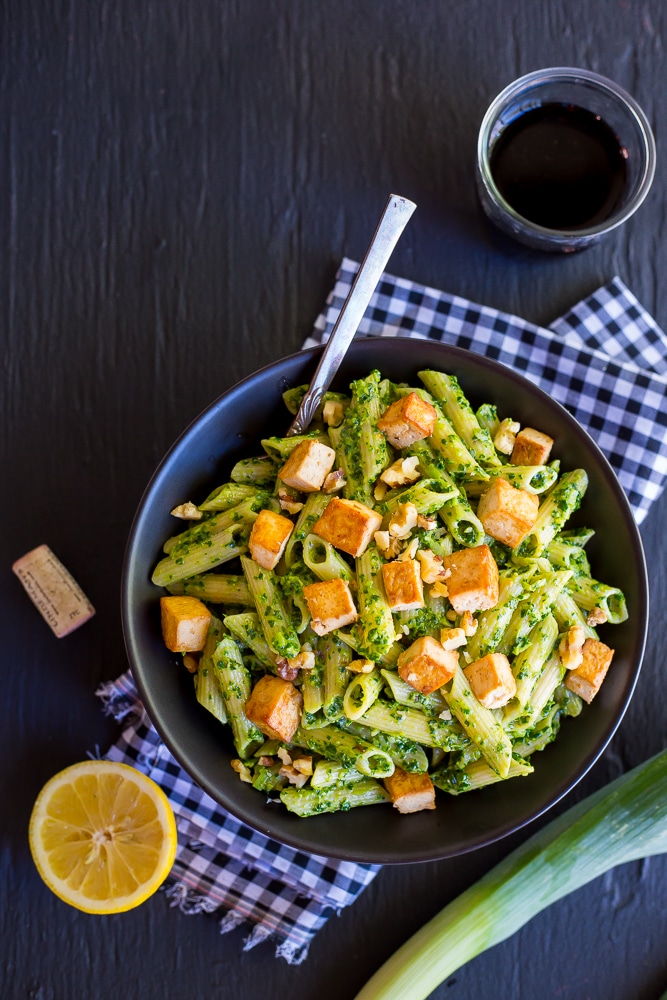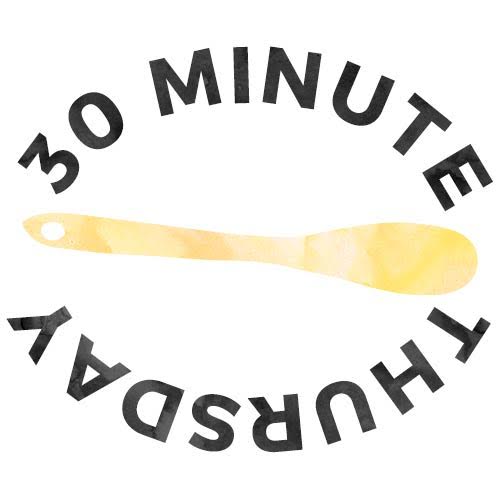 *Not all dishes are vegetarian or gluten free, but some can easily be adapted!
Baked Ham and Cheese Roll-Ups by Pumpkin 'N Spice
30 Minute Tuscan White Bean and Kale Soup by Kristine's Kitchen
One Pot Pizza Gnocchi Pasta by Savory Nothings
30-Minute Cheesy Mexican Rice Skillet by Flavor the Moments
Skinny Cajun Shrimp Alfredo Pasta by Bake. Eat. Repeat.
Vegetable Noodle Stir Fry with Orange by Floating Kitchen
One Pot BBQ Bacon Cheeseburger Rice by The Recipe Rebel
Garlic Butter Monte Cristo Pull-Apart Sliders by Whole and Heavenly Oven
Shrimp and Vodka Penne Pasta by My Kitchen Craze