These Garlic and Herb Spaghetti Squash Boats are flavorful and delicious!  They make for a perfect side dish or light dinner!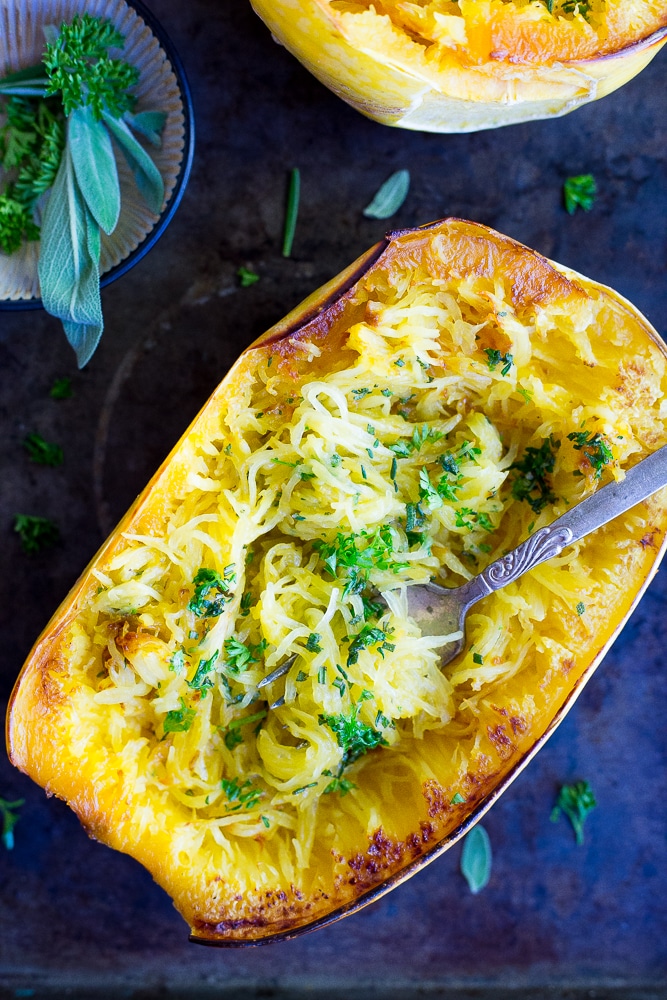 Do you guys ever feel like your to-do list is endless?  And then as soon as you get one thing checked off you realize that there is now something else to add?  That's how I've been feeling lately.  I finally get the kitchen cleaned and then realize that all the clothes are dirty.  Then I get all the clothes washed and realize it's already dinner time and I have no idea what to cook.  I guess that is just what comes with being an adult and a parent?
Sometimes I just need a few moments to myself with a good book and big bowl of this Garlic and Herb Spaghetti Squash!  I would say that I would like to be cuddled under a warm blanket while eating this meal, except that it was 80 degrees today and I want nothing to do with a warm blanket right now!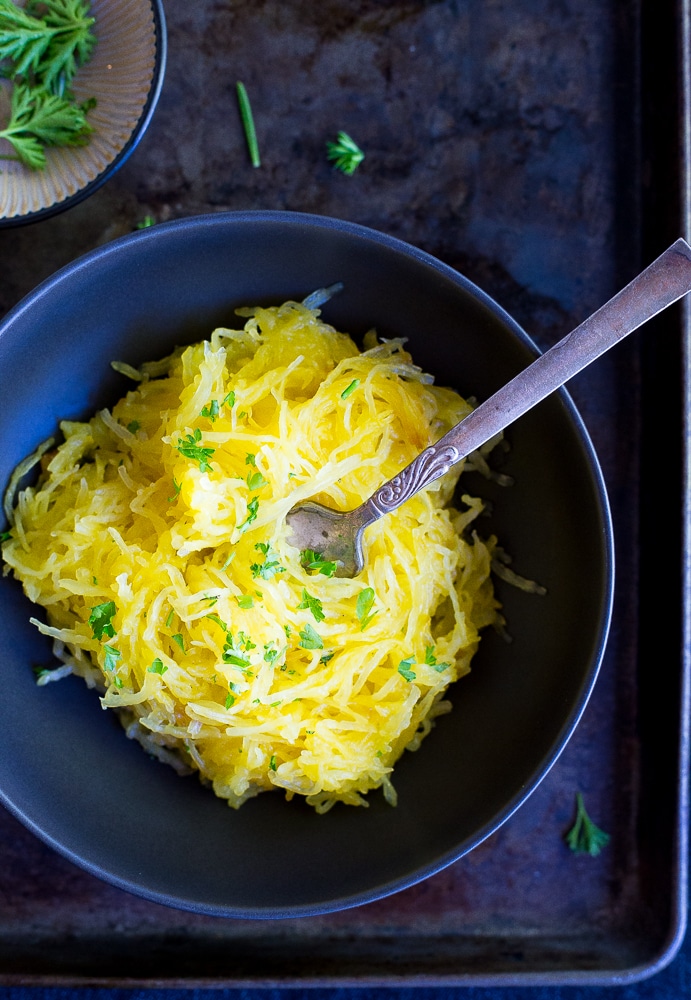 This recipe came to be because I had some leftover herbs from that super handy poultry pack of herbs with thyme, sage and rosemary.  I still haven't mastered gardening in the desert, but I do want to work on growing some herbs because those little packs can get expensive!  So, I always get really excited when I see a pack of herbs that has 3 different kinds all in one.  I was wondering what to do with the rest of the package when I saw all the spaghetti squash at the store and immediately knew I needed to pair them.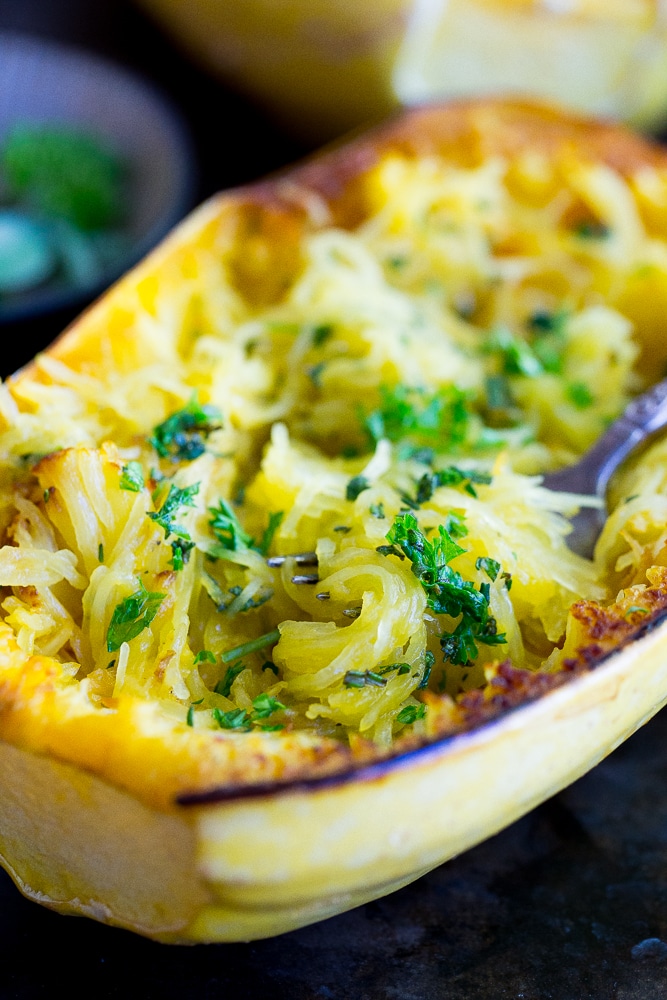 This recipe is really easy to make and so delicious!  You could eat it as a side dish, or if you're like me, you can happily eat it as your dinner
 If you're looking for more seasonal recipes this month, then today is your lucky day!  I've teamed up with some other awesome seasonal bloggers to bring you all some delicious recipes that celebrate seasonal fruits and vegetables #eatseasonal  See below for the recipes!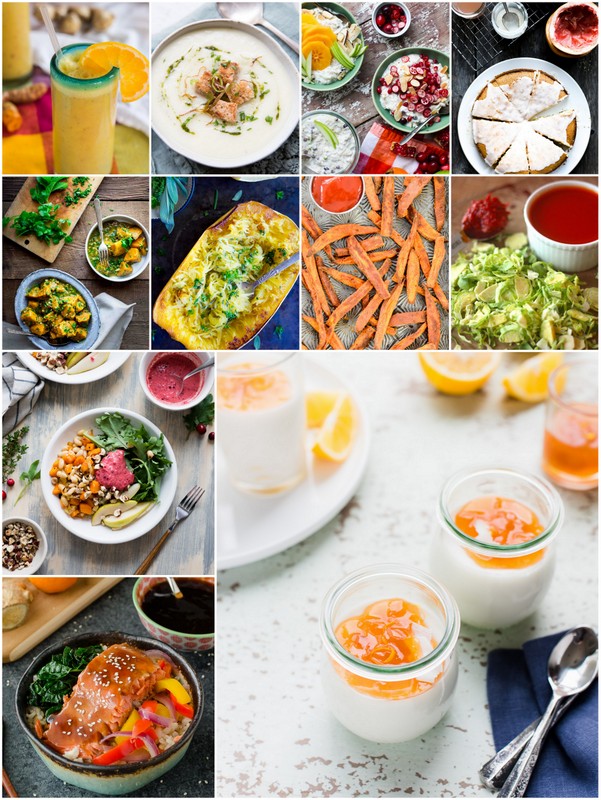 Healthy Tangerine Julius Smoothie by Letty's Kitchen
Leek and Turnip Soup by Vintage Mixer
Apple Almond Bircher Meusli with Winter Fruits by Simple Bites
Olive Oil Cornmeal Cake with Grapefruit and Fennel by Floating Kitchen
Saucy Sweet Potatoes with Coconut Curry and Mint by Healthy Seasonal Recipes
Peanut Butter Crusted Sweet Potato Fries by JoyFoodSunshine
Raw Brussels Sprouts Salad with Harissa Vinaigrette by Project Domestication
Winter Cauliflower Rice Bowl with Cranberry-Mustard Sauce Cafe Johnsonia
Meyer Lemon Coconut Panna Cotta by Kitchen Confidante
Maple Orange Teriyaki Salmon Bowls by Flavor the Moments