These Vegetarian Mason Jar Burrito Bowls are a great make ahead lunch.  They are healthy, full of flavor and easy to assemble!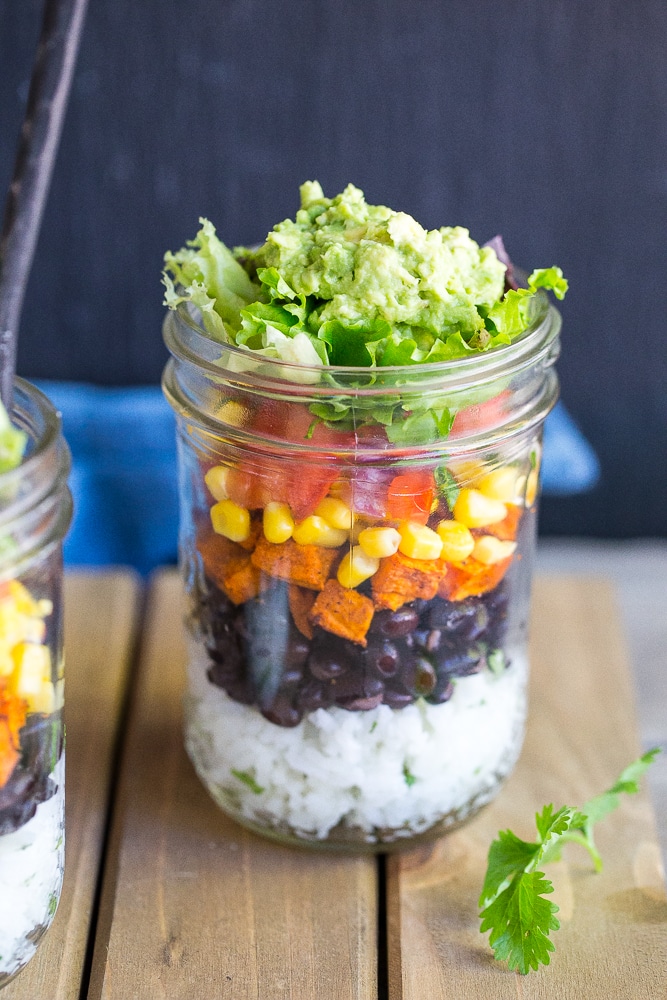 Happy New Year!  Did you guys do anything fun for New Year's Eve?  I wish I had a fun and exciting story to tell you, but we stayed at home, ate pizza and watched a movie.  I also wish I could tell you that the only reason we stayed home was because we have a 5 month old, but I'm pretty sure we would have stayed home regardless!  We're very much homebodies and I have no plans of changing that in 2017
Whether you are wanting to eat a little healthier this year, get into meal planning to make your life easier, or you just want a tasty recipe, I'm pretty sure you will enjoy these Vegetarian Mason Jar Burrito Bowls!
I wanted to start 2017 off with a recipe that is very much me.  If you know me know, you know that I love Mexican food and I love my sweet potatoes.  And, if you're lucky enough to live with me 😉 you know that I have way too many mason jars!  So, these burrito bowls pretty much combine all my loves into one jar.  Now, it isn't a requirement that you have to eat these out of a mason jar, but they make it really easy to store and portion these burrito bowls so you can take them for lunch.  
As we start the new year, I would love to hear from you all!  Please let me know if there is something you would like to see more of, or any recipe ideas you would like me to tackle.  Happy 2017