This Healthier One Pan Stove Top Lasagna is quick and easy to make and perfect for a weeknight dinner!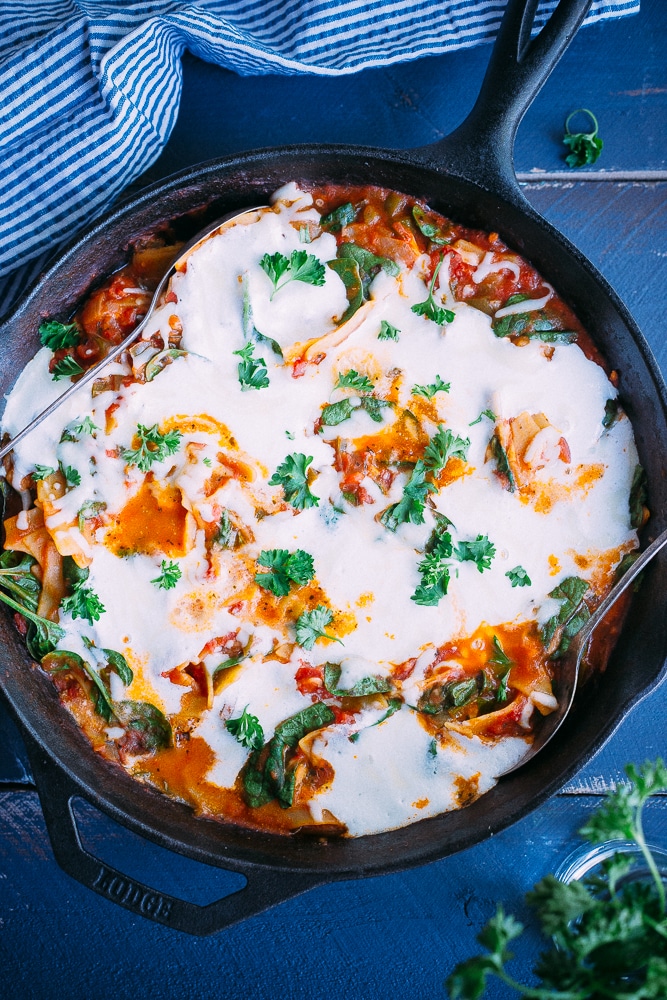 I seem to always be a little late to catch onto food trends, but I'm slowly building my repertoire of one pan meals and I have a feeling this Healthier Lasagna is going to be a regular in this house!  You also cook it entirely on the stove top, so there is no need to turn the oven on.  These days, turning the oven on might not seem so bad, but just wait until you get that lasagna craving in the heat of the summer.  This will be your go-to dish!
I'm all about taking heavy comfort foods and lightening them up so I can eat them more regularly and not feel guilty.  Lasagna has always been one of my go-to comfort foods that I tend to just stand in front of the refrigerator and eat the leftovers out of the pan with a fork kind of meal.  But, I don't make it very often because honestly, all the spreading and the layering stresses me out sometimes.  I'm always wondering if I'm going to have enough fillings and what if my layering order gets messed up and then it's all over!  It also can take quite some time to bake and sometimes I just want my dinner now!  This Healthier One Pan Stove Top Lasagna is perfect if you ever have those feelings.  You basically just mix all the ingredients together instead of all the layering and it only takes about 40 minutes to cook.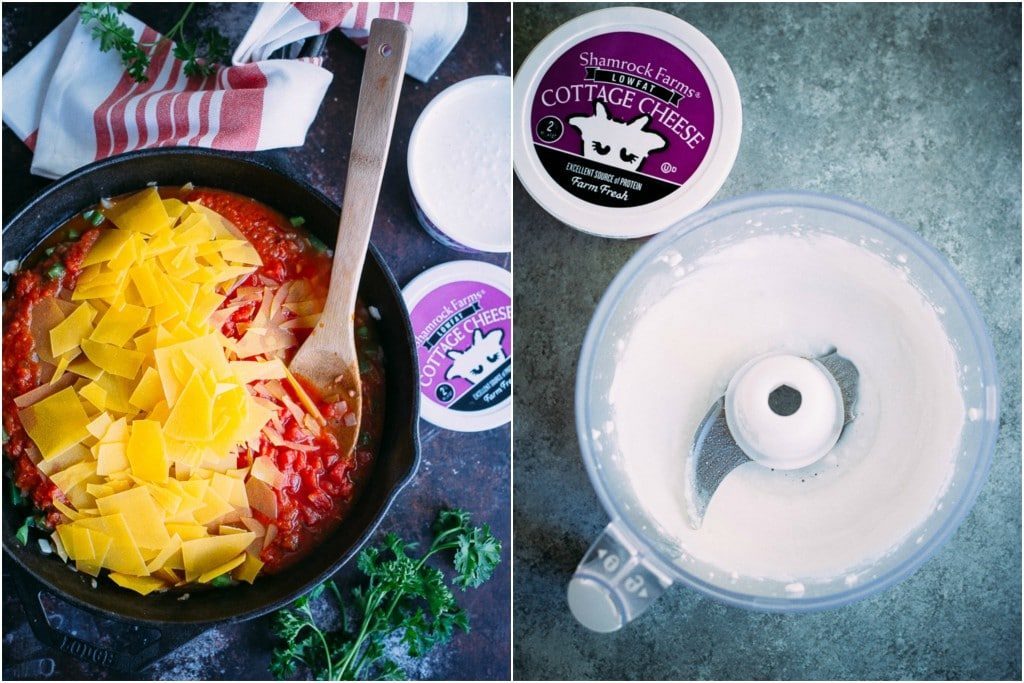 Most lasagna recipes are loaded with ricotta cheese and tons of mozzarella cheese, but in this one I use low-fat cottage cheese (only 1 cup) instead of ricotta and only 1 cup of mozzarella cheese.  While I don't eat a ton of dairy, I did start consuming it much more when I was pregnant because I was in need of more protein.  One serving of cottage cheese has 13 grams of protein, while also being low in fat and calories.  It's also a great source of calcium, which is really important for bone health and development.  And, if you still need more convincing, studies have shown that 3 servings of low fat dairy per day can help with weight loss and maintaining a healthy weight, which always seems to be the goal!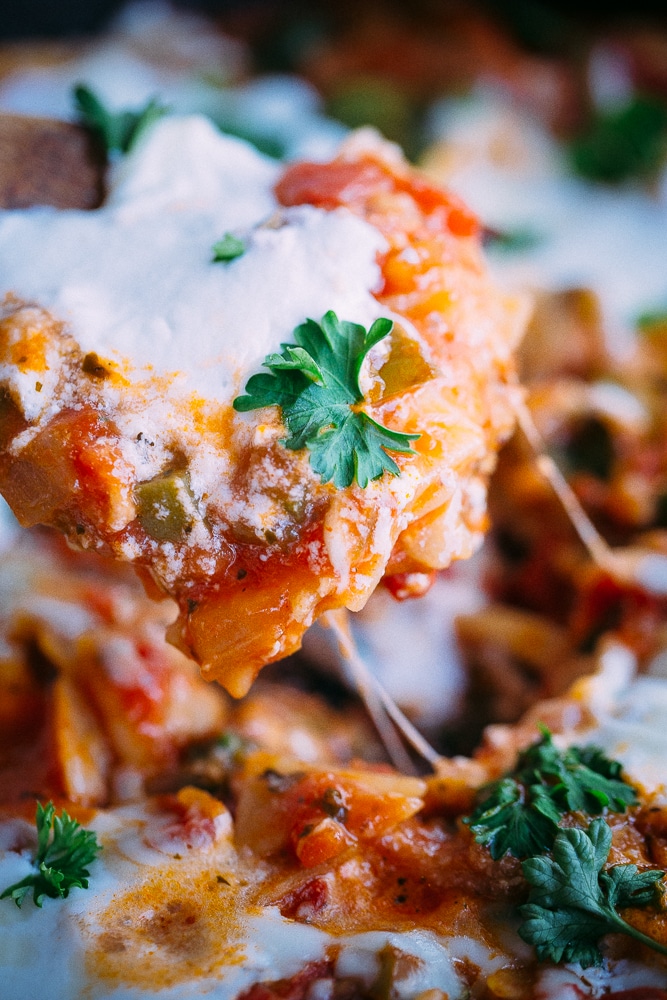 Today I'm using Shamrock Farms Cottage Cheese, in this healthier lasagna, for a few reasons.  One, their headquarters is located in Phoenix, AZ which is just about 2 hours north of where I live!  They're a working diary farm that has a commitment to high quality animal care and you can even go for a tour and see things for yourself.  They also don't add any grown hormones to their products, which I especially love as a nursing mother.  And, all products go through rigorous purity testing before they are cold packaged and delivered.  Cottage cheese is just one of many of their products, so make sure to check them out!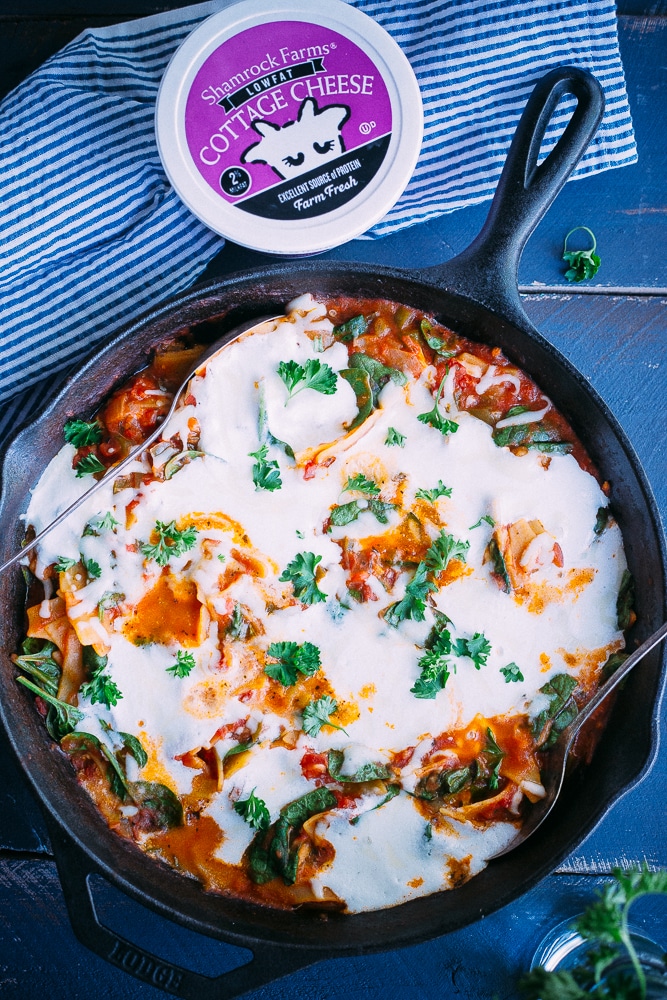 This is a sponsored conversation written by me on behalf of Shamrock Farms. The opinions and text are all mine.