These Roasted Veggie Buddha Bowls are perfect for a healthy dinner or lunch.  Topped off with a refreshing pesto for a perfect vegetarian meal!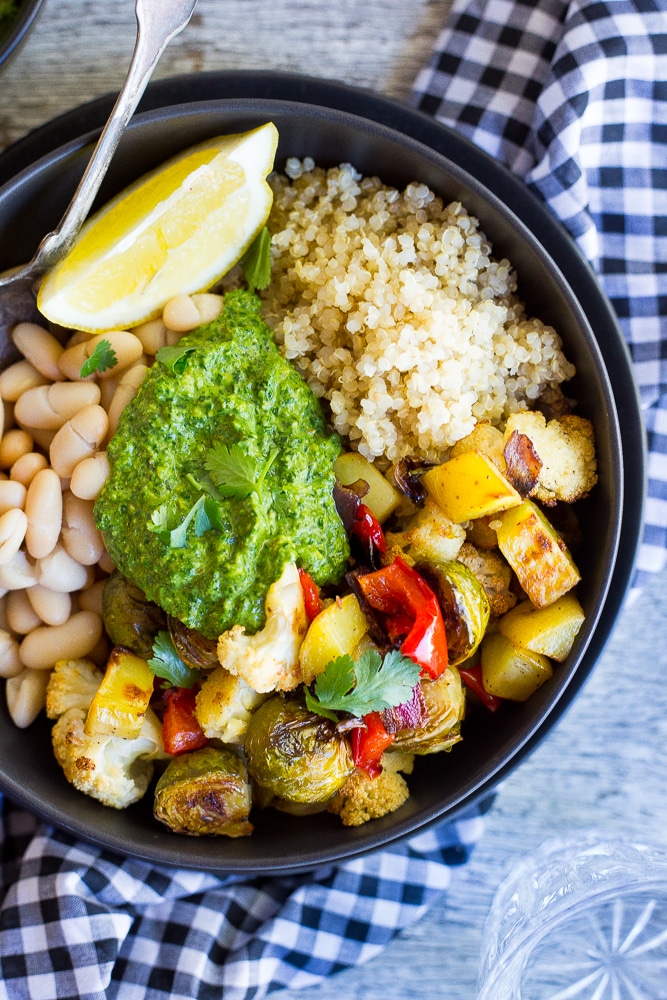 I apologize for dropping the ball on Valentine's Day recipes.  I was thinking about doing some sort of chocolaty dessert, but instead I just made a big chocolate cake and ate the entire thing out of the pan without even icing it.  And, it was pretty good.  But then I was all desserted out so I made you this Roasted Veggie Buddha Bowl instead.  I hope you don't mind.

Today we're celebrating February produce and there is so much good stuff!  Instead of highlighting one of them, I decided to throw a bunch of them on a pan and roast them, because you really can't go wrong with roasted vegetables.  I made these when my mom was here and we ate these for lunch while sitting outside on the porch in the sunshine.  We've been having such beautiful weather here lately, although the past two days it went from beautiful to just plain hot.  But, today it's been overcast and rainy and perfect buddha bowl weather.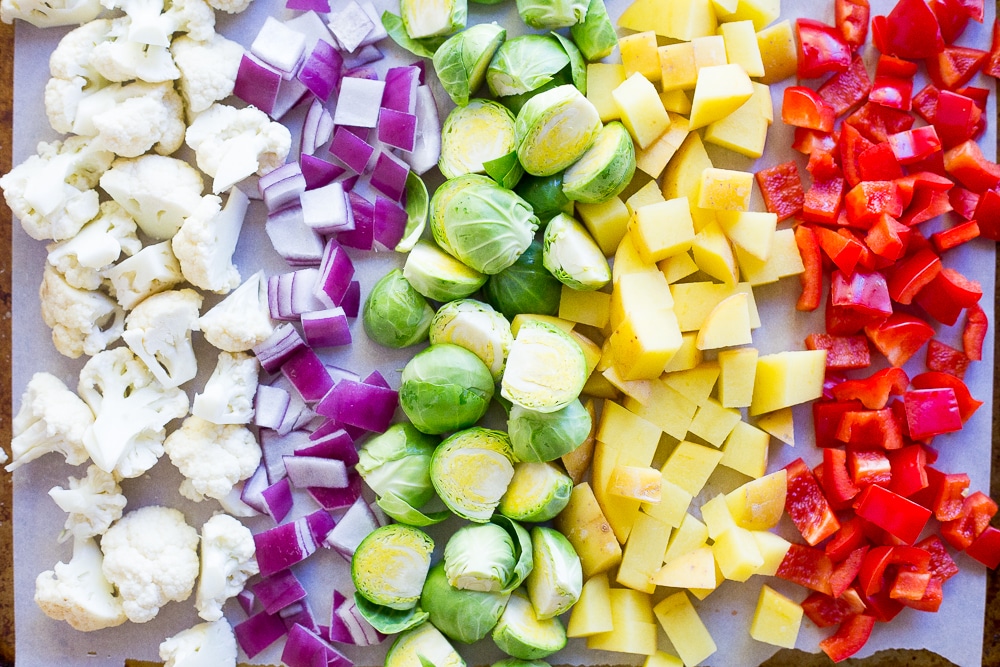 I'm not sure what the true definition of a buddha bowl is, but I like to think of them as hearty bowls that usually have a grain, a protein, lots of vegetables and some kind of delicious dressing that pulls everything together.  For these, I used quinoa, white beans and then I roasted all these pretty vegetables and topped it all off with a homemade cilantro spinach pesto.  In my mind, buddha bowls are the ultimate comfort food.  But, if you are one of those people who doesn't like their food touching then these are not for you, haha!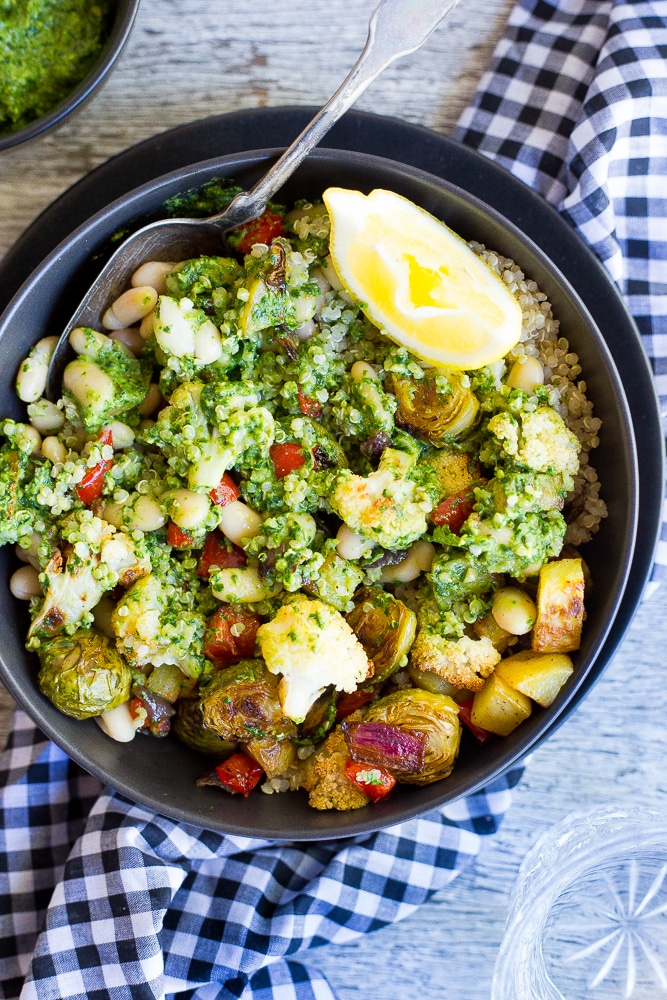 Make sure to check out all the other delicious recipes below that celebrate February produce!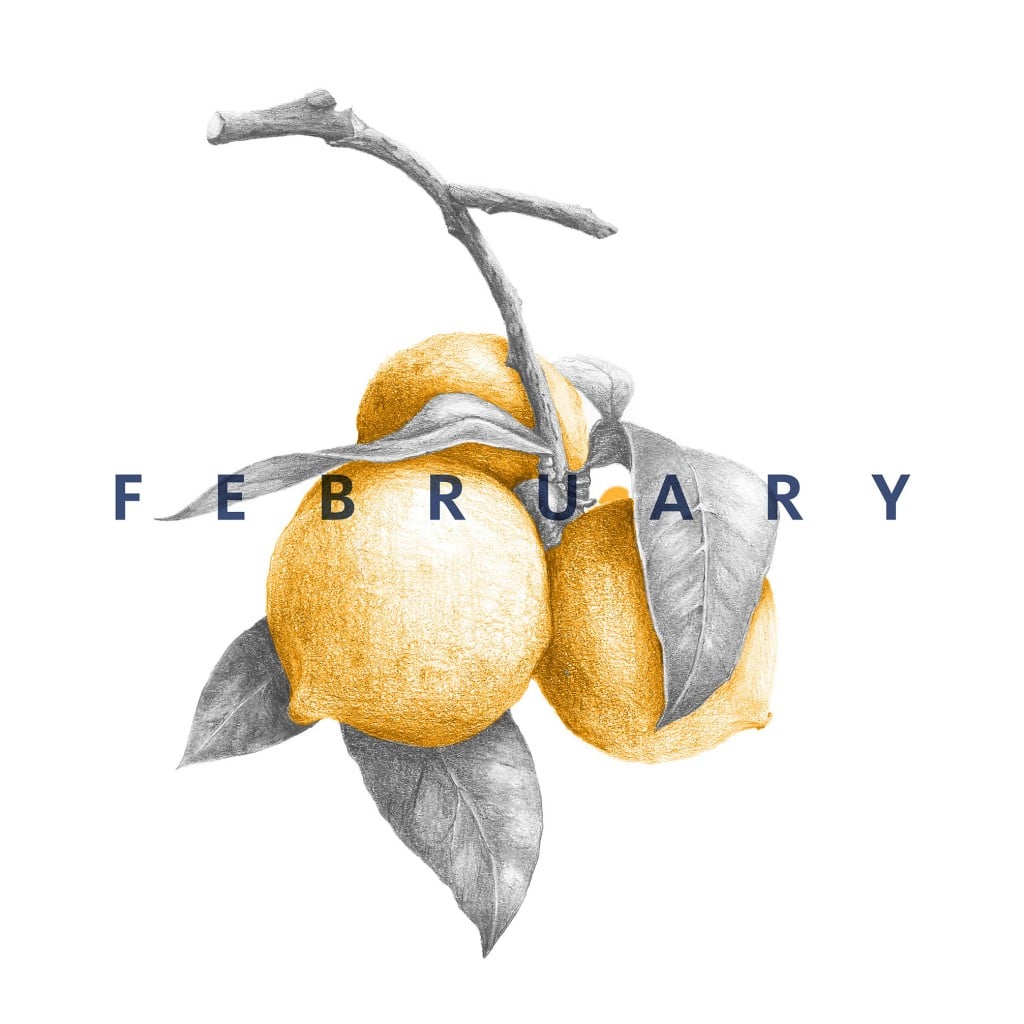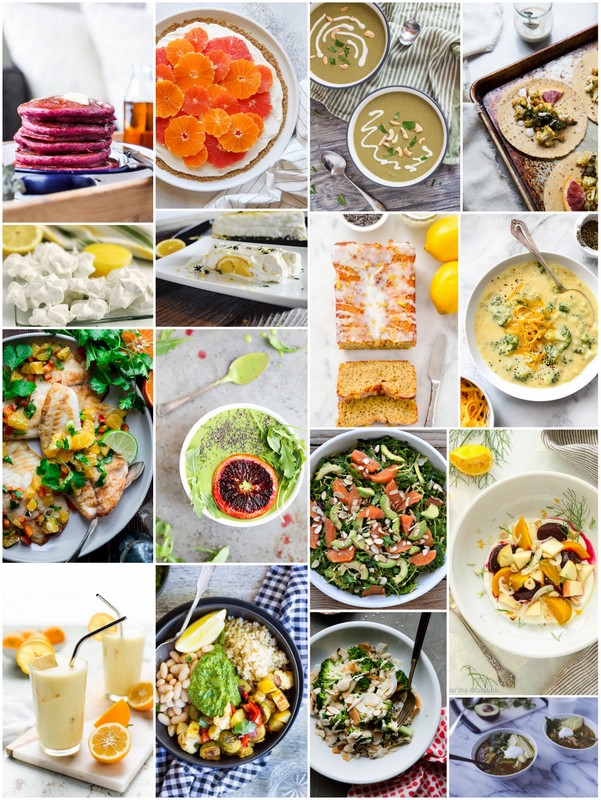 Beet Buckwheat Pancakes by Simple Bites
Citrus and Yogurt Fruit Pizza with Granola Crust by Completely Delicious
Spicy Cashew Spring Greens Soup by Letty's Kitchen
Cauliflower Chickpea and Crispy Kale Tacos with Orange Tahini Sauce by Vintage Mixer
Lemon Poppy Seed Meringue Cookies by Project Domestication
Meyer Lemon & Thyme Semifreddo by Suitcase Foodist
Paleo Lemon Poppy Seed Bread by Joy Food Sunshine
Broccoli Cheese and Potato Soup by Foodie Crush
Tilapia with Tangerine Salsa by Healthy Seasonal Recipes
Orange and Arugula Smoothie Bowl by Floating Kitchen
Shredded Brussels Sprouts and Kale Salad with Orange and Avocado by Mountain Mama Cooks
Beet and Apple Salad with Citrus Honey Yogurt by Flavor the Moments
Meyer Lemon and Honey Lassi by Kitchen Confidante
Coconut Quinoa Bowls with Roasted Broccoli and Tahini Sauce by Cafe Johnsonia
Cilantro-Lime Chicken Soup Food for My Family