This easy pasta is full of fresh herbs and hearty cauliflower and makes a great quick and easy weeknight dinner!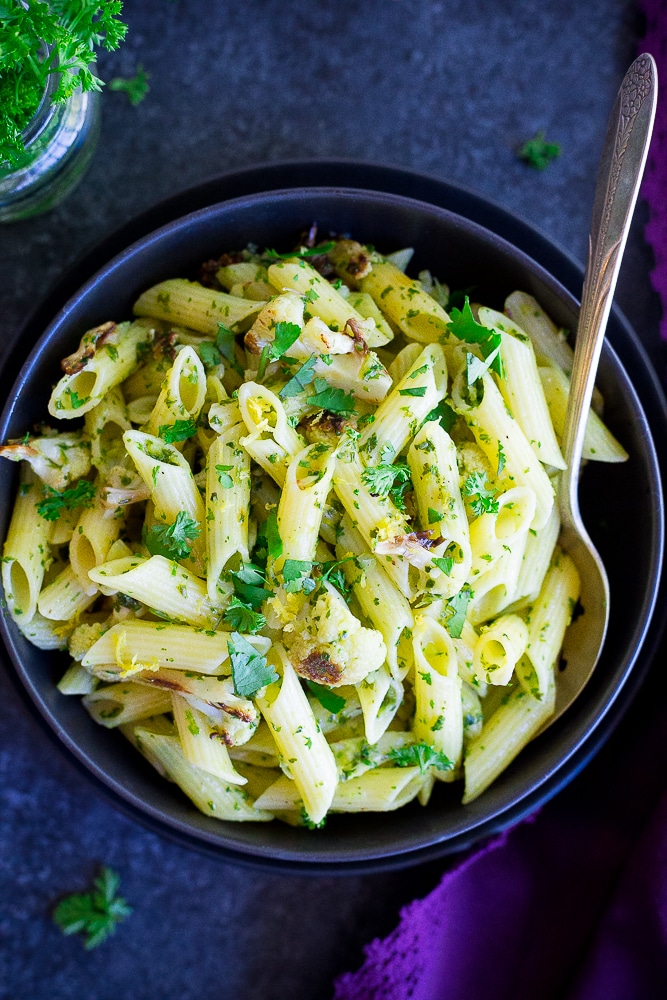 It's March and I feel like I should be huddled inside freezing, but instead I'm trying to spend as much time as I can outside because it's so dang beautiful here!  It's definately feeling like spring around here and I'm enjoying ever minute of it.  Spring weather also makes me want to start eating a little lighter than I eat during winter and the fresh herbs in this pasta really do the trick!
I'm celebrating March produce today with some other awesome bloggers, so don't forget to scroll to the bottom of the page to see what they've cooked up! #EatSeasonal

I'm getting really into quick dinners lately so I hope you guys are enjoying them too.  While I still enjoy spending time in the kitchen, time seems much more limited these days and I'd much rather spend the evenings sitting on the porch then standing over a stove.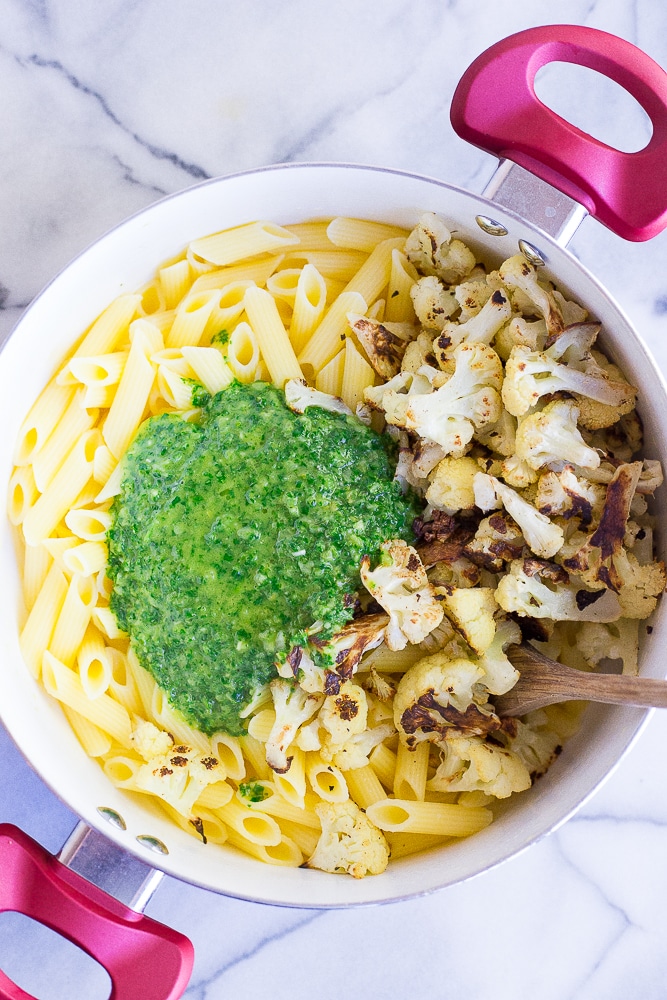 Pasta is a great go-to when coming up with quick and easy meals, but I get a little tired of red sauce after awhile.  And I think that March really calls for a nice green pasta sauce, so that is what we're doing today.  It's packed with lots of fresh herbs, garlic and lemons which gives it such a bright taste!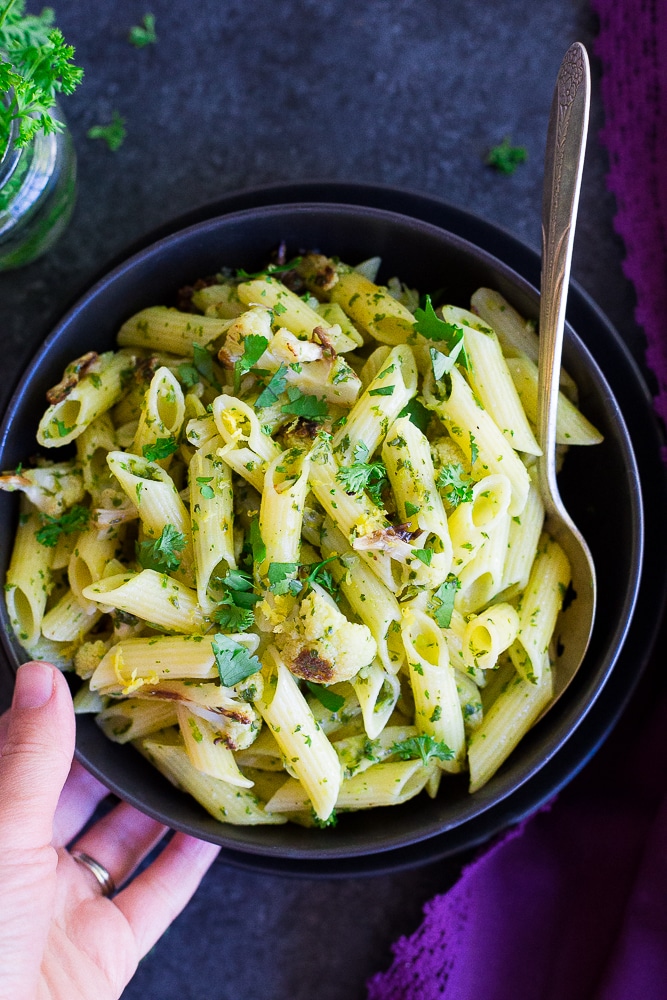 The roasted cauliflower gives this pasta a nice nutty taste and a hearty bite!  If you're looking for a new and exciting weeknight dinner that won't leave you in the kitchen all night then this pasta is for you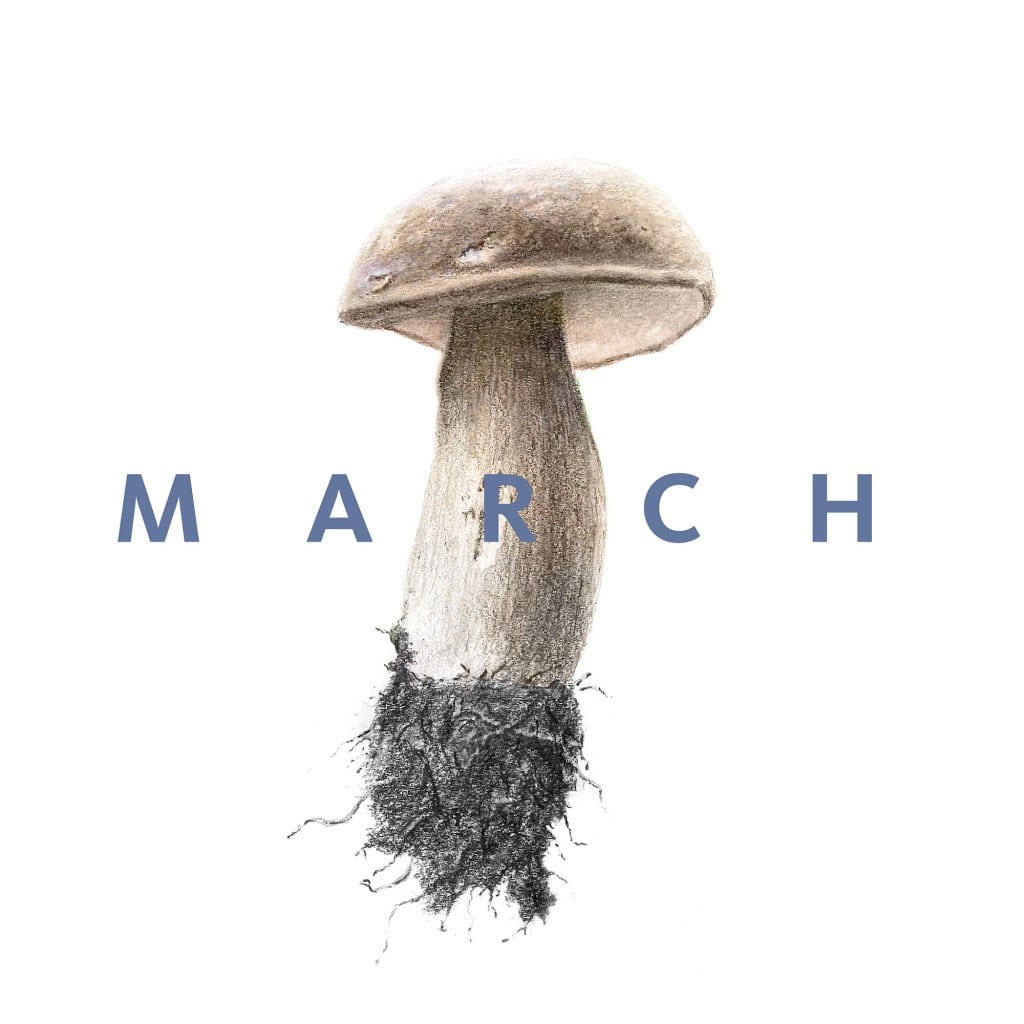 Check out Becky's beautiful guide to see what's in season in March!
Creamy Vegan Kiwi Lime Avocado Pie by Letty's Kitchen
Chana Aloo Gobi Masala: Chickpea, Potato, and Cauliflower Curry by Food for My Family
Stuffed Sweet Potatoes with Chickpeas, Asparagus and Arugula by Floating Kitchen
Spicy Lemon-Ginger Tonic Tea by Suitcase Foodist
Broccoli Rabe and Chicken Pizza with Basil Cream Sauce by Vintage Mixer
Hot Chili Blistered Asparagus with Sriracha Aioli by Kitchen Confidante
Glazed Meyer Lemon Bundt Cake with Candied Lemons by Simple Bites
Frozen Chocolate-Dipped Kiwi with Sea Salt by Project Domestication
Tempura Cauliflower with Spiced Yogurt Dipping Sauce by Completely Delicious
Easy Lemon Thyme Roasted Artichokes by Flavor the Moments
Healthy Shamrock Shake by Joy Food Sunshine
Curry Roasted Cauliflower by Healthy Seasonal Recipes
Thai Curry Cauliflower Soup by Mountain Mama Cooks