Tons of delicious BBQ flavor packed into these easy veggie burgers!  Everyone will enjoy them!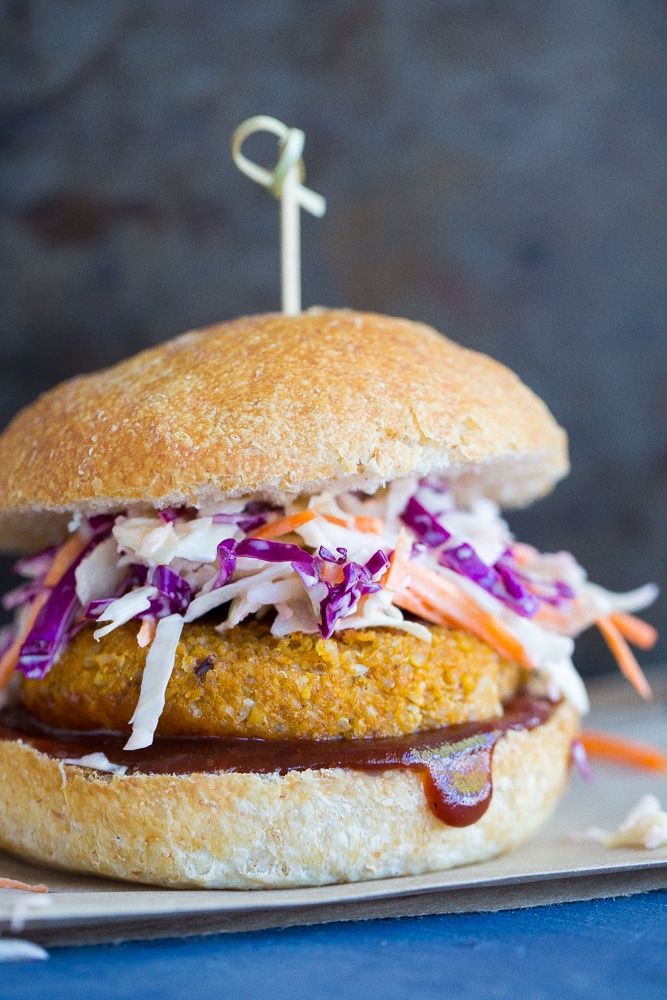 I feel like I sound like a broken record, but things have been busy around here lately!  We went on a trip to Iowa to visit my husband's family and then a few days after we got back, my 8 month old got really sick with his first virus.  Then, I got sick with a bad cold and then we had a friend come visit for a few days.  And, then my sister and her boyfriend came to visit.  Thankfully, both Eli and I were better by that visit!
My sister hadn't seen Eli since the day after he was born and he was in the NICU so it wasn't very easy to hold him.  She had told me that her and her boyfriend had made my BBQ Cauliflower and Chickpea Tacos on one of their first dates, so I thought it would be fun to make a variation of that recipe on their first night here.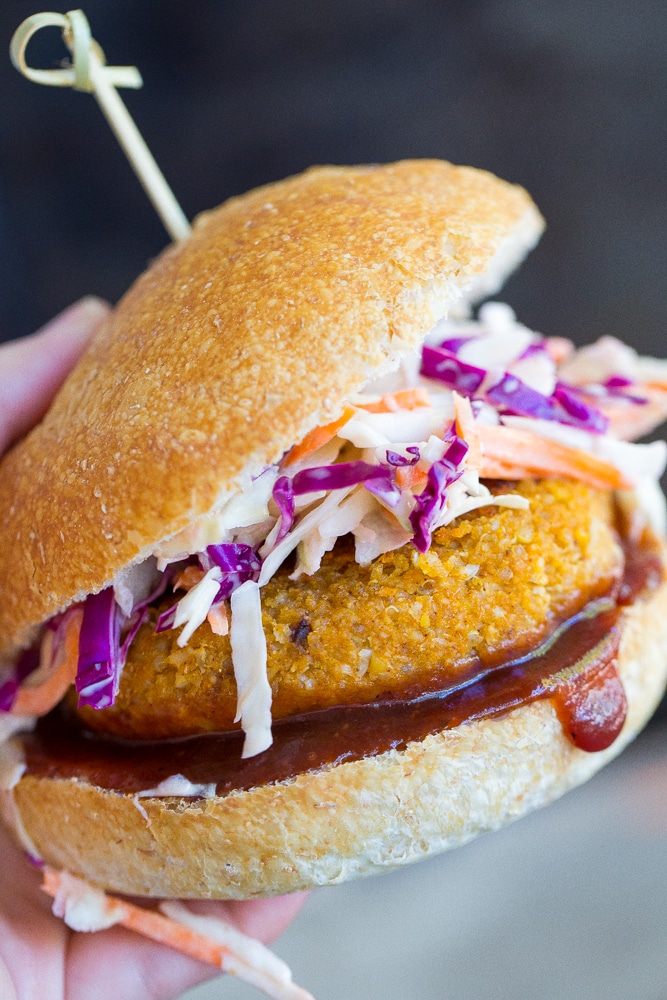 The weather has been perfect here lately and we've been really enjoying sitting out on the porch in the evenings so I felt like veggie burgers were the perfect porch sitting meal!  And, they were delicious!  I highly recommend topping them off with the creamy lime slaw that I top the tacos off with and eating them with a side of these oven baked french fries.
Today is also our April #EatSeasonal recipe roundup!  I feel a little lame since I used cauliflower in March as well, but these BBQ Cauliflower and Chickpea Veggie Burgers are so good, that I think you'll forgive me
 Don't forget to scroll to the bottom of the page for more delicious recipes using April seasonal produce!

For an entire list of what's in season in April, check out Becky's April Eat Seasonal Guide!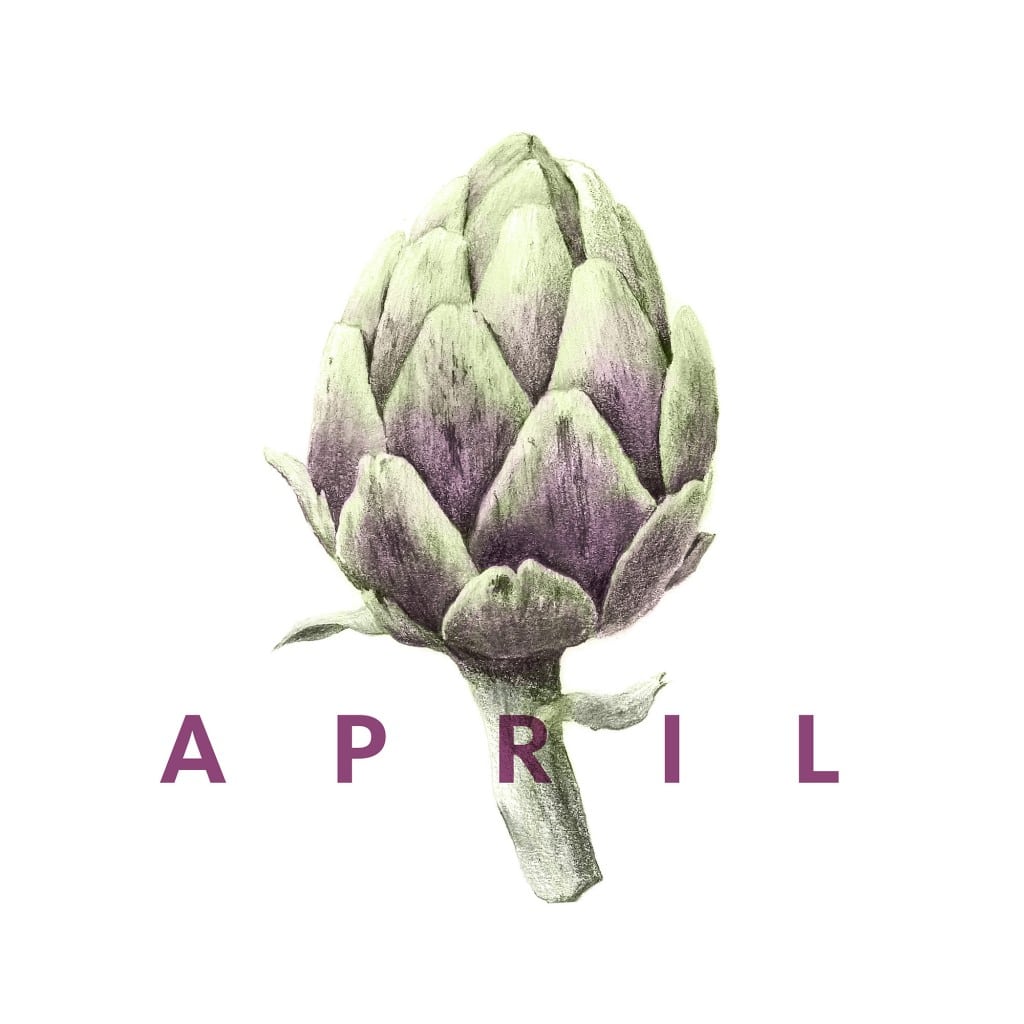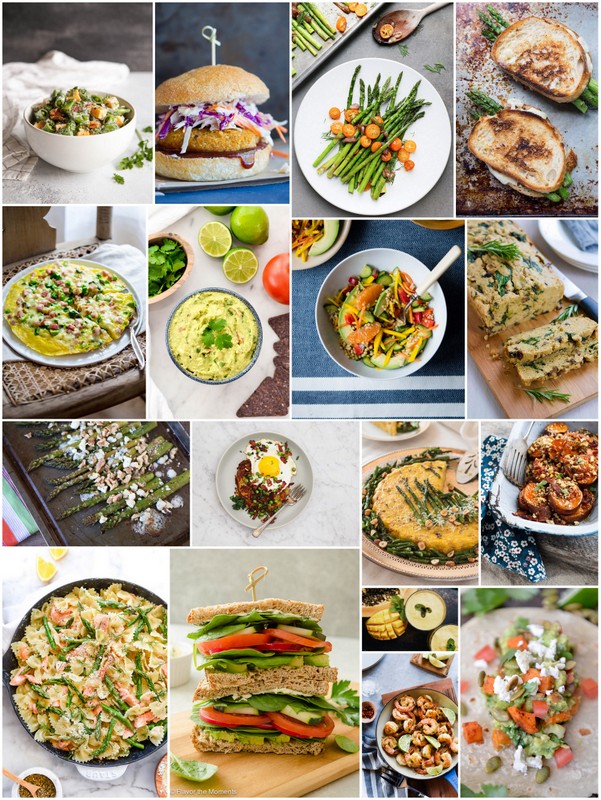 Sugar Snap Pea and Bacon Salad by Completely Delicious
Roasted Asparagus with Sautéed Shallots and Kumquats by Floating Kitchen
Asparagus Grilled Cheese by Vintage Mixer
Frittata with Ham and Asparagus by Healthy Seasonal Recipes
Easy Homemade Guacamole by Joy Food Sunshine
Sorghum Vegetable Salad with Cumin-Lime Vinaigrette by Cafe Johnsonia
Mushroom Rosemary Olive Oil Bread by Cookin' Canuck
Roasted Asparagus with Balsamic, Gorgonzola and Walnuts by Aggie's Kitchen
Polenta Cauliflower Torta with Roasted Asparagus by Letty's Kitchen
Herbed Potato Rösti with Peas, Shallots, and Bacon by Food for My Family
Maple-Glazed Sweet Potatoes with Walnut-Bacon Crumble by Simple Bites
Creamy Pasta with Salmon and Asparagus by Foodie Crush
Ultimate Veggie Sandwich with Lemon Herb Cream Cheese by Flavor the Moments
Spring Mint & Papaya Batido by Suitcase Foodist
Skillet Shrimp with Lime and Green Curry Compound Butter by Kitchen Confidante
Loaded Guacamole Tacos by Mountain Mama Cooks