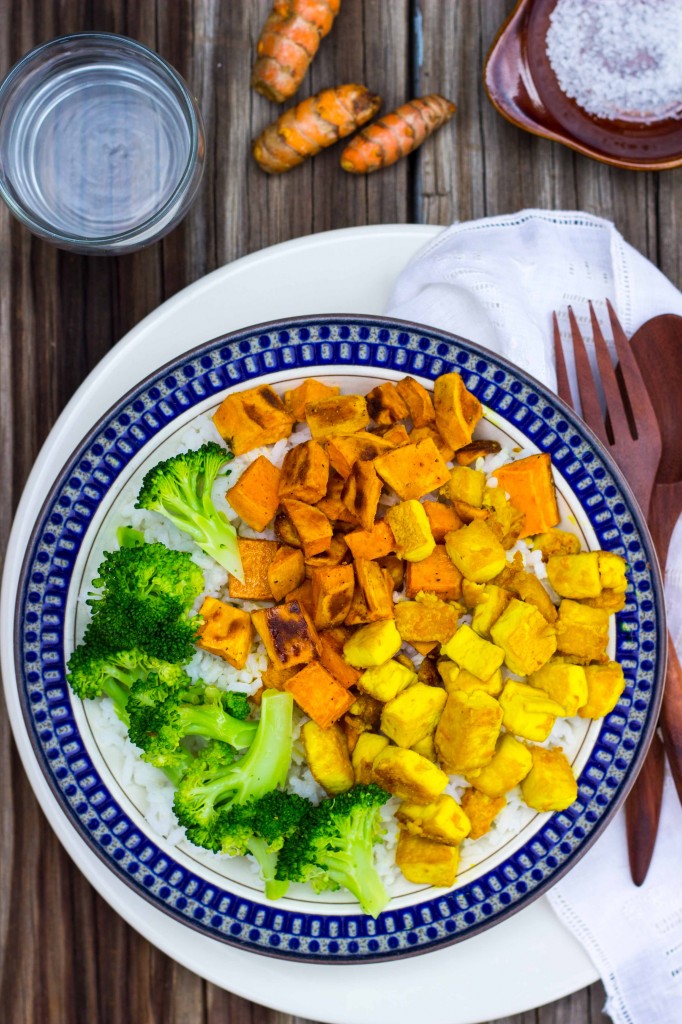 The rain gods must have been reading my post from a few weeks ago, because we finally got some rain and it was crazy!
Not only did we get rain, but we also got hail! It seemed to come out of nowhere and it was so crazy and so loud, and as Eric likes to say, as soon as it started, Cheeto headed for zee hills and didn't come out for about two hours. Poor guy!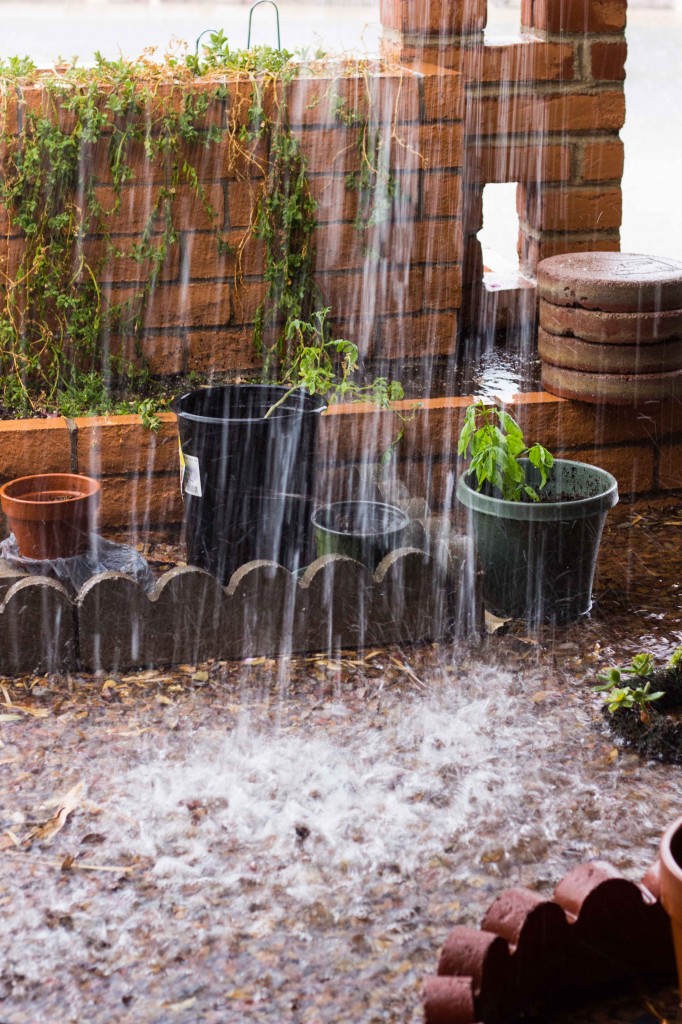 I guess I got the wrong kind of pet if I want to feel protected when loud, scary things happen…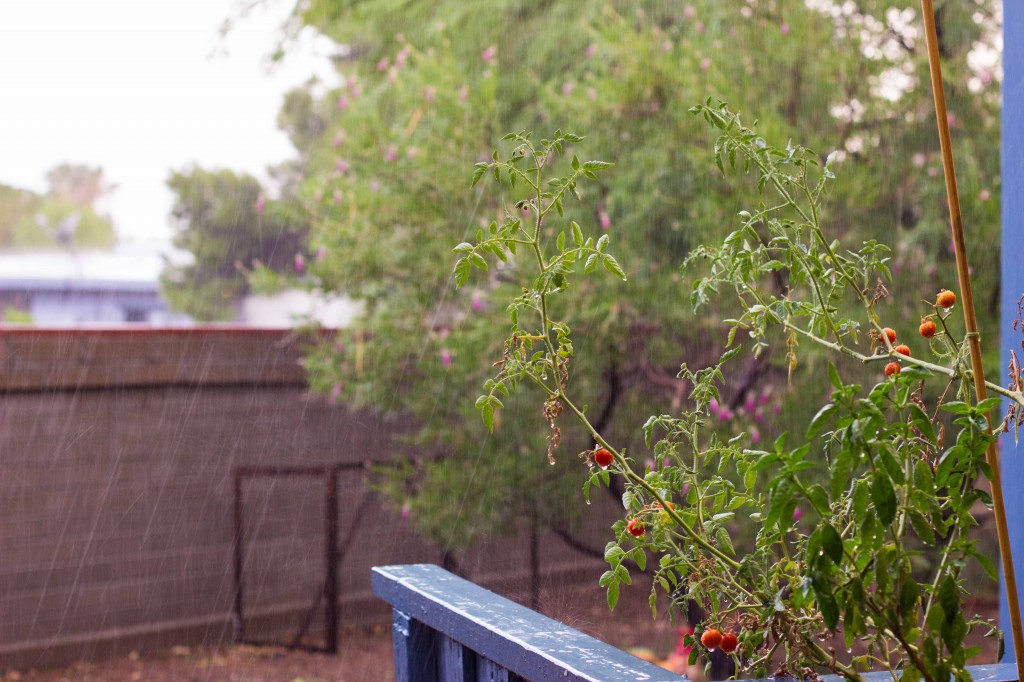 In true monsoon fashion, the rain storm was gone as quickly as it had come and in its place was this beautiful rainbow! As much as I detest the humidity that the summer monsoons bring, they really are spectacular to watch and we are always in need of rain the desert, so I welcome them with open arms!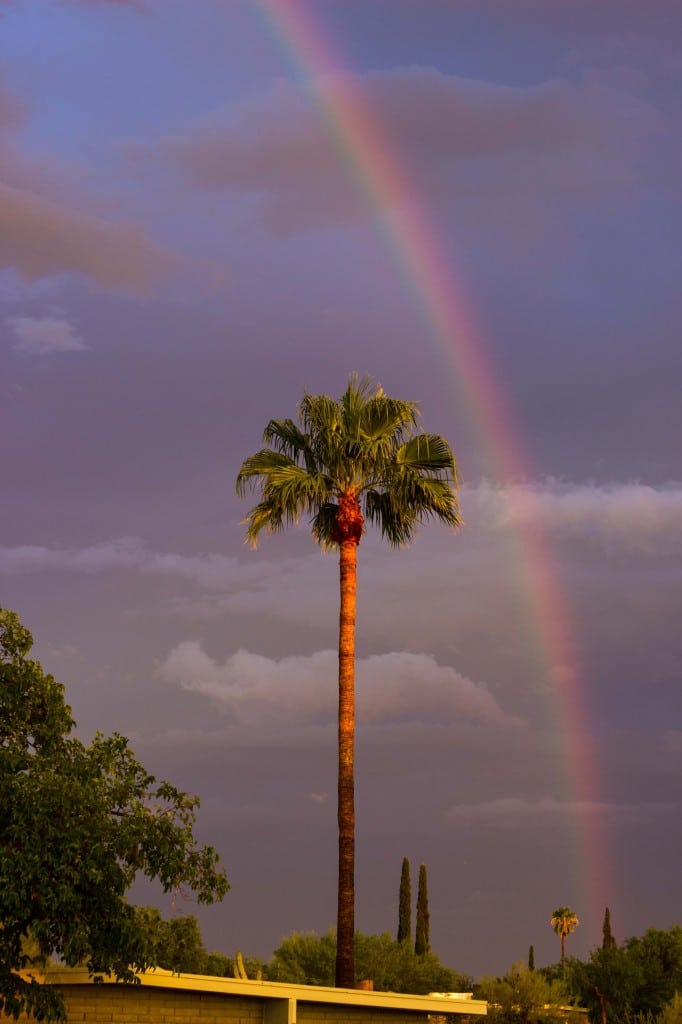 Moving on to why you are really here today! I won't go into it too much now (I'm hoping to have some more updates later this week) but I've been having a horrible stomach ache for a few weeks now. I haven't talked about my health (and the issues that I have with it) too much on here, but I have been battling stomach issues for pretty much my entire life, but they have gotten really bad in these past two years.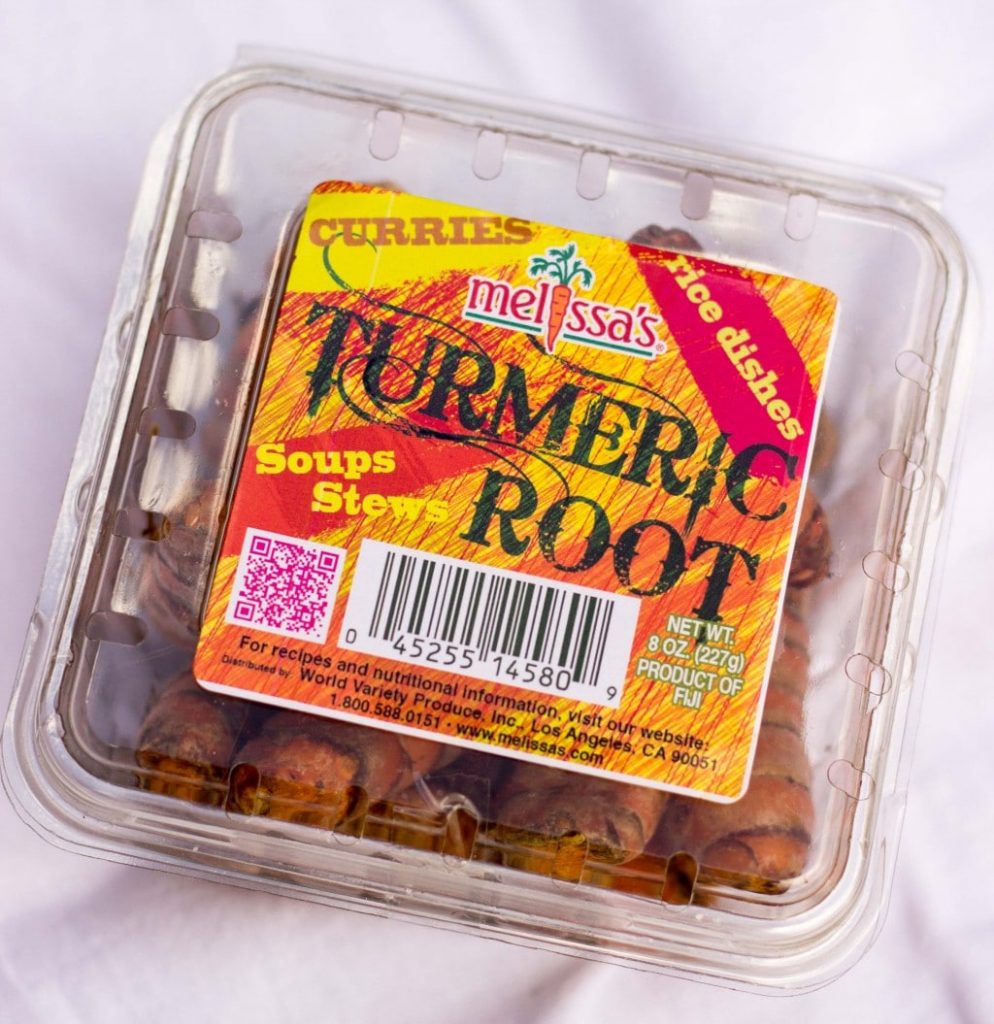 I have a few good days, but mostly bad days, and then some really bad days, which I have been having recently. It almost feels like my stomach is in fire, or very inflamed. Again, I won't go into it too much on this post, but I guess you could say that my current stomach issues were the inspiration behind this dish. It isn't super fancy or even the most creative dish I have come up with, but if you are having some inflammatory issues, this is the dish for you!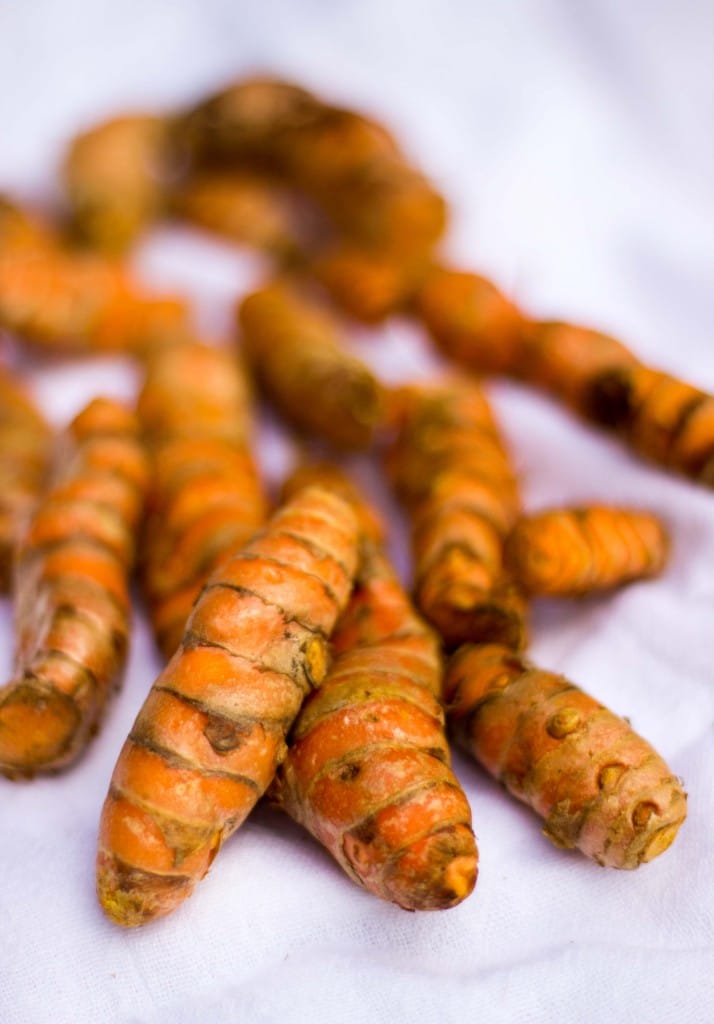 I was eating plain white rice for a few days, but I'm just not the kind of person who can eat bland food for too long! If you are not familiar with turmeric it is a spice that is used in reducing inflammation is said to aid with stomach ailments. You are probably most familiar with seeing ground turmeric that is sold in the spice isle, which can definitely be used in this recipe, but I was lucky enough to find turmeric root at the store a few days ago and I was really excited to cook with it.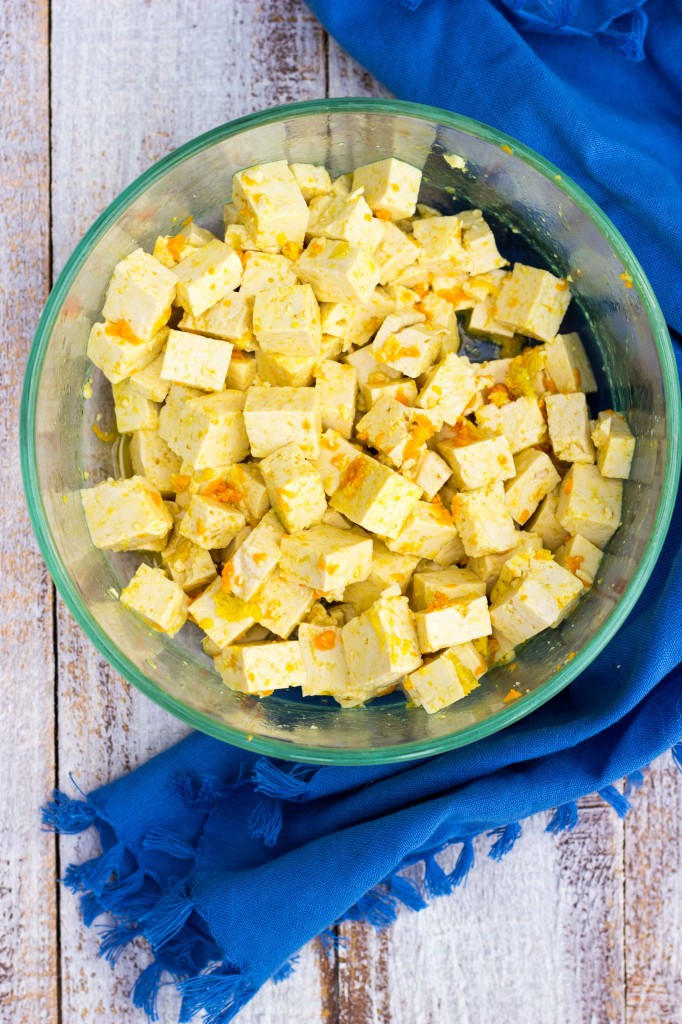 I didn't want to over-do the spices in this dish, because if you are having stomach issues you probably don't want anything too crazy that might upset it even more. For that reason I did a simple rice bowl with steamed white rice (you could also use brown rice), steamed broccoli, roasted sweet potatoes, and then I marinated the tofu with turmeric root, ginger, garlic, salt, and some olive oil. The turmeric root gives the tofu a nice yellow color and a warm, slightly bitter, kind of earthy taste. Stomach issues or no stomach issues, I think you will really enjoy this dish! Also, if you aren't a tofu lover you could substitute chicken instead.
Print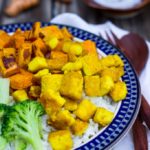 Anti-Inflammatory Rice Bowls with Turmeric Marinated Tofu
---
Category:

Entree, Gluten Free, Vegan
Ingredients
1 cup

dried rice, white or brown

2

–

3

cups of broccoli florets

1

14 ounce package of extra firm tofu, patted dry

1

medium sized sweet potato
olive oil
salt
pepper
garlic powder
ground turmeric (optional)
ground ginger (optional)
Tofu Marinade:
2 teaspoons

fresh turmeric, pealed and grated

1 1/2 teaspoon

fresh ginger, pealed and grated

2

cloves of garlic

1 1/2 tablespoons

olive oil
A heaping

1/4 teaspoon

salt
---
Instructions
Cook the rice according to package directions.
Dice the tofu into bite size pieces. In a large bowl or tupperware, add the tofu cubes and the tofu marinating ingredients, toss to coat, and cover with plastic wrap or a lid and let sit in the refrigerator for up to 1 hour.
Preheat oven to 400 degrees F. Dice the sweet potato into bite size cubes. Place sweet potato cubes on a large baking sheet and drizzle with olive oil and season with salt, pepper, garlic powder, ground turmeric, and ground ginger, just eyeball the seasonings. Place in the preheated oven and roast for about 25 minutes,until sweet potato cubes are cooked through.
Coat the bottom of a large pan with olive oil and place over medium heat. Add the tofu and cook for about 15 minutes until tofu is crispy. Taste and add more salt if necessary.
Steam the broccoli over high heat with about 1/2 inch to 1 inch of water, until broccoli is fork tender.
Assemble the rice bowls: Place the rice on the bottem of the bowl and top with roasted sweet potatoes, steamed broccoli, and crispy, marinated tofu. Drizzle with a little bit of olive oil and season with salt, to taste.
Notes
If you can't find fresh turmeric root, use about 1/2 the amount of turmeric powder.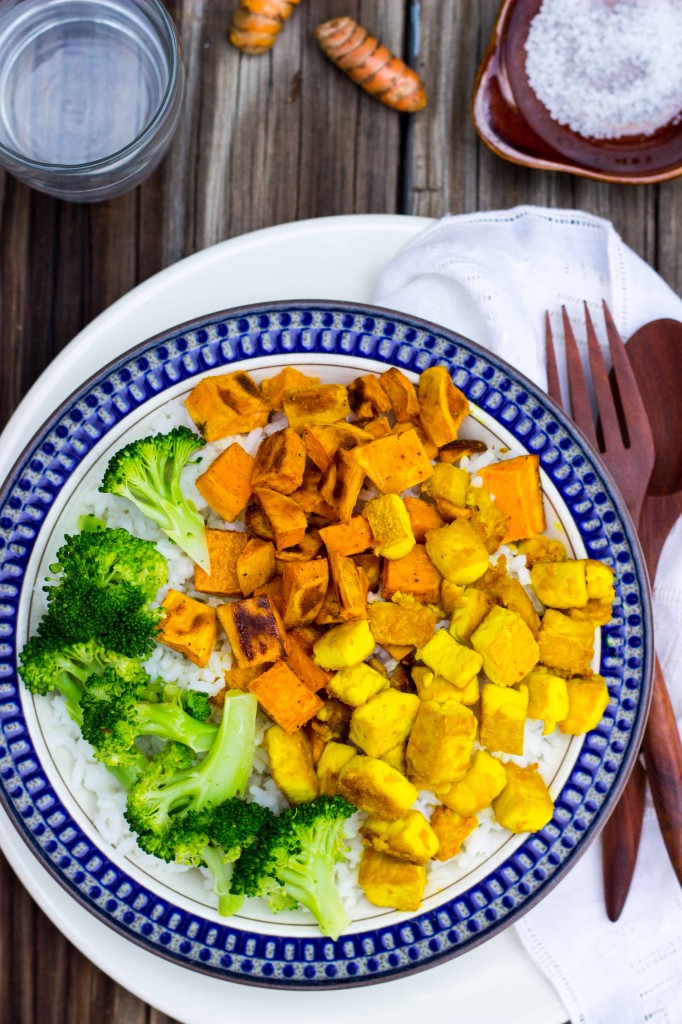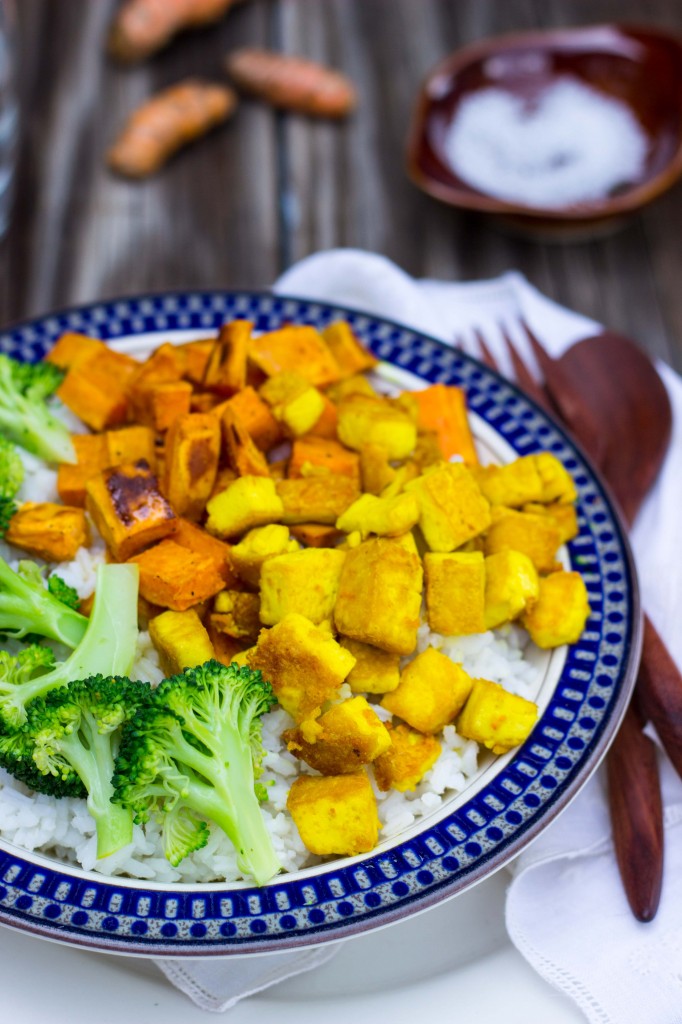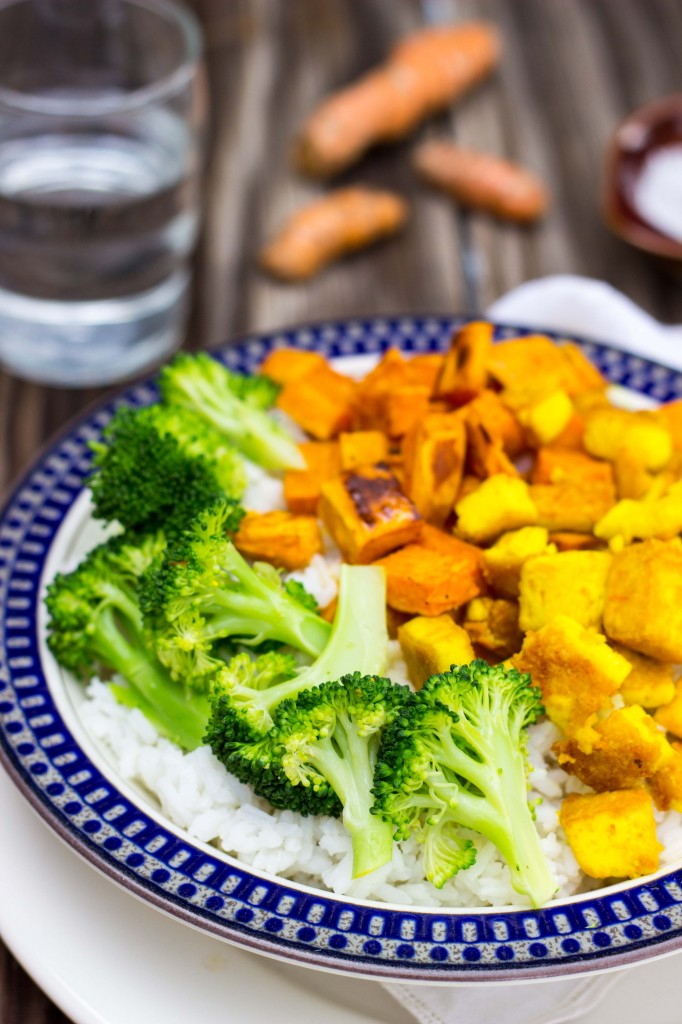 This is what Cheeto looks like when he is trying to use his mind control to make one of the humans feed him!