As I was making these crostini, I had to laugh a little bit. Up until a few years ago I very much disliked the two main ingredients in this dish. I think it is understandable that most young people, maybe even most people period, don't like asparagus. If you don't cook it correctly it can be bland and tough, and if you are one of those very lucky people, it can also make your pee smell not so pleasant, more on that later. I could survive on cheese, so I'm not sure why I never liked goat cheese. I only started eating goat cheese about 4 years ago. We were renting an amazing house in Southern Utah. The house was situated on a large piece of property and our landlord owned a burrow, named Cactus, and a bunch of goats. All the goats were so cute, but I especially loved the feisty black and white goat named Cookie. The goats were so fun and personable, I started to think that nothing that they produced could possibly taste bad. I then decided to try goat cheese and I've been enjoying it ever since.
I started eating asparagus a few years ago when I was trying to widen my vegetable repertoire. I bought one bunch of it, the stalks were pretty thick, I cut it into bite size pieces and steamed it. I made some noodles and added it to them. The asparagus wasn't so bad that I couldn't eat them, but I do remember that I ate all the asparagus first, so that I could enjoy my noodles without the bland asparagus getting in the way. Thankfully, I powered through and decided to prepare them in different ways. My favorite way is to season them with a few spices and roasted them in the oven. Now I make sure that I have some in each bite of my dish, rather than eat them first in order to get he asparagus experience over with quickly.
If you are an asparagus lover, I have no doubt that you will enjoy this dish. If you are not quite an asparagus lover, I encourage you to try this dish and maybe you too will be able to add a new vegetable to your repetroir. I've seen all sizes of asparagus sold at the store, but someone once told me that the best asparagus you can buy is only as thick as your pinky finger. When it gets much thicker than that it is more woody, or tough and not as appetizing.
I asked my husband if my food blog was the appropriate place to talk about asparagus pee and he thought about it for a while and said, "probably not". While I mostly agree with his answer I find it hard to talk about asparagus without mentioning the dreaded as
paragus pee. Up until a few months ago I ate as much asparagus as I wanted without ever experiencing asparagus pee. Then, a few months ago, I ate a normal helping of asparagus and a few minutes later I had to go to the bathroom. All of a sudden I smelled something very strange, the smell kind of resembled asparagus, but was different, and not good. I won't get into it too much, since this is a food blog after all and I am supposed to be making food look and sound appetizing, but I did think it was very interesting that after years of eating asparagus, asparagus pee free, I suddenly had it. I did a lot of research on the topic and it sounds like scientists are split on the reasoning behind why it happens. Some think that it is a gene that causes the smell while others think that it has to do with specific nasal receptors that allow some people to smell it and others not to. I'm not sure which theory I believe, especially after not smelling it for years and suddenly smelling it. Any thoughts on the issue??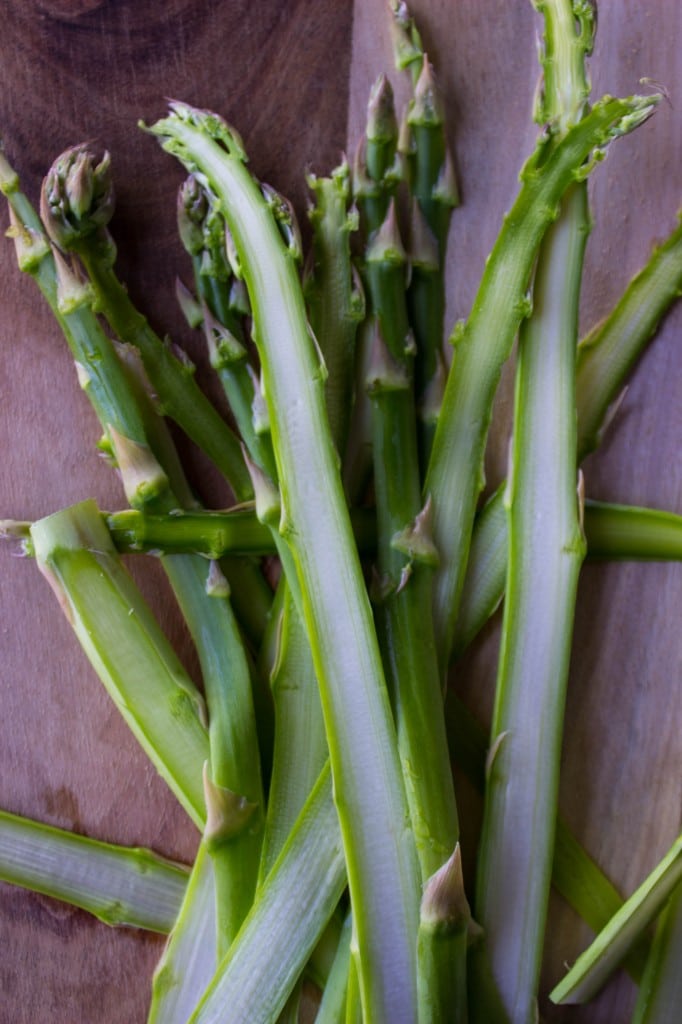 Try not to pay attention to my paint covered fingers! To make the asparagus ribbons lay the asparagus flat and take a vegetable peeler and run it down the asparagus lengthwise. You will get about 4 – 5 ribbons per asparagus.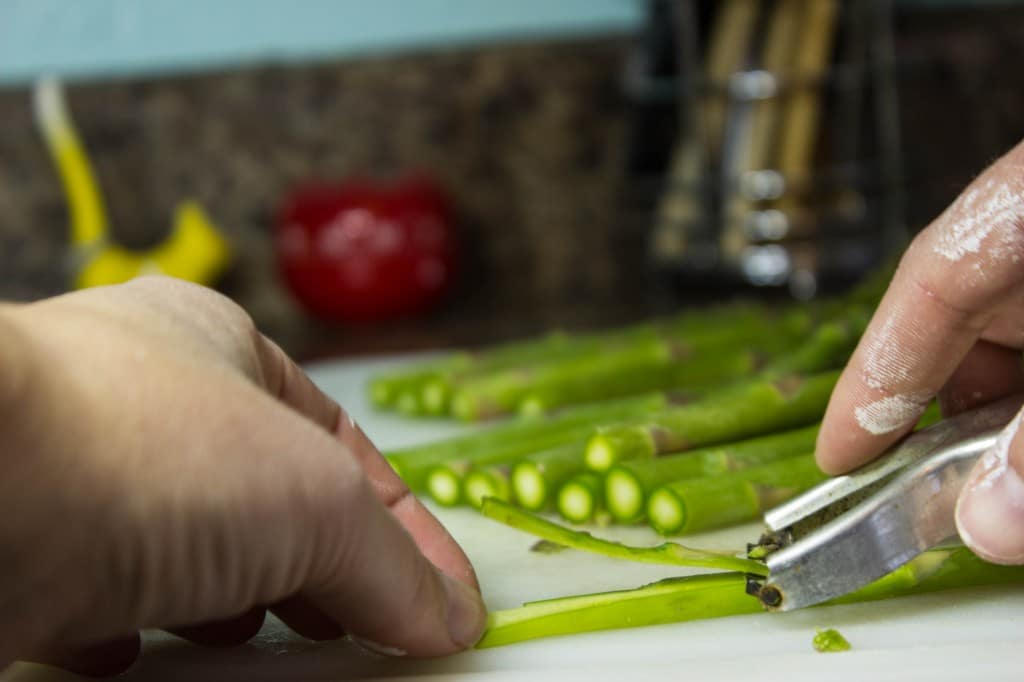 Place asparagus ribbons on a baking sheet and add olive oil, lemon zest, lemon juice, minced garlic, salt, and pepper. Toss to coat.
Bake the asparagus in a 350 degree oven for about ten minutes. Let cool and then transfer to a cutting board and chop into bite size pieces.
Use whatever type of bread you likes. I used a gluten free sandwich bread, but a French bread would have been good too. Drizzle with a little bit of olive oil and toast in the oven for about ten minutes into golden brown.
Let bread cool and then rub each slice with a clove of garlic.
What You'll Need:
1/2 Pound of asparagus, approximately

1 Teaspoon lemon zest, plus more for garnish

1 Teaspoon lemon juice, plus a little more

1/2 Teaspoon garlic, minced

1 Whole clove of garlic

1 Teaspoon olive oil, plus more for drizzling over the bread.

1/4 Teaspoon Salt

Pinch of black pepper

Bread, I used 5 slices of gluten free sandwich bread, cut in half. You could also use a nice french bread cut into slices.

Goat Cheese, I used about half of a 4 ounce package


What To Do:

Preheat the oven to 350 degrees.

Wash the asparagus and cut off about 1/2 an inch off the bottom, the bottoms can be pretty tough sometimes

Using a sharp vegetable peeler, make ribbons with the asparagus. Lay the asparagus flat and run the vegetable peeler from one side to the other, making thin ribbons.

Place asparagus ribbons on a baking sheet and add olive oil, lemon zest, lemon juice, garlic, salt, and pepper. Toss to coat and stick into the 350 degree oven. Bake for about 10 minutes, flipping at about 5 minutes in order to bake evenly.

Remove from the oven, squeeze a little bit of lemon juice over and let cool.

Once the asparagus is cooled, transfer to a cutting board and chop into bite size pieces. Set aside.

Slice the bread into pieces. Place pieces on a baking sheet and drizzle with a little bit of olive oil. Place in the oven and bake for about 10 minutes, flipping pieces over at about five minutes. Bake until bread is crisp and golden brown.

Take bread out of the oven. Peel one clove of garlic and cut the top off. Rub the cut garlic on each piece of bread to give it an extra garlic flavor.

Spread each slice of bread with goat cheese. I used about 1 teaspoon – 1 tablespoon for each slice, depending on the size of the bread.

Top with with asparagus, a couple of tablespoons on each, depending on the size of your bread slices.

Garnish each slice with lemon zest.

Enjoy!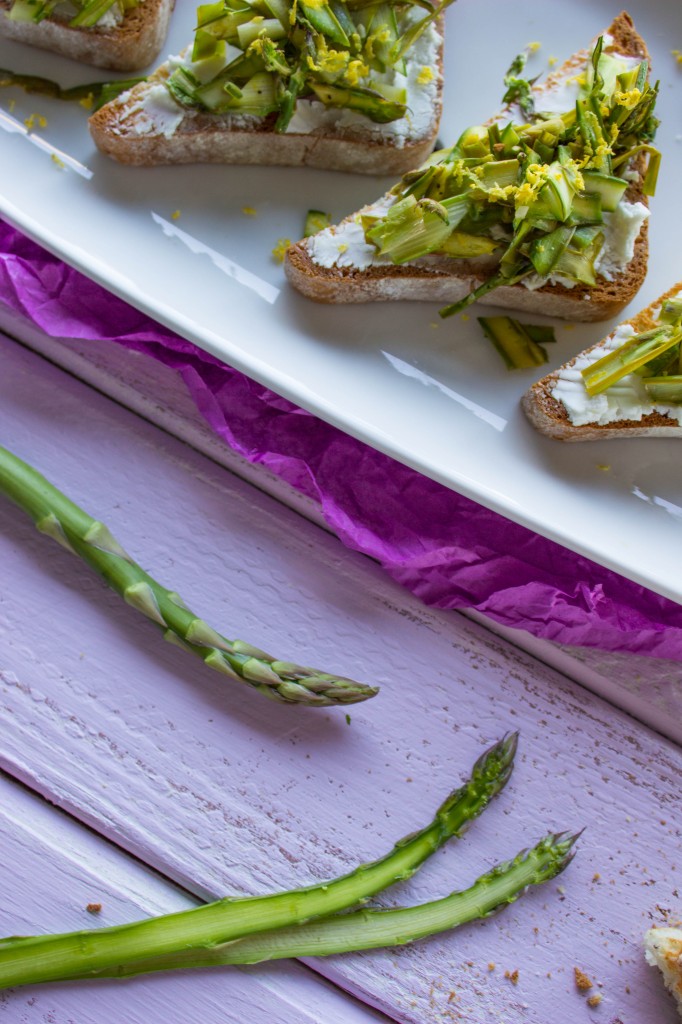 Cheeto is trying to hide from the birds, so that he can stalk them without the birds knowing he is watching them! I think he gave himself away when he lunged at the door.