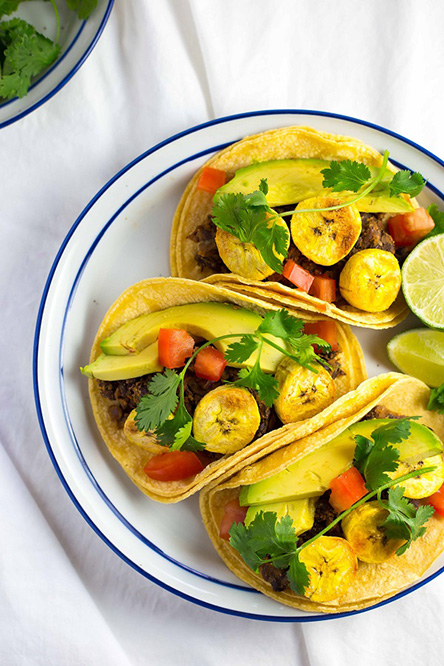 I think it has been far too long since I've posted a taco recipe on here, so I've decided to fix that today! Because, even though it isn't Tuesday, we still all need tacos in our lives!
Everyone has that go-to easy dinner that they always seem to have ingredients on hand for and it is what they make when they are out of ideas or maybe just out of time. I wish I could say that as a food blogger I make elaborate and creative recipes for every meal I eat, but unfortunately that is not the case.
Just like everyone else, I have days when I just have no energy left to make dinner so I stop by the Chipotle that is conveniently located a block from our house. Or days when I'm so hungry but I can't think of anything to make, even though we have a refrigerator and pantry full of food. Just the other day my husband asked if I could make something for a work potluck he was going to and I literally couldn't think of a single thing I wanted to make. My only advice was to pick up a package of cookies on his way to work.
Sorry for the tangent! But, my point is that when I don't know what to make for dinner I can pretty much always count on tacos. I always make sure to keep the pantry stocked with a variety of beans and lots of corn tortillas. If I'm lucky I also have some limes, cilantro, and salsa on hand.
When making tacos, I usually just open up a can of black beans and spoon them right in, but I decided to do something a little more special with these tacos. I made my own re-fried beans by smashing up some black beans, onion, garlic and spices. They were so good and you don't have to worry about all the little black beans falling out the back of the taco!
Have a great weekend and eat lots of tacos 🙂
Print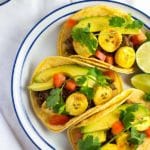 Black Bean and Baked Plantain Tacos with Avocado
---
Yield:

8

1

x
Category:

Entree, Gluten Free, Vegan
Ingredients
Baked Plantains:
2

medium sized ripe plantains

2 teaspoon

s olive oil
large pinch of salt
Black Beans:
2 cup

s cooked black beans

1/2 teaspoon

olive oil

1/4 cup

chopped onion

1

large clove garlic, minced

1/2 teaspoon

ground cumin

1/2 teaspoon

sweet paprika

1/4 teaspoon

smoked paprika

1/8 teaspoon

black pepper

3 tablespoon

s water
Salt
Tacos:
Corn tortillas
Avocado
Cilantro
Limes
Salsa or Tomatoes
---
Instructions
Pre-heat the oven to 400 degrees F. Peel the plantains and slice them into 1/2 inch pieces. Place plantains on a baking sheet and drizzle with olive oil and season with a generous pinch of salt. Bake plantains until golden brown, flipping once, about 20 minutes.
Heat a large pan over medium heat and add olive oil. Add the chopped onion and a pinch of salt and cook for two minutes. Next add the garlic and stir for 30 seconds. Add the black beans, all the spices, a pinch of salt, and stir until mixed together. Using a potato masher, slightly mash most of the black beans, leaving a small portion of them whole. Add the water and stir again until combined.
To assemble the tacos spread a small amount of black beans down, add a few slices of avocado and baked plantains. Top with cilantro, tomatoes, and lime juice, if desired. Recipe makes about 8 tacos.