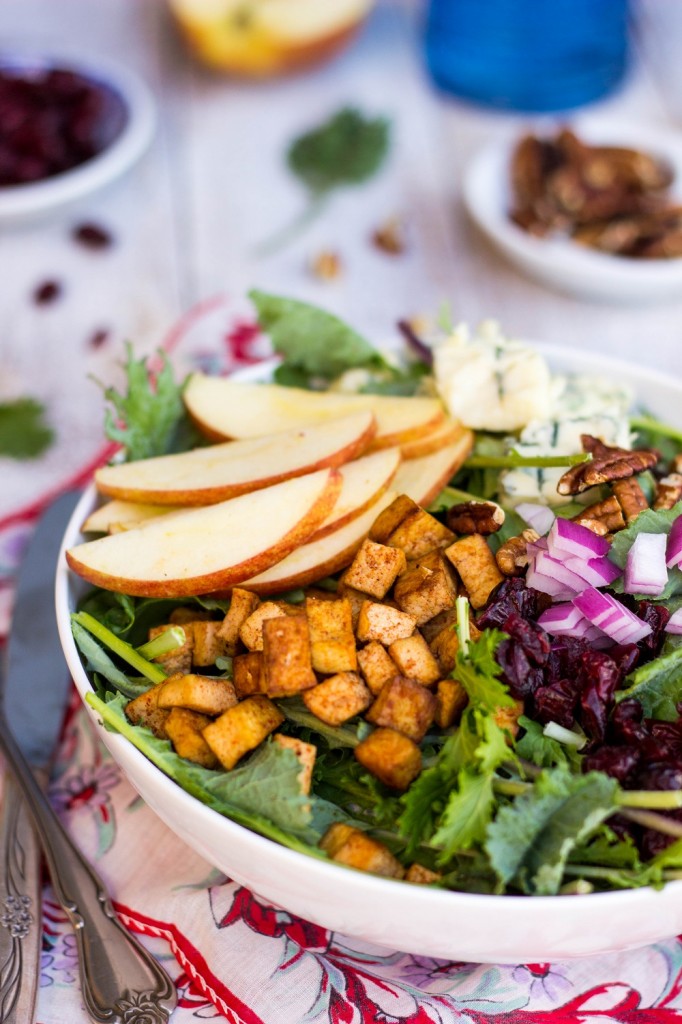 I'm super excited about this salad today because I made this salad using lettuce that I grew! That might not seem like a huge feat to some of you, but this is the first time I've ever grown my own lettuce and it was so exciting to pick it and use it in this salad! Did I mention that I grew this lettuce?!
I recently read this post on one of my favorite food blogs, Oh My Veggies (an awesome food blog for vegetarians or people who are just looking for some yummy veggie recipes!). The post is titled, "A guide to salad greens" and it highlights all the different types of salad greens that are out there. As much as I love to eat salads, I realized that there were so many different kind of salad greens that I had never even tried before, some I had never even heard of. So, I'm making it my goal to try as many new kinds of salad greens as I can, who wants to join me?!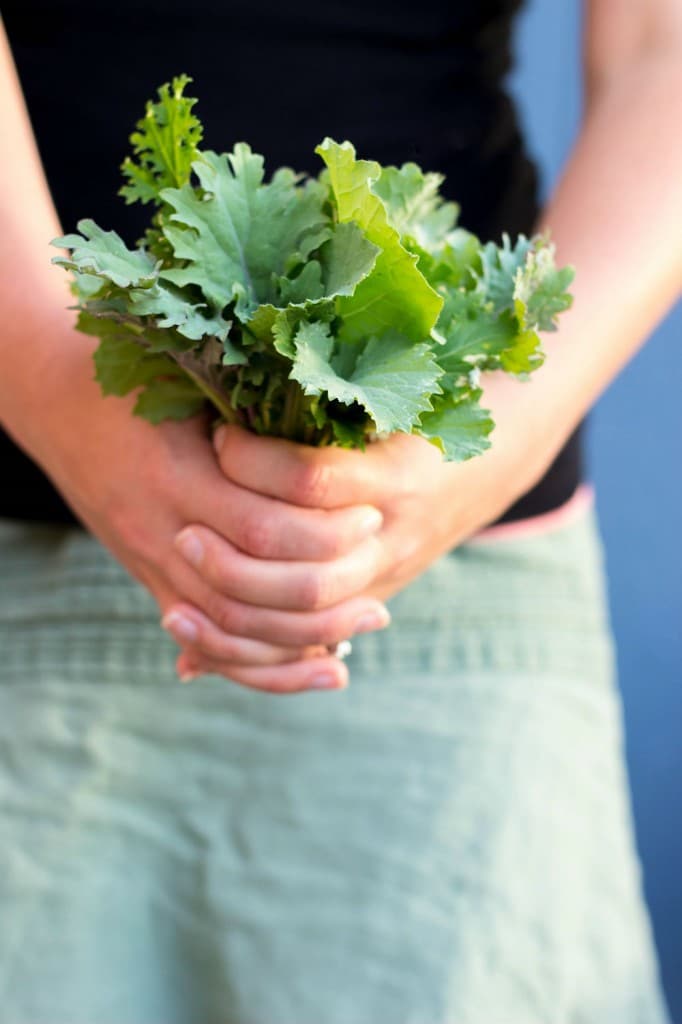 To kick things off, I'm starting with the mesclun mix that I grew in my little garden! Mesclun greens aren't just one type of lettuce leaf, they are actually a bunch of different greens thrown together to make up the mesclun mix. It was so exciting seeing all the different types pop up and test tasting each of them. Overall, they are a little bit peppery, which is just the way I like my salad greens to be.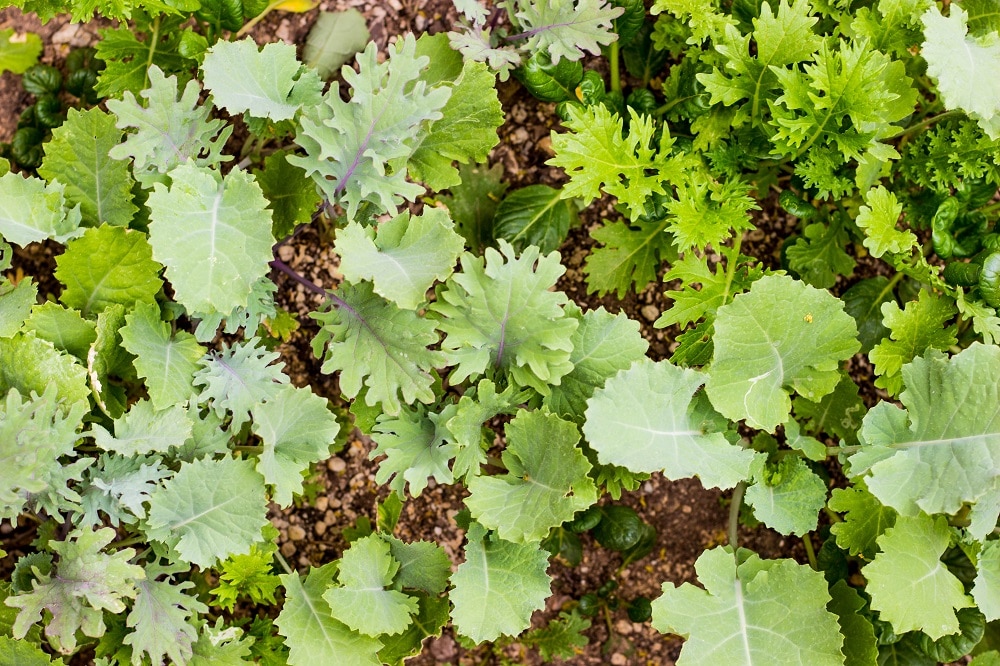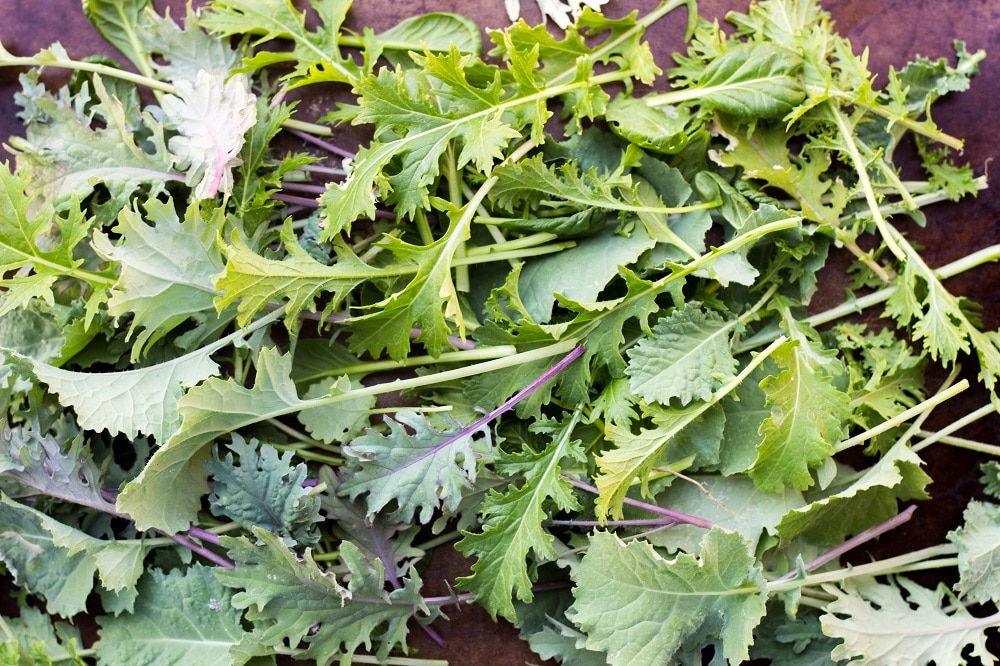 I used to work at this amazing restaurant in Southern Utah, located right outside of one of the most amazing places I have ever been, Zion National Park. I even got the privilege to work in the park for five years! Up until I tasted this salad, I despised blue cheese, I mean who would purposely eat moldy cheese?! But after one bite of this salad, I've been eating it ever since. The original salad had chicken instead of tofu, but I haven't felt like cooking meat lately, so I made crispy tofu instead. But, if you aren't into tofu, you are more than welcome to use chicken in its place.
I love frying tofu with a few spices until it is nice and crispy.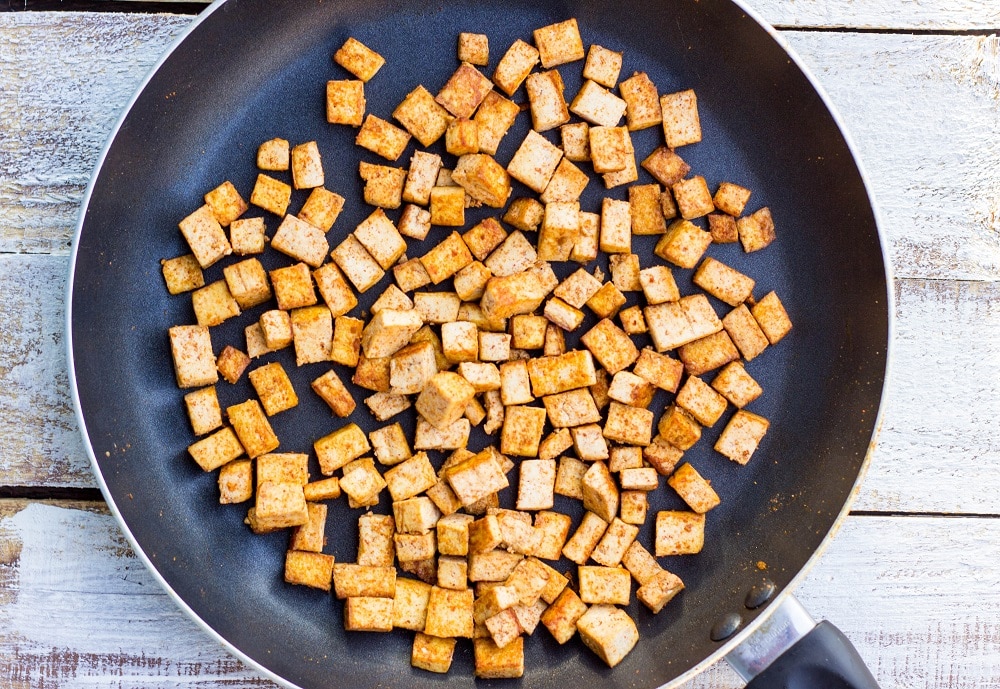 Print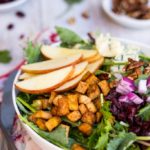 Blue Cheese, Apple, Pecan, & Cranberry Salad with Tofu
---
Prep Time:

10 mins

Cook Time:

20 mins

Total Time:

30 minutes

Category:

Salad, Vegetarian
Ingredients
Lettuce, your favorite kind
Blue cheese, crumbled
Apples, whatever kind you like, sliced or diced
Pecans, toasted and crumbled
Dried cranberries
Red onion, small diced
Tofu
14 ounce

s tofu, 1 package

1 tablespoon

liquid aminos, or soy sauce (use a little less if using soy sauce)

1/2 teaspoon

garlic powder

1/2 teaspoon

paprika

1/2 teaspoon

olive oil
Balsamic Vinaigrette:
1/2 cup

olive oil

3 tablespoon

s balsamic vinegar

1

small garlic clove, minced

1/2 teaspoon

dijon mustard

1/2 teaspoon

maple syrup or honey

1/2 teaspoon

salt

1/4 teaspoon

pepper
---
Instructions
Make the Tofu:
Place a large pan over medium heat and add the olive oil. Drain the tofu, pat it dry, and dice it into bite size pieces. Place the tofu and all the seasonings into the pan. Stir until all the tofu is coated and cook for about 15 – 20 minutes, until tofu is crispy on the outside, stirring occasionally. Set aside.
Make the Dressing:
Add all dressing ingredients into a jar or bowl and whisk until combined.
Assemble the Salad:
Place about 2 cups of lettuce into a bowl and top with desired amount of each topping. I would suggest about 1/4 cup of tofu, 2 – 3 tablespoons each of blue cheese, pecans, and dried cranberries. 1 tablespoon red onion, and 1/4 apple, sliced or diced into bite size pieces.
Dress with desired amount of balsamic dressing, or your favorite dressing.