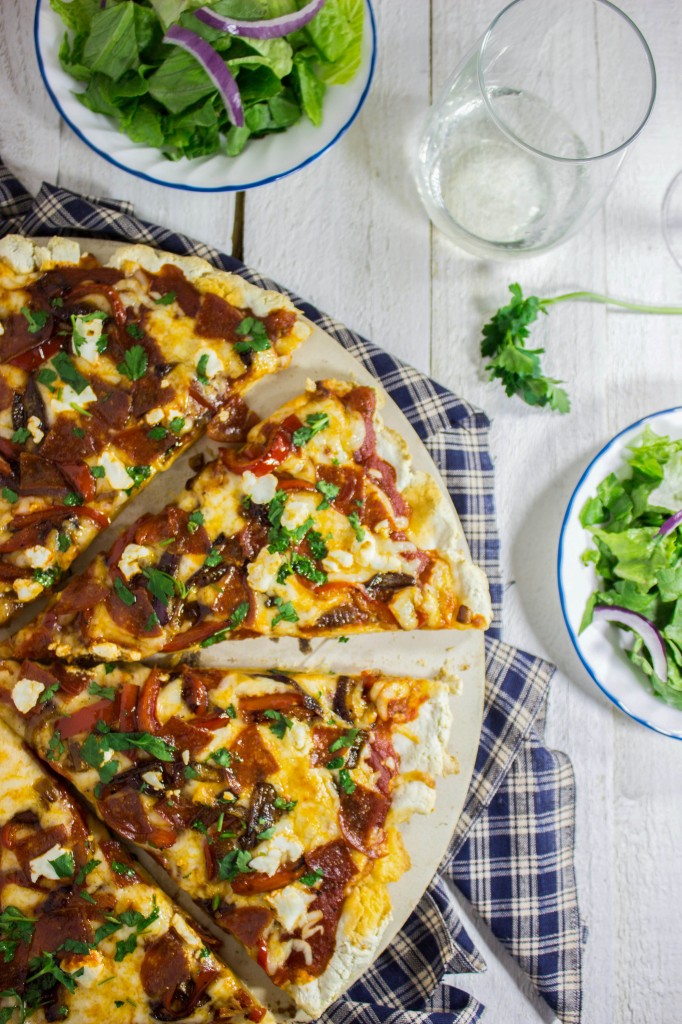 If you ask anyone who has recently gone gluten free what they miss the most, chances are they will say pizza.  The idea of giving up pizza was never an option, so when I first started experimenting with gluten free eating, finding a good pizza crust recipe was at the top of my to-do list.  Unfortunately, it wasn't  quite as easy as I was hoping.  I tried a lot of pizza crust mixes hoping that they would taste just a little bit like regular pizza, at that point I had given up the hope that I would find something that would taste remotely like regular crust, I just wanted something that didn't taste like cardboard and have the texture of sand.
After many failed attempts, I abandoned the idea of trying to make my own crust and started buying gluten free pizzas at the store and adding my own toppings to them, but they were so tiny and so expensive.  I could get a 6 inch cheese pizza for about $10.00 and that just left me poor and hungry.  One day I decided to give gluten free pizza crust recipes another try.  I started to search the internet for recipes and I came across this recipe from The Minimalist Backer.  It intrigued me because the idea behind it was, why don't we take a pizza crust recipe that we know we love, but is made with regular flour and just substitute gluten free flour and see how it turns out.  The big reason that gluten free baking intimidates me is because, unfortunately, just substituting the same amount of gluten free all purpose flour for the regular all purpose flour leads to dense baked goods that are usually not quite set in the middle.  I decided to give it a try and I will honestly, and excitedly, tell you that this gluten free pizza crust really is the best gluten free pizza crust out there.  My husband was even able to enjoy it without having to accompany it with tons of water to wash the crust down with.  I think I would even go so far as to make it for dinner when we have company over.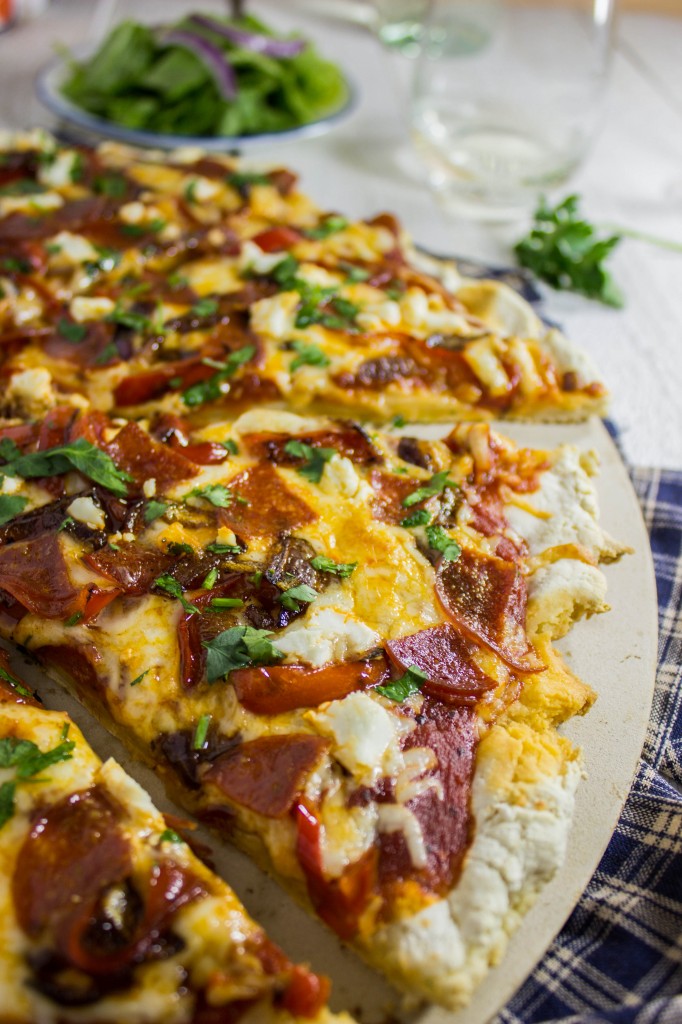 Now that we have the crust out of the way, let's get to the actual pizza toppings part.  The crust makes it good, but the toppings are really why we are here today, right?  Caramelized red pepper and onion, creamy goat cheese, and pepperoni.  A few years ago we were visiting friends in Helena, MT.  They took us on a beautiful, albeit very cold, hike.  We all had to wear our yak tracks because it was so icy out.  Afterwards, we went out to lunch.  We weren't familiar with the area, so we let them choose.  They decided on a little, local, brick oven place.  We pulled up and it looked like tiny fast food place, it is hard to mess up pizza, but at this point I was a little nervous.  We sat down, I opened the menu, and I found this amazing sounding pizza staring back at me.  It had everything that I loved on it; creamy goat cheese? Check.  Sweet caramelized onions and red peppers? Check. Pepperoni? Check!  The pizza finally came and it was even more delicious in person than it was reading about it on the menu.  Ever since that day, I frequently choose these ingredients for my pizza.  We eat a lot of pizza in our house, so it is nice to have some different pizza recipes to shake things up a little bit.  I hope you enjoy it as much as I do.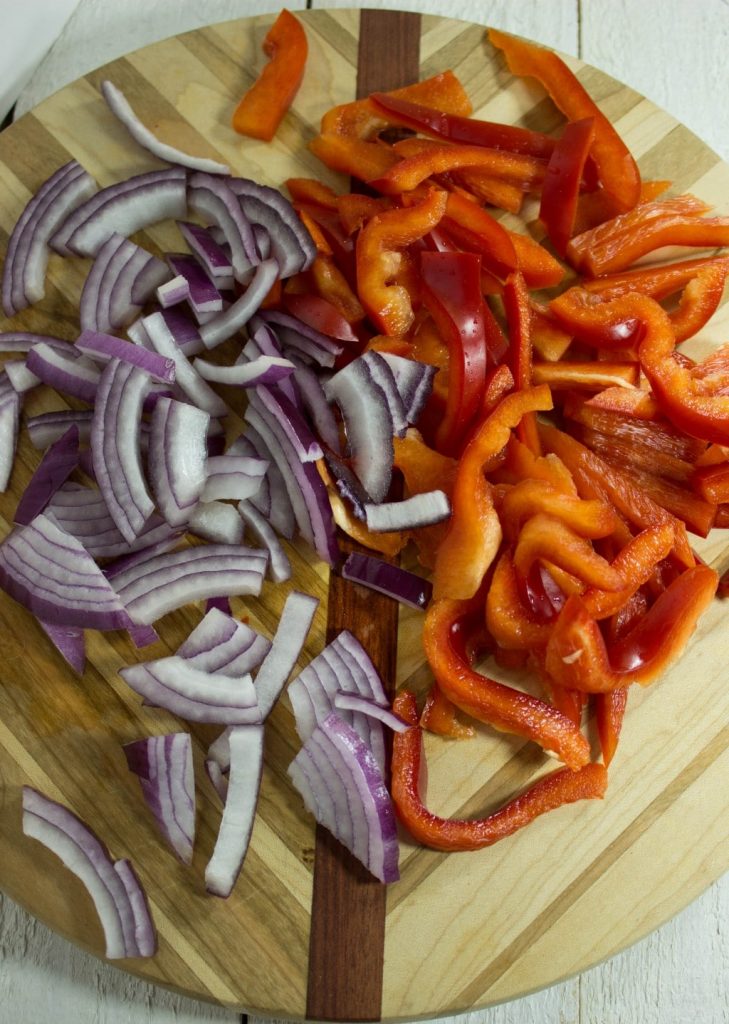 Thinly slice the onion and red pepper.  Heat a pan with a little bit of oil and throw them in.  Add a pinch of salt to help them break down and let them do their perfect caramelizing thing for about 10 – 15 minutes, stirring occasionally.  I put a little pat of butter into the pan when they were almost finished, just to make them extra special.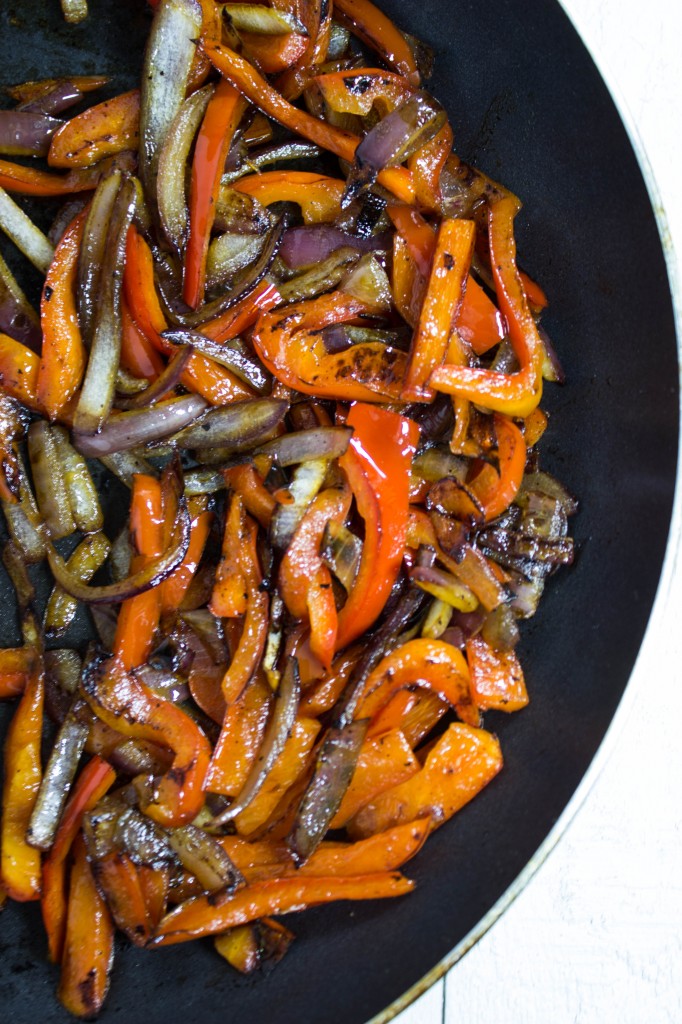 Pepperoni!  Because, why not?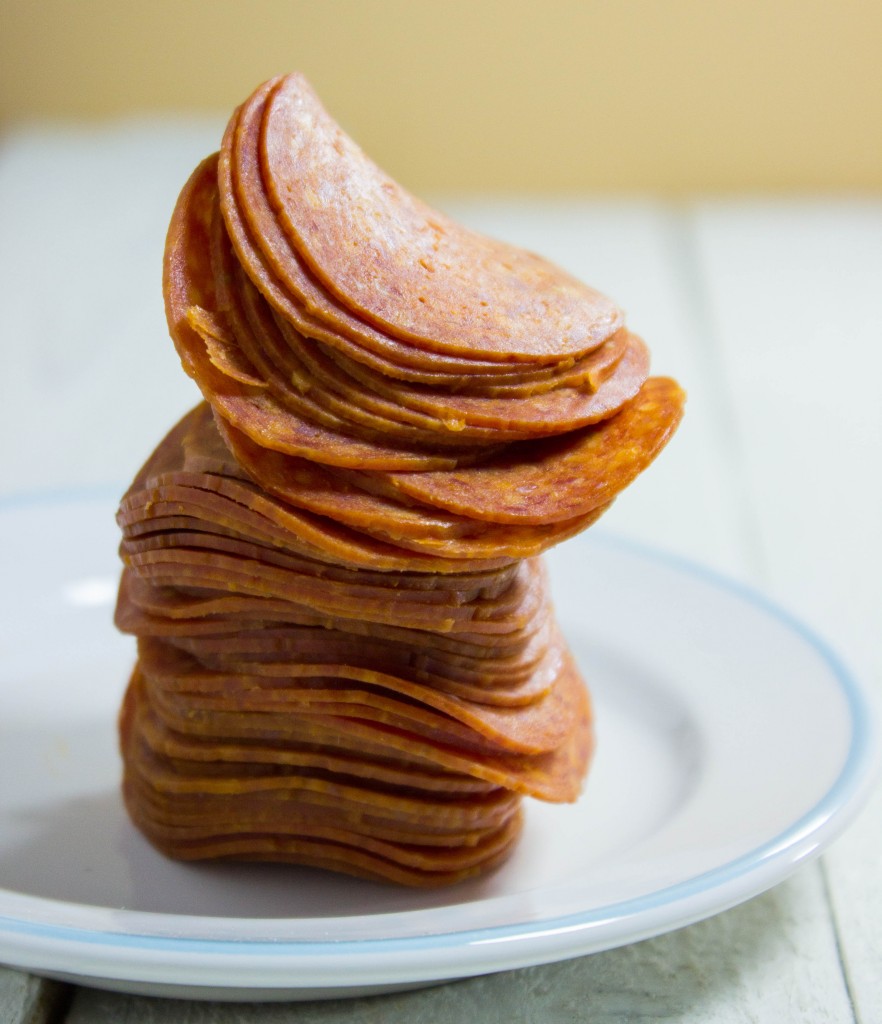 I used monteray jack cheese, but you could use whatever cheese you like.  I've been using monteray jack cheese a lot  recently because I really like the way it melts.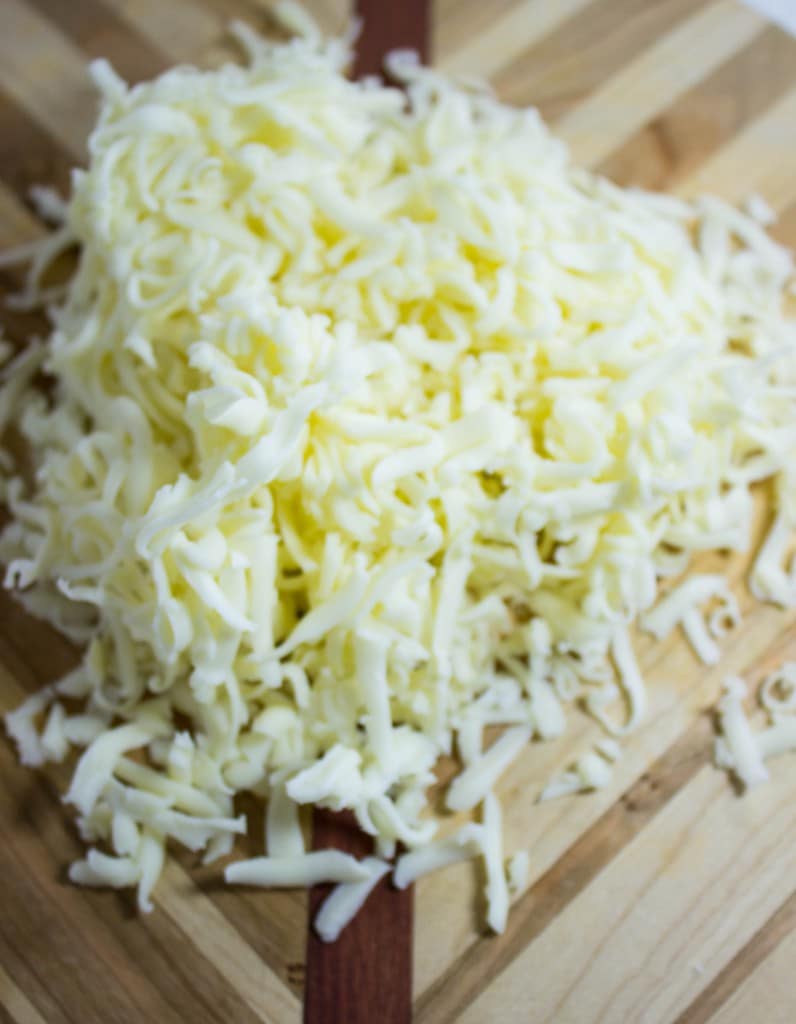 Then layer all the ingredients onto your pizza crust.  I like to cut my slices of pepperoni into four to make it look a little fancier.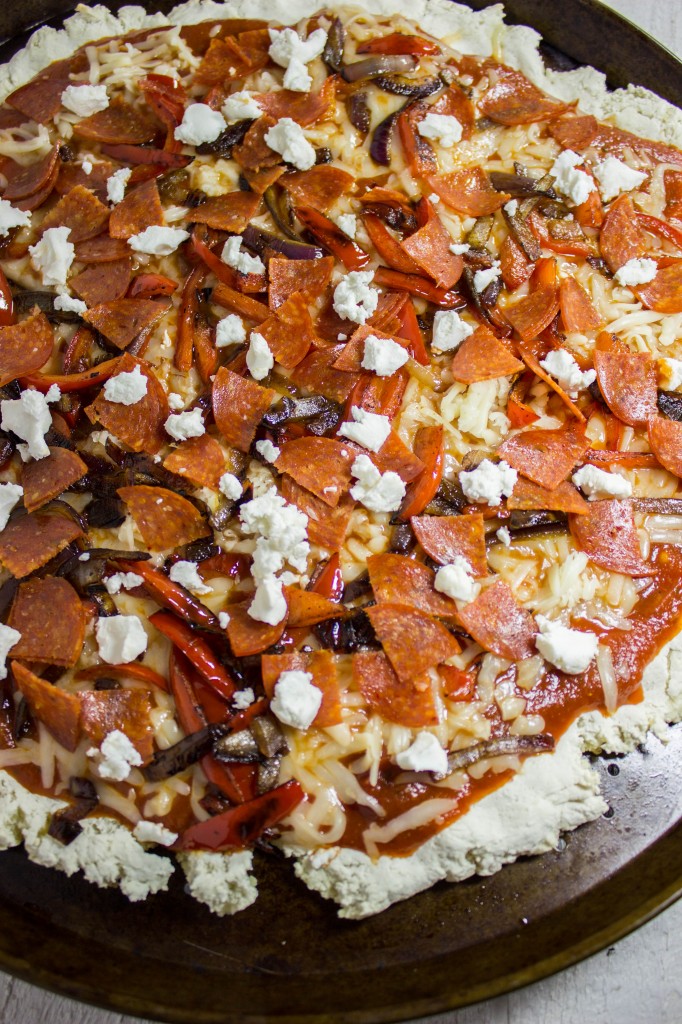 The pizza crust recipe that I used is gluten free and was adapted from Minimalist Baker, if you are gluten free and looking for a great crust recipe, I would definitely recommend it!
Print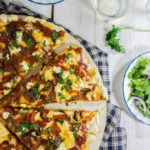 Caramelized Vegetable Pizza with Goat Cheese and Pepperoni
---
Yield:

4

-

6

1

x
Ingredients
1

Pizza crust

2

–

3

Cups tomato sauce

1

–

2

Cups shredded cheese, whatever kind you like

2/3

Red bell pepper, julienned

1/2

Red onion, julienned

2 Ounce

s goat cheese, crumbled, or desired amount
Pepperoni, however much you desire
Olive oil
Butter
Salt
Parsley for garnish, if desired
---
Instructions
Pre-heat oven according to directions for pizza crust that you are using. Pre-cook crust if needed.
Caramelize onions and red peppers: heat a pan over medium heat. Add a few drizzles of olive oil, then add onions and red peppers. Season with a pinch of salt and then cook on medium heat for about 10 – 15 minutes until onions and peppers and brown and caramelized, stirring occasionally. When they are almost done, add a little pad of butter and cook for another 2 -3 minutes, if desired.
Evenly spread tomato sauce onto crust and top with cheese.
Evenly distribute caramelized onions and peppers and pepperoni.
Top with crumbled goat cheese.
Cook pizza in the oven until crust is cooked through and cheese is melted.
Remove from oven, let cool and then slice.
Enjoy!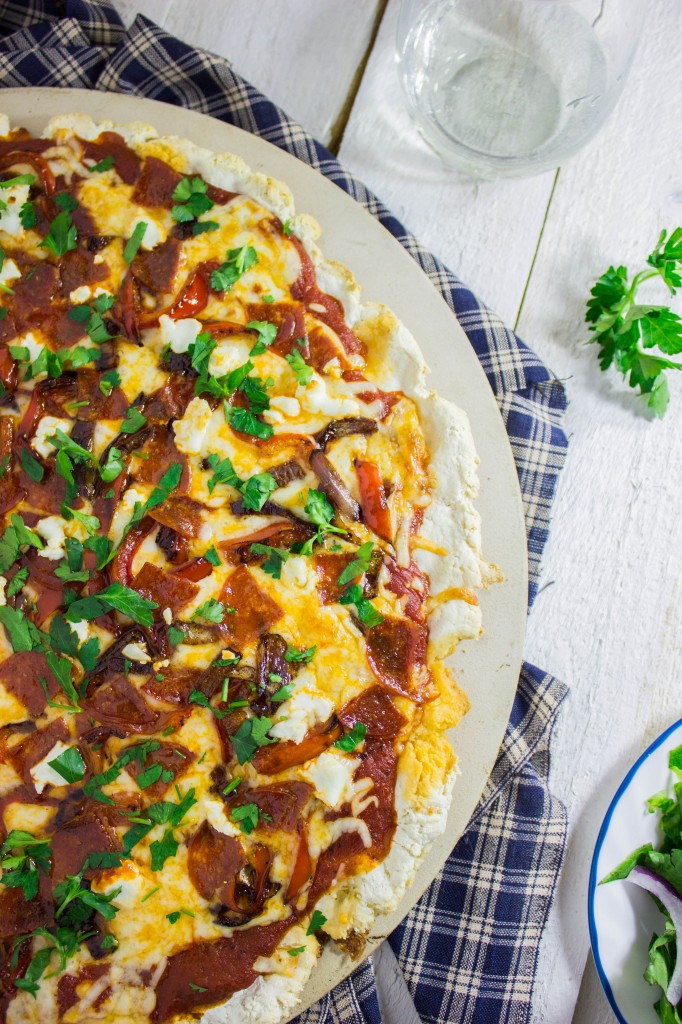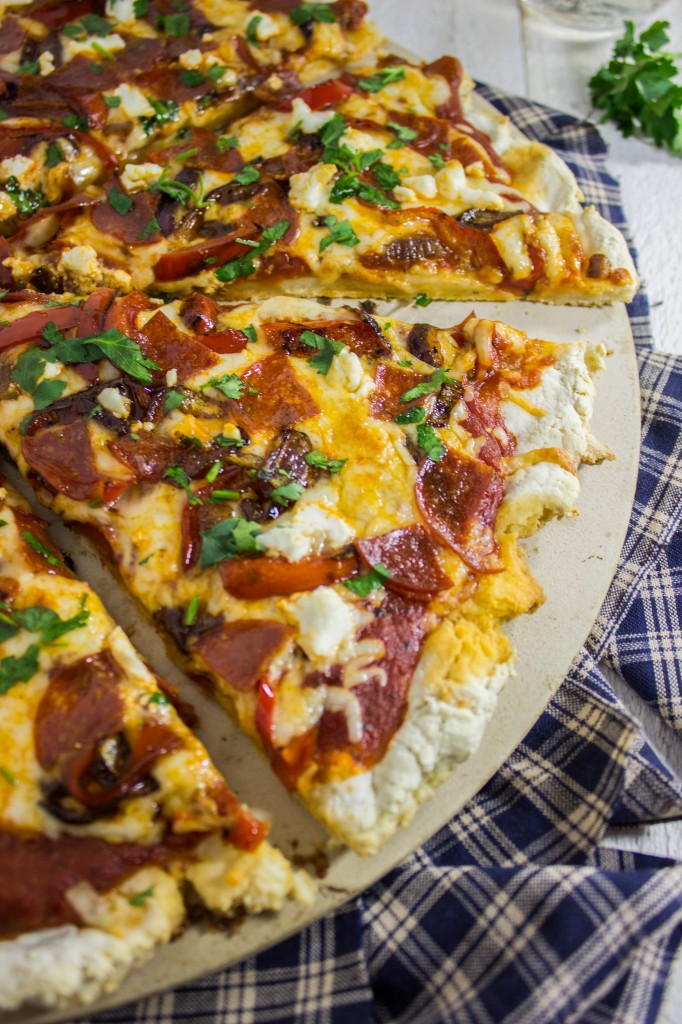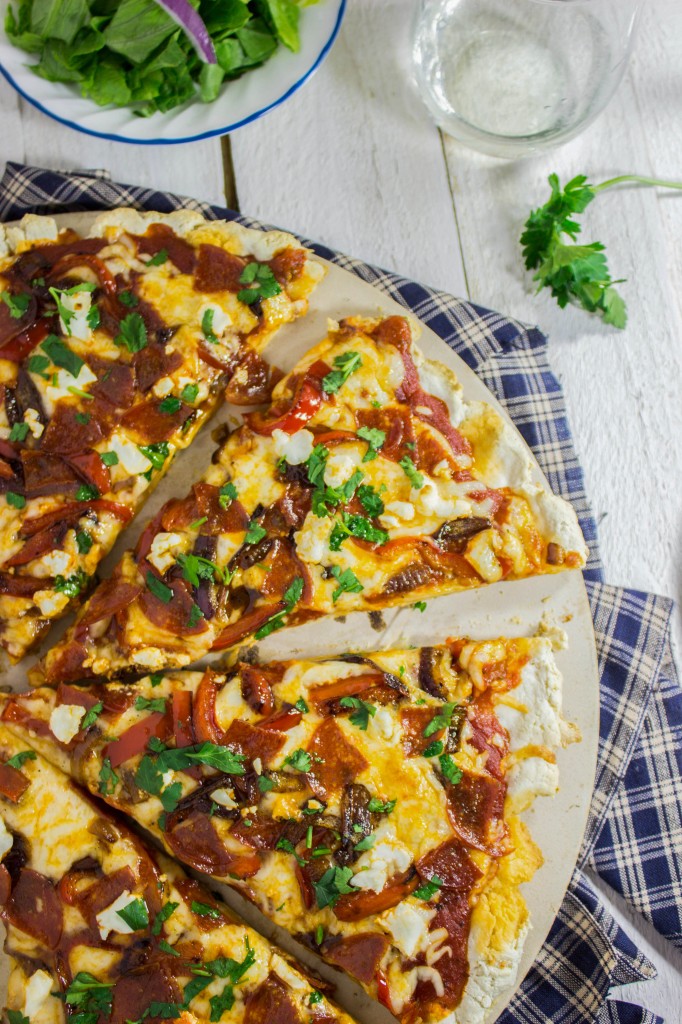 Cheeto really enjoys all the moths that my new fluorescent photography lights attract.  They would keep him busy for hours!