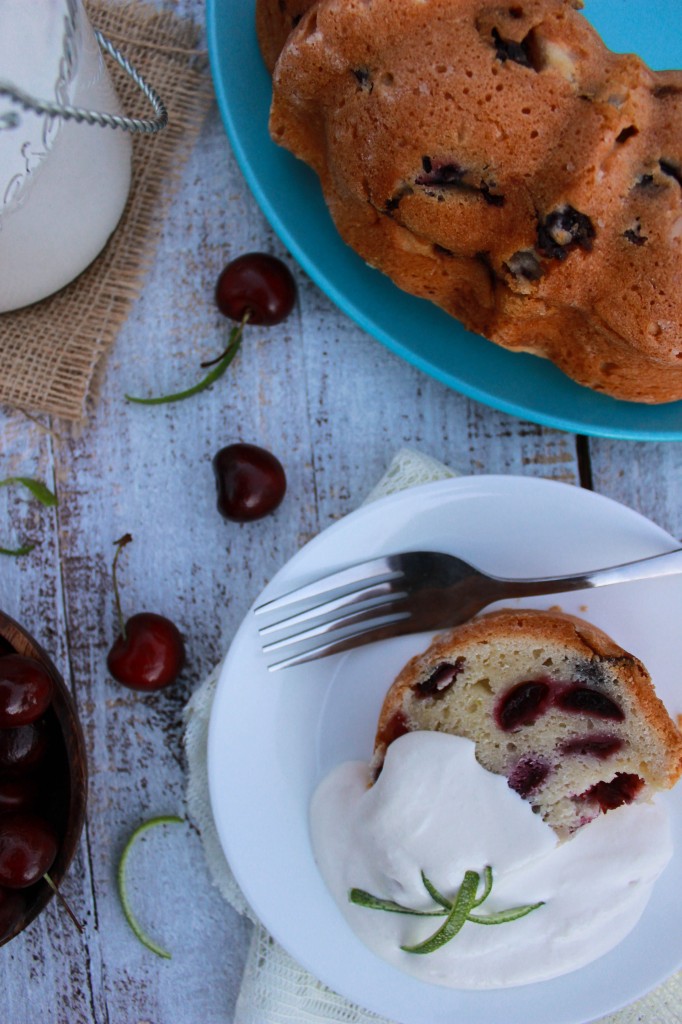 I realized that my dessert section has been severely neglected, and I had to do something about it.  It isn't that I don't like dessert, but I'm definitely much more of a savory person.  I guess my sweet tough has never fully grown in, although a few months ago I went on a no sugar diet for two weeks and my sugar cravings went through the roof!  One of our neighbors drives a truck for the Pepperidge Farm company and he always has this Pepperidge Farm truck with a gigantic picture of a cookie on it parked out front.  I had to pass this cookie truck on my way home from work everyday and it was absolute torture!  I have never wanted sugar so much in my life, it was painful walking through the bakery section at the grocery store.  But now, thankfully, sugar is back in my life and that giant cookie truck does not taunt me anymore, at least most of the time…
A few months ago we went over to a friend's house for dinner and they made us this really nice dinner with steak, roasted potatoes, and tomato salad.  It was delicious and I was really impressed,
and then to top it all off, for dessert they served us gelato with berries that had been macerating in a sweet, sugary sauce.  We had them over to our house for dinner a few weeks later and the pressure was on.  I've been mostly gluten free for a little over a year now and sometimes it can be tough when we have friends over for dinner, especially when dessert is involved.  Do I make something with gluten in it and pay for it the next day?  Do I make something using a special gluten free product that may or may not taste any good?  I did make gluten free lasagna for some guests once and they promised me that it tasted good, but it looked more like a big pile of mush than lasagna.  For this dinner, I decided on chili with fritos (one of my go-to gluten free dinners when we have company over) and pound cake with homemade whipped cream for dessert.  I found a gluten free pound cake recipe on the Land O Lakes website and I figured it had to be yummy and buttery if it was from Land O Lakes.
The recipe called for a bundt pan but I didn't have one.  I had an image in my mind of pound cake being in a long rectangular loaf shape, so I went ahead and used my loaf pan.  Unfortunately, there was a reason they were calling for a bundt cake pan, it was supposed to cook for about an hour and I had mine in the oven for a lot longer than that and it still wasn't fully cooked in the middle and the top was a lot browner than it should have been, and by that I mean it was kinda black.  I decided to fix my mistake by cutting off the burnt top layer and then cutting the cake into thin slices and crisping it up in the pan with some butter, because pound cake needs more butter, right!?  I made some homemade whipped cream with some vanilla and brown sugar and then topped everything off with some mixed berries.  Despite my mistakes it turned out to be really good, and I even suspect that no one knew it was gluten free!
When I decided to make this pound cake again to share with you, I wanted to jazz it up a little so I added some fresh cherries and some lime juice and lime zest.  They made it even more sweet and delicious and perfectly complemented the vanilla pound cake!  I hope you enjoy this recipe, whether gluten free or not!
I was trying to think of flavors that would work well with a vanilla pound cake and fresh cherries just happened to be on sale at the store!
You can't make pound cake without lots of melted butter!  The first step is to cream the melted sugar and butter together in a bowl.
You will add 4 eggs total, but make sure to add them one a time and mix well after each addition.
Then, add the vanilla, it seems like a lot of vanilla, but it is vanilla pound cake after all!  Next, add the lime zest and juice.
Add the flour and baking powder mixture to the wed ingredients, alternating with the milk.  Mix until everything is combined.
There may be an easier way to pit cherries, but my method was to dig in with my fingers and pull the pit out, luckily for me, the cherries were very ripe and soft and it was pretty easy to do.  Does anyone have a more efficient cherry pitting method?
Add 1 teaspoon of flour to the cherries so that they don't sink to the bottom of the batter and then add them in.  Stir gently with a spoon or spatula and make sure they are well incorporated.
A greased and floured bundt pan will make it much, much easier to get your cake out in the end!  Pour the batter into the pan and place in the oven.  Then, wait about 1 hour for your delicious cherry vanilla and lime pound cake!  It is worth the wait!
*Recipe adapted from Land O Lakes Gluten Free Vanilla Pound Cake Recipe
What You'll Need:
2 Cups sugar

1 Cup butter, melter

4 Eggs

4 Teaspoons vanilla

3 Cups gluten free flour, or regular, plus 1 teaspoon


2 Teaspoons baking powder

1 Cup Milk

1 and 1/2 Cup fresh cherries, pitted and chopped roughly (I measured the 1 1/2 cups after I had pitted and roughly chopped them)


Juice of 1 lime

2 Tablespoons lime zest

Whipped cream for topping, if desired

What To Do:
Heat oven to 350 degrees.

Grease a 12-cup bundt pan and then sprinkle it with flour, set aside.

In a large bowl, cream together sugar and melted butter.

Add one egg at a time and beat well after each addition.

Add vanilla and beat until incorporated.

Add lime juice and lime zest and beat again, until incorporated.


In a small bowl, stir together 3 cups of flour and the baking powder.

Gradually add flour blend to the wet ingredients, alternately with the 1 cup of milk.  Beat until all ingredients are combined.

Place cherries into a small bowl and mix in 1 teaspoon of flour, this will make it so the cherries sit evenly in the batter, rather than sinking to the bottom.

Add cherries to the batter mixture and gently incorporate with a spatula or spoon.

Pour batter into greased and floured bundt pan and put in the 350 degree oven for 50 – 60 minutes, until toothpick inserted in the center comes out smooth.  Let cool for 10 minutes and then remove from pan.

Top with whipped cream if desired.

Enjoy!

The moment of truth!
It is always a great feeling when your cake slides right out of the pan!
Time to dig in!
Enjoy!
Cheeto was such a good sous chef I let him lick the whipped cream bowl!