Surprise! It's summer! Ok, maybe not really, but it has been feeling a little too much like summer here recently. We have had temperatures in the upper nineties for a few days in a row and I've been feeling hot, tired, and unmotivated.
It is crazy how temperatures can be so different from one side of the country to the next. Almost exactly a year ago, Eric and I packed up Cheeto and moved from Montana to Arizona. We left a ten degree blizzard on a Sunday and ended up in 95 and sunny temperatures on Wednesday.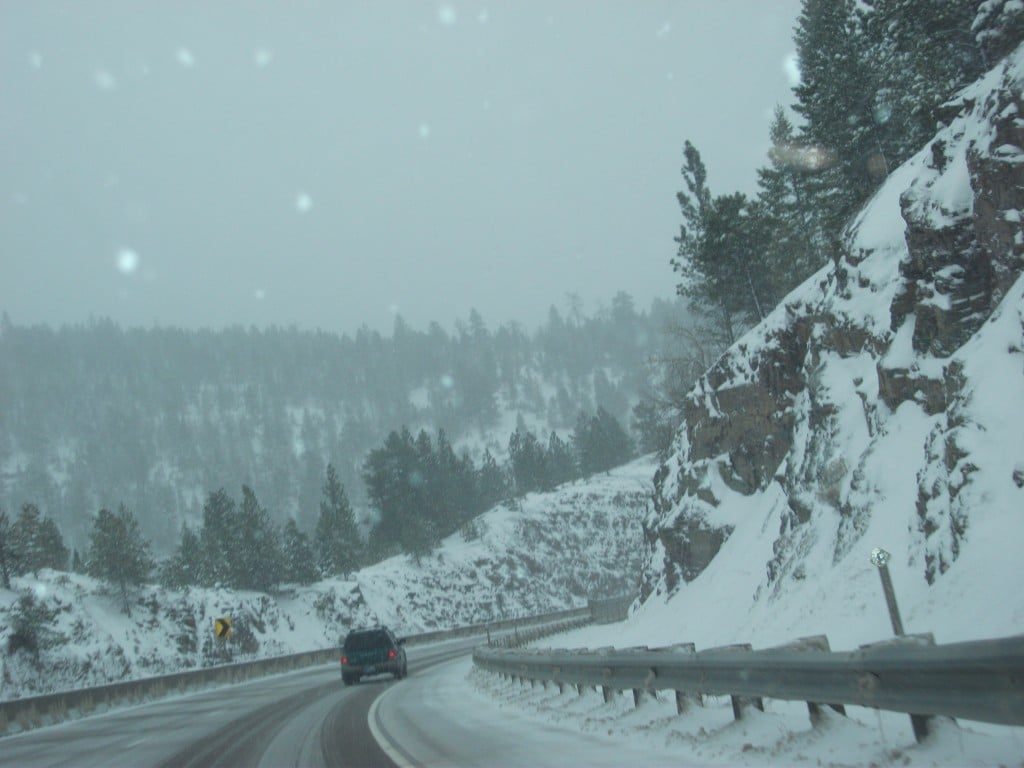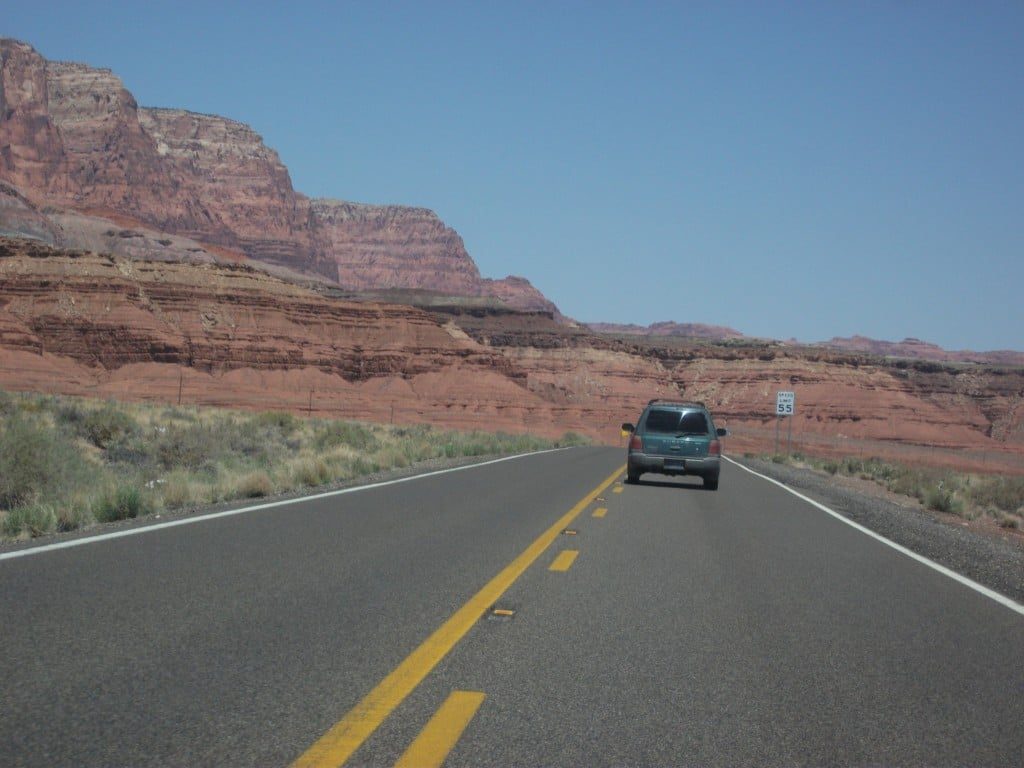 Lucky for me, Cheeto only meowed on the first day of the three day drive, which coincidentally was the only day that consisted of lots of snow, icy roads, and white knuckles. This is what he looked like on the last two days of the drive, poor little guy must have tired himself out from all the incessant meowing he did the day before.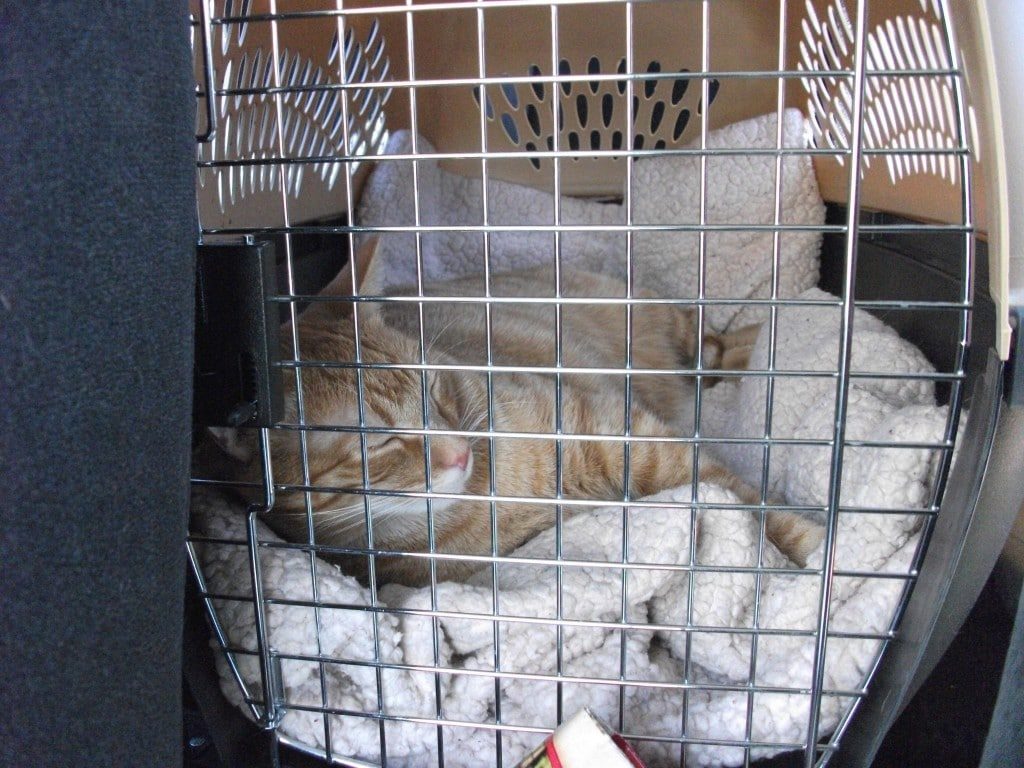 We finally made it to Arizona, got out of the climate controlled car and it was hot. We had lived in Southern Utah before, but I quickly realized that the two years of living in Montana had made me very soft when it came to the heat. Eric promised me that we only had to endure about six months of heat and then it would be smooth sailing and perfect weather the other six months of the year. Thankfully, he wasn't lying and these last six months have really been great, but, unfortunately, now it is getting awfully close to those other six months where you don't want to ever leave the house and you wish that it was acceptable to wear your bathing suit to work.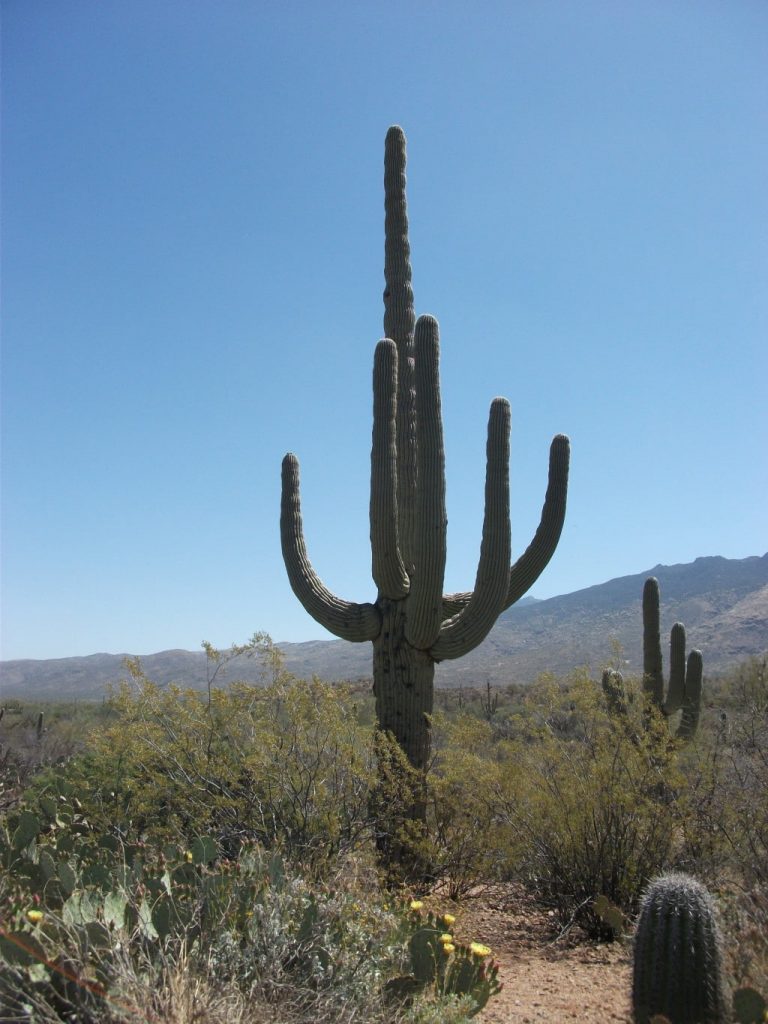 This time of the year really makes me thankful for ice cream. In fact, most summer days I would gladly eat ice cream for breakfast, lunch, and dinner, except all the ice cream consumption might negatively interfere with my wearing a bathing suit to work idea. I guess I will just have to settle for eating ice cream for every meal!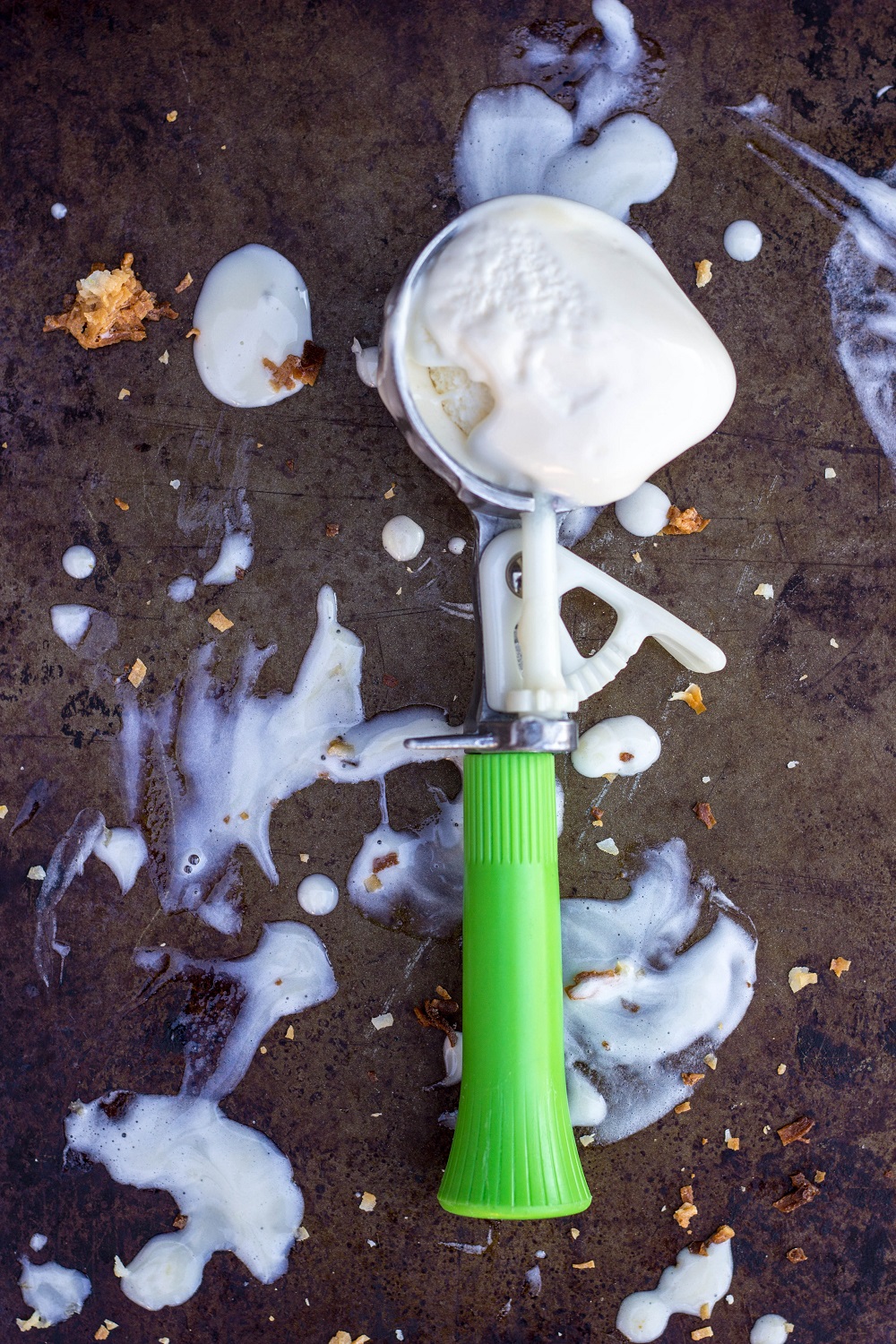 We recently gave up our cable TV and I have been going through serious Food Network withdraws. Thankfully, I still get the magazine and when I opened up last month's issue to find these macaroon ice cream sandwiches, I knew right away that I had to make them. Since I pretty much put lemon in everything that I eat, I figured it would only be right to throw some into the macaroons.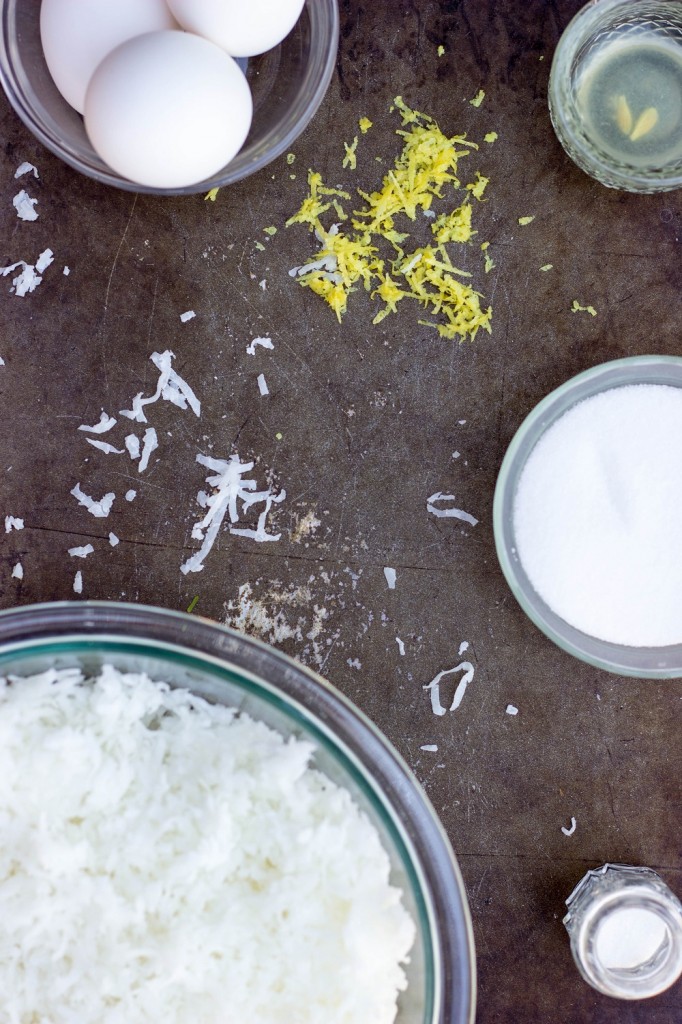 You only need a few simple ingredients to make these delicious macaroons.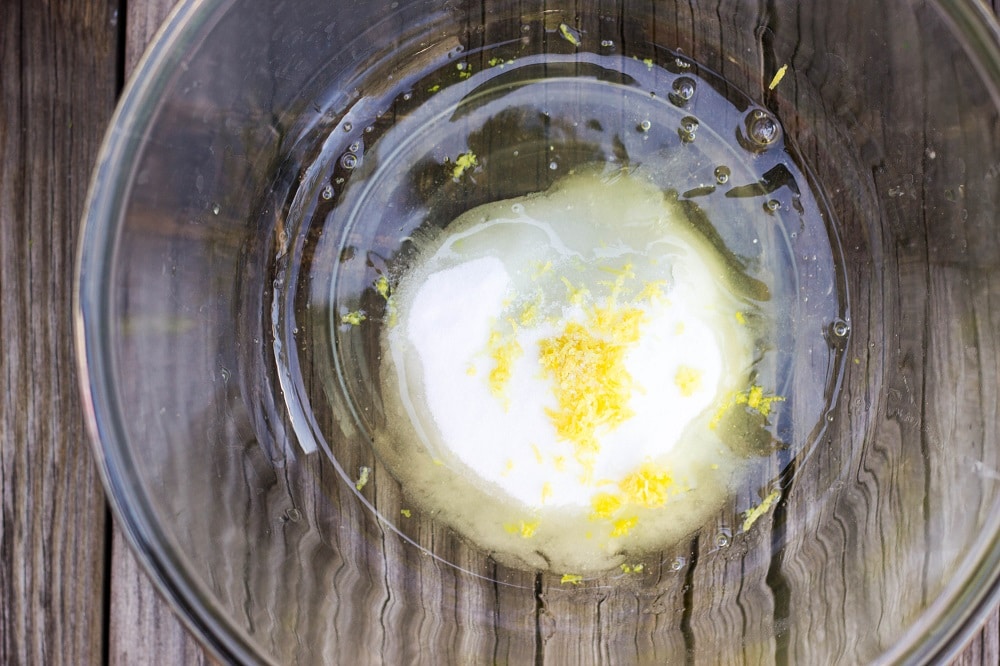 Place all macaroon ingredients into a large bowl and mix until sugar is dissolved.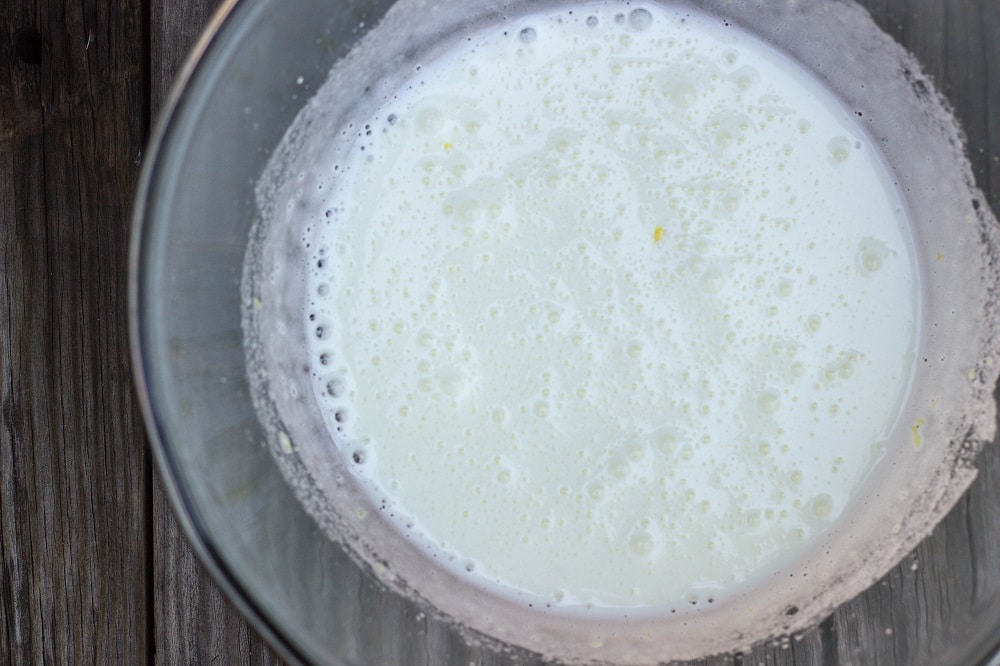 Gently stir in the shredded coconut,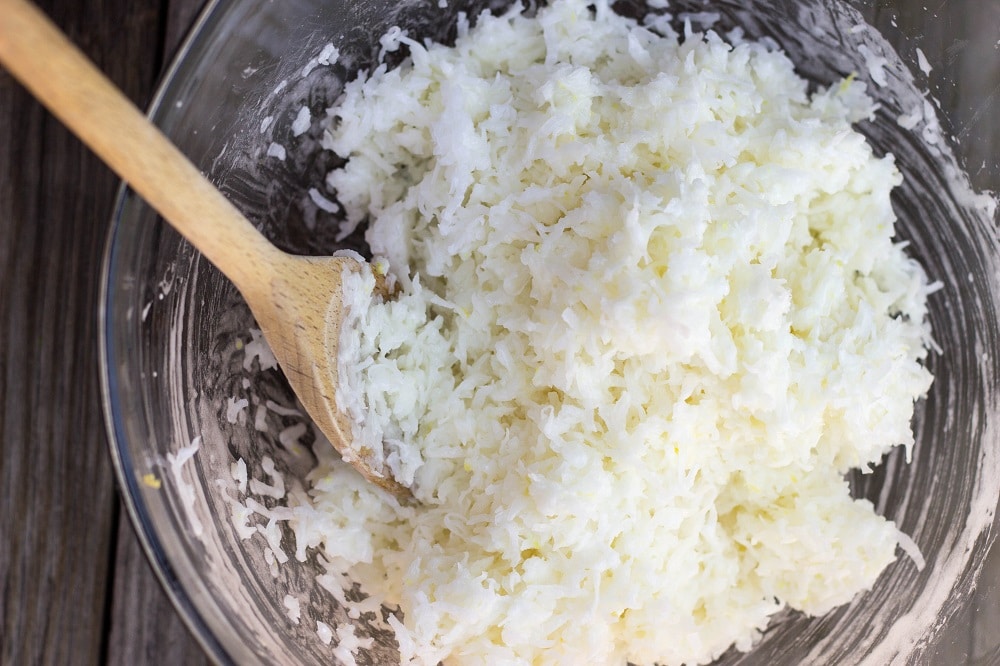 And place 2 inch disks on a sheet pan covered with parchment paper. They might seem like they are falling apart a little bit, but don't worry, once they bake they will stick together.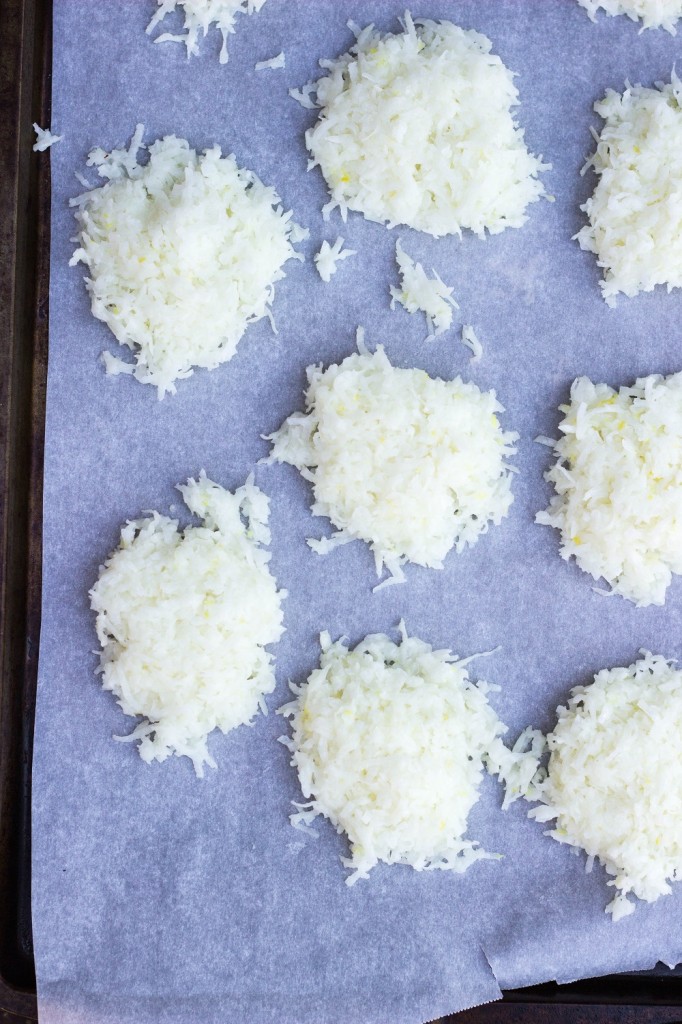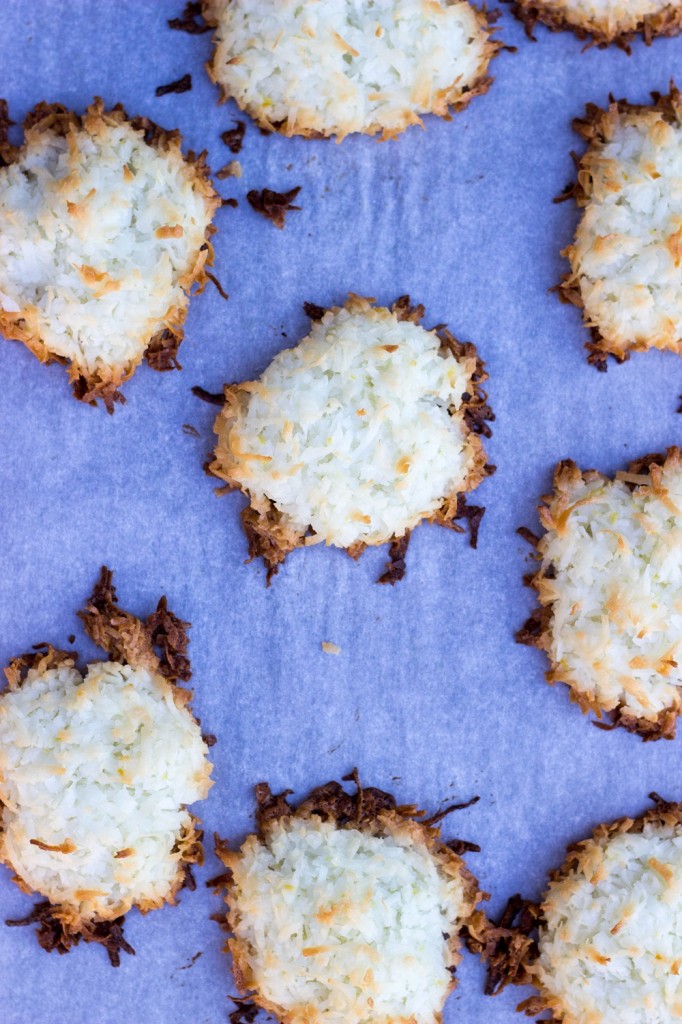 Print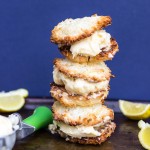 Lemon Macaroon Ice Cream Sandwiches
---
Prep Time:

20

Cook Time:

25

Total Time:

45 minutes
Ingredients
3

large egg whites

1/2 cup

sugar

1/8 teaspoon

salt

1/2 teaspoon

fresh lemon juice

3 teaspoon

s lemon zest

1

14-ounce package sweetened shredded coconut
Vanilla ice cream, or flavor of your choice
---
Instructions
Preheat oven to 325 degrees F.
In a large bowl, combine the egg whites, sugar, salt, lemon juice, and lemon zest.
Using an electric mixer, mix for about 2 minutes until mixture is combined.
Gently fold in the shredded coconut.
Line a large baking sheet with parchment paper and scoop heaping tablespoons of coconut mixture about 1 inch apart on the baking sheet. With your hand, flatten eat scoop into a 2 inch disk.
Bake for about 25 minutes, or until macaroons are golden brown on the edges. Let cool completely on a wire rack.
Once macaroons are completely cooled, soften vanilla ice cream and sandwich ice cream in between two macaroons. Place back into the freezer for about 20 minutes and enjoy.
Nutrition
Serving Size:

8

Calories:

299

Sugar:

33

Sodium:

206

Fat:

15

Saturated Fat:

14

Unsaturated Fat:

1

Trans Fat:

0

Carbohydrates:

40

Protein:

3

Cholesterol:

4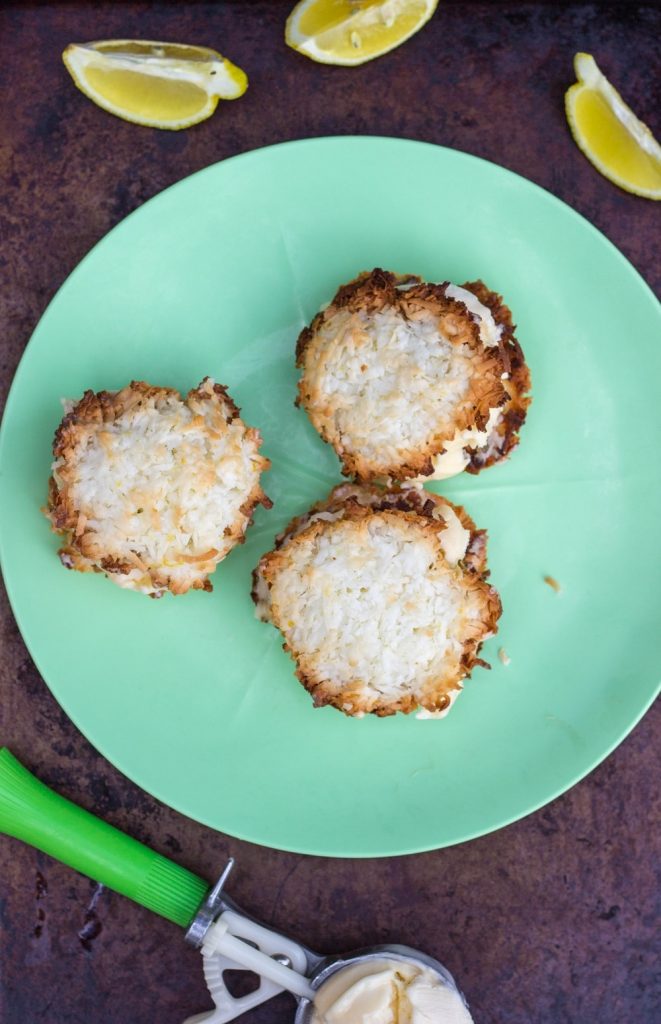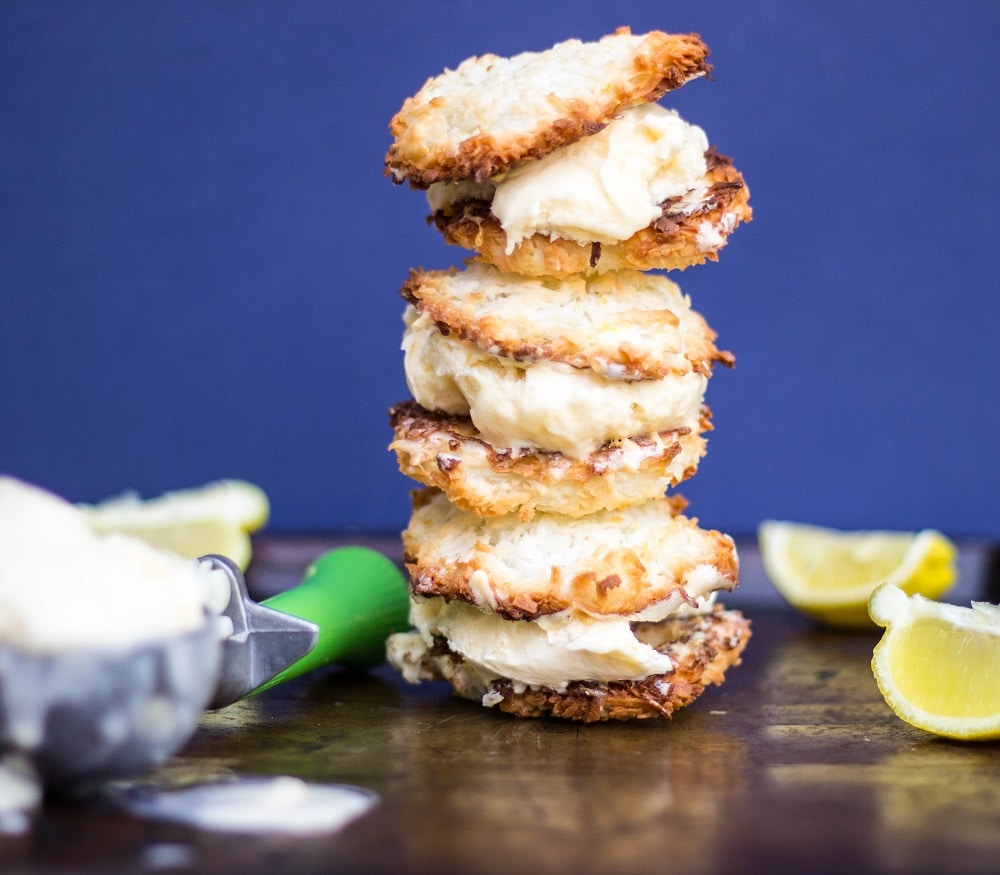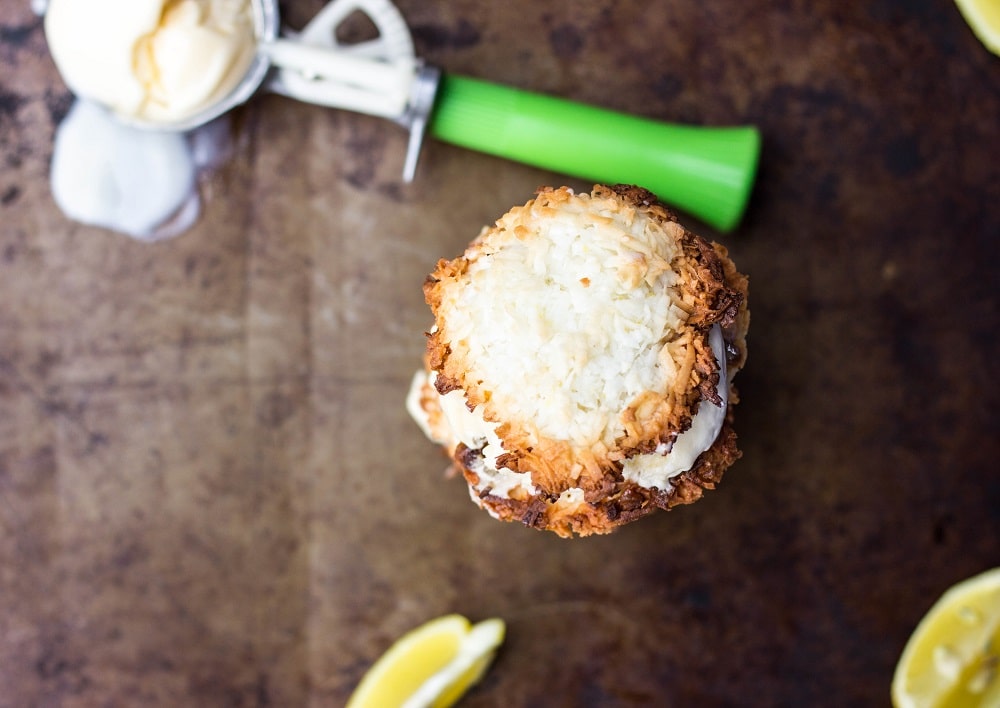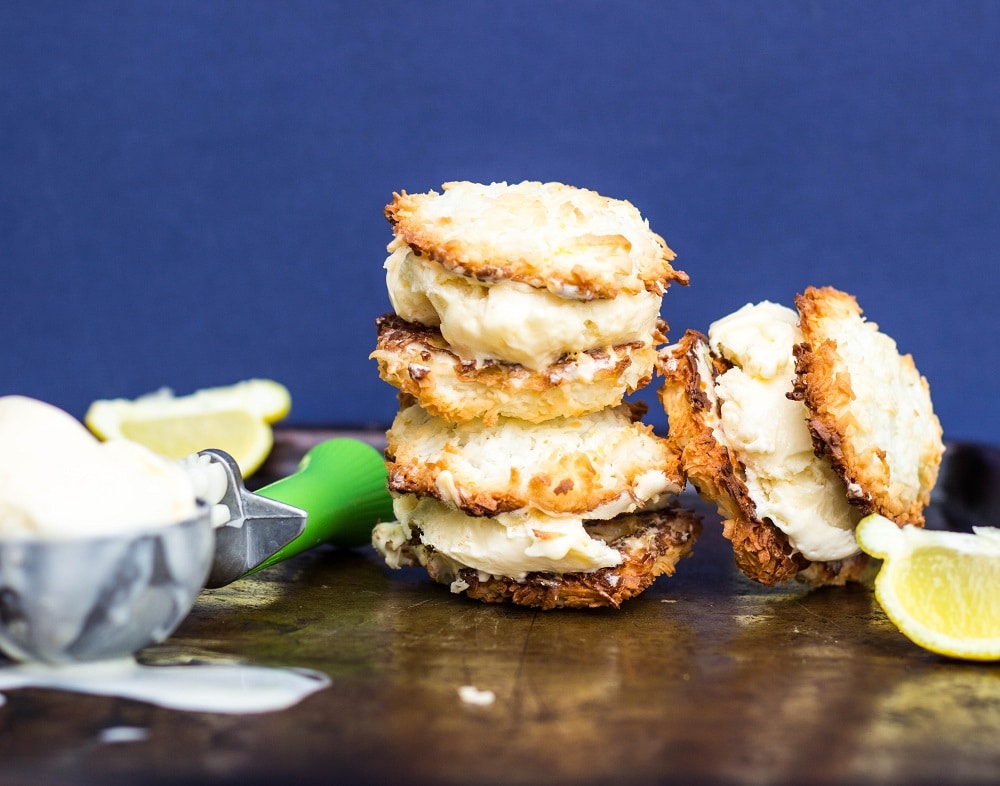 Speaking of moving, this is Cheeto's favorite chair that we have moved with us to 3 different houses for the sole purpose of making him happy. If you come over, please don't try to sit in it because you will most definitely get covered in a layer or orange cat hair!