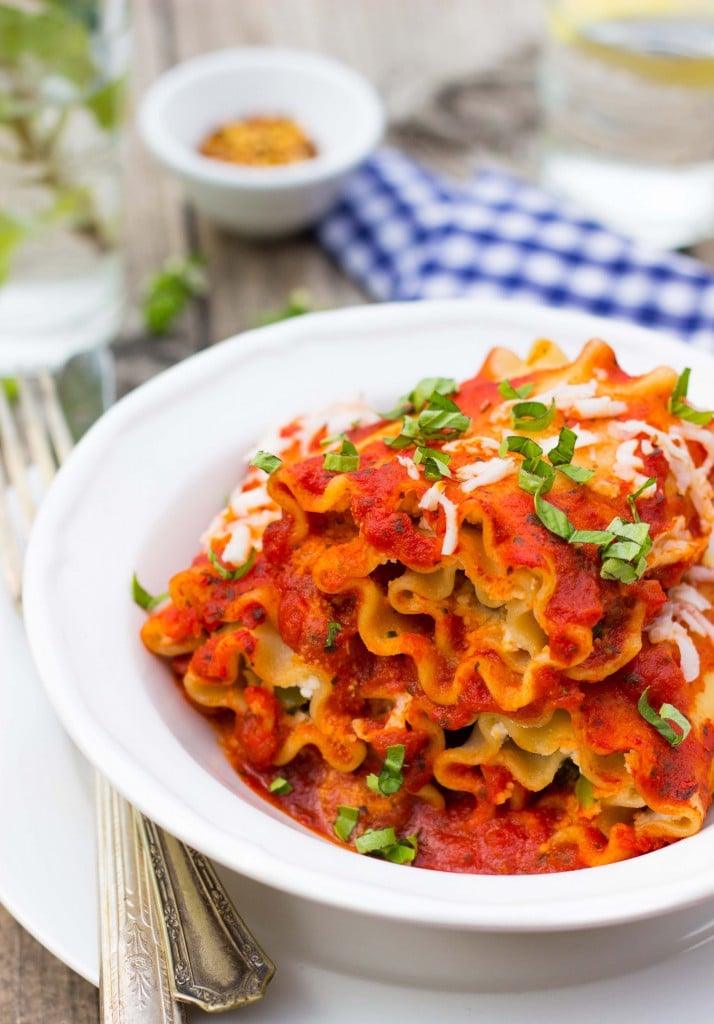 My friend Katie Schmidt, who blogs over at Whole Nourishment, (an awesome food blog that really embraces whole foods and healthy eating, two things that I also love!) came up with the idea to put together this great series called Cooking For One. And I was really excited when she asked me to be a part of it!
She gathered up seven other bloggers, and the idea is that each of us a post a recipe that falls under the category of cooking for one (schedule of recipes at the bottom of this post). I love the idea of this blogging series because cooking for one can be harder than it sounds!
Katie came up with a bunch of great tips when it comes to cooking for one that you can find here. I won't repeat everything that Katie said, but I will mention my two favorite things about cooking for one: leftovers and the fact that I can cook anything that I want to cook!
Don't get me wrong, I love cooking for my husband and I, but we don't always have the same tastes in food. When I'm gone and he has to cook himself dinner he will always get a pizza. But when he is gone and I get to cook myself dinner, I get so excited because I get to eat things like quinoa and kale, anything and everything Mexican, and roasted vegetable rice bowls. So, embrace the fact that you are cooking only to please your own tastebuds and get creative!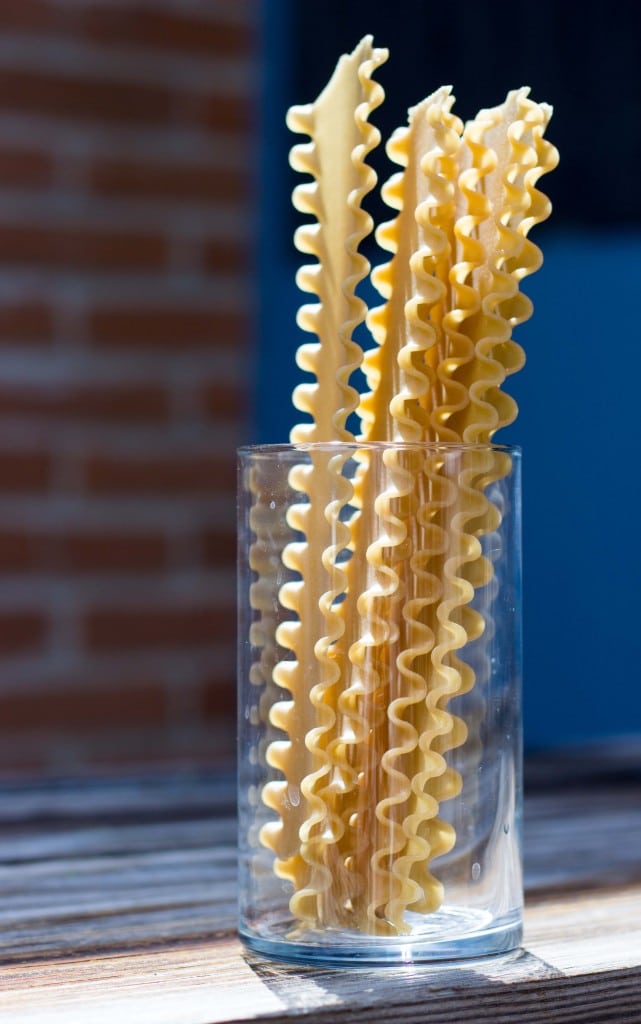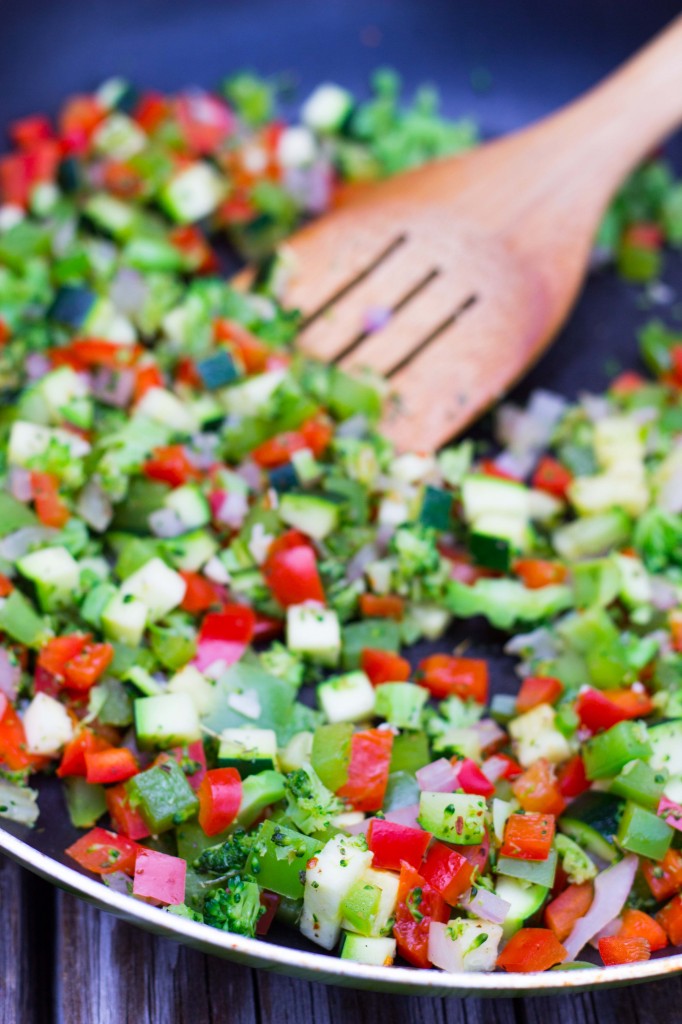 I know there are some people out there that absolutely won't eat leftovers, and I think those people are completely crazy, no offense! I'm kinda of obsessed with leftovers and would much rather pack a Tupperware full of leftovers for lunch than make something special in the morning. I make a lot of large salads that I post on this blog and you better bet that I bring it for lunch the entire week until it is gone!
Here is a great post from The Kitchn about cooking for one. My favorite tip that they give is to re-purpose leftovers. I think that it is so important for people to understand that they don't necessarily have to eat the same thing five days in a row if they have leftovers. For example, if you make a protein and a roasted or steamed vegetable one night for dinner you can easily turn that same meal into a delicious stir-fry, taco, or burrito the next night. I always have either brown rice or quinoa pre-cooked in the refrigerator so that I can easily throw it into something like a stir-fry or a salad after work. Also, when I steam broccoli or roast sweet potatoes I always make way more than I would need because I love to have both to throw into my scrambled eggs in the morning, or a quinoa or taco salad in the afternoon.
So, my advice to you when it comes to cooking for one is to make something that you love to eat, make extra so that you have leftovers, and get as creative as you want with your meals as well as your leftovers 🙂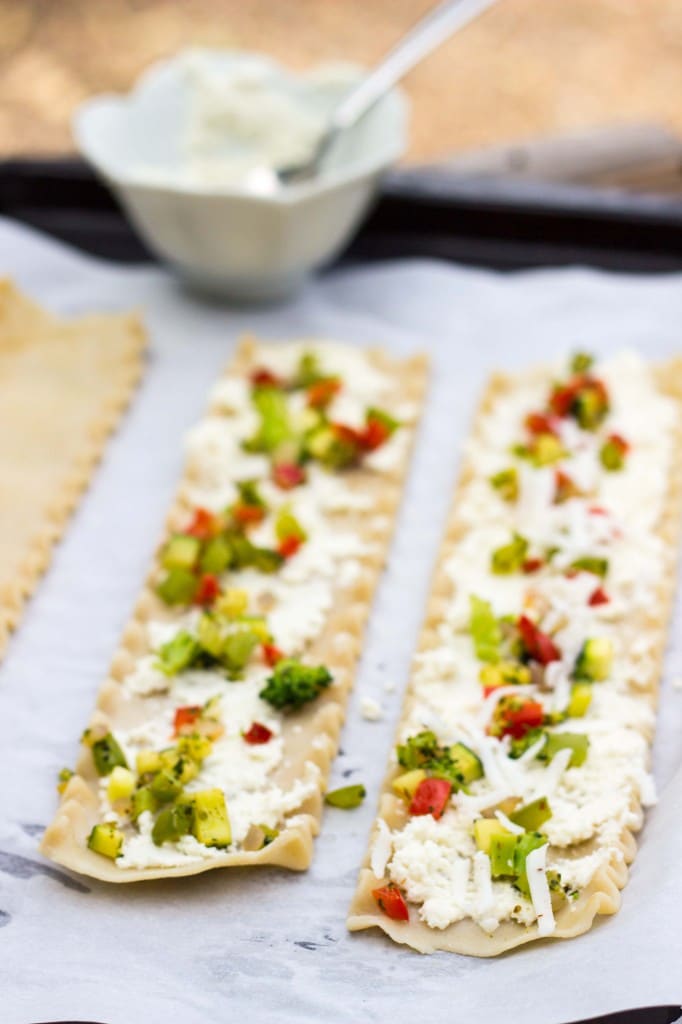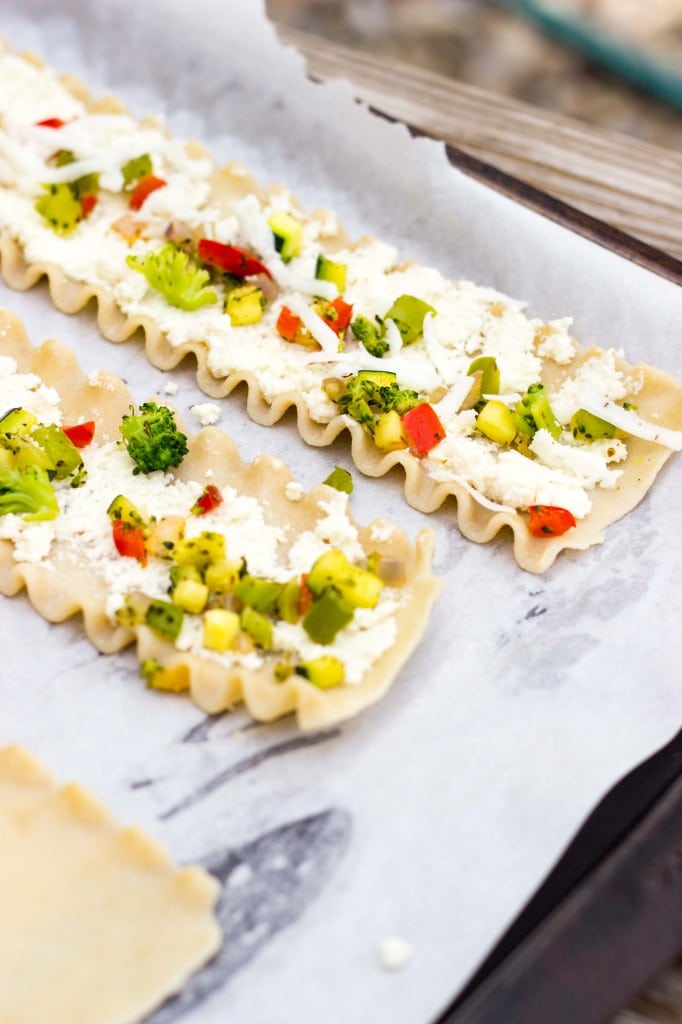 When Katie asked me to participate in this series I thought way too much about what I would make. I'm usually a fly by the seat of my pants type of gal, but I wanted this recipe to be really special. I finally decided that I wanted to make something that someone who is just cooking for themselves probably doesn't make a lot. I usually only make lasagna when we are having friends over and I need a recipe that will feed a lot of people. Lasagna roll-ups are the perfect way to get your lasagna fix without having an entire tray of leftovers that you couldn't possibly eat all of even if you are a leftover lover like myself.
I used green pepper, red pepper, broccoli, zucchini, and onion in mine, but you could use any kind of vegetables that you have on hand. This is the perfect way to use up extra vegetables you have or to use up leftover cooked vegetables you might have lying around. I was originally just going to use onion and red and green peppers, but I had some cooked broccoli leftover from last night's dinner and 1/2 a zucchini in the fridge, so I threw them in there too. Are you sensing a theme here?!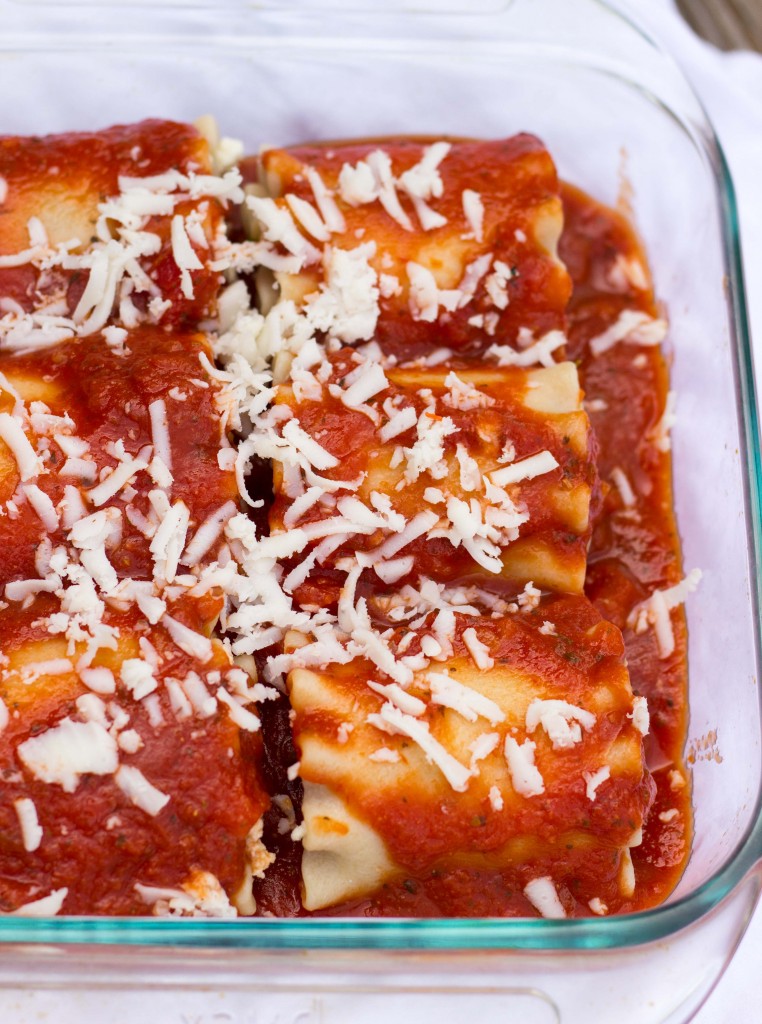 As I said before, I love leftovers so this recipe makes six roll-ups which should end up being 2-3 servings, depending on how hungry you are! Enjoy and make sure to check out all the other Cooking-For-One recipes from the fabulous bloggers below!
Print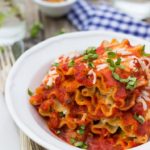 Cooking-For-One Week: Vegetable Lasagna Roll-Ups
---
Prep Time:

15 mins

Cook Time:

35 mins

Total Time:

50 minutes

Yield:

1

-

2

1

x
Category:

Entree, Gluten Free, Vegan
Ingredients
6

sheets of lasagna noodles, I used brown rice lasagna

1 cup

ricotta cheese, almond ricotta recipe below

1 cup

shredded mozzarella cheese, non-dairy or dairy

1 1/2

–

2

cups tomato sauce

1/2 cup

small diced zucchini

1/2 cup

small dice red pepper

1/2 cup

small diced green pepper

2 tablespoons

small diced red onion

1

clove garlic, minced

1/4 teaspoon

dried oregano

1/4 teaspoon

dried thyme
red pepper flakes, to taste
olive oil
salt
pepper
basil leaves for garnish, if desired
Almond Ricotta Recipe:
1 cup

slivered almonds, soaked in water overnight or at least 6 hours

1/2 cup

water
Recipe: place the almonds in a food processor with the water and blend for 1-2 minutes, until a creamy texture is reached.
---
Instructions
Heat oven to 375 degrees F.
Cook lasagna noodles in boiling water until aldente. Drain and lay out on a sheet pan covered in parchment paper.
Heat a large pan over medium heat and coat the bottom with a small amount of olive oil. Add all of the diced vegetables and season with salt and pepper. Let cook for a few minutes. Then add the garlic and the oregano, thyme, and red pepper flakes. Cook for a few more minutes until vegetables are softened.
Assemble the roll-ups: place about 1 cup of tomato sauce into the bottom of an 8 inch baking dish. Spread about two and a half tablespoons of ricotta cheese on each noodle and top with a spoonful of vegetables. Sprinkle with 1-2 tablespoons of shredded cheese and roll lasagna noodles. Place them roll side down in the baking dish. Once you have rolled all of them and placed them in the baking dish, cover with about 1 cup of tomato sauce and sprinkle with the rest of the shredded cheese.
Bake roll-ups for 20-25 minutes, until cheese is melted and roll-ups are heated through. Garnish with thinly sliced basil leaves, if desired.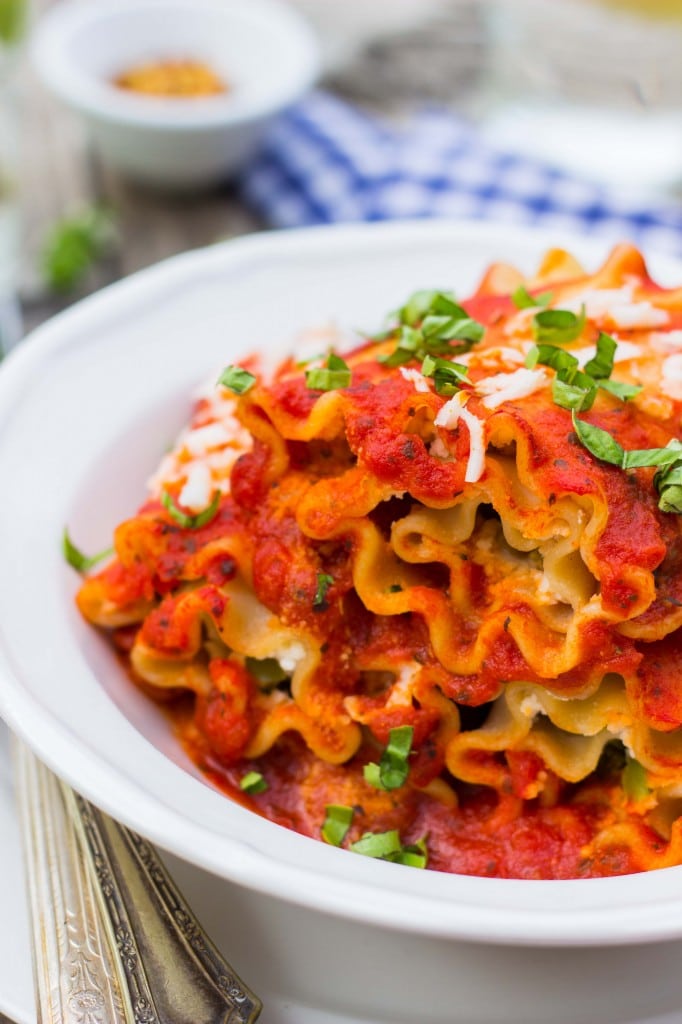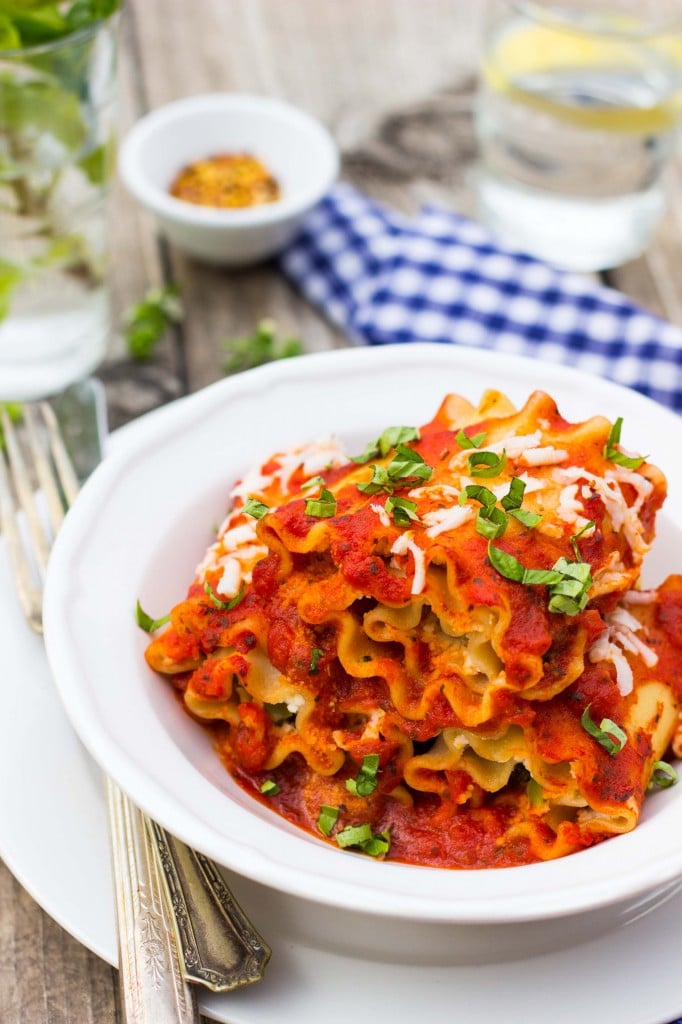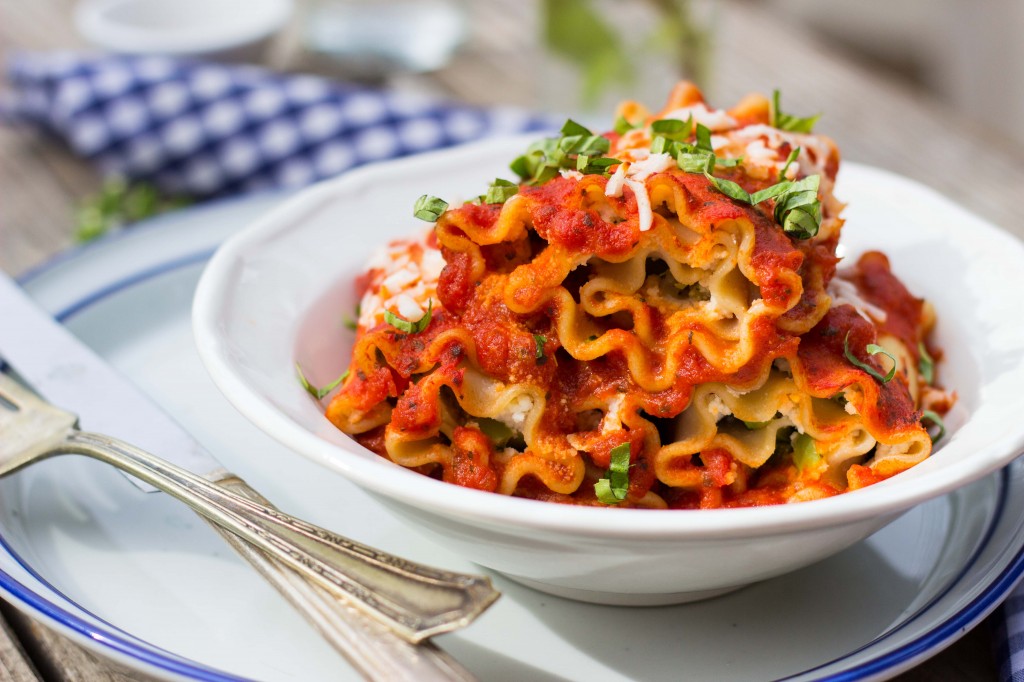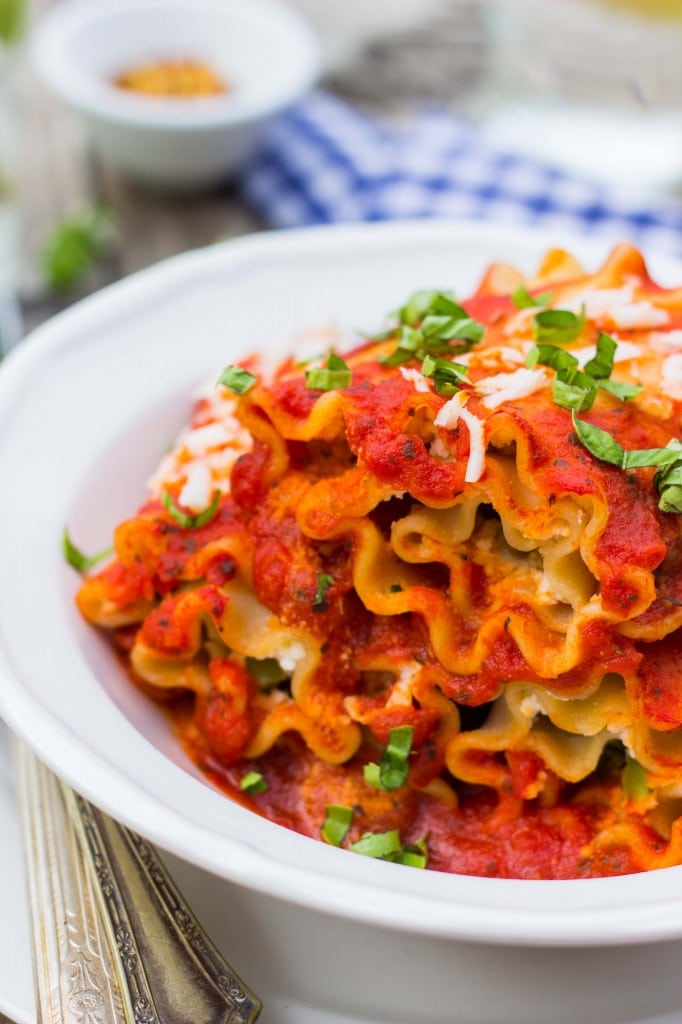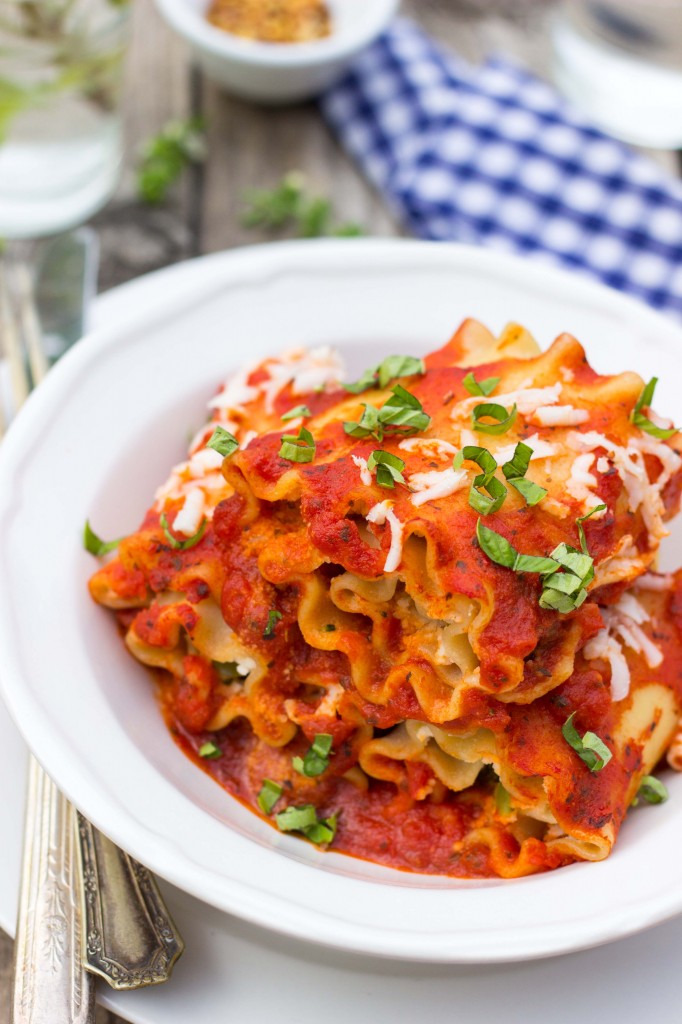 Do you have your Halloween decorations up yet?!