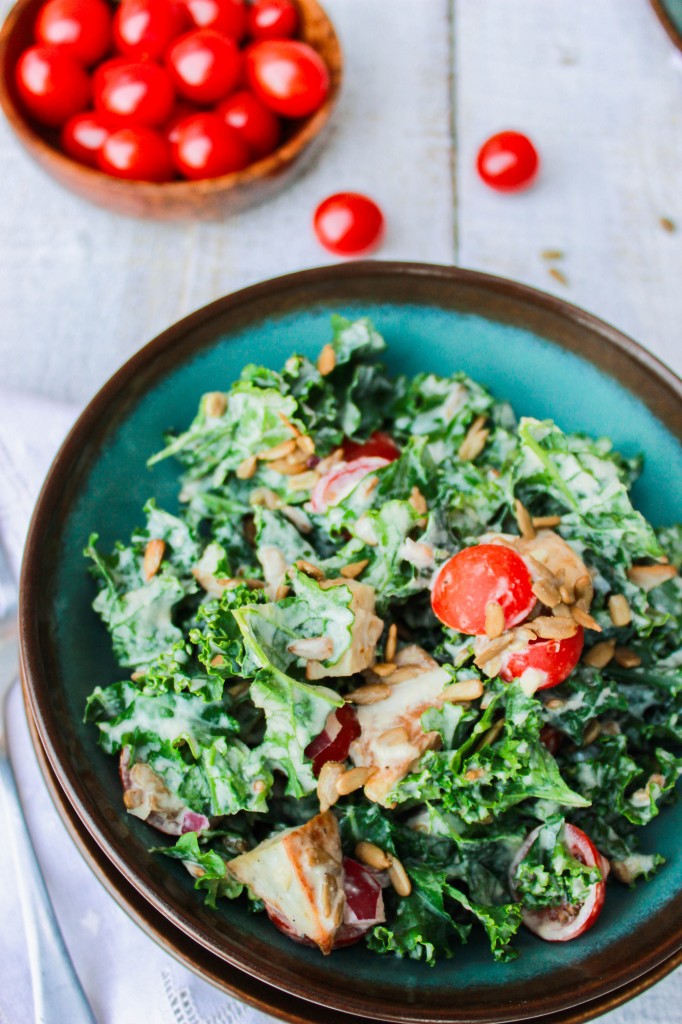 Growing up, I hated Kale, like hated it with a passion. I couldn't see how anyone would ever want to eat it, even if it was good for you. I remember feeling a little betrayed by my sister when she started eating kale. I was sure our mother had tricked her into it somehow and I vowed that that would never happen to me. It actually wasn't until about two years ago that I started eating it, and I'm not sure I even really liked it then either. I was trying to be healthy and add more vegetables to my diet. Kale was pretty popular at the time, so I figured I would give it a try. Honestly, I still hated it, but I made myself eat it anyway. Little by little it started to grow on me and I finally got to the point where I actually started to love it! I started out slow with kale chips, because who doesn't like crispy salty things, even if they are green? Then I moved on to sauteing it in a pan with some garlic, onion, olive oil, salt, and pepper. Although I had finally become a kale fan, I would have never though of eating it raw. It actually wasn't until my husband and I were in Hawaii that I ate my first raw kale salad.
We were on our honeymoon in Maui and we were trying to travel on the cheap, so we didn't go out to eat much. Instead we cooked most of our meals ourselves. Even while on vacation I couldn't escape the kitchen! I didn't want to be stuck in the kitchen too much, so we ate a lot of scrambled eggs, hot dogs, tater tots, and tacos on that trip!
On our last day, we were taking it easy and doing some last minute shopping around town. We found this little health-food store and stopped in to get some snacks. I saw a little container of kale and lemon salad and for some reason, even in the little container, it looked so good to me. I had to have it, even if it was $7.00 for the container. I was not disappointed, it was even better tasting that it looked. When I got home, I tired to replicate it, which I thought would be easy since it didn't have many ingredients. I ended up putting a ton of lemon juice in it, which was even hard for me to eat, and I'm someone who puts lemon juice on everything. I decided to try it again, and this time added some tahini to mellow out the lemon flavor, and I also added some potatoes, because when have crispy, oven baked potatoes ever made a dish worse? I hope you enjoy it!
What You'll Need:
1 Bunch of kale

1 Medium sized yellow potato

1 Cup cherry tomatoes, cut in half

1/3 Cup sunflower seeds

1/3 Cup red onion, diced small

1/2 Cup tahini

1 Small clove garlic, minced

1 Tablespoon olive oil

Juice of 2 small lemons

Up to 1/2 Cup water, more or less depending on how thick you want the sauce, add a little at a time

Olive oil for roasting potatoes

Salt, to taste

Pepper, to taste

What To Do:

Heat the oven to 400 degrees F. With the skin on, dice the potato into bite size chunks. Place the chunks on a sheet pan and drizzle with a little bit of olive oil and season with salt and pepper. Roast the potatoes for about 25 minutes, until crispy on the outside and tender on the inside. Set aside to cool.

In a large bowl, rip the kale leaves into bite size pieces. Remove the rib of the kale leaf because it is tough and you do not want to include it in your salad.

Add in the cherry tomatoes, onion, potatoes, and sunflower seeds.

Make the dressing: in a small bowl add the tahini, garlic, lemon juice, olive oil (1 tablespoon), and water. Mix until it comes together as a sauce. Don't add in the entire 1/2 cup at once, add in a little at a time until you get your desired consistency.


Pour sauce over the salad and mix together. Pour sauce a little bit at a time, you may not want use all of it depending on how saucy you like your salad. I had a few tablespoons leftover.




Season with salt and pepper, to taste

Enjoy!

*Makes about 4 nice sized servings.

Separate the leaves from the stem and tear the leaves into bite size pieces.
Add the kale, cherry tomatoes, potatoes, onion, and sunflower seeds to the bowl.
Add in the lemon tahini dressing and mix together!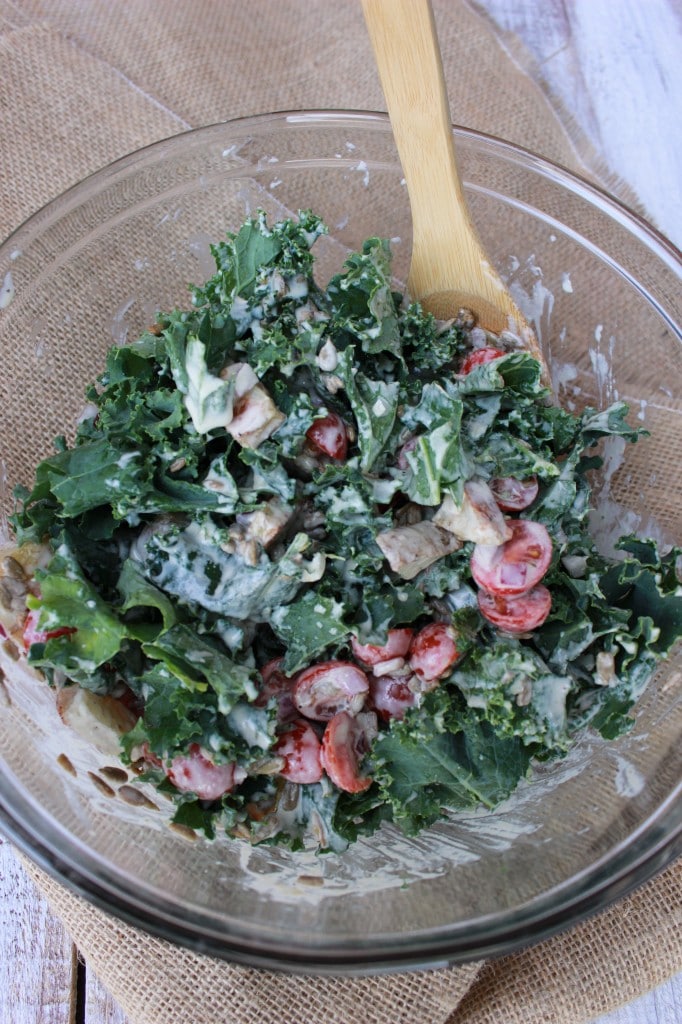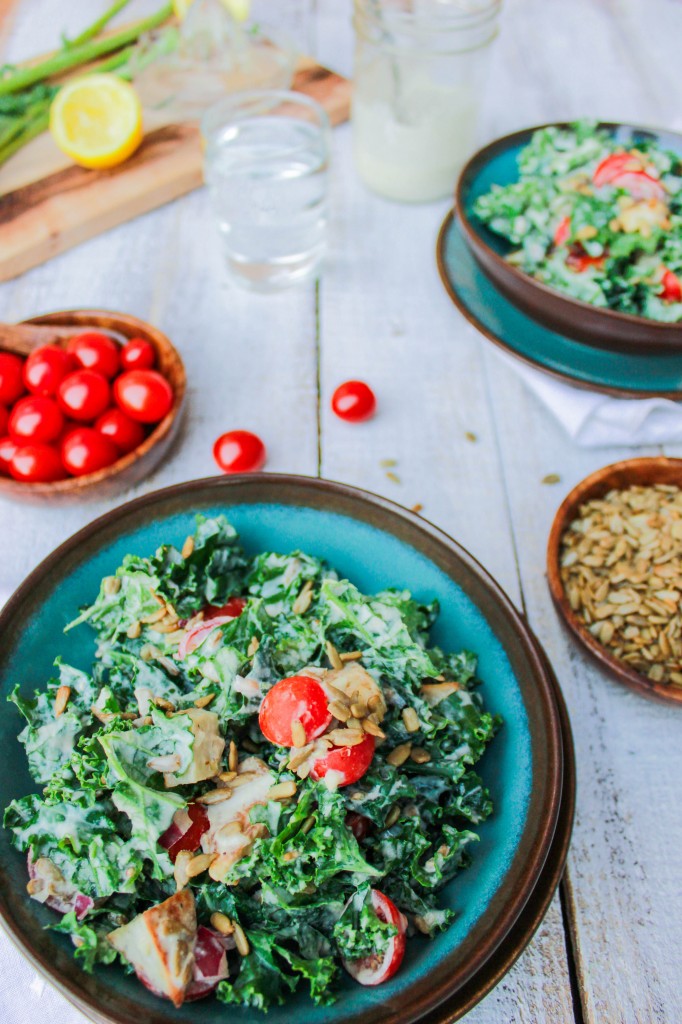 Cheeto is enjoying all of my food props!