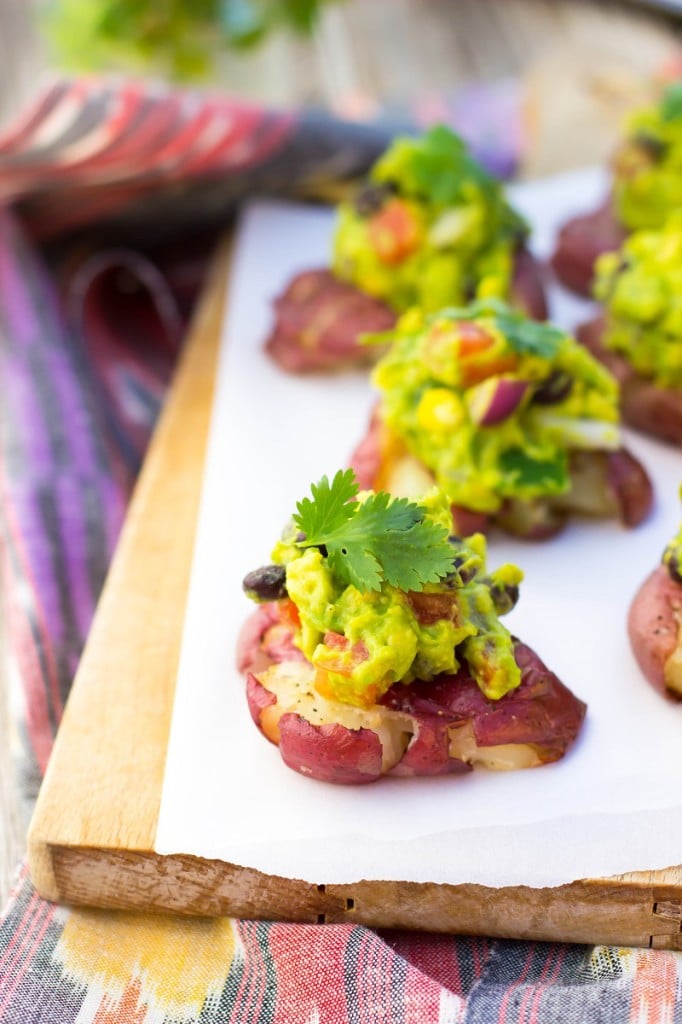 Potatoes and guacamole, guacamole and potatoes, it doesn't get much better than that! Or so I thought, until I made these Crispy Smashed Potatoes with Loaded Guacamole. Which is basically the same thing as potatoes and guacamole, except with a little more crispiness and a lot more loadedness. Are you convinced yet?!
I know that smashed potatoes have been a thing for a while now, but I think I always just thought they would be too much work to make without much of a pay off. But, it turns out I was wrong on both of those counts.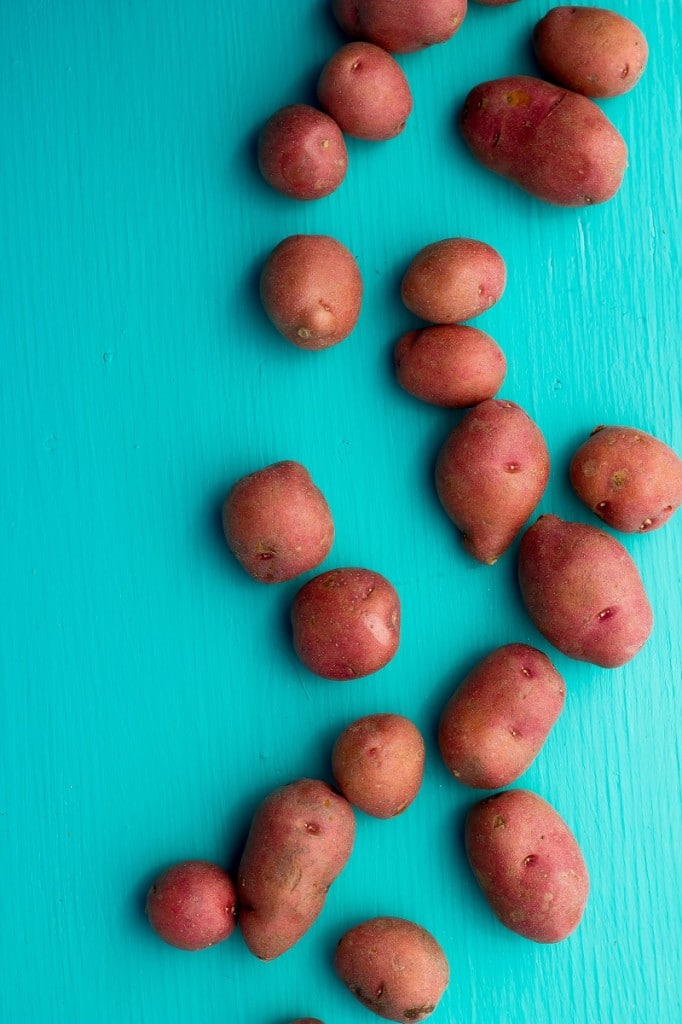 The first and last part of the smashed potato process takes hardly any effort at all, boiling potatoes and then roasting them, and then the middle part that takes a very small amount of effort, the smashing of the potatoes, is the most fun part of all! I would say that you should channel all your anger and aggression and smash the crap out of these baby potatoes, but I would never condone angry cooking. So, instead, think about all those muscles you want to build up and smash these little babies down! And, if you are immature like me, you will really enjoy the sound that they make 🙂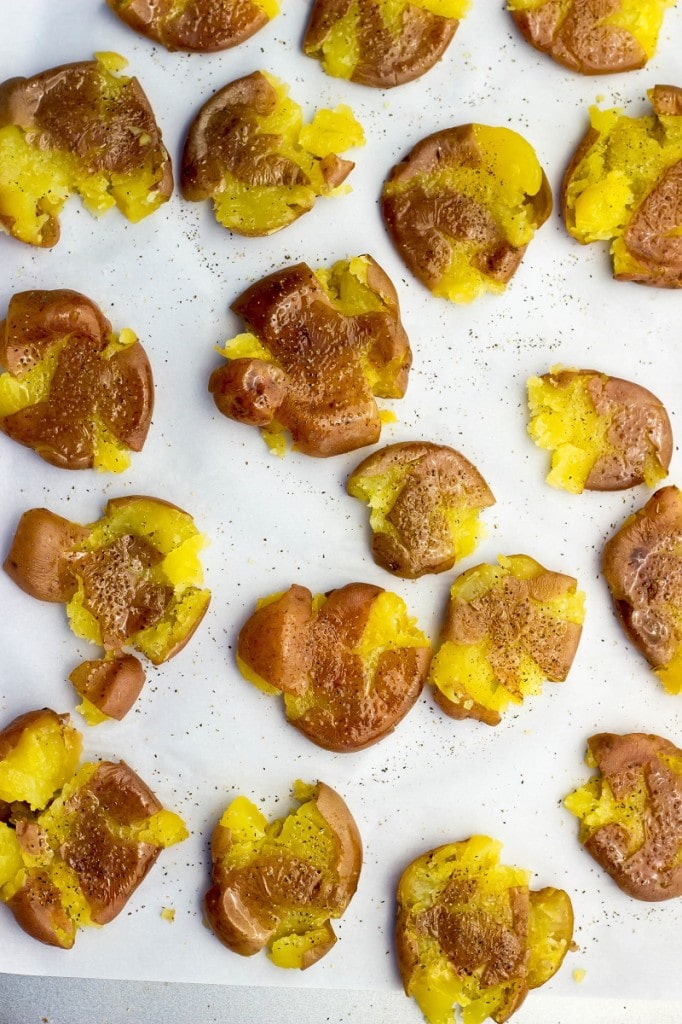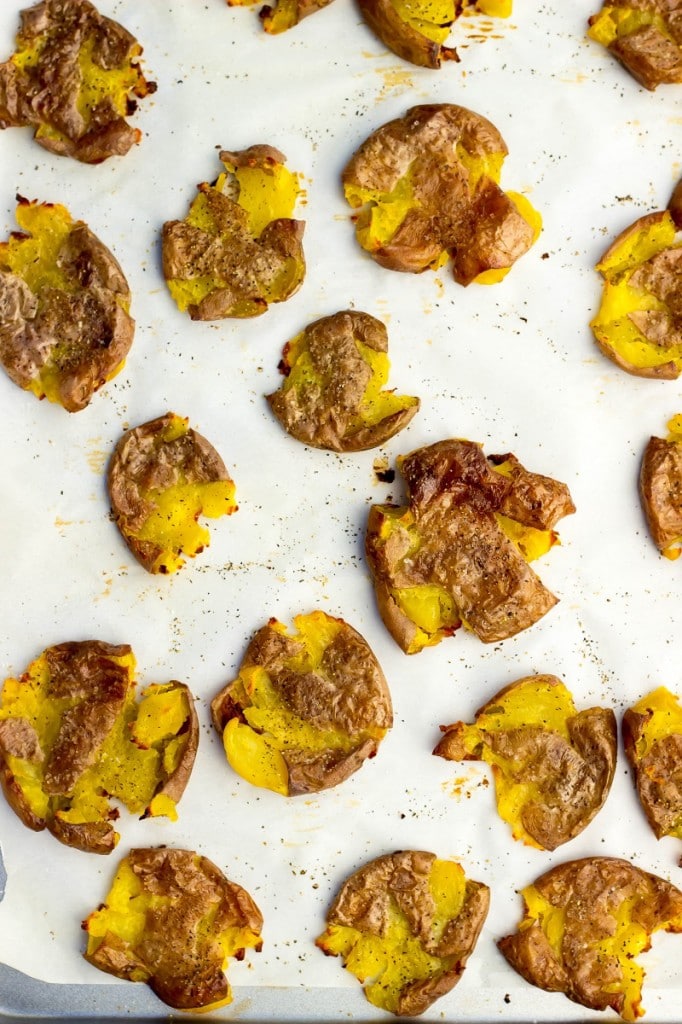 Once smashed and crisped, there is really no other option than piling them high with loaded guacamole. As much as I appreciate an easy, simple guacamole recipe, there is something to be said about a chunky guacamole that has all my favorite veggies and beans packed inside.
One of the biggest grocery store upsets is when you want guacamole and you want it now, but alas there are only either rock hard avocados or mushy brown ones to choose from. Thankfully that was not the case when I made this recipe and somehow I managed to get the biggest, creamiest avocado I've ever used before. The avocado gods must have been smiling down on me that day.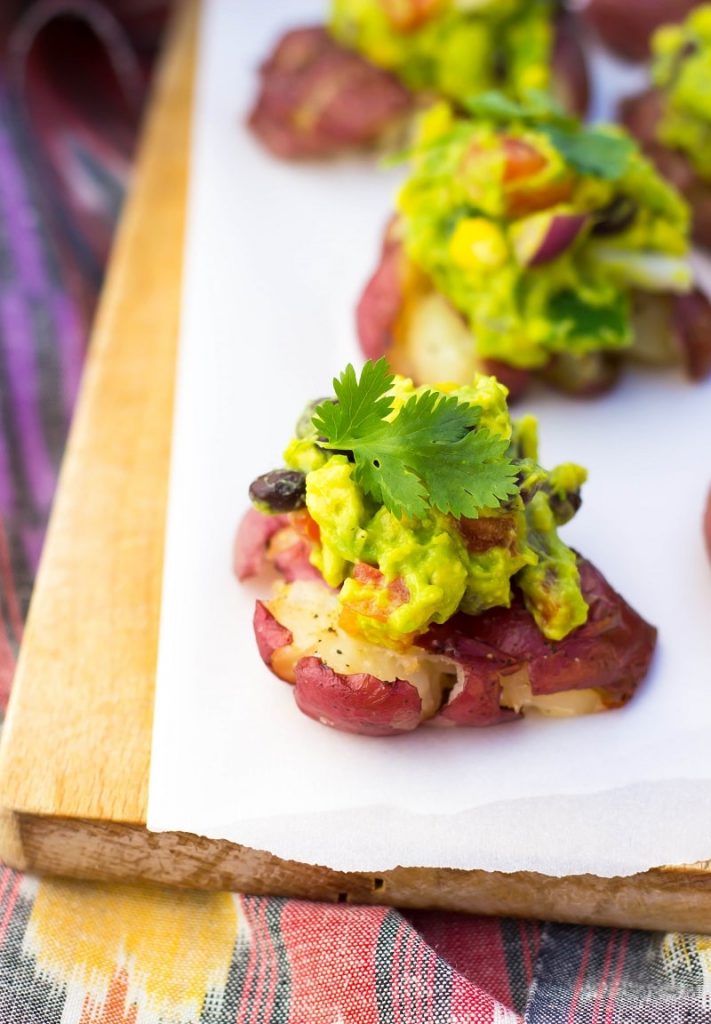 These Crispy Smashed Potatoes with Loaded Guacamole will be a great appetizer for any Cinco De Mayo party, or just a regular Tuesday night snack 🙂
Print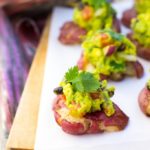 Smashed Potatoes with Loaded Guacamole
---
1 1/2

pounds of baby red potatoes
olive oil
salt
pepper
Loaded Guacamole:
2

large avocados

1/3 cup

diced red pepper

1/3 cup

diced green pepper

1/3 cup

yellow corn kernals

1/3 cup

black beans

2 tablespoons

chopped red onion
Diced jalapeno, to taste
Juice of

1

lime

1

clove garlic, minced

1/2 teaspoon

ground cumin
Salt, to taste
Black pepper, to taste
---
Instructions
Add the potatoes to a large pot and cover with cold water and add a large pinch of salt. Place pot over medium heat and bring to a boil. Boil potatoes for 15-20 minutes, until they are fork tender, but not falling apart. Drain potatoes and let cool for a few minutes.
While potatoes are boiling pre-heat oven to 400 degrees Fahrenheit. Place a piece of parchment paper on a cutting board and lay out each of the potatoes. Using a small cup, smash the potatoes to desired thickness. Place another sheet of parchment paper onto a large backing sheet and place smashed potatoes onto sheet. Brush each with a small amount of olive oil and season with salt and pepper. Bake potatoes until crispy, about 20 minutes.
While potatoes are cooling, make the guacamole. Cut the avocado in half, remove the seed with a sharp knife and then score the avocado and scoop the pieces into a medium sized bowl. Mash avocado to desired consistency using a fork. Then add all of the remaining guacamole ingredients and mix together.
Just before serving, place a large spoonful of guacamole on top of each potato. Best when served immediately.
Prep Time:

20 mins

Cook Time:

40 mins

Category:

Appetizer, Gluten Free, Vegan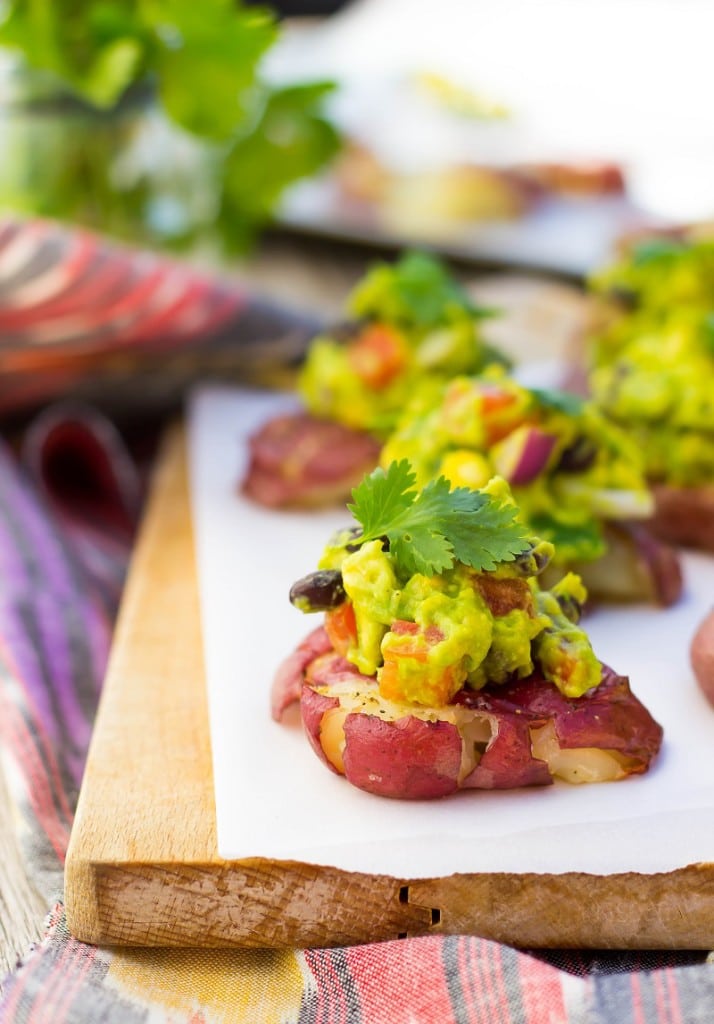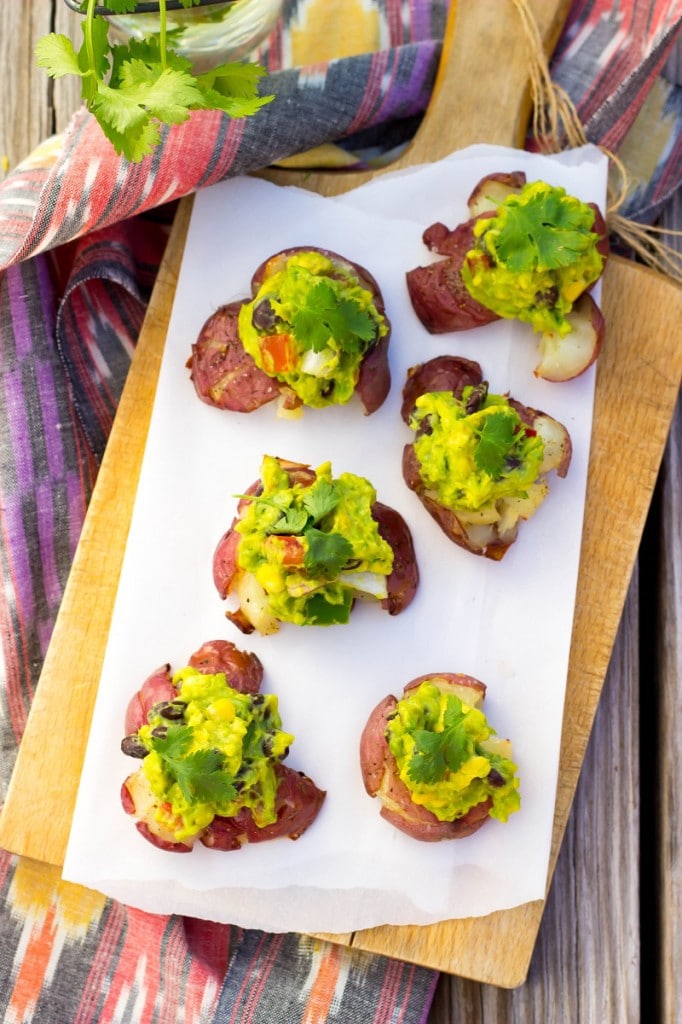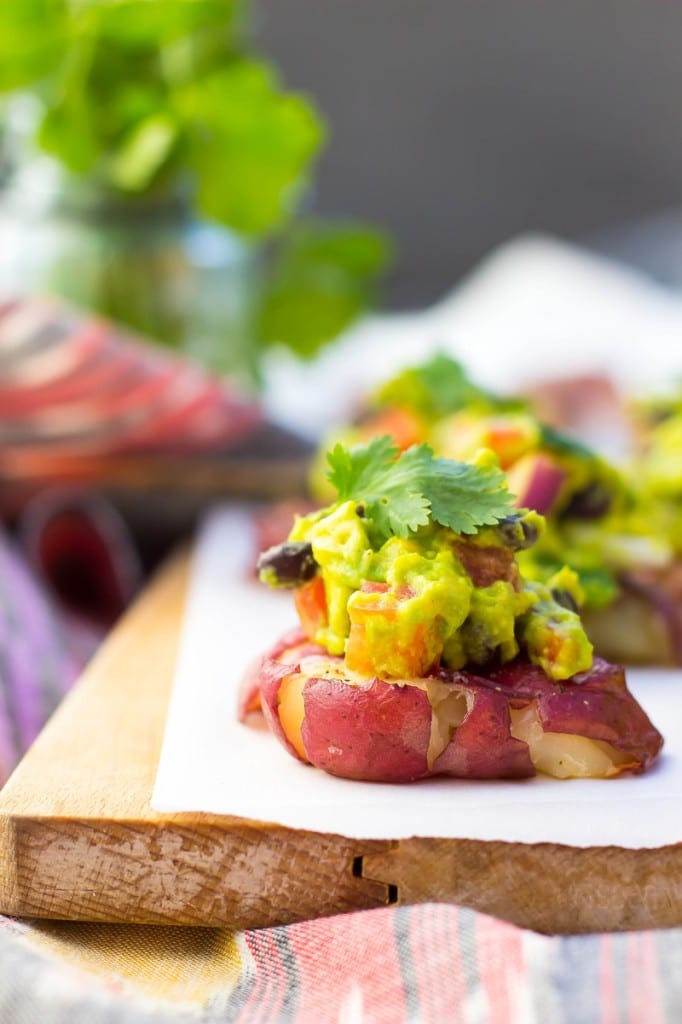 If you love these, you will also love my Roasted Potato Cups with Loaded Guacamole