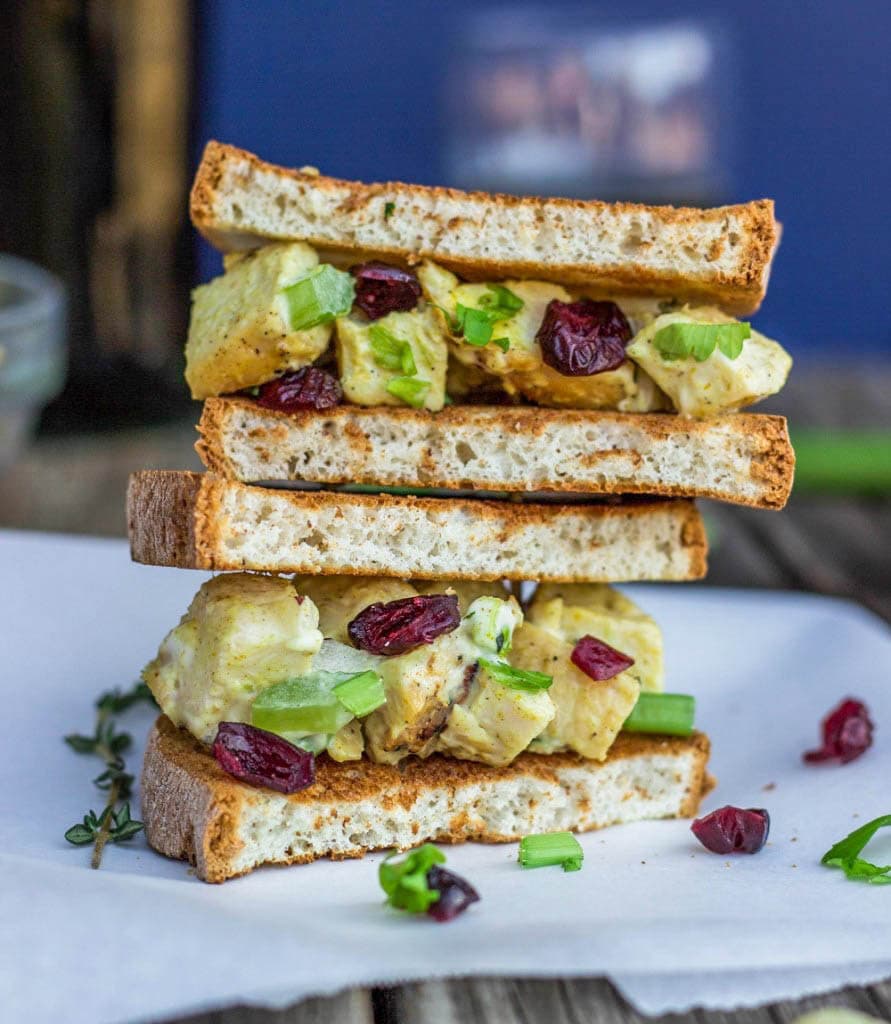 For Christmas last year we made an entire, huge turkey for just four people. We could have gotten a smaller turkey, or even just gone with a turkey breast, but we had delicious plans for our turkey leftovers. The next day I made a huge batch of curry turkey salad. We ate if for lunch and then we ate it for dinner and then we ate it for lunch the next day and the next day and the next day.
Then we had friends come visit after Christmas. We were going hiking for the day so we had to pack lunches.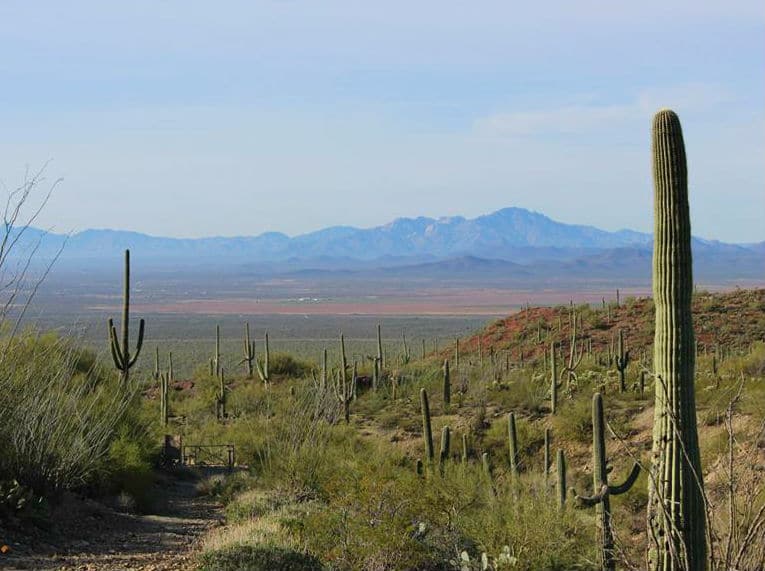 We still had a little bit of leftover turkey so I suggested turkey salad sandwiches. I might have neglected to tell them that we had been eating them non-stop since Christmas… I think Eric and I had become slightly addicted to this curry turkey salad. Curry can be a strong flavor that I'm not sure everyone enjoys, so I was a little scared that if I asked our friends if they minded if I put curry into the turkey salad they would say no. So I, selfishly, didn't say anything and put a little spoonful in. I was a little nervous when we sat down for lunch, but thankfully everyone loved them. In fact, our friends loved them so much that the next day when we it came time to make lunches, they requested more curry turkey salad. I am convinced that it is the addition of the curry that makes this salad magical. Even if you don't think you like curry, I encourage you to throw some in and see what you think.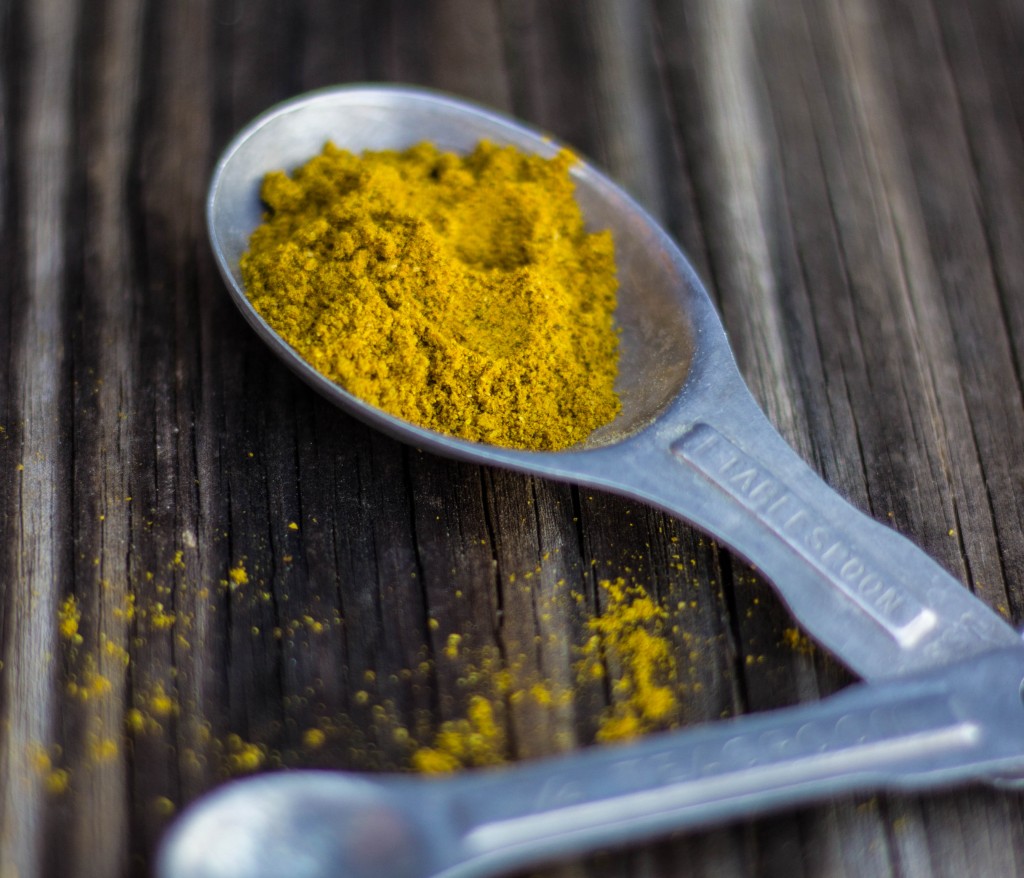 It has been a while since the days of the curry turkey salad sandwiches and I found myself really longing for one the other day. Although it was tempting to roast an entire turkey and have a months supply of curry turkey salad, I decided to make the salad and sub the turkey with chicken, and I think I even like it better this way. This chicken salad is really so easy and so delicious that you will want to eat it everyday too!
Allow me to show you just how easy this curry chicken salad it to make:
Cut up leftover chicken into bite size pieces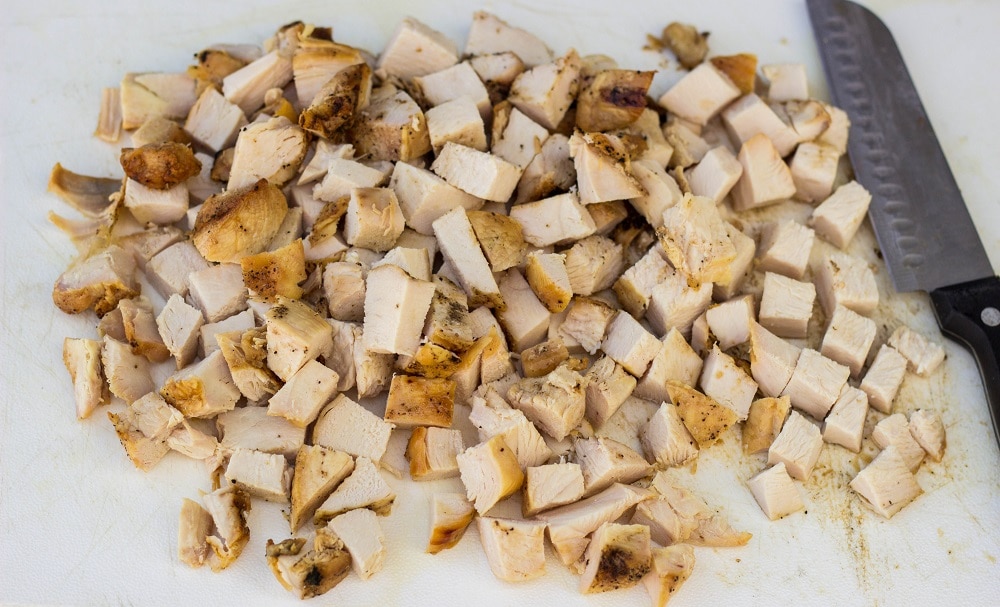 Dice up and measure the vegetables, cranberries, and thyme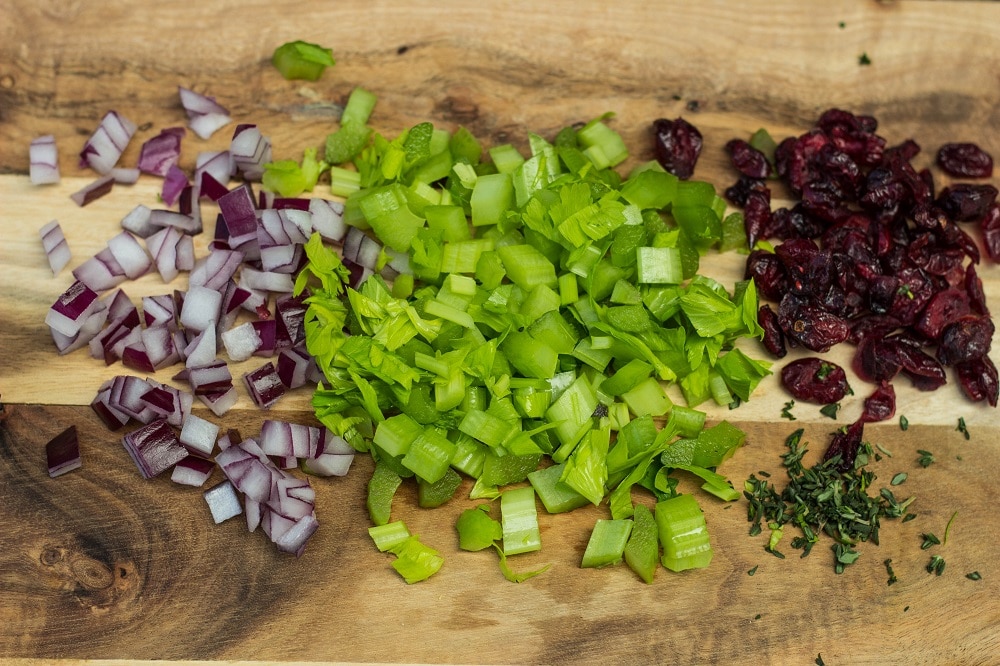 Add the chicken cubes into a large bowl and then add in the mayonnaise, mustard, and spices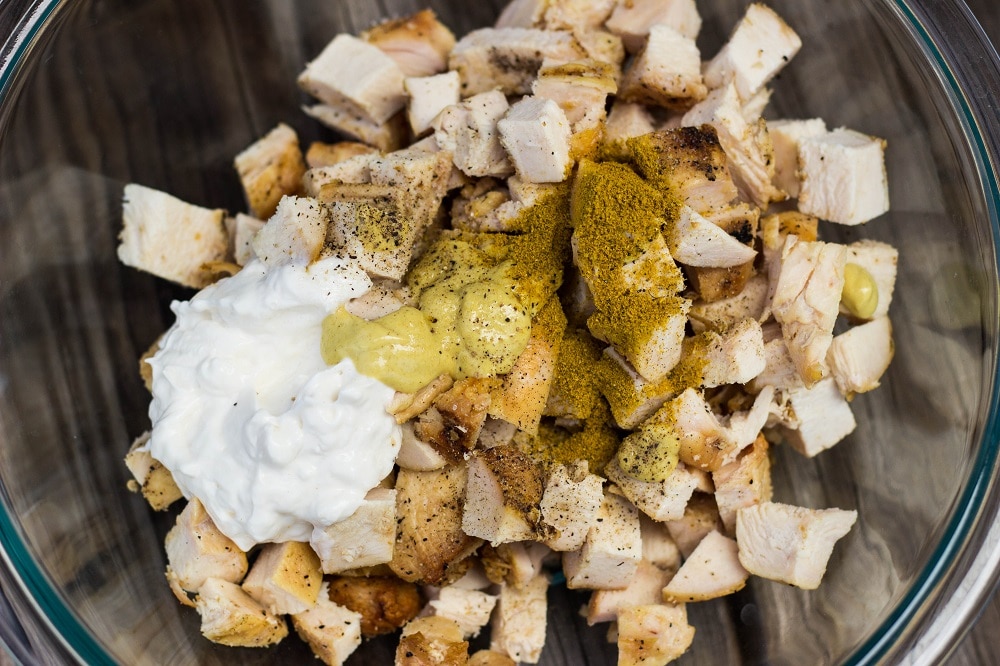 Add in the vegetables, cranberries, and thyme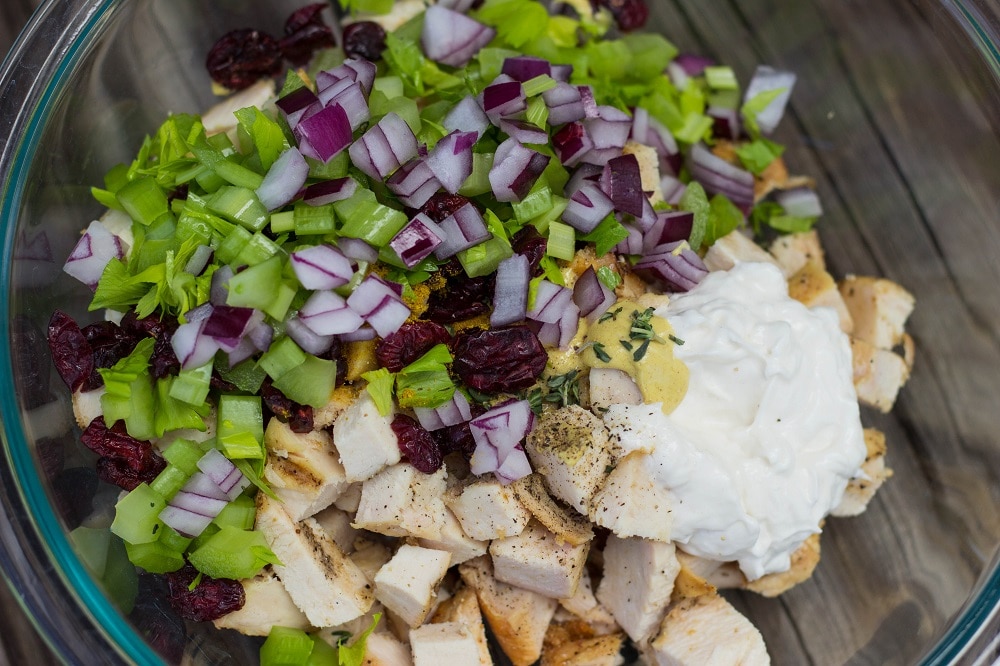 Mix together and you have yourself one of the tastiest chicken salads you will ever eat!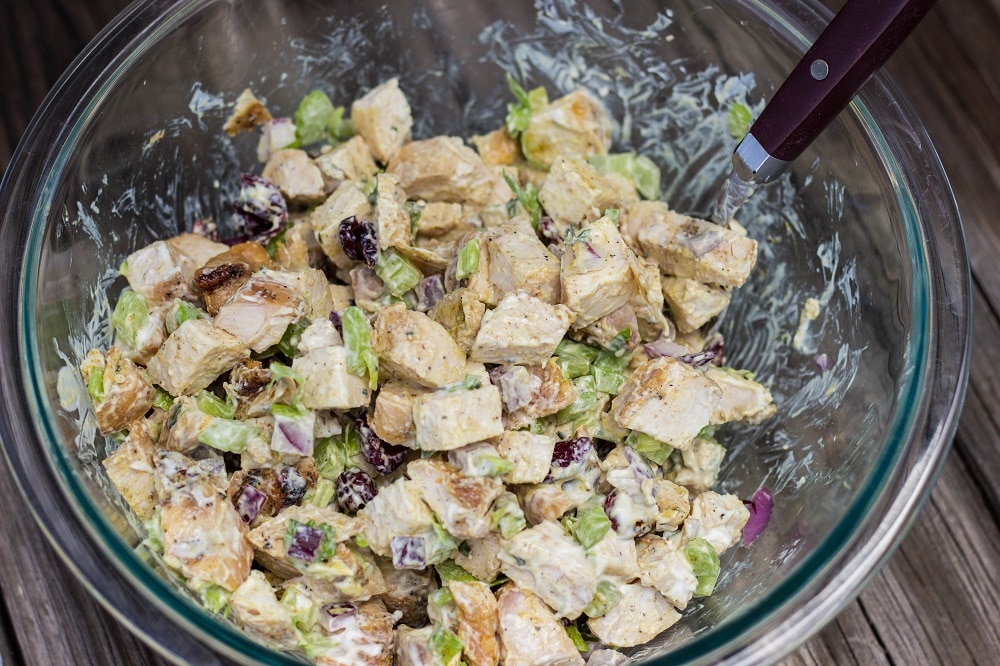 Print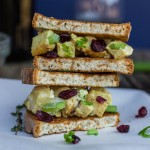 Curry Chicken Salad Sandwiches
---
Prep Time:

10

Total Time:

10
Ingredients
4 cup

s cooked chicken, diced into bite size pieces (measure after it is diced)

2/3 cup

celery, small diced

1/4 cup

onion, small diced

1/4 cup

dried cranberries

1/2 teaspoon

fresh thyme, chopped up

1/4 cup

+

1 tablespoon

mayonnaise

2 teaspoon

s dijon mustard

1/2 teaspoon

curry powder

1/4 teaspoon

salt

1/8 teaspoon

pepper
Sandwich bread or buns, gluten free or regular
---
Instructions
In a large bowl, add all of the ingredients and stir until combined.
Enjoy on bread or in a salad.
Notes
*To make vegetarian or vegan, use veganiase instead of mayonnaise and sub the chicken for diced firm tofu that has been crisped up in a pan with some olive oil.
Nutrition
Serving Size:

4

Calories:

816

Sugar:

14

Sodium:

1224

Fat:

27

Saturated Fat:

6

Unsaturated Fat:

19

Trans Fat:

0

Carbohydrates:

82

Protein:

59

Cholesterol:

132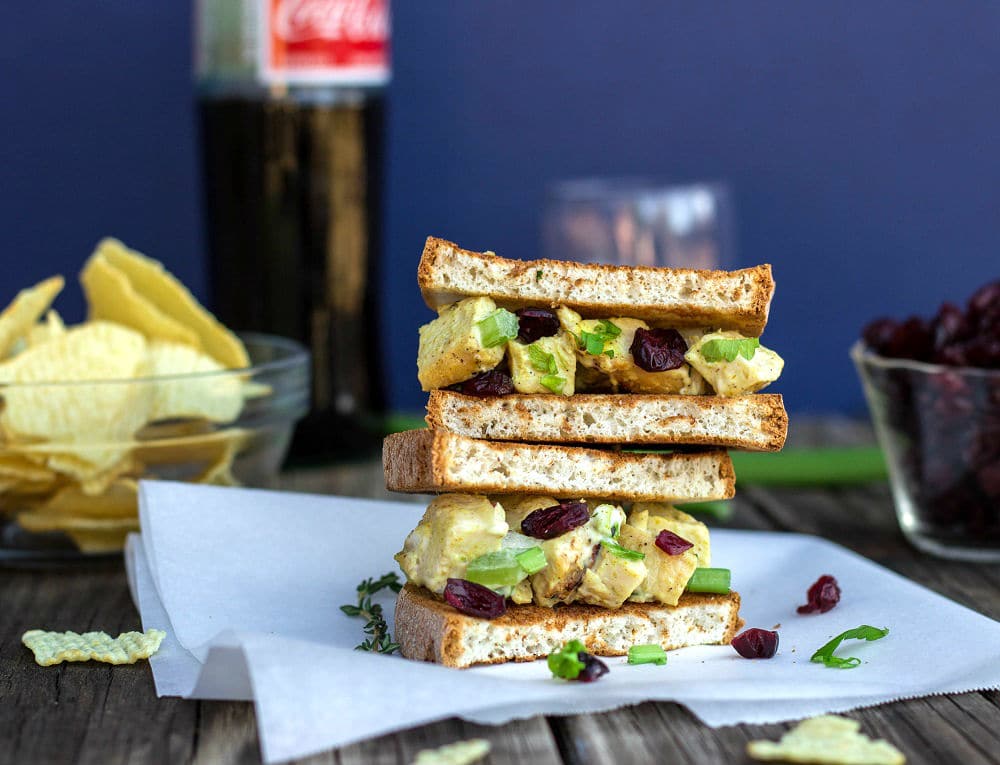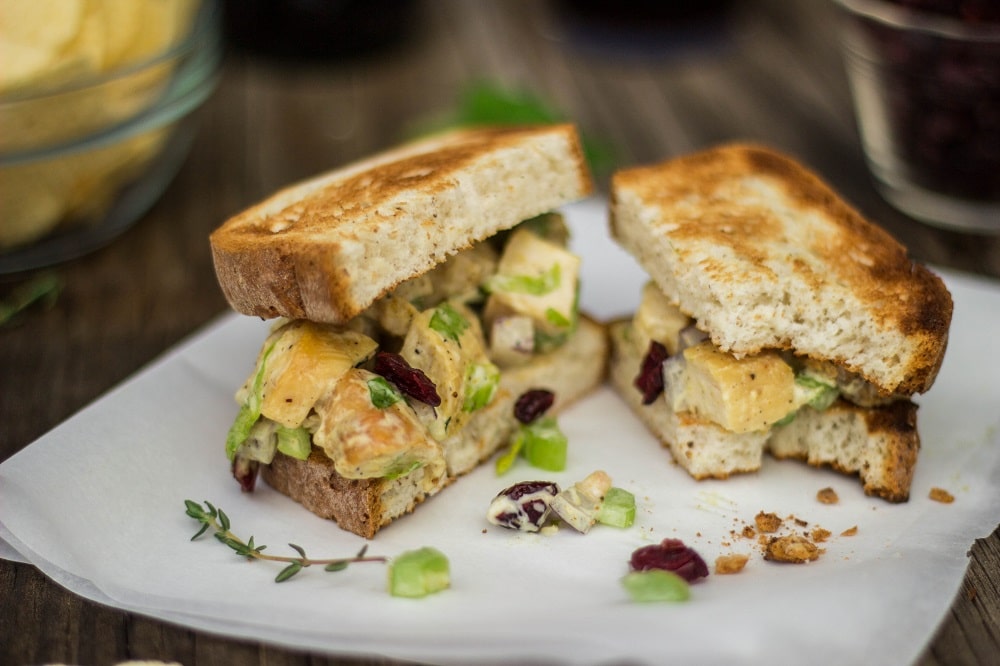 If there is a soft blanket in the house, Cheeto is sure to sniff it out! And then take a three hour nap on it.