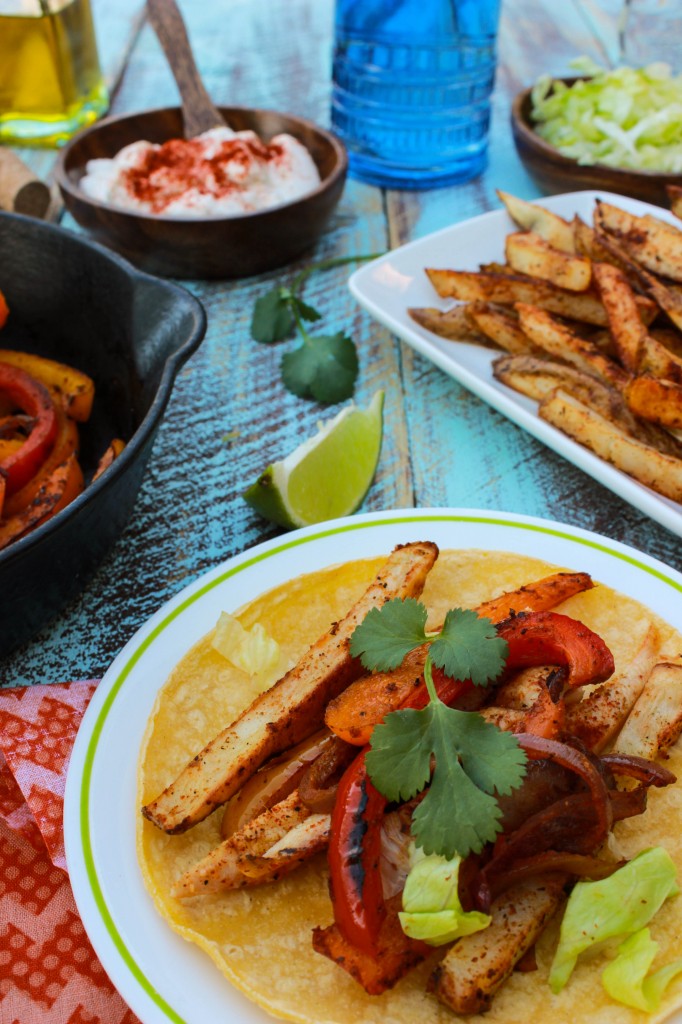 A few nights ago I made some grilled chicken fajitas for dinner.  I plated them up and took a bunch of pictures (my husband is starting to get used to the drill, pictures first, dinner second).  We sat down and started eating them, I guess I was staring off into space because Eric asked me what I was thinking about.  With a sparkle in my eye, ok, maybe not quite a sparkle, but I was excited, I replied, "I was thinking about how much better these fajitas would taste if I added french fries to them!".  They were good and all, but what wouldn't taste better with french fries added to it??  By the way, that was not meant to be a rhetorical question and I just thought about it  for 10 minutes and I couldn't come up with a single thing.  My first thought was ice cream, but who hasn't taken their french fry and dipped it into their milkshake and loved it?  My second though was sushi, but then I remembered that one of my favorite kinds of sushi is crispy sweet potato, which is kind of like a french fry, right?  The point I am trying to make here is that everything tastes better with french fries!
You could use frozen french fries, but I am very partial to oven baked french fries.  So partial, that I'm embarrassed to say that I probably make them at least twice a week.  It has taken me a little while to perfect my oven baked fries, but I think that they are close to perfect these days!  In the past, I always tried to flip them over too early.  They would stick to the pan and I would try my hardest to scrape them off.  I just recently noticed a few spots on one of my sheet pans where I must have scraped some of the surface off of it while trying to get the french fries up.  I should probably throw that one away…  I tried so many methods to get them not to stick.  Adding a bunch of extra olive oil, made for really greasy fries, which went against all the reasons why I oven bake them rather than deep fry them, tossing the potatoes in a bowl with seasonings and oil, then dumping them onto an oiled baking sheet, also made for more greasy fries than necessary.  I think that I finally stumbled upon my no stick french fry method by mistake, or laziness.  I realized that if I don't try to flip the fries over 10 minutes into the cooking process, rather I wait 20 minutes, the bottoms become crispy and don't stick!  Now, I am a little bit more patient and I get crispy, oven baked fries every time!  Long story short, it is cheaper, healthier, and takes about the same time to make french fries from scratch rather than buy them frozen.
Wash the potatoes and cut them into french fries.  You can make them as thin or as thick as you would like, but I usually make them more on the thin side because it takes less time for them to cook, which means less time until they are in my mouth!
Add olive oil and seasonings to them.  To make my usual seasoned fries, I use salt, pepper, garlic powder, and paprika.   I added some cumin to these fries to go with the whole fajita theme.  Don't be scared to get your hands dirty while tossing them around to make sure the seasoning coats them evenly!
And there you have perfectly crisp, oven baked fries!  If you are like me, you will make them all the time and never buy the frozen ones again!  I also like to make this recipe using sweet potatoes, just adjust the cook time a little bit.
Season the chicken breasts and throw them on the grill for about 20 minutes, depending on how thick they are, mine were pretty thin.  To keep with the theme, I seasoned them with the same seasonings as the french fries; salt, pepper, garlic powder, paprika, and cumin.  Let them cool and then cut them into strips.
Cut the peppers and onions into strips, I used three different colors of peppers and I used about half of each one, so roughly 1 and 1/2 peppers total and 1/2 a red onion.  I seasoned them up with the usual seasonings and threw them into  a pan for about 12 minutes, or until they are tender.
What You'll Need:
2 Medium sized potatoes

About 1 pound of boneless, skinless chicken breast

About 1 and 1/2 bell peppers, whichever colors you like (I used about 1/2 each of 3 different colors)

1/2 Purple onion

Corn tortillas or flour tortillas

Olive oil

Salt

Pepper

Garlic Powder

Cumin

Paprika

Optional garnishes: sour cream, cheddar cheese, lettuce, cilantro, lime, salsa, avocado, the possibilities are endless!

What To Do:

Preheat the oven to 400 degrees F.

Wash the potatoes and cut them into french fries.  Place french fries on a large sheet pan and  drizzle with about 1 tablespoon of olive oil and season with 1/4 Tsp salt, 1/8 Tsp pepper, 1/4 Tsp garlic powder, and 1/2 Tsp each cumin and paprika.  Toss with your hands to make sure the seasoning is covering the potatoes evenly.

Place the sheet pan into the oven and bake for about 20 minutes.  Take french fries out of the oven and flip over and bake for about another 5 – 7 minutes until they are soft on the inside and crispy on the outside.  Set aside.

After you put the french fries in the oven, grill the chicken.

Drizzle chicken with a little bit of olive oil and sprinkle on salt, pepper, cumin, garlic powder, and paprika to both sides.  Just eye-ball the seasonings.

Place on the grill (if you don't have a grill or if it is too cold outside to use the grill, you can roast in the oven or cook in a suacepan on the top of the stove) for about ten minutes each side, more or less depending on the thickness (mine were pretty thin).  Cook until chicken is cooked through.  Let cool and then slice into long strips.

While chicken is cooling, cook the peppers. 

Heat up a sauce pan on medium heat and add 1 Tsp olive oil.  Cut the peppers and onions into strips and place in the warm pan.  Season with 1/4 Tsp salt, 1/8 Tsp pepper, 1/4 Tsp garlic powder, and 1/2 Tsp each of cumin and paprika.  Saute the peppers for about 10 – 12 minutes until tender, stirring occasionally.

Warm the tortillas in a saucepan, microwave, or oven.

Prepare any desired sides and sauces.

Place chicken, french fries, peppers, and any other delicious additions onto your tortilla and take a big bite!

Enjoy!  This recipe makes enough for about 6 fajitas.
Cheeto helped with the dishes!