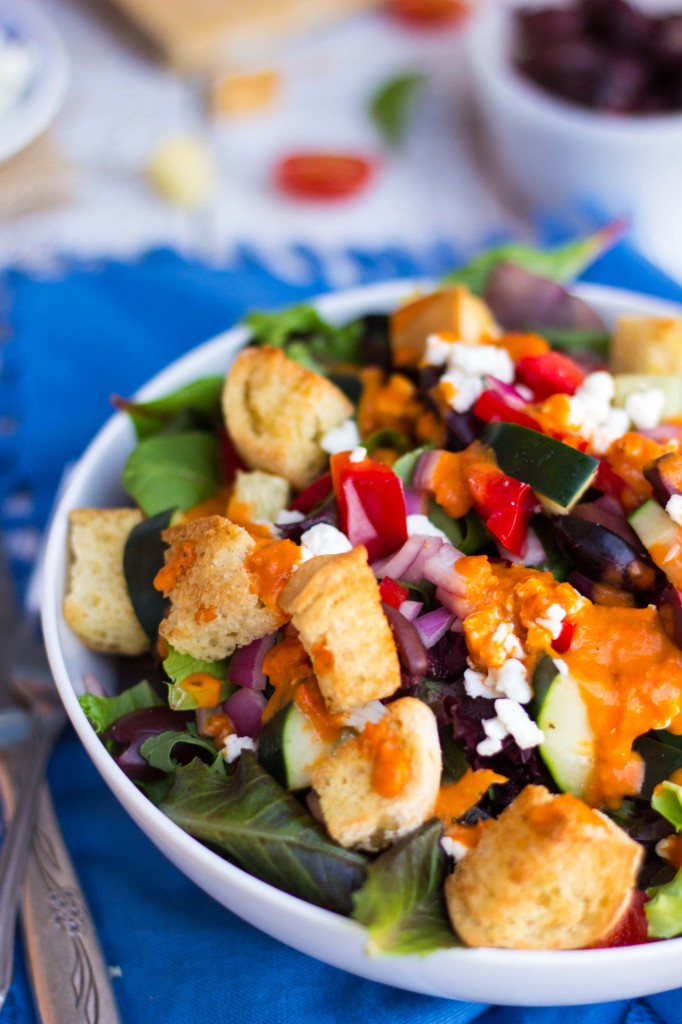 I feel like I have been away for far too long! I guess it has only been since last Thursday, but blogging is definitely a huge part of my life now and it feels strange not putting a new post up every few days. But, I have a good reason, we have had two of our best friends, whom we met while living in Montana, and their adorable 7 month old baby son visiting us!
It has been so much fun, and I do not have baby fever at all now, not at all…. One thing I love about having guests visit is that we can pretend like we are tourists and take them to all the cool places in Tucson. Although it was 100 degrees out, we still had to take them to see Saguaro National Park because the beautiful Saguaro flowers were in full bloom and it is a pretty amazing sight!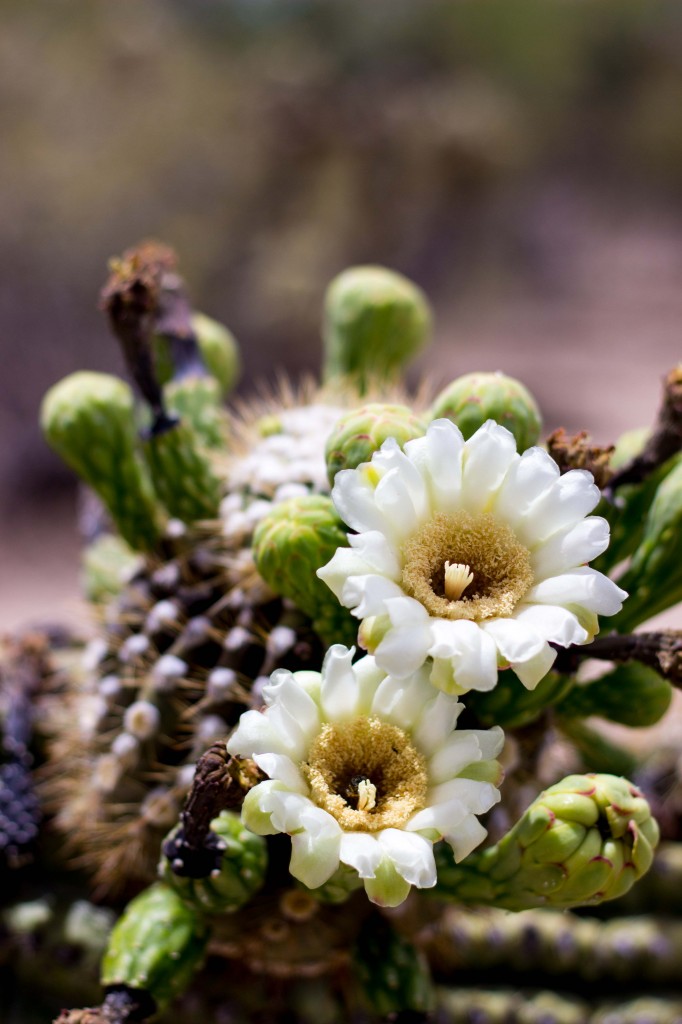 And, this mamma and baby javelina just happened to be enjoying their afternoon nap outside of the Visitor's Center while we were there!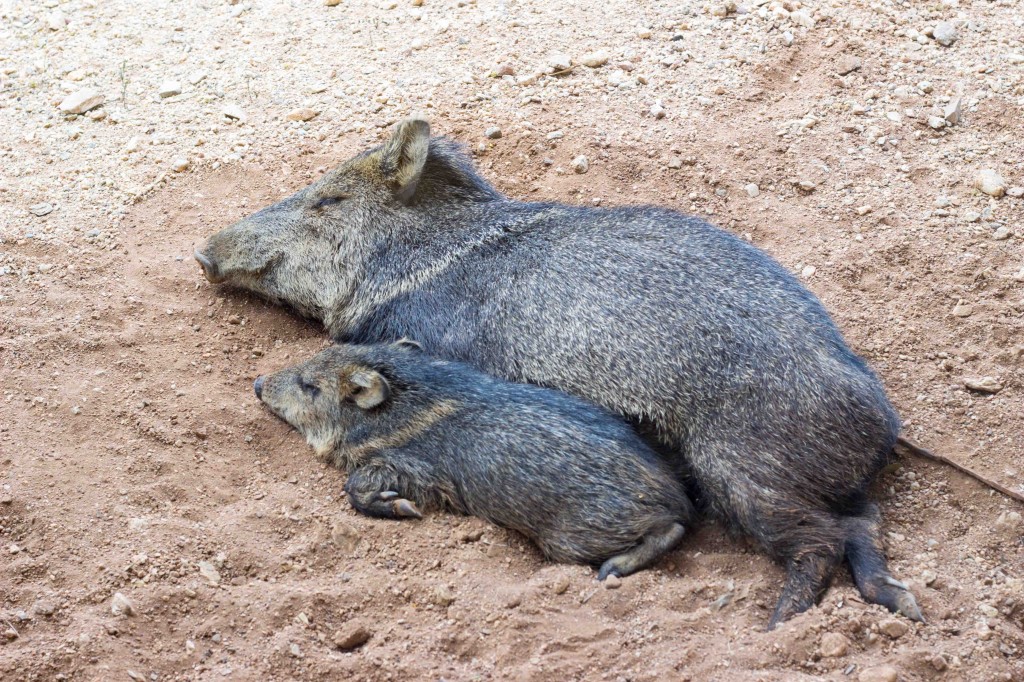 Saguaro flowers and napping javelinas means that summer is truly here and I thought that this salad would be a perfect accompaniment to the 100 degree weather we have been having lately. I'm a huge salad lover and my husband is a huge pizza lover so I have been kicking around the idea of a "Salad Pizza" in my head for a while now, but it didn't take shape until a few days ago when I was watching one my favorite cooking shows. Giada was making an orzo salad and she made this smokey cherry tomato dressing to go on it. As soon as I saw her make it, I knew that it was the missing piece to my pizza salad!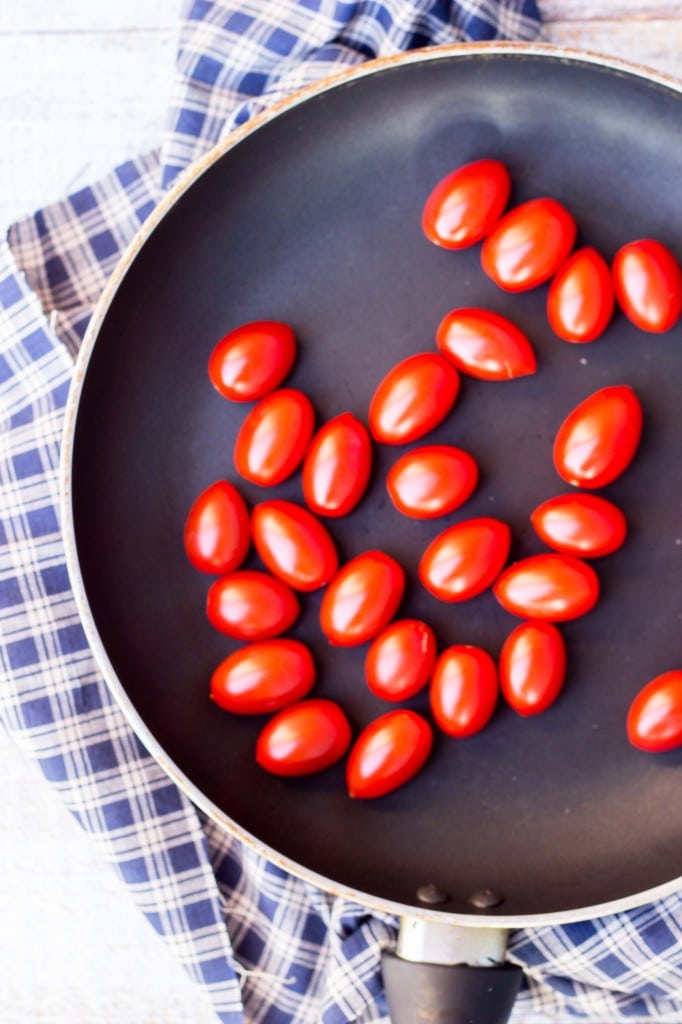 I put all the ingredients into the blender, blended them up, and then stuck a spoon in for the taste test. And let me tell you, this is one of the best tasting dressings I have ever had! It was hard for me to hold back from drinking it right out of this glass, not even kidding!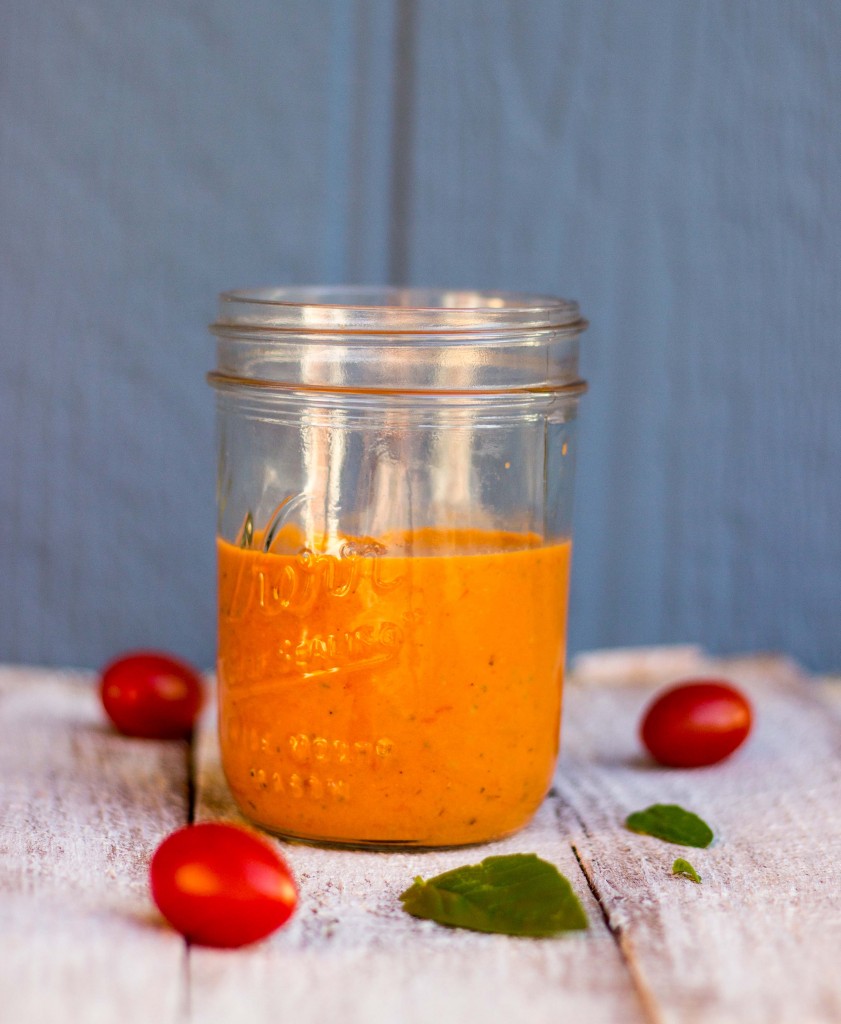 I was thinking about a few different pizza toppings I could use for this salad and finally settled on a mix between a panzanella salad and a Greek salad, because who can resist kalamata olives and feta cheese, and toasty bread?!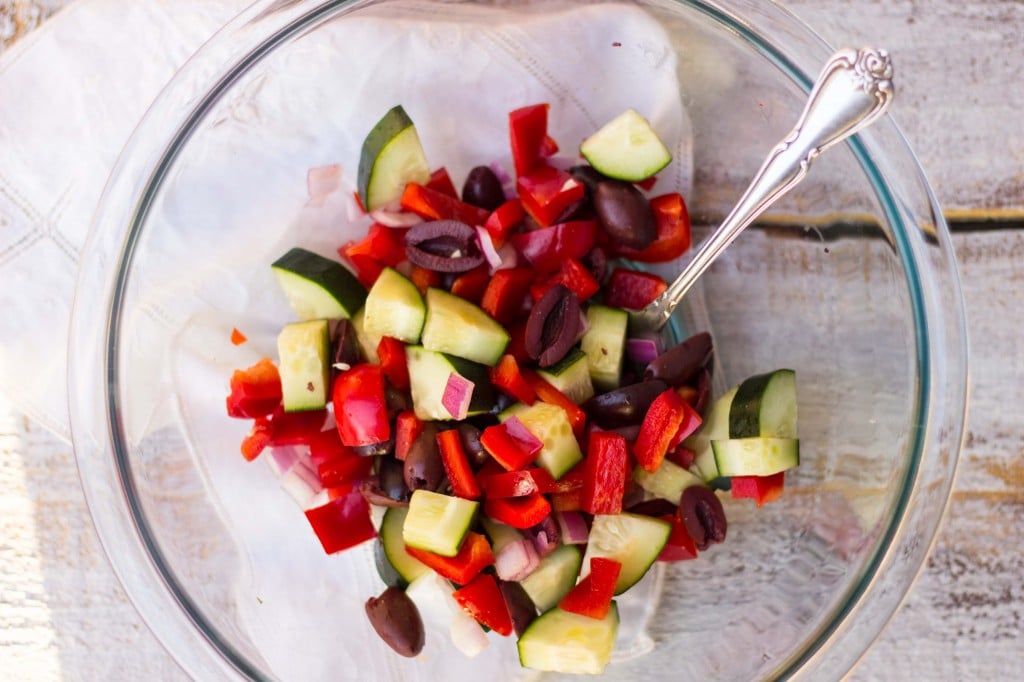 Print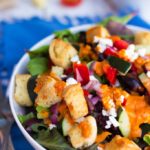 Greek Salad with a Cherry Tomato Vinaigrette aka Greek Pizza Salad
---
Category:

Salad, Gluten Free
Ingredients
Cherry Tomato Dressing:
1 1/2 cup

cherry tomatoes

6

basil leaves, roughly chopped

1/2 teaspoon

dried oregano

1

clove garlic, roughly chopped

2 tablespoons

olive oil

1 tablespoon

red wine vinegar
pinch of salt
Croutons:
3

–

4

cups diced bread, use your favorite bread. I used gluten free ciabatta bread
olive oil
garlic powder
dried oregano
salt
Salad:
6

–

8

cups lettuce

1/2 cup

pitted kalamata olives, cut in half

3/4 cup

diced red pepper

1/4 cup

diced red onion

3/4 cup

diced cucumber

1/2 cup

feta cheese, crumbed
---
Instructions
Cherry Tomato Dressing:
Place a large pan on medium heat. Add the cherry tomatoes (no oil needed) and cook in the pan for 15 – 20 minutes until they are starting to burst open and brown, stirring often. Let cooked tomatoes cool for about 10 minutes.
In a blender, add cooked cherry tomatoes and the remaining dressing ingredients. Blend for about 30 seconds until dressing is smooth. Set aside.
Croutons:
Preheat oven to 400 degrees F. Place diced bread on a large sheet pan and drizzle with olive oil and season with salt, garlic powder, and oregano.
Place in the oven for about 10 minutes, until bread cubes are crispy.
Assemble the Salad:
In a large bowl, mix together all salad ingredients, except for the lettuce.
Place 1 – 2 cups of lettuce in each bowl and top with about 1/4 of the vegetable mixture and a handful of croutons.
Top with the cherry tomato dressing and enjoy!
Notes
Salad ingredients, dressing, and croutons makes enough salad for about 4 people.
*Cherry tomato salad dressing adapted from Giada at Home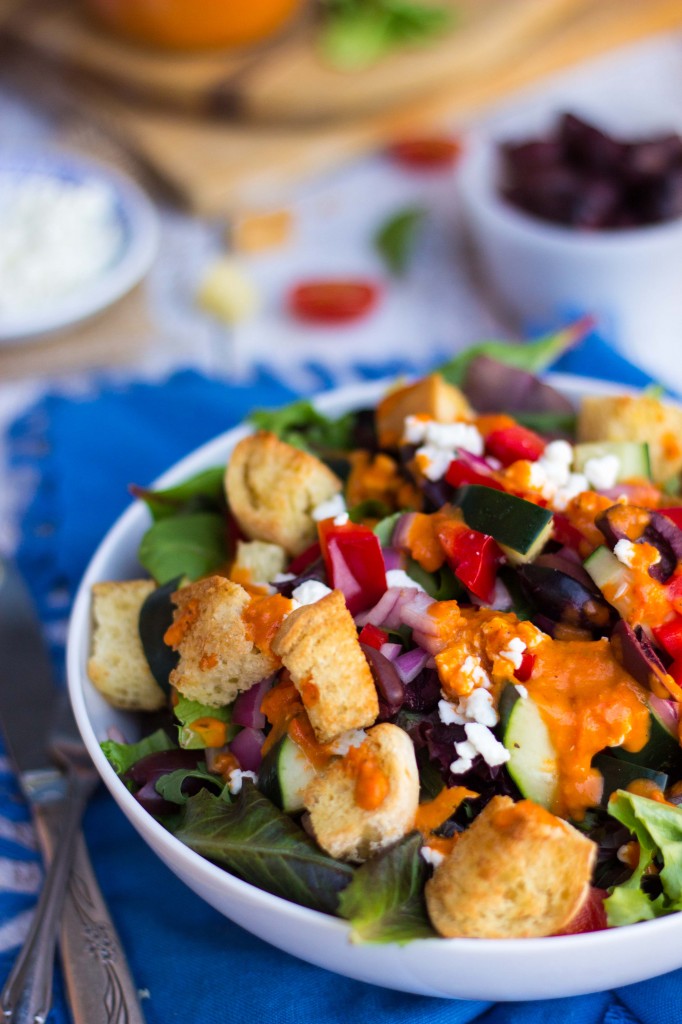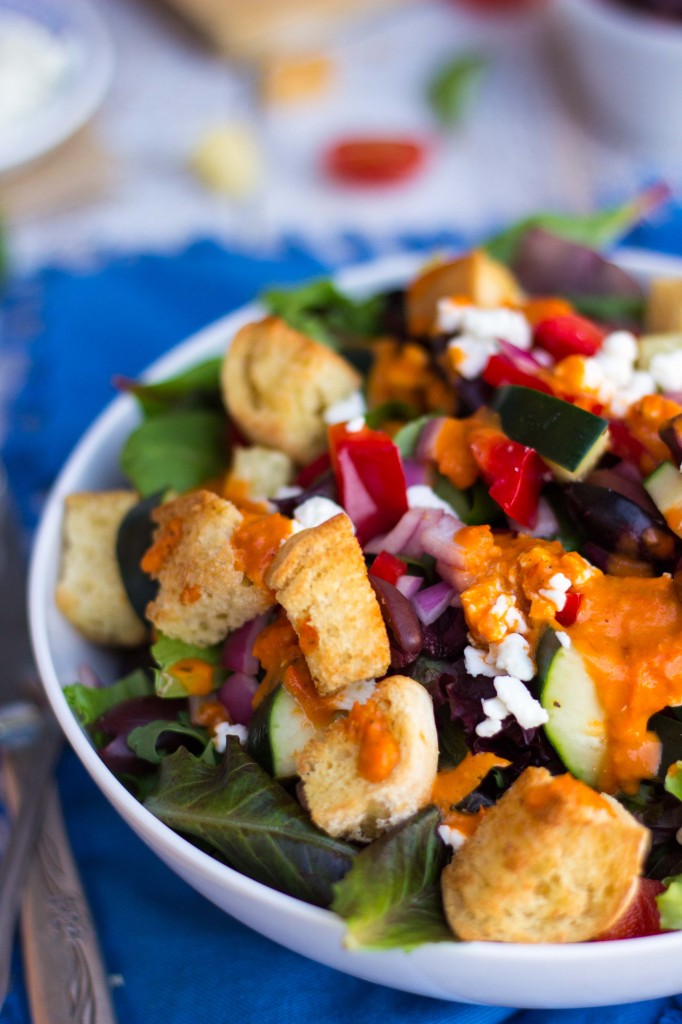 I found out this weekend that Cheeto hates babies. Or maybe he is just afraid of them, he couldn't stop hissing at their cute little baby, and sometimes he would run by and then hiss as he had his back to the baby. I guess we can't have kids anytime soon, ha!