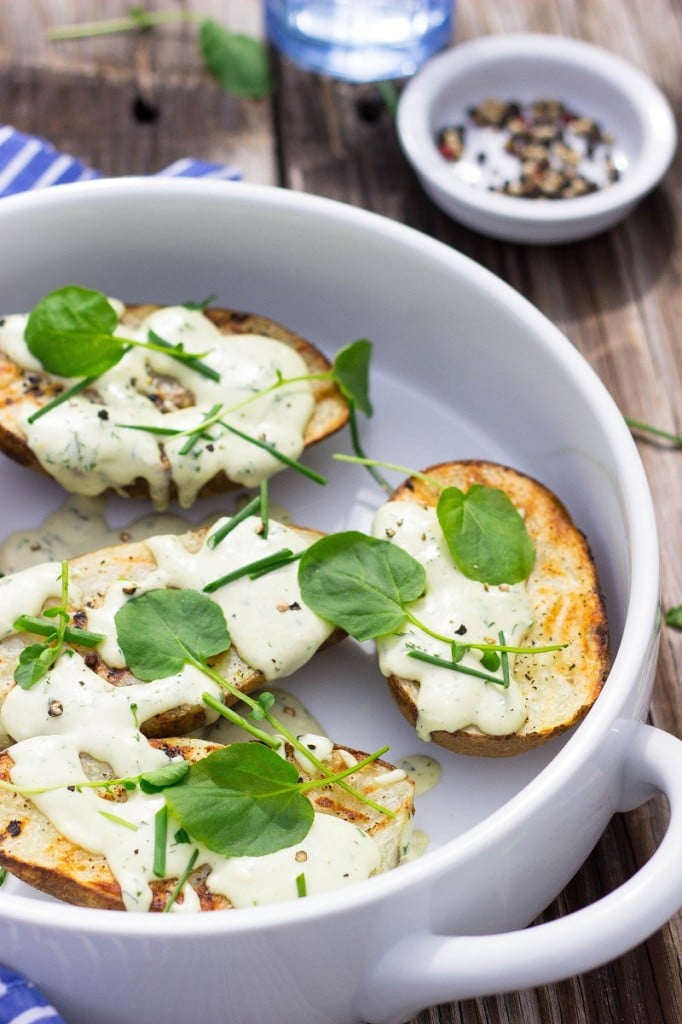 So, do you remember in my last post when I talked about how I had been putting this Vegan Ranch Dressing on everything?! Well, these grilled potatoes were one of those things.
I feel like I'm going to get some mean looks when I say this, but here in the deserts of Arizona, it is always grill season. We did get a little bit of snow on New Year's Day, but other than that it pretty much never gets colder than sweatshirt weather all year round. I'm sorry, you can hate me, but I should mention that in the summer it sometimes gets to be 115 degrees outside and all I wanna do is hide in the freezer all day, so don't hate me too much!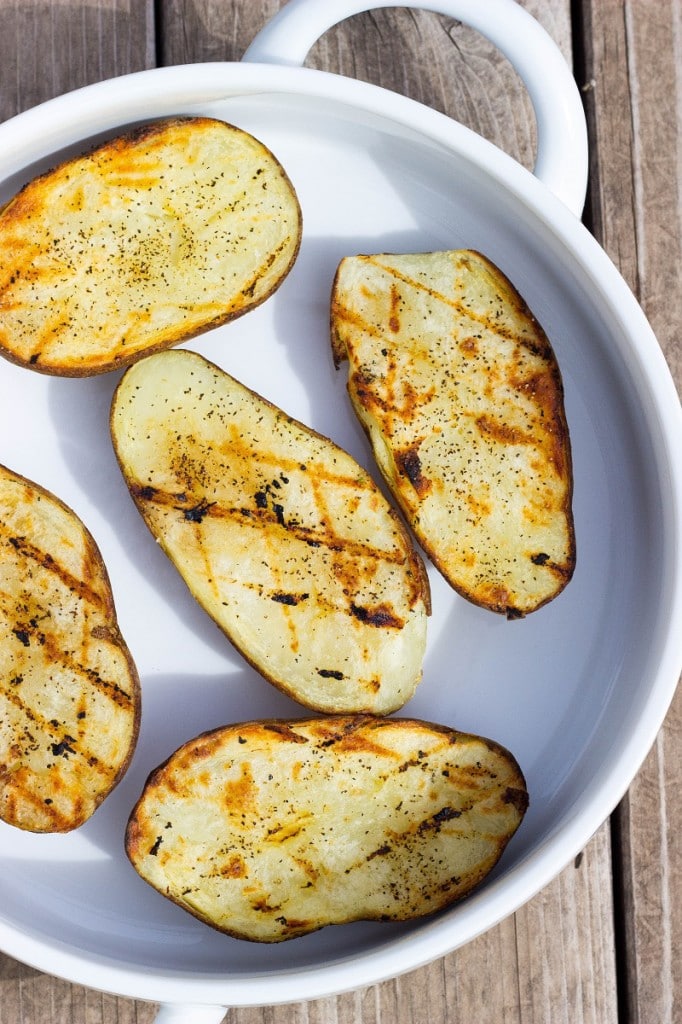 Long story short, I've secretly been grilling all winter long, but now feel like I can finally share a grilled recipe with you all without getting too many dirty looks! We do a lot of grilled potato wedges in this house but this is the first time I've grilled half a potato and they are so good! You do have to par-boil the potatoes for about 20 minutes before putting them on the grill, but I think it just brings these potatoes to another level when you throw some salt and pepper on them and give them some beautiful grill marks! I then topped them with a healthy serving of The Best Vegan Ranch Dressing, some chives, and a handful of watercress. They make for a great side, or if you are anything like me, a perfect dinner 🙂
Print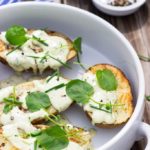 Grilled Potatoes with Vegan Ranch Dressing & Watercress
---
Category:

Side, Gluten Free, Vegan
Ingredients
4

–

6

medium sized russet potatoes, or however many you would like to make

1 tablespoon

olive oil
salt
pepper

1

small bunch of watercress leaves

1/4 cup

thinly diced chives
---
Instructions
Place the potatoes in a large pot and cover with cold water. Toss in a large pinch of salt and bring to a boil. Boil potatoes for about 20 minutes, until they are fork tender, but still have a little bit of give to them. Drain potatoes and let cool.
Once potatoes are cooled, cut in half. Heat a grill to medium heat. Brush the potatoes with olive oil and season with salt and pepper. Place potatoes, cut side down, on the grill and grill for about ten minutes, until grill marks are visible.
Drizzle the potatoes with ranch dressing and top with chopped chives and watercress leaves.