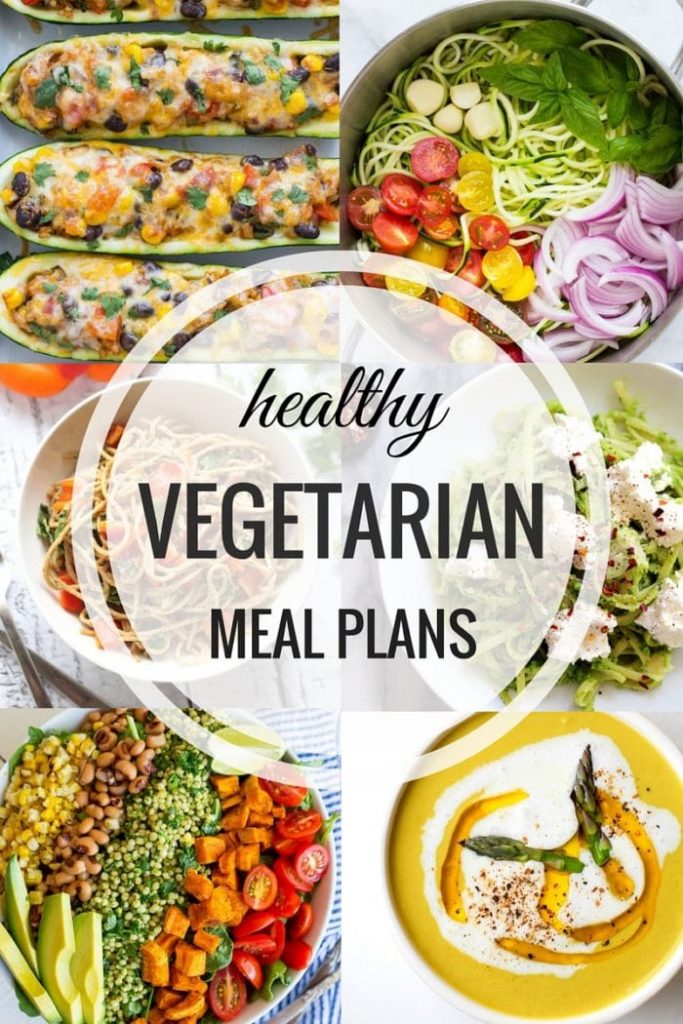 Happy August! Although the summer weather in Arizona really lasts until about October, I still feel like this summer has just flown by. I think of August as being the last summer month and then we are onto fall, my favorite season. Now is the time when kids are going back to school, so meal planning is even more important if you have little ones running around.
My mom has been visiting for the past week so thankfully I haven't had to do any cooking myself, but once she leaves I'm going to be looking for delicious and easy meals to prepare for weeknight dinners. Thankfully I won't have to look far because my mouth waters ever week when I put together this post for you! I hope you are all enjoying these Weekly Vegetarian Meal Plans 🙂
SUNDAY
Mexican Zucchini Burrito Boats from Making Thyme for Health
Prep Ahead Tip: Use frozen rice to help save time.
Vegan/Gluten-free Substitutions: Substitute dairy-free cheese to make it vegan.
MONDAY
Herby Avocado Egg Salad Sandwiches from The Roasted Root
Prep Ahead Tip: The eggs can be hard boiled up to 3 days ahead of time.
Vegan/Gluten-free Substitutions: The sandwiches can be made with your choice of gluten-free bread, or the egg salad can be served bread-less on top of a green salad. To make this recipe vegan, replace the eggs with a 14 to 16-ounce container of tofu. Press the tofu, chop it into small cubes, transfer to a mixing bowl, then follow the remainder of the recipe.
TUESDAY
Quinoa Fried Rice from Hummusapien
Prep Ahead Tip: Chop veggies ahead of time or use frozen!
Vegan/Gluten-free Substitutions: Recipe is vegan! To make it gluten-free, sub tamari instead of soy sauce.
WEDNESDAY
Corn, Jalapeno and Brie Frittata from Eats Well With Others
Prep Ahead Tip: This recipe takes around 45 minutes to prepare, but the majority of that is hands off time while it bakes in the oven. To speed things up, saute the veggies ahead of time so that the night of cooking everything just needs to be mixed together and poured into a baking pan.
Vegan/Gluten-free Substitutions: This cannot easily be made vegan as it relies so heavily on eggs! It can be made dairy-free by substituting the brie with your favorite dairy-free cheese and replacing the milk with unsweetened soy or almond milk. It is already gluten free.
THURSDAY
Balsamic Sweet Pepper Pasta with Parmesan and Spinach from She Likes Food
Prep Ahead Tip: You can slice the peppers ahead of time to save some time. You could also cook the peppers ahead of time and them throw them into the cooked pasta to heat them up before serving.
Vegan/Gluten-free Substitutions: To make it vegan you can either omit the parmesan cheese or use non-dairy cheese instead. You could also sprinkle some nutritional yeast into the pasta for a cheesy taste! Use gluten free pasta to make gluten free.
Click HERE to print the shopping list!