This Easy Homemade Falafel Recipe is perfect for when you're craving falafel and don't want to go out to eat! You can make it at home and it tastes delicious! Stuff it in a pita or enjoy it on a salad.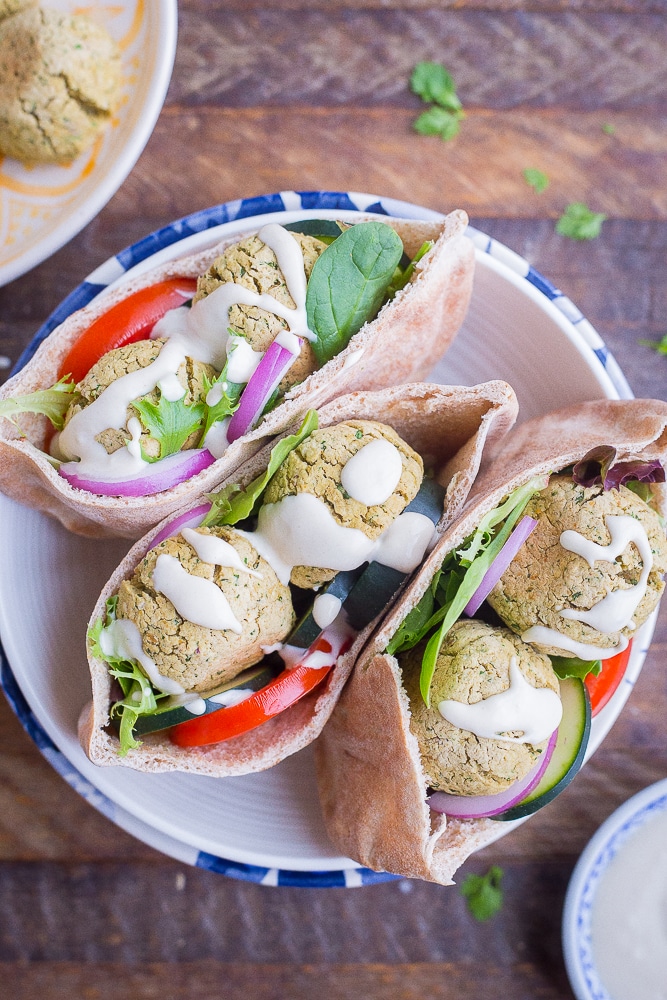 Falafel is one of my favorite foods ever and I used to only enjoy it while eating out, but now that I've come up with this super Easy Homemade Falafel Recipe, I can eat it anytime I want! I feel like falafel has such a complex flavor that it seems like it would be difficult to recreate yourself, but it's really so easy!
My favorite way to eat falafel is in a warm pita with veggies and tahini sauce but you could also top it on a salad, or serve it as an appetizer like I do with this Butternut Squash Falafel Recipe.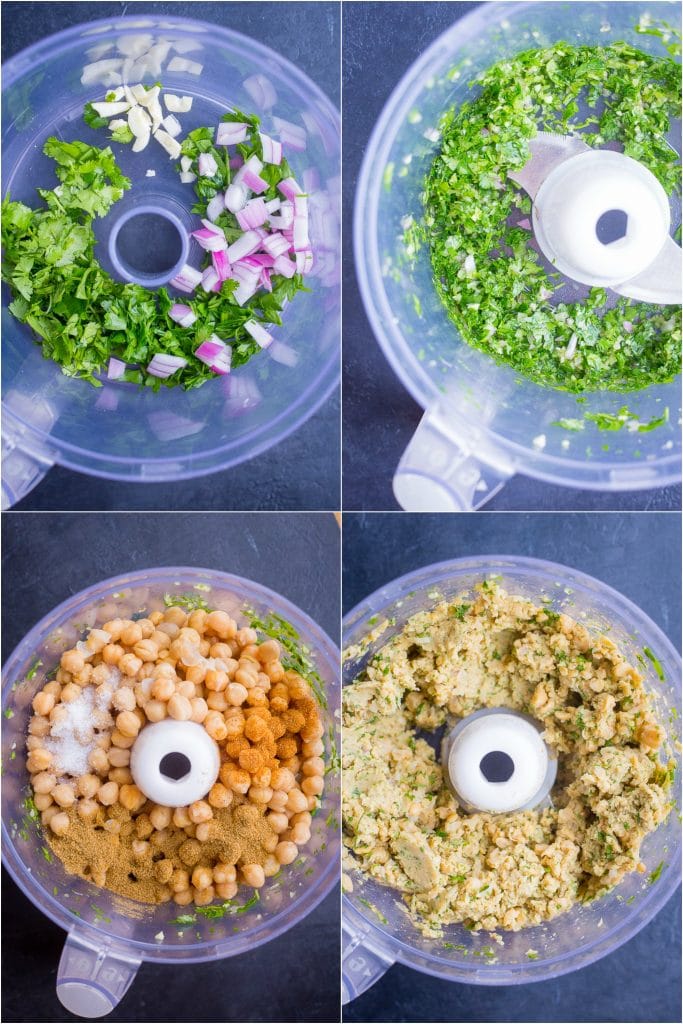 What Is Falafel?
Falafel is a middle eastern food that is made with chickpeas, herbs and spices. The chickpeas are ground up, mixed with fresh cilantro, parsley, garlic, onion, and spices and then formed into patties or balls.
Traditionally, falafel is fried which gives it a nice crispy exterior while still being soft on the inside. I prefer to bake my falafel to make it healthier. It doesn't get quite as crispy on the outside but I think it still tastes great and uses much less oil.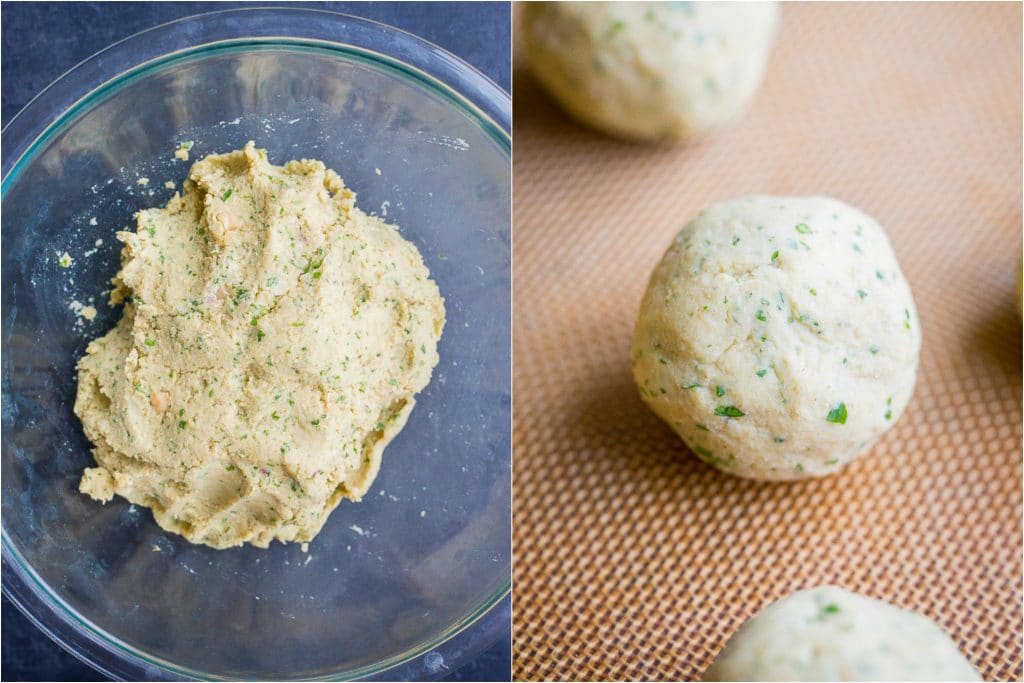 Falafel is usually served in a warm pita with a flavorful sauce. I prefer to use a lemon tahini sauce on my falafel but you could always use a tzatziki instead, which is yogurt based sauce with lemon juice, dill and cucumber. I also like to stuff my falafel pita sandwich with veggies like cucumber, tomato, onion and lettuce. You could also just add your falafel on top of a salad and enjoy it that way.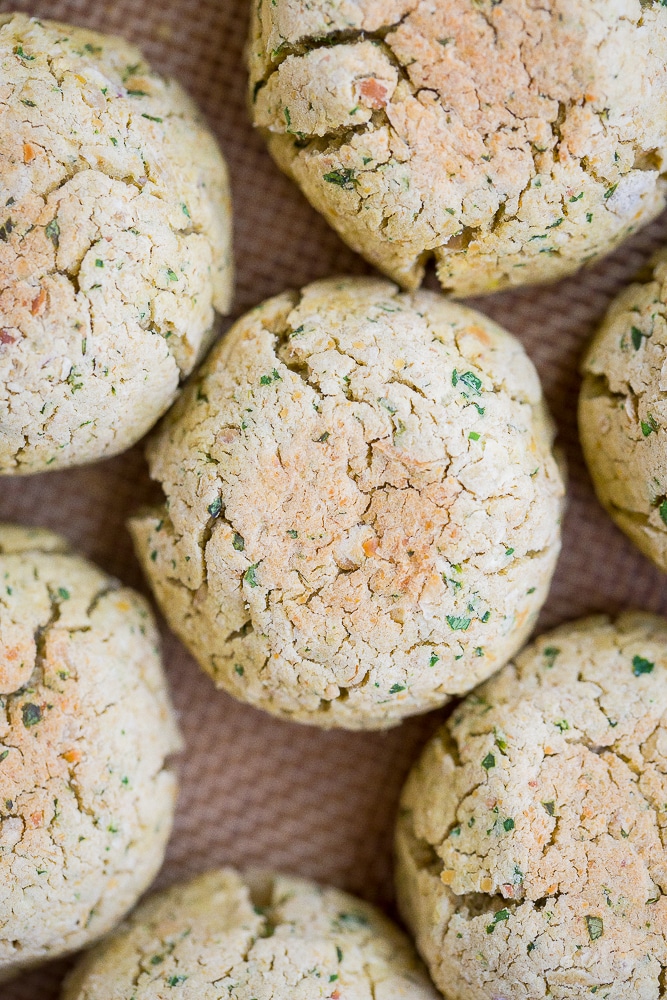 How To Make Falafel
I have to admit that I cut a small corner when I make my falafel. Traditionally, the chickpeas should be soaked in water overnight instead of using the canned ones, but I always have canned chickpeas on hand and never remember to soak my chickpeas the night before I want to make falafel.
Once you have your chickpeas, however you decide to prepare them, you just add them to your food processor with all the herbs and spices. I like to blend up my herbs and onion before I add in the chickpeas but that is optional. Once everything is blended up you then add in your flour and baking powder and blend again. You just don't want to the flour and baking powder to get too lost in the falafel mixture so you add it in last.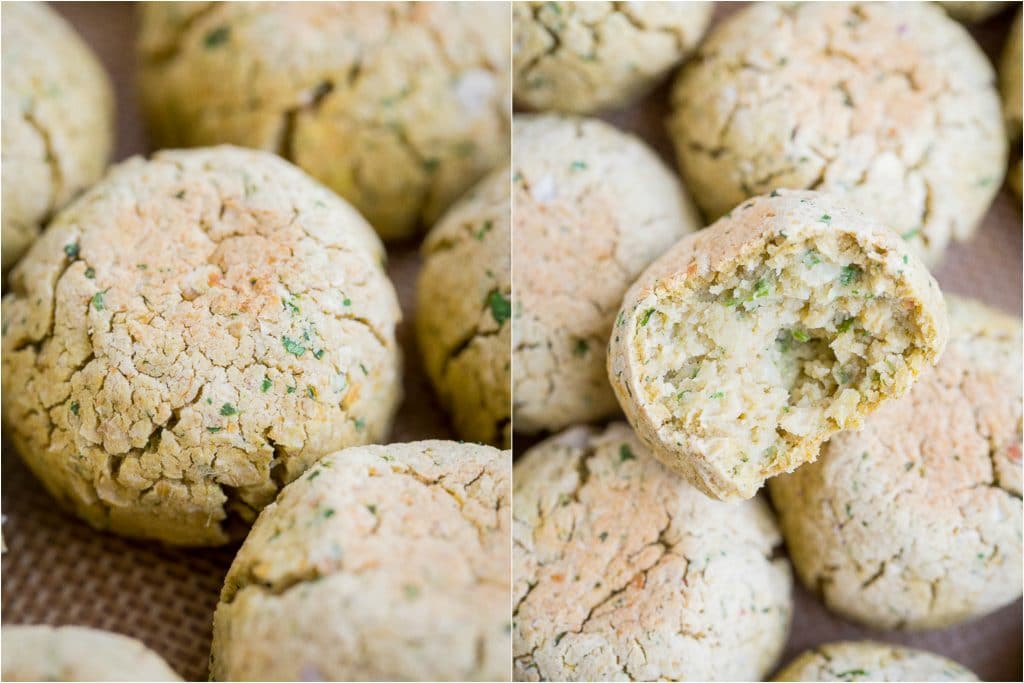 Recipe Tips For This Baked Falafel Recipe
I usually don't have a problem with the falafel staying together once I form it into balls but if you wanted you could always make the falafel mixture ahead of time and refrigerate it so it firms up a little bit before baking.
You can fry the falafel balls instead of baking them. I haven't done this myself though so unfortunately I don't have a suggestion of oil temperature and fry time.
Falafel will stay good in the refrigerator for about 3-4 days but I do suggest re-heating before eating leftovers. It will just give them a nicer texture.
As I said above, traditionally falafel is enjoyed with either a tahini sauce or tzatziki sauce. I always have tahini and lemons on hand so that's what I usually use.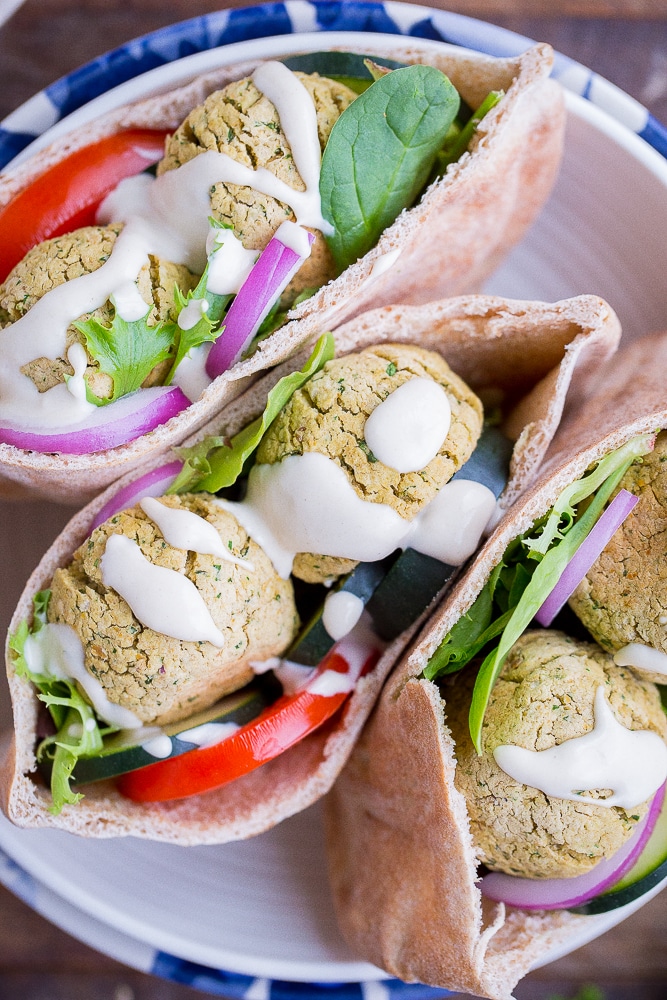 I like to make my falafel into balls because it fits nicely into the pita that way but you could make your pita into patties also. If you make patties it would be really easy to fry them in a frying pan with a little bit of oil instead of baking them in the oven. They would also cook a little faster if you make thin patties in the frying pan.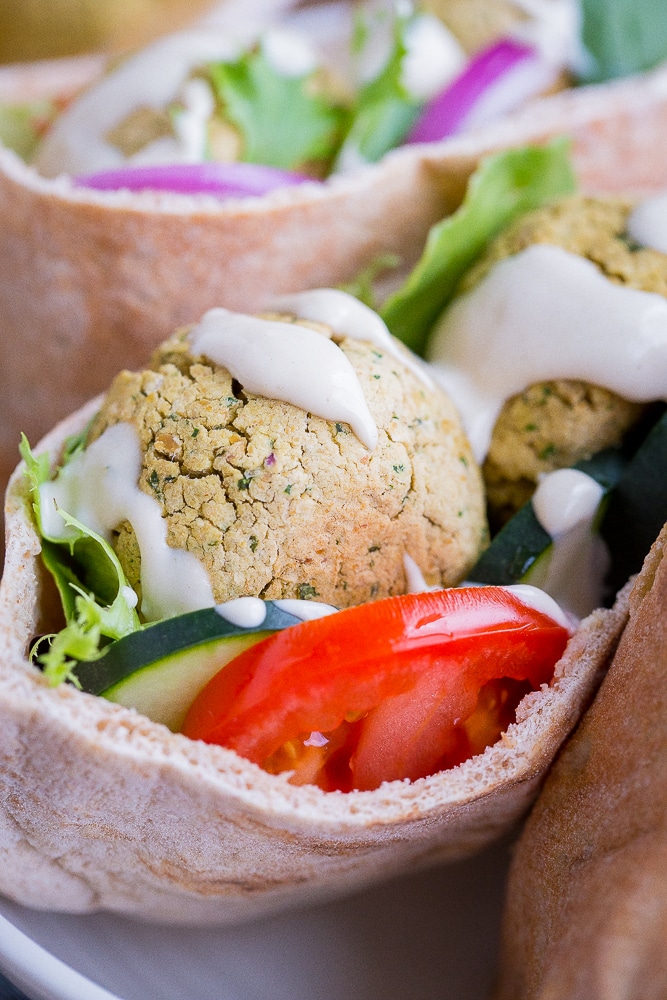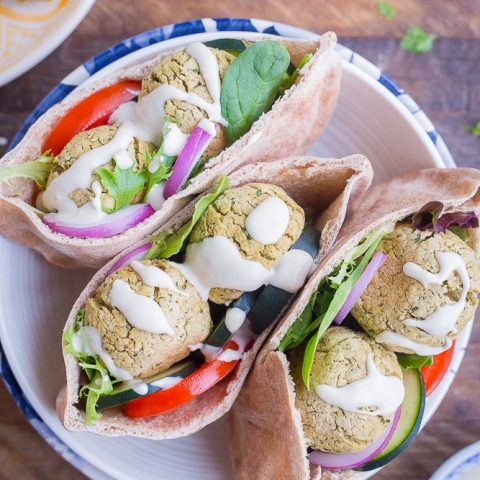 Easy Homemade Falafel
This Easy Homemade Falafel is baked in the oven and so flavorful!  It's perfect to enjoy in a warm pita or on a salad.
Ingredients
2 (15-ounce) cans garbanzo beans, drained and rinsed
1 clove garlic
2 tablespoons chopped white onion
2 tablespoons chopped cilantro
2 tablespoons chopped parsley
3 teaspoons ground cumin
1 teaspoon salt
Cayenne pepper, to taste
2 tablespoons flour, gluten free if necessary
½ teaspoon baking powder
Olive oil
Additional ingredients for serving, if desired: gluten-free pita bread, lettuce, tomato, onion, cucumber
TAHINI SAUCE
½ cup tahini
Juice of ½ large lemon
5-7 tablespoons water, depending on how thick you want sauce
Salt, to taste
Instructions
Preheat oven to 375° F. Place the parsley, cilantro, garlic and onion in the food processor and blend until chopped. Next, place all the remaining ingredients, except for flour, baking powder and olive oil, into a food processor and blend until everything is broken down but not pureed. Next, sprinkle in the flour and baking powder and blend again until mixture forms a ball. You may have to stop and scrape the sides down a few times.
Line a large baking sheet with parchment paper. Use your hands to form the mixture into balls. You can make them as big or as small as you would like. I used about 1 tablespoon of mixture for each one. Place falafels on baking sheet and brush the top of each with olive oil. Bake until golden brown, 25-30 minutes, flipping once.
Make the sauce while the falafel is baking. Add all ingredients to a small bowl and whisk until combined and a creamy sauce is formed.
If desired, serve falafels in a pita with vegetables and tahini sauce.
Nutrition Information
Yield

7
Serving Size

2
Amount Per Serving
Calories

269
Total Fat

13g
Saturated Fat

2g
Trans Fat

0g
Unsaturated Fat

10g
Cholesterol

0mg
Sodium

753mg
Carbohydrates

33g
Fiber

6g
Sugar

9g
Protein

9g
*Information may vary based on brand of ingredient you use.