When I was a kid I hated avocados and tomatoes, and most likely I also hated onions, lemons, and garlic.  My favorite food was grilled cheese, french fries, and chocolate milk.  You would not have found me anywhere near anything that resembled guacamole!  I'm not sure what was wrong with me, but thankfully I finally came around to love guacamole and everything in it.  I think the turning point was when I realized that avocados had the texture that was very similar to butter, but they were actually good for you!  These days, I put avocado on everything; BLTs, tacos, pizza, toast, grilled cheese, bagels and cream cheese, and I have even been known to eat them by themselves with a little salt and pepper. 

However, my favorite way to eat avocado is in a big bowl of guacamole with a big bag or corn chips.  I think I like making guacamole so much because avocados are pretty mild in taste and it allows me to add a bunch of yummy flavors and jazz it up.  My guacamole recipe is one of the few recipes that I make the exact same way every time I make it, which might be about once a week!My husband is a big football watcher and he likes to eat all kinds of different snacks while watching it.  I, on the other hand, am not a big football watcher, but I love to make and eat all kinds of different snacks.  So, I get an excuse to make snacks, Eric eats them while watching football and I eat them while watching trashy t.v shows with headphones on my laptop.  It is a win-win situation!  I hope you enjoy this recipe as much as I do!
Avocados brown pretty easily, so I have a couple of tips that will help it stay more appetizing looking longer.  Adding lemon juice to your guacamole helps to keep it green, and what I think helps the most is putting the avocado pit in the guacamole.  If you put the pit in, you might want to warn people so that they don't break their chip on it!  Also, if you're not like me, who eats the whole bowl in one sitting, the best way to store guacamole is to place a piece of plastic wrap directly onto the guacamole, that will also keep it from turning as brown in the refrigerator.
What you'll need:
2 Large avocados

1 Small clove garlic, minced

3 Tablespoons tomato, diced small

1 1/2 Tablespoons red onion, diced

Juice of 1/2 a lemon, more or less depending on what you like

1/4 Teaspoon ground cumin

1/4 Teaspoon ground paprika

Salt, to taste

Pepper, to taste

What to do:

Cut avocados in half and take out the pit.

Using a knife, score the avocado in each direction, so that it is diced up, but still in the skin.

Scoop out the diced avocado with a spoon.

Add diced avocado into a bowl and mash with a fork.  I like to make it mostly smooth, with a few chunks in it.

Add the rest of the ingredients to the bowl and mix together.

Enjoy with chips!
Dice the avocado while it is still in it's skin and then scoop it out with a spoon.
Mash the avocado with a fork, make it as smooth or as chunky as you wish.
Add all ingredients into a bowl and mix together.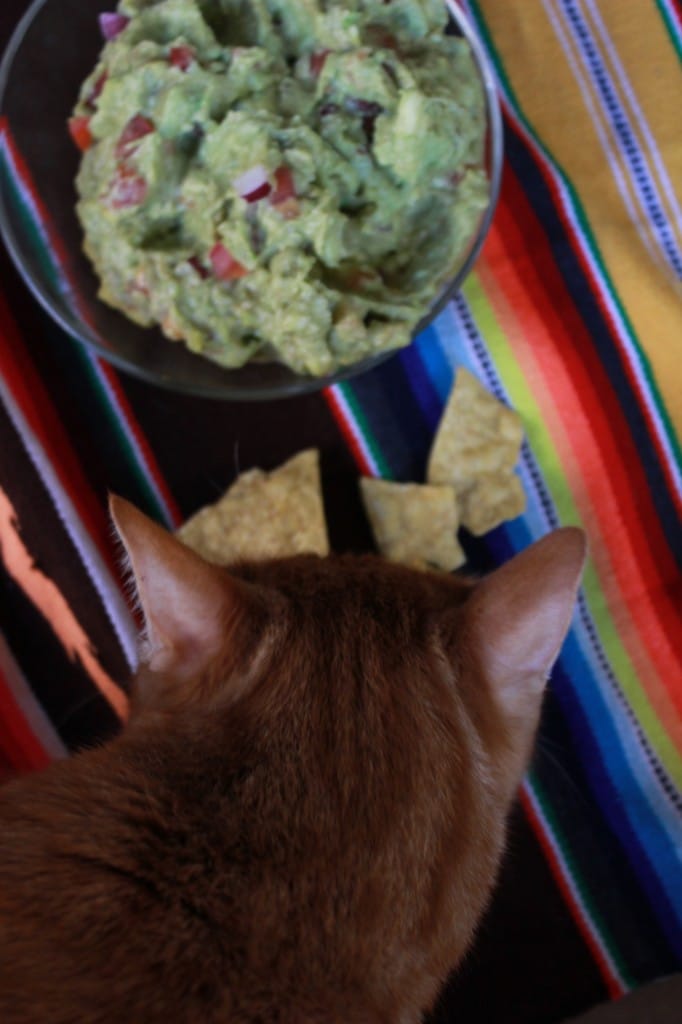 Enjoy with chips!