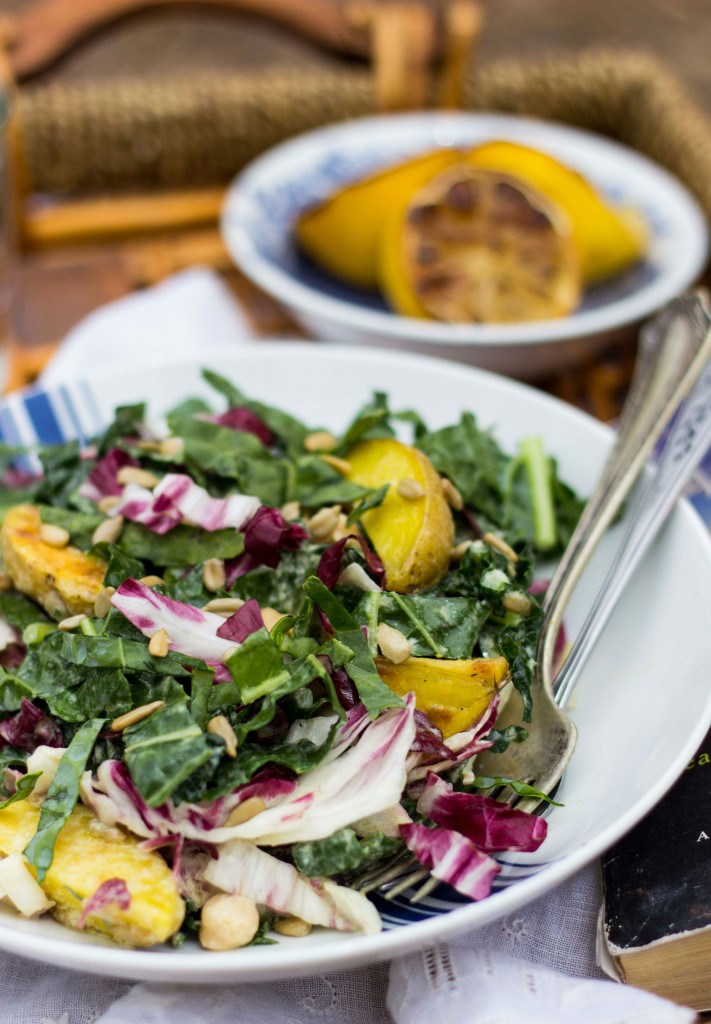 You know how when you meditate or try and relax people always tell you to go to your happy place?
Maybe your happy place is somewhere familiar that makes you feel calm, or maybe it is somewhere like the beach, where you would go on a vacation. For some reason I've always struggled with finding my happy place and I'm starting to think that is why I have such trouble completely clearing my mind sometimes.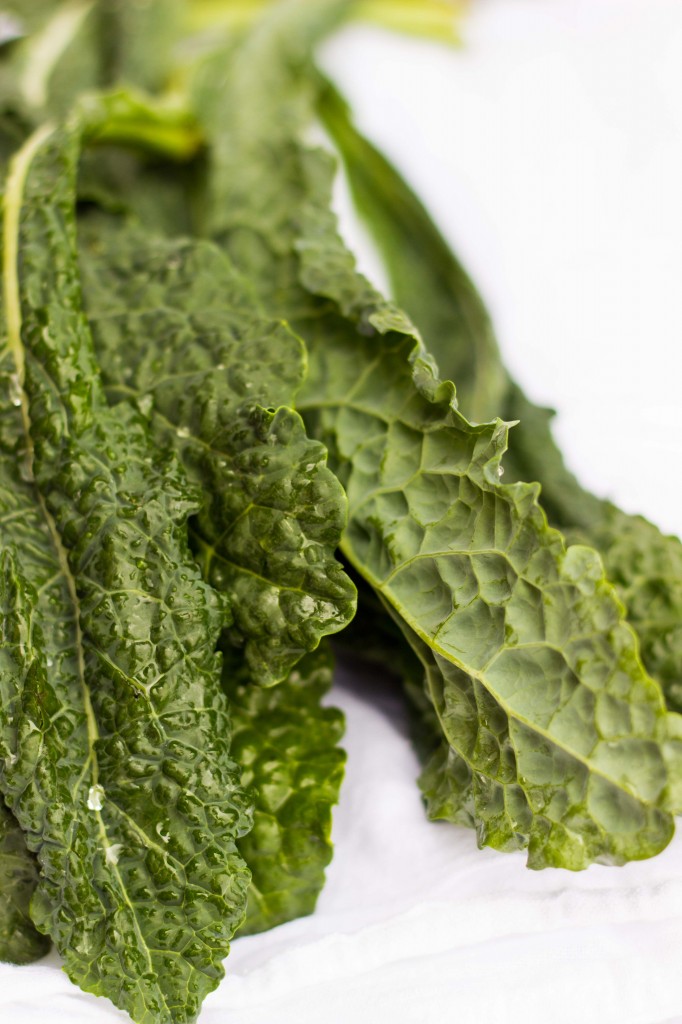 Whenever I do try to meditate, I always automatically picture myself sitting in one of those wooden Adirondack chairs on the beach. I'm not sure if it is because when I think of relaxation I think of vacation and then my mind automatically goes to the ocean or if it is because the ocean just seems like the cliche happy place to me.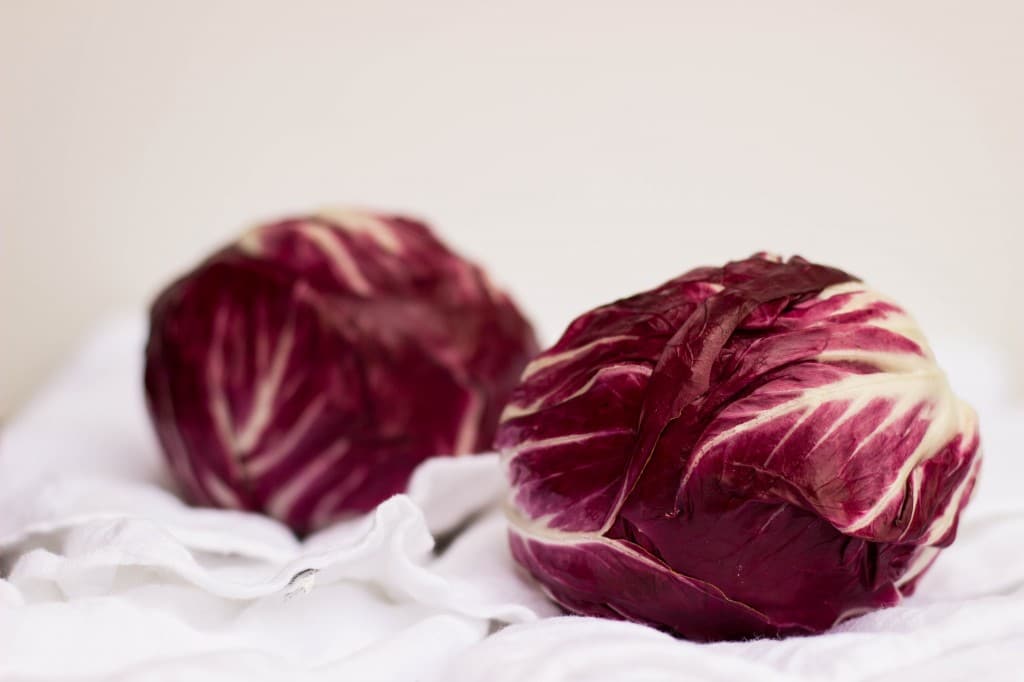 I really do love the ocean and I had an amazing time when we visited Maui last year, but to be honest with you, the ocean also kinda of scares me. When we snorkeled I refused to swim out far enough to see the sea turtles feeding at the bottom because I was scared that the waves would carry me away and as amazing as it was to see whales and dolphins up close, I counted down the seconds until we were back on dry land while we took our whale watching tour. I really do love being at the ocean, but I don't think I would say that it necessarily calms me down.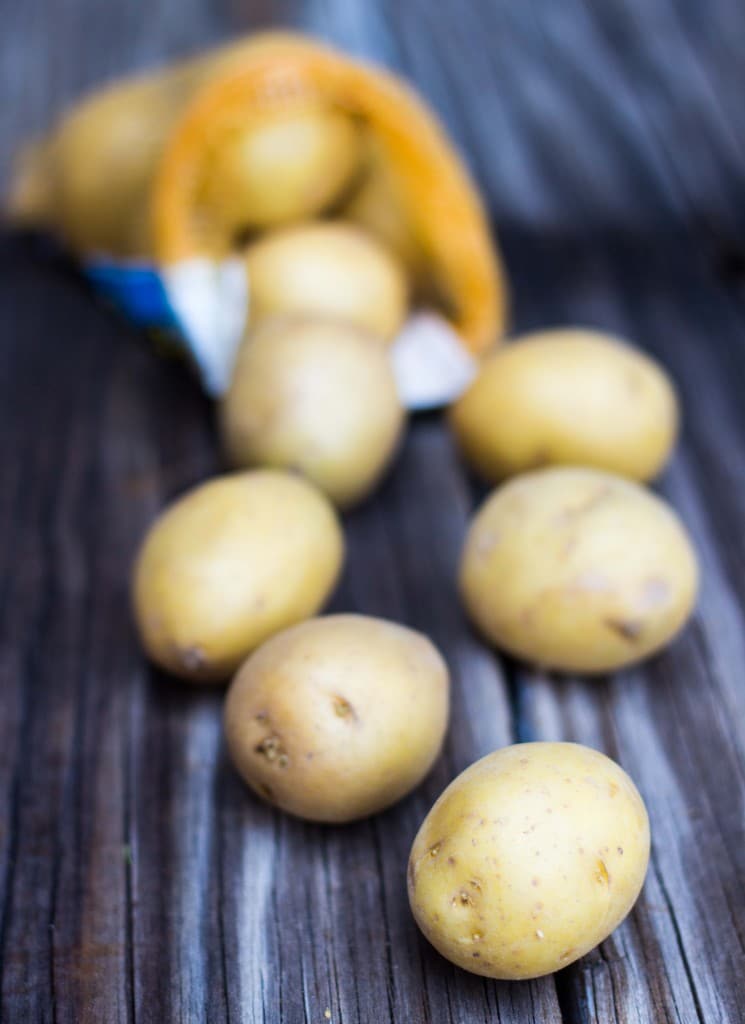 I'm now on a mission to find my new happy place! Do you have a happy place? If so, how did you decided that it was your happy place? Do you go to the same place every time? Do I sound like a crazy person talking this much about happy places?!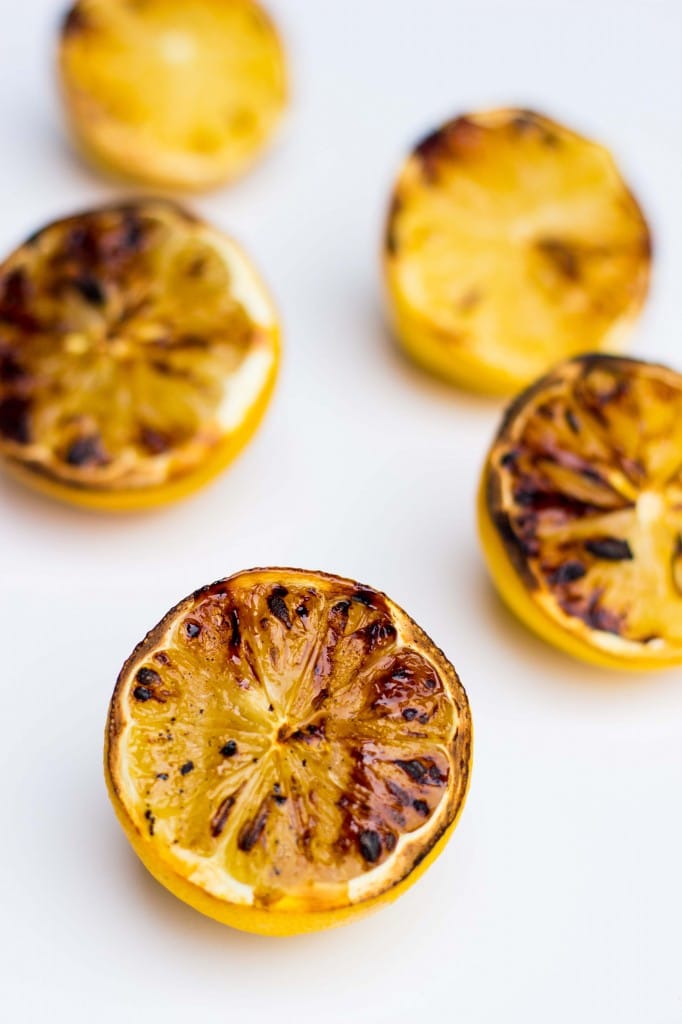 You may be wondering how the idea of a happy place relates to this kale salad, so I'll be happy (haha?) to tell you! One of my favorite weekend activities is to sit outside in my comfy chair with a good book and a tasty lunch. If I close my eyes it makes me feel like I'm sitting outside my beautiful home in the Hamptons. Unfortunately, I don't really have a house in the Hamptoms, but hopefully someday! Maybe that will be my new happy place!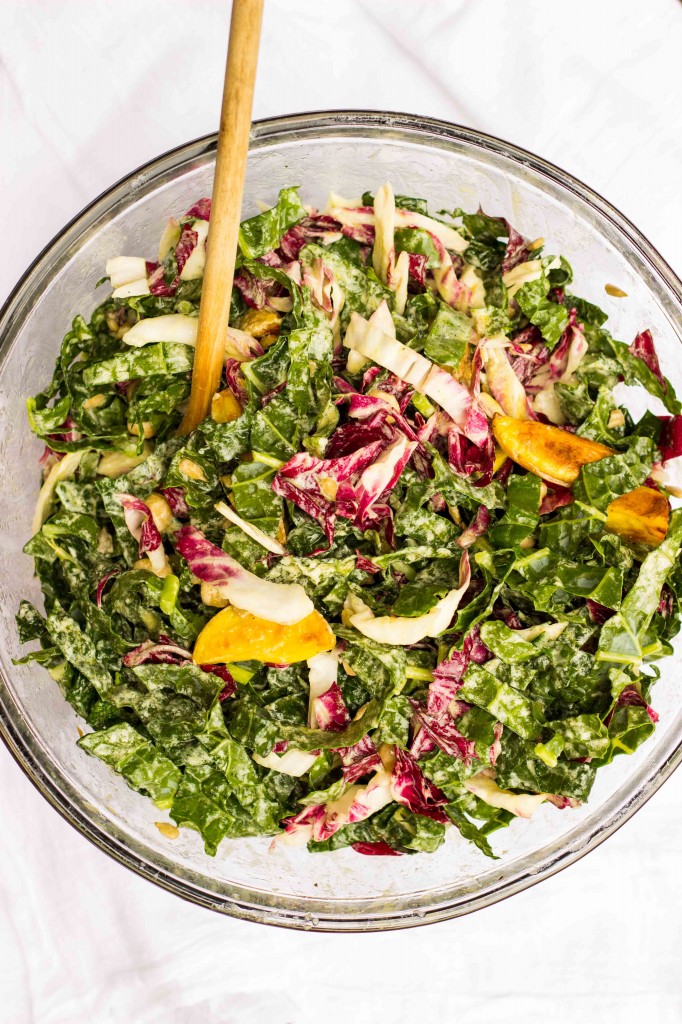 This salad combines so many of my favorite ingredients! I also just realized that this is the third kale salad I have posted that involves roasted potatoes, which you should probably take as a good sign 🙂 They really do go so well together. I haven't cooked with radicchio much, but it is one of my new favorites and I really love the crunch. I will warn you that it is a bit bitter, but if you soak it in ice water for about 20 minutes that takes most of the bitterness right out of it and leaves a really fresh flavor.
I loved the idea of grilling lemons for this dressing, not only because it is summer and everything should be grilled, but also because it brings out a really nice sweetness in them. If you don't have a grill you could just use regular lemon juice, but if you do have a grill, definitely go for the grilled lemon!
Print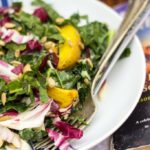 Kale, Radicchio, Roasted Potato & Chickpea Salad with a Creamy Grilled Lemon Vinaigrette
---
Yield:

4

-

6

1

x
Category:

Salad, Gluten Free, Vegan
Ingredients
I head of lacinato, or dino kale chopped into 1/4 – 1/2 inch strips

1

head of radicchio

1

pound baby yellow potatoes, cut into small wedges

1

15 ounce can of chickpeas, rinsed and drained

1/4 cup

of roasted sunflower seeds
olive oil
salt
pepper
Creamy Grilled Lemon Vinaigrette:
1/2 cup

plus 2 tablespoons olive oil

1/3 cup

lemon juice from grilled lemons (Grilled lemon instructions below, you will need

3

–

4

lemons)

3 tablespoon

s tahini

1/2 teaspoon

maple syrup

1

clove garlic, minced

1/4 teaspoon

salt

1/8 teaspoon

pepper
---
Instructions
Pre-heat the oven to 400 degrees F. Place potato wedges on a large sheet pan and drizzle with a little bit of olive oil and season with salt and pepper. Place into the 400 degree oven and roast for 25 -30 minutes, until potatoes are crispy on the outside and tender on the inside.
Cut the head of radicchio in half and cut out the core. Slice each half into 1/2 inch strips. Fill a large bowl with ice water and soak radicchio in ice water for about 20 minutes, this will take out most of the bitterness. Drain radicchio and pat dry.
Slice three or four lemons in half. Heat a grill to medium heat and place lemons on, cut side down. Grill lemons for 5 – 10 minutes.
Add all vinaigrette ingredients into a blender and blend for about 30 seconds until everything is combined.
In a large bowl add kale, radhiccio, potatoes, chickpeas, and sunflower seeds. Pour dressing over and mix until combined.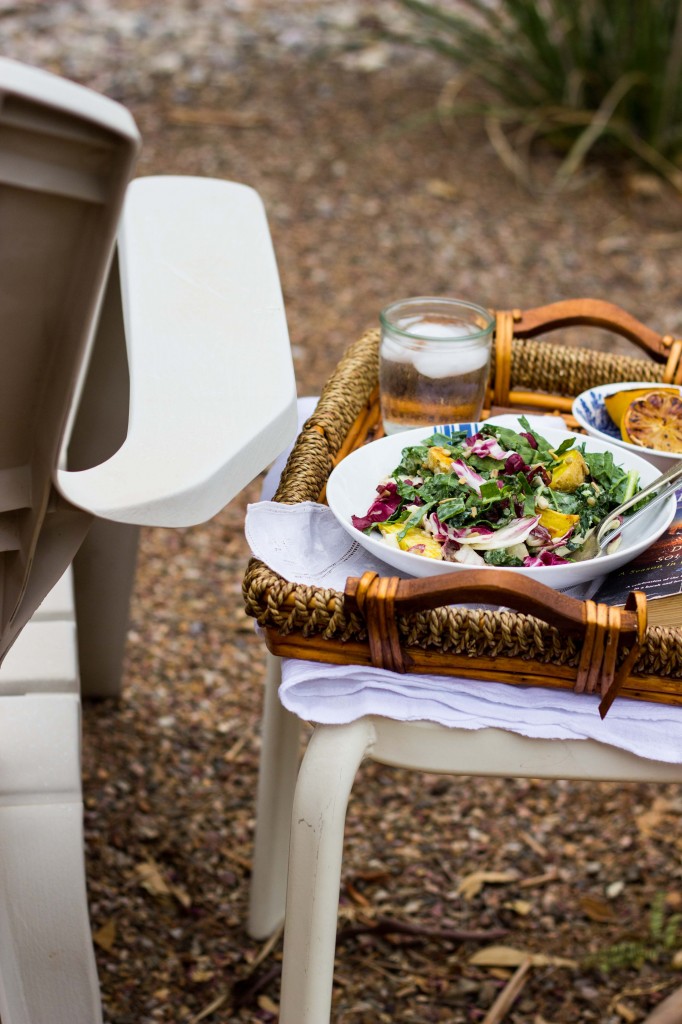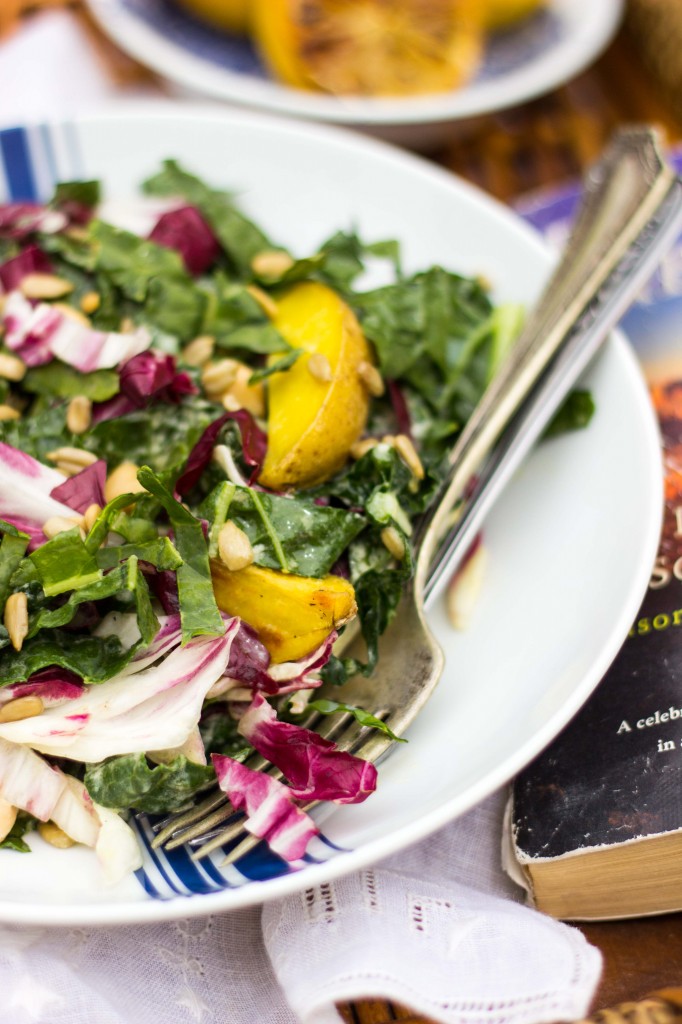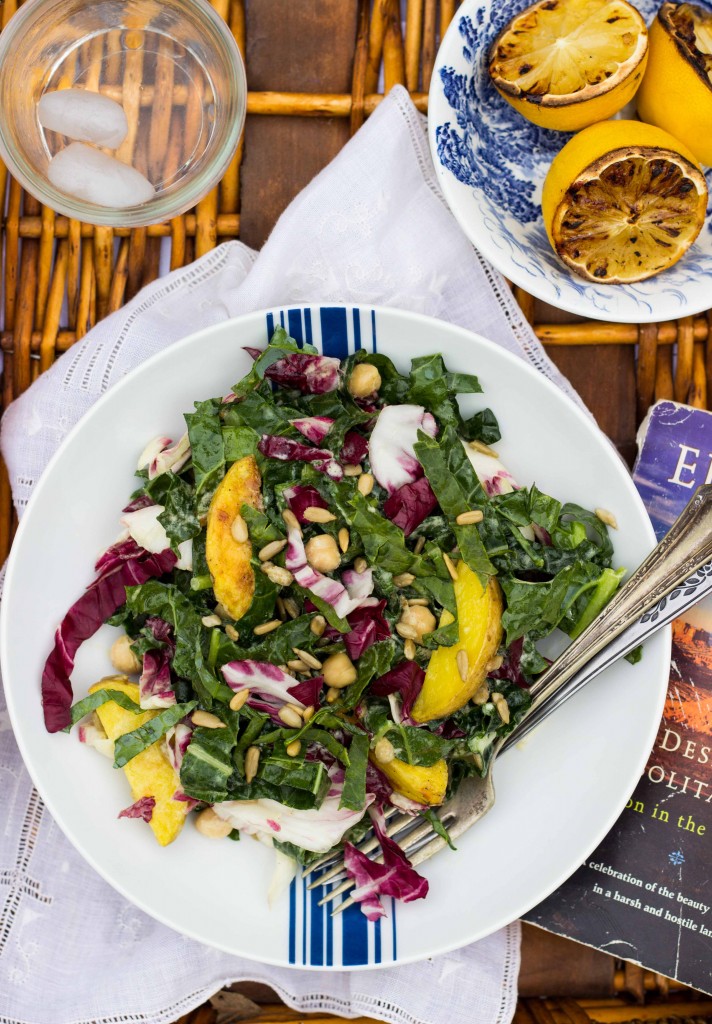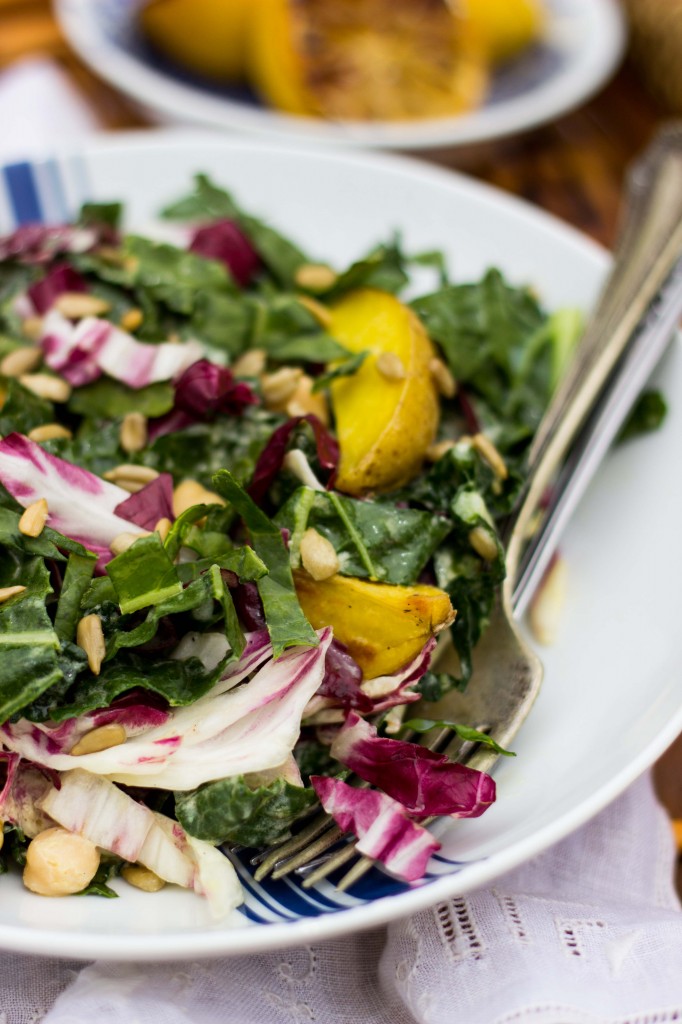 I think that Cheeto has found his happy place!