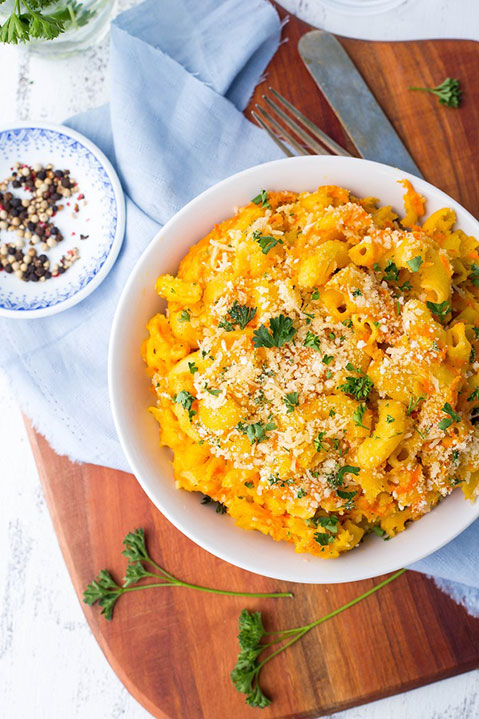 I was given a free copy of the "Eat Right For Your Sight" Cookbook to write this review, but all opinions are my own!
I hadn't planned posting two cookbook reviews in one week, but my lack of organization kinda made it that way, so I hope that is ok with you! I'm thinking that I'm not the only one out there whose organizational skills are less than steller, right…?!
Today we are going to talk about something that I think most people would agree is pretty important to them, your eye sight! May is healthy vision month and if you are anything like me, eye health is something you might push to the side a little bit, eye health and teeth health. It is one of those things that most people don't really pay much attention to until things start going downhill. I got my first pair of glasses three years ago and when I went in for my eye exam the eye doctor told me that he was scared that I was out there driving around without glasses for so long! Oooops! Needless to say, it is definitely something I try to keep up with more these days.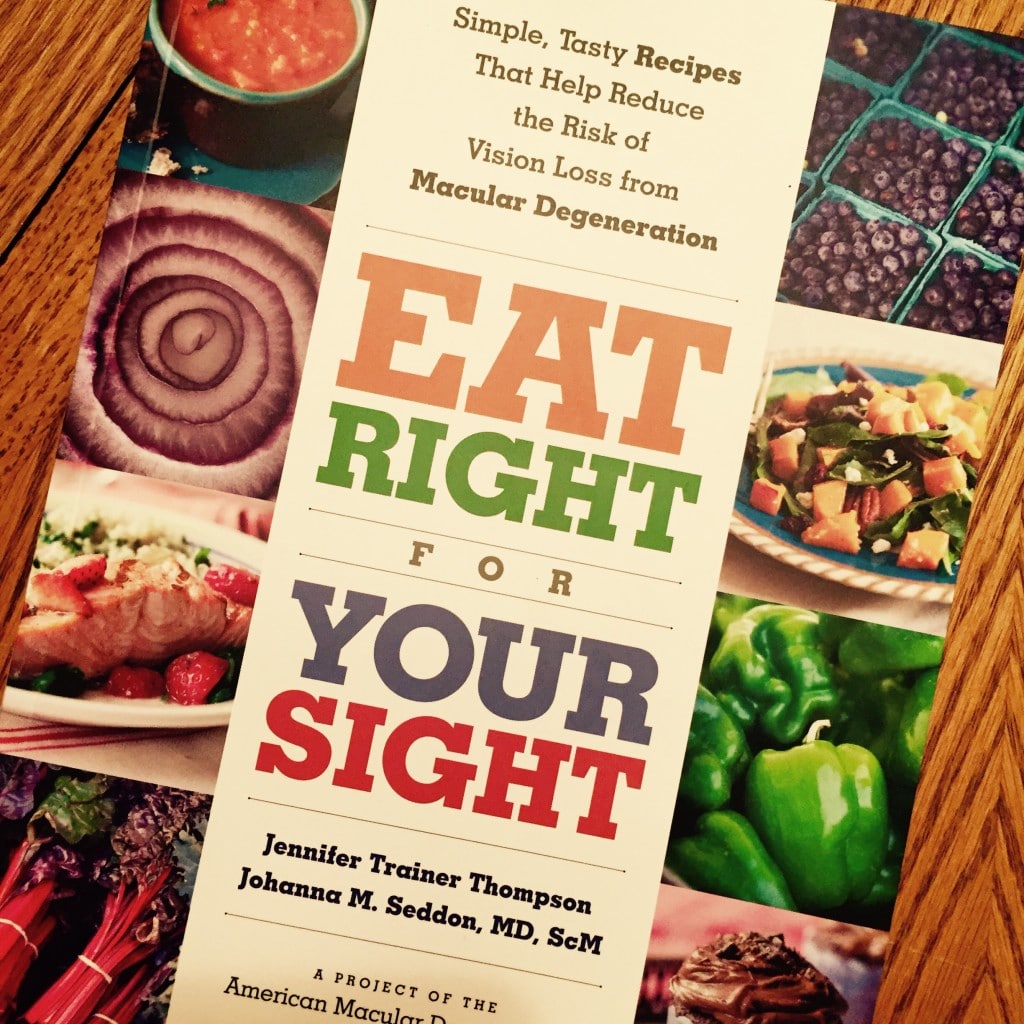 Eat Right For Your Sight is an awesome cookbook written by Jennifer Trainer Thompson, a James Beard nominee, and is filled with tons of colorful, delicious, and creative recipes! It is right up my alley! It also includes recipes from a few other amazing chefs, one of them being Ina Garten, one of my all time favorites!
Not only is the book filled with tons of amazing recipes, it is also a wealth of knowledge about macular degeneration. Age related macular degeneration is the leading cause of central vision loss in adults over the age of fifty and there is currently no cure for it. However, there are lots of delicious ways you can keep your eyes healthy and even slow the progression of the disease down if you are already effected by it. The two most important ways to eat your way to better vision are by consuming lots of fruits and vegetables that contain either Vitamin A or carotenoids. Your parents really weren't joking when they told you to eat your carrots if you wanted to have good vision!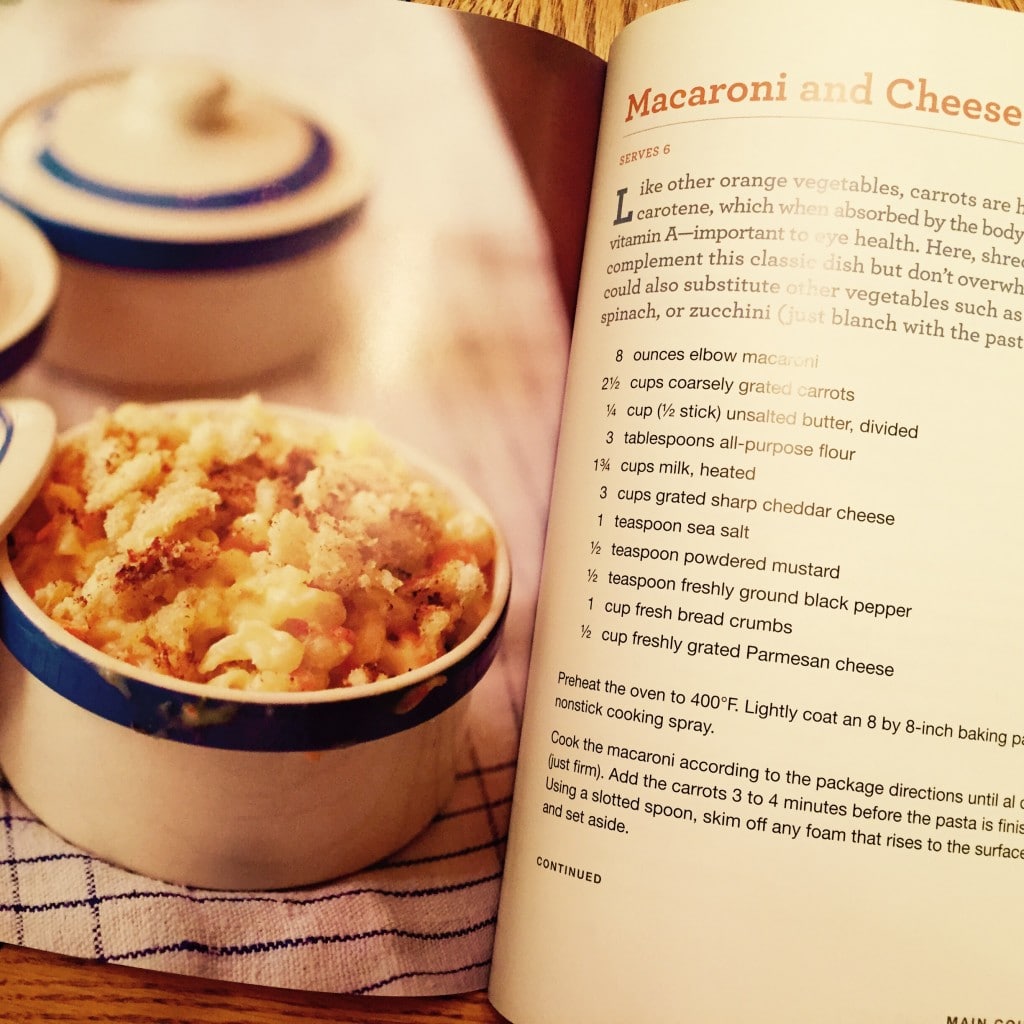 While there are plenty of other ways besides carrots (this book has lots of great lists on foods to eat including a few my of favorites; avocados, chickpeas, and sweet potatoes!) I decided to share this awesome mac and cheese with shredded carrots with you today! This is also a perfect way to hide some extra vegetables in the food if you are cooking for vegetable haters! While the recipe in the book was not gluten free, I easily adapted it to be gluten free and it is so delicious! I hadn't made homemade mac and cheese in so long and it hands down beats any box mix you can find and doesn't require much more work!
I hope you all enjoy this recipe and don't forget to go get your eyes checked soon 🙂
Print
Macaroni and Cheese with Shredded Carrots + Cookbook Review
---
Category:

Entree, Gluten Free
Ingredients
8 ounce

s elbow macaroni, I used gluten free

2 1/2 cup

coarsely grated carrots

1/4 cup

(

1/2

stick) unsalted butter, divided

3 tablespoon

s flour, I used gluten free all purpose

1 3/4 cup

milk, heated, I used plain almond milk

3 cup

s grated sharp cheddar cheese

1 teaspoon

sea salt

1/2 teaspoon

powdered mustard

1/2 teaspoon

freshly ground black pepper

1 cup

bread crumbs, I used gluten free

1/2 cup

freshly grated Parmesan cheese
Chopped parsley for garnish, if desired
---
Instructions
Preheat the oven to 400 degrees F. Lightly coat an 8×8-inch baking pan with non-stick cooking spray.
Cook the macaroni according to the package directions until al dente (just firm). Add the carrots 3 to 4 minutes before the pasta is finished. Using a slotted spoon, skim off any foam that rises to the surface. Drain and set aside.
Meanwhile, in a saucepan over medium heat, melt 3 tablespoons of butter. Whisk in the flour until it's completely incorporated, about 1 minute, whisking constantly. Add the milk and cook until thickened, whisking constantly. Reduce the heat and cook for 3 to 5 minutes, whisking often.
Remove from the heat and add the cheddar cheese, salt, mustard, and pepper. Stir until the cheese has melted. Add the pasta mixture and stir well to combine. Transfer to the baking pan.
Melt the remaining tablespoon of butter. In a small bowl, mix the bread crumbs with the melted butter. Stir in the Parmesan. Sprinkle on top of the macaroni mixture. Bake for 15-20 minutes, until the top is golden brown. Remove from the oven and let cool just slightly before serving.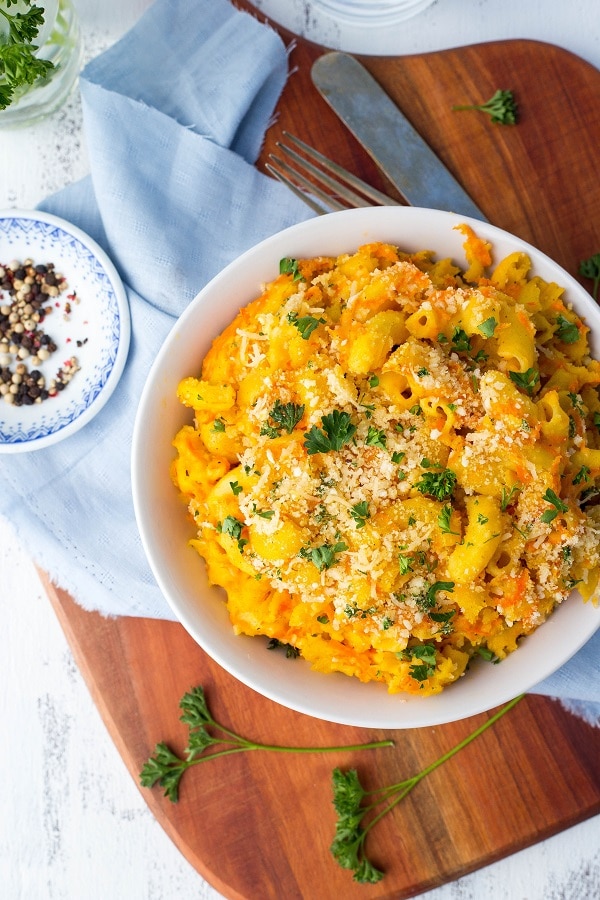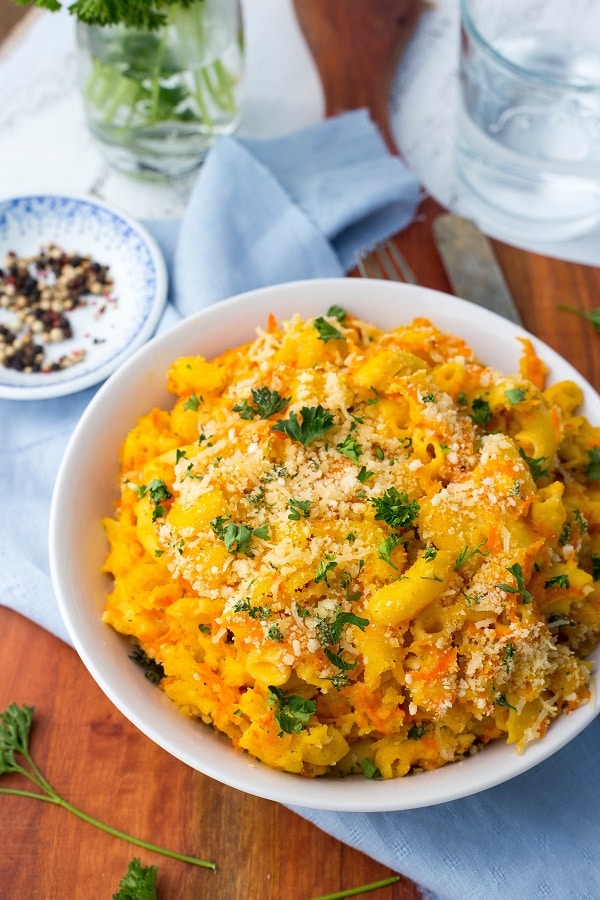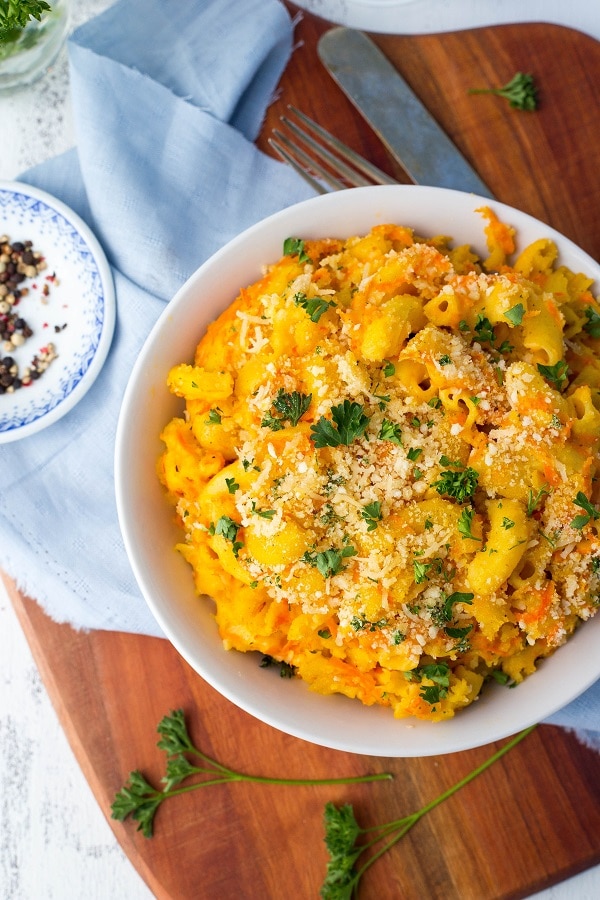 Recipe from Eat Right For Your Sight: Simple Tasty Recipes That Help Reduce the Risk of Vision Loss from Macular Degeneration, By Jennifer Trainer Thompson and Johanna M. Seddon, copyright © American Macular Degeneration Foundation, 2014. Reprinted by permission of the publisher, The Experiment. Available wherever books are sold.