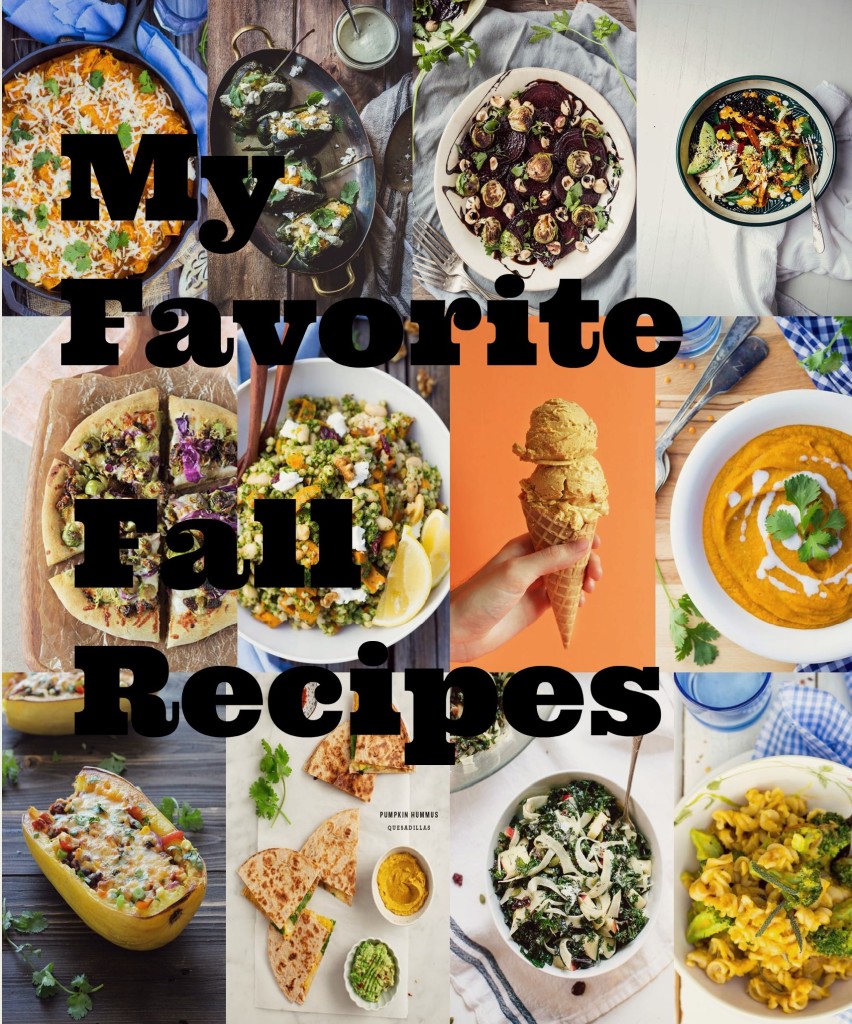 My Fall Hauku:
The season of Fall
Sweatshirts, boots, soft blankets, cats
Bring on the pumpkin
The weather is cool, the air is crisp, and if you live anywhere other than the southwest, the leaves are turning beautiful shades of yellow and red.  In the food world, pretty much everything is comforting, warm, and contains squash or sweet potatoes.  I am a happy girl!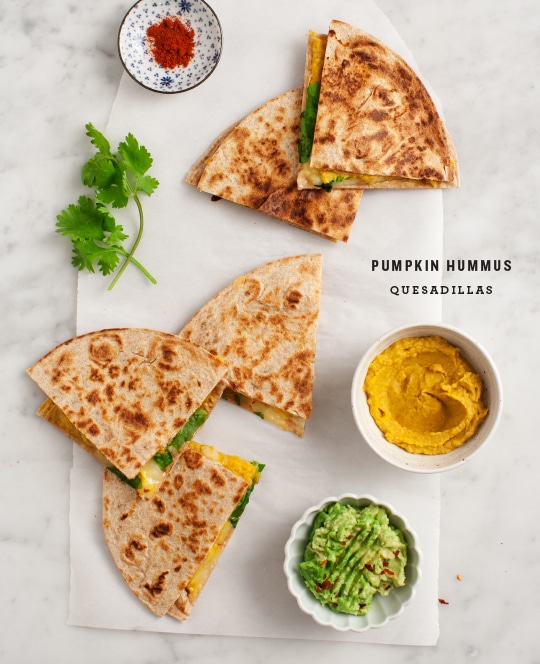 I'm a hummus and Mexican food addict, so these Pumpkin Hummus Quesadillas by Love and Lemons are calling my name!
Black Bean Butternut Squash Quesadillas + Chipotle Lime Crema by Girl Vs Dough
Pumpkin Pie Cookies from Savory Nothings
Butternut Squash Mac N' Cheese by She Likes Food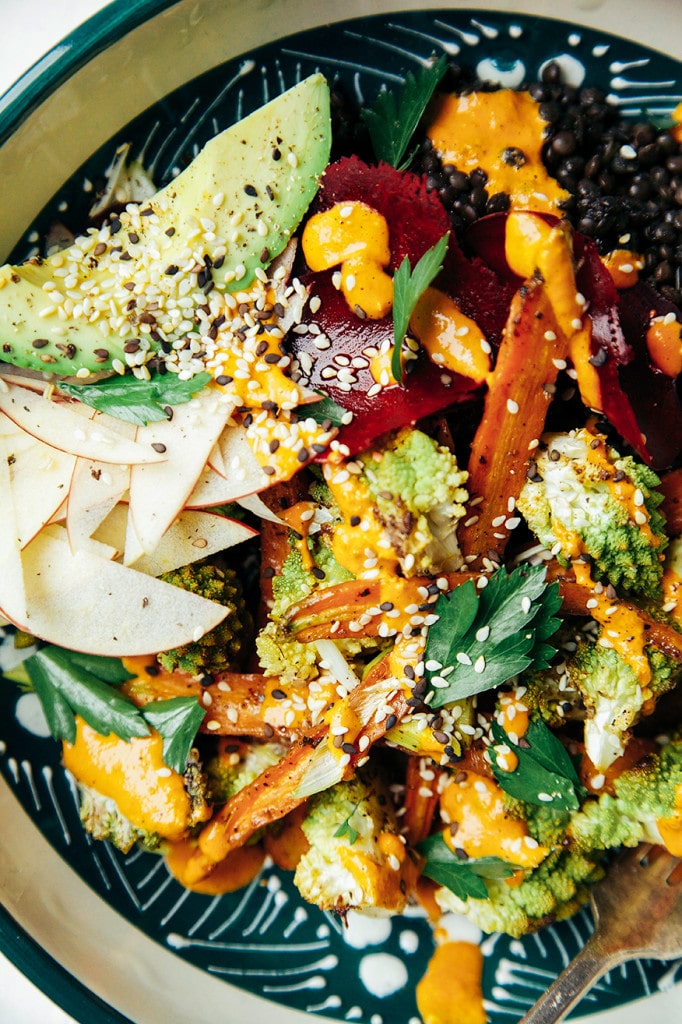 Big bowls of deliciousness are one of my favorite meals to make and I'm obsessed with this Fall Veg + Lentil Bowl with Gogi Ginger Tahini Cream by The First Mess
Healthy Pumpkin Zucchini Bread by Flying On Jess Fuel
Curried Sweet Potato, Carrot & Red Lentil Soup by She Likes Food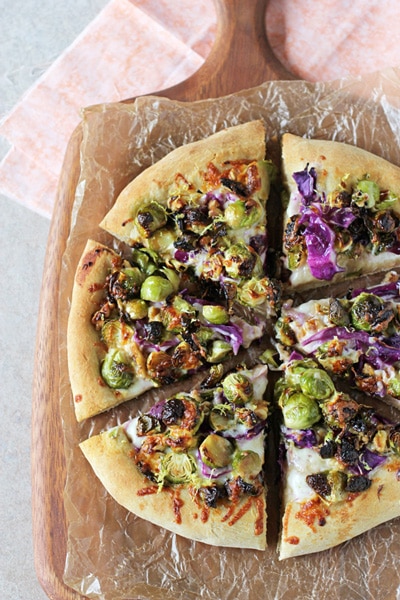 It doesn't get much better than this Roasted Brussels Sprouts and Red Cabbage Pizza from Cookie Monster Cooking!  All I can say is, Yes Please!
Sweet Potato, Beet & Goat Cheese Gallette by Lemons and Basil
Crockpot Apple Butter by Live Well Bake Often
Tex Mex Loaded Sweet Potatoes by She Likes Food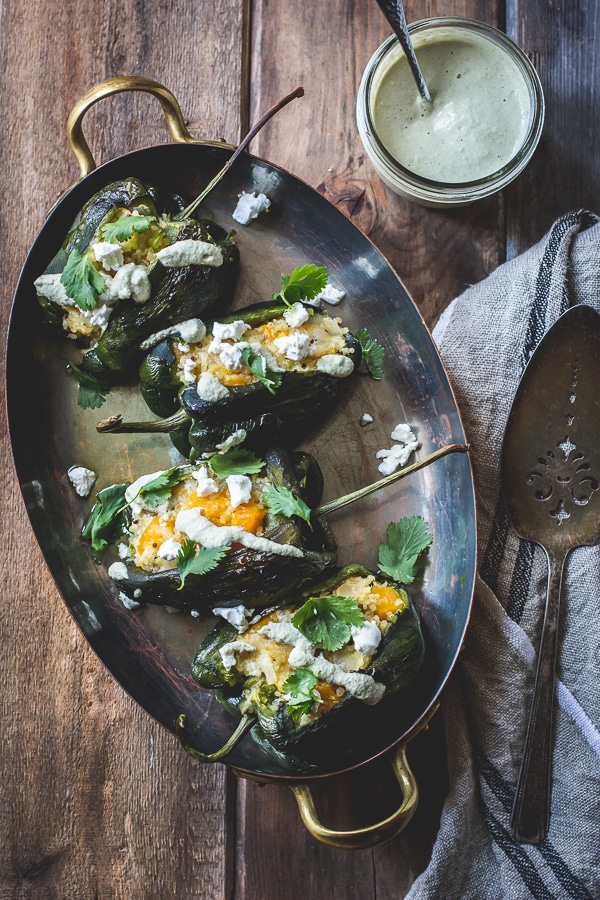 These Roasted Pablano Chiles stuffed with Cheesey Butternut Squash Quinoa + Pepita Crema, from The Bojon Gourmet, pretty much combine all of my favorite foods into one amazing dish!
Tortilla Soup with Roasted Pabloans by Vanilla and Bean
Shaved Brussels Sprout Salad with Apples, Bacon & Hazelnuts by Flavor the Moments
Roasted Onion, Squash & Fig Salad with Maple Mustard Balsamic Dressing by Yummy Beet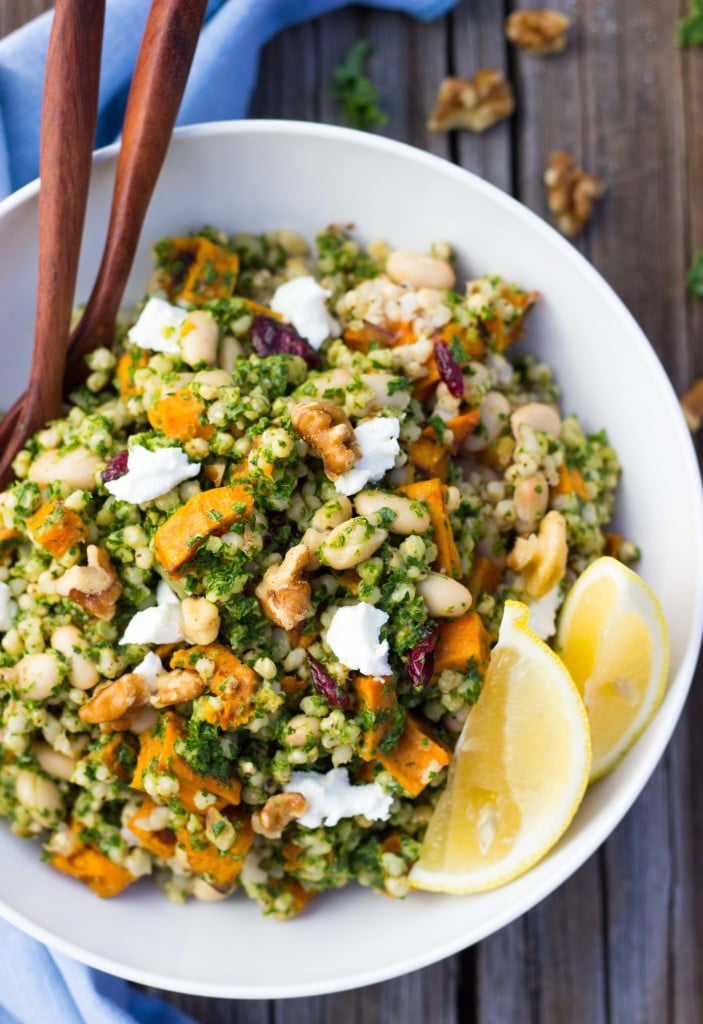 Looking for a new whole grain to add to your pantry?!  Try my  Sorghum and Sweet Potato Salad with White Beans & Kale Pesto!
Roasted Sweet Potato & Wild Rice Salad with Chili Lime Vinaigrette by Sweet Peas and Saffron
Apple Feta Salad with Toasted Sesame Seeds by The Well Floured Kitchen
Honey Pumpkin Caramels with Toasted Pepitas by Snixy Kitchen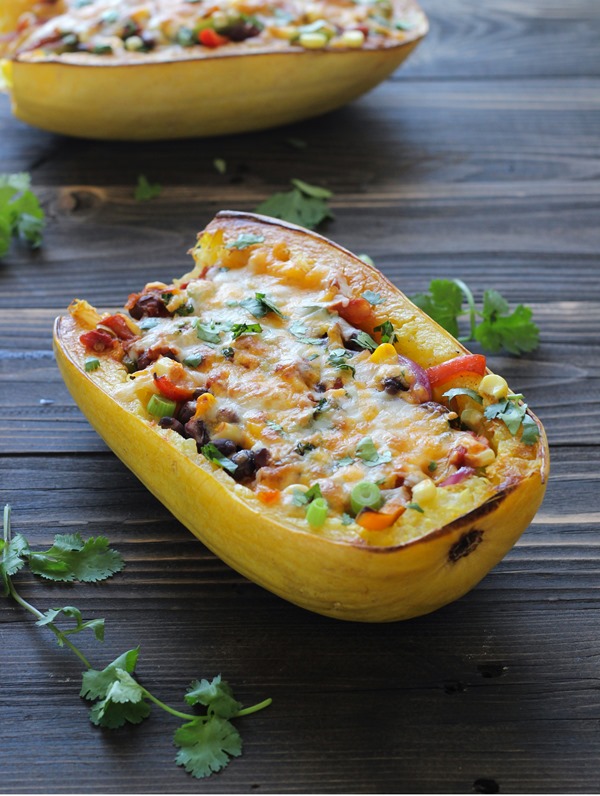 I'm really looking forward to stepping up my weekly burrito bowls with this awesome Spaghetti Squash Burrito Bowl from Making Thyme For Health!  Who can say no to Fall themed Mexican food?!
Pumpkin Enchilada Sauce by She Likes Food
Butternut Squash Burritos with Black Beans and Kale by Cookie Monster Cooking
Healthy Pumpkin Cookies with Glaze by 40 Aprons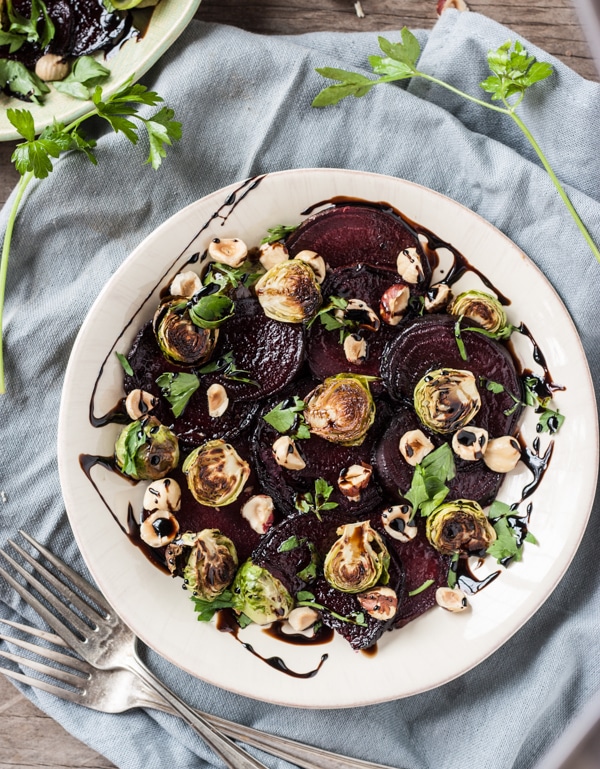 This Roasted Beet, Brussels Sprouts & Hazelnut Salad with Za'atar and Balsamic Reduction, from Dishing Up The Dirt, is one of the prettiest salads I've seen and I can only imagine how amazing it tastes!
Thai Spiced Pumpkin Soup by The Roasted Root
Spiral Cinnamon and Sugar Sweet Potatoes by Sweet and Delish
Vegan Chili Cheese Fries with Butternut Squash Cheese by She Likes Food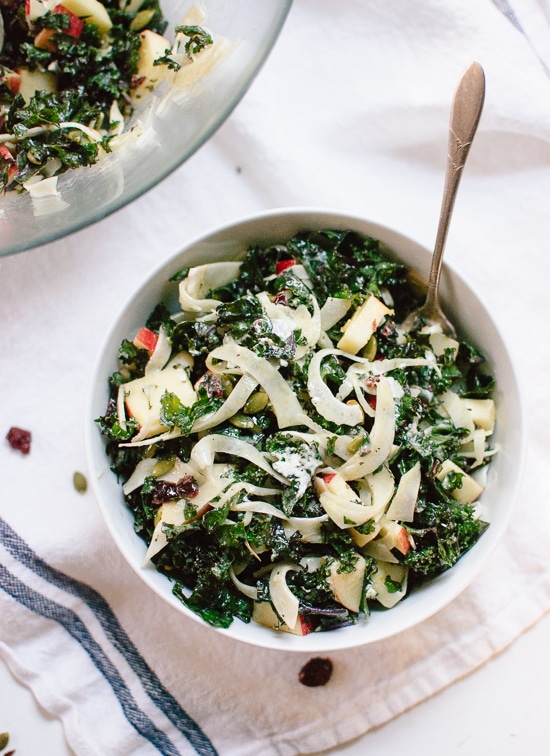 I'm a huge sucker for salads and this Autumn Kale Salad with Fennell, Honeycrips & Goat Cheese by Cookie & Kate looks like the perfect way to Satisfy my November salad craving!
Baked Apples with Granola by Pumpkin N' Spice
Pumpkin Dulce De Leche Baked Doughnuts by Bakerita
Roasted Butternut Squash Enchilada Casserole by Making Thyme For Health
 Even though the weather may be getting cooler, that doesn't mean that you have to up away the ice cream!  I can't wait to make this Vegan Pumpkin Ice Cream by Minimalist Baker!
Gooey Pumpkin Spice Latte Chewy Pudding Cake by Oh She Glows
Pumpkin Caramel Almond Butter Cups by Yummy Beet
Baked Tater Tots with Smoked Gouda and Green Apple by She Likes Food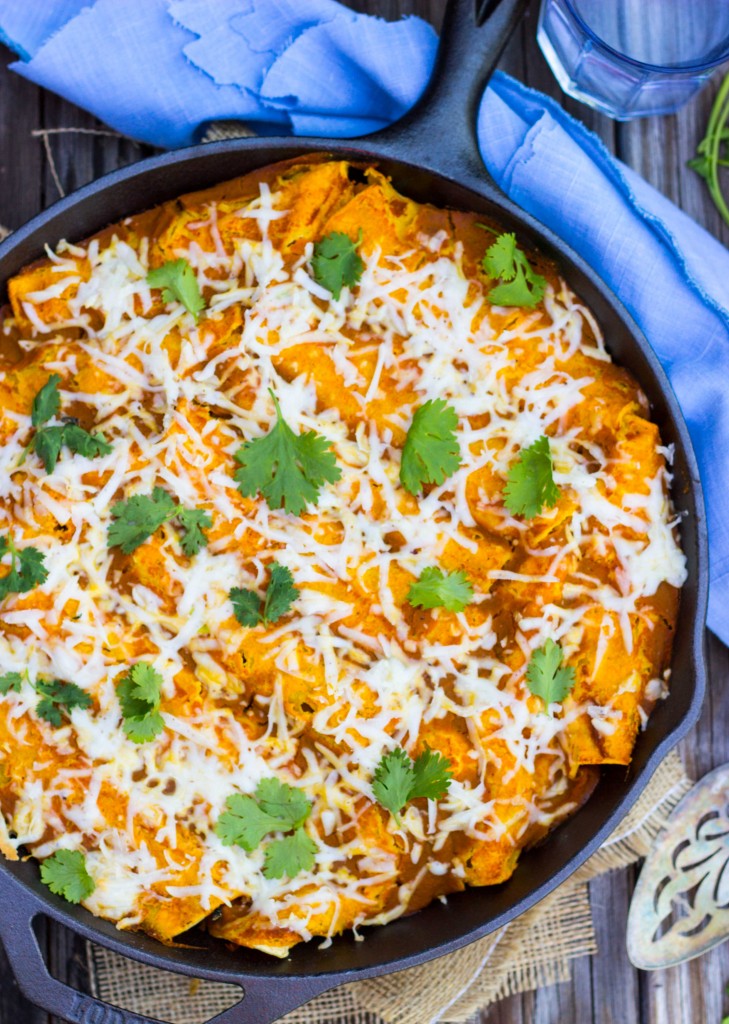 I told you I was obsessed with Fall themed Mexican food!  If you are share that delicious obsession, you will love these Veggie Enchiladas with Pumpkin Enchilada Sauce!
Don't forget to enter this awesome giveaway by using the Rafflecopter Widget below!  You could use the money to buy Christmas presents for friends, or if you are anything like me, you will use it to buy everything on your Amazon wish list 🙂 
SaveSave