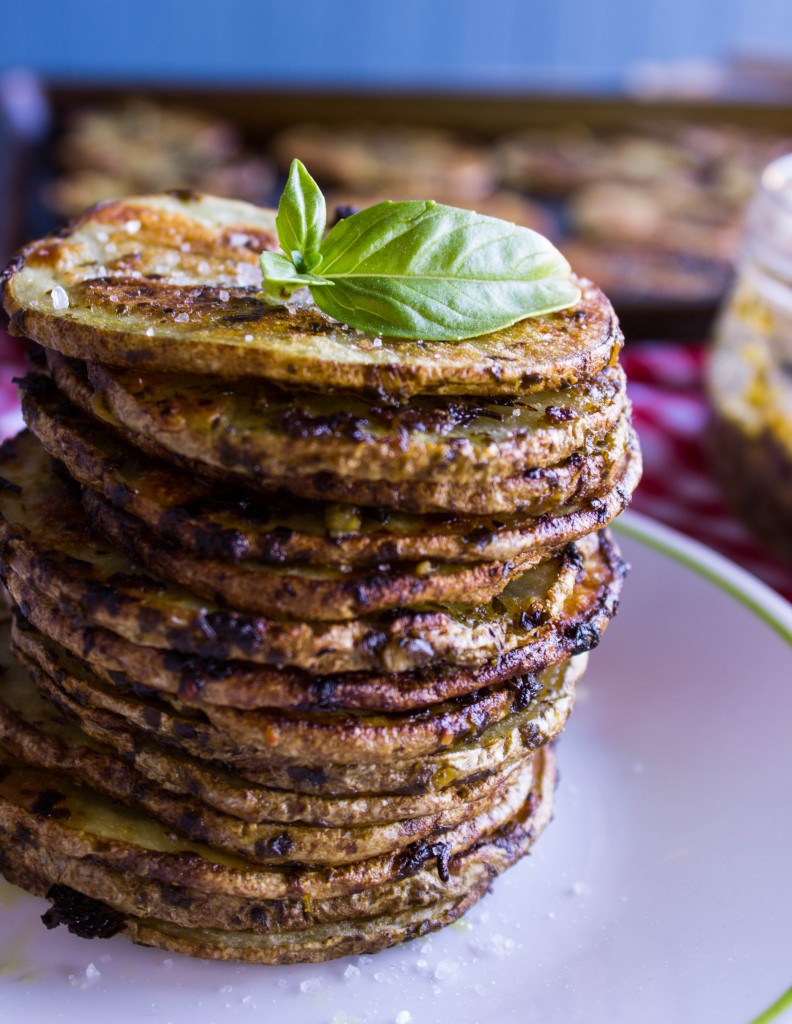 Have I mentioned my love for potatoes yet?  Especially when I get to roast them in the oven and they get all crispy on the outside and soft on the inside.  I'm getting hungry just thinking about them.  Well, I also have a soft spot for crispy potato chips, really any kind of chips for that matter, but not much compares to a crispy, salty potato chip.
The Lay's potato chip company has a contest going on right now to pick the next great potato chip flavor.  I could really use the 1 million dollars of prize money, so I entered.  I know that the chances of me winning are probably slim to none (knock on wood), although I might have a better chance at winning than some, like the people who entered: Water, Awesomeness, Waste Runoff, and Babies Delight, I have no idea what that chip would even taste like and I don't think that I want to know, especially since the picture on the front of the bag looked like a bowl of white mush…
I made a lot of entries, but my favorite flavor was "Basil Pesto".  Since I'm not sure what kind of chance I have at winning, I decided to take matters into my own hands and make them myself.  First I tried using really thinly cut potato slices, so thin I could almost see through them.  They weren't bad, but I decided I wanted a thicker, meatier, potato chip.  I used my mandolin to get the perfect thickness.  They are thin enough that they still get crispy, but thick enough that they have a little bit of bite to them.  They are also super easy to make, the only hard part is waiting for them to crisp up in the oven.

I really love basil and I like to add it to a lot of different recipes.  It has such a great flavor and compliments so many dishes.  Unfortunately, my basil plant is not quite thriving this year, so I went ahead and bought a jar of prepared pesto, instead of making my own.  Hopefully next year I can coax a few more leaves out of my plant.

Using a mandolin, slice the potatoes into about 1/8 of an inch thick.  I used the "Thick Slice" attachment.  I bought some of the largest, thickest potatoes that I could find because I wanted big chips, but you could use any size you like.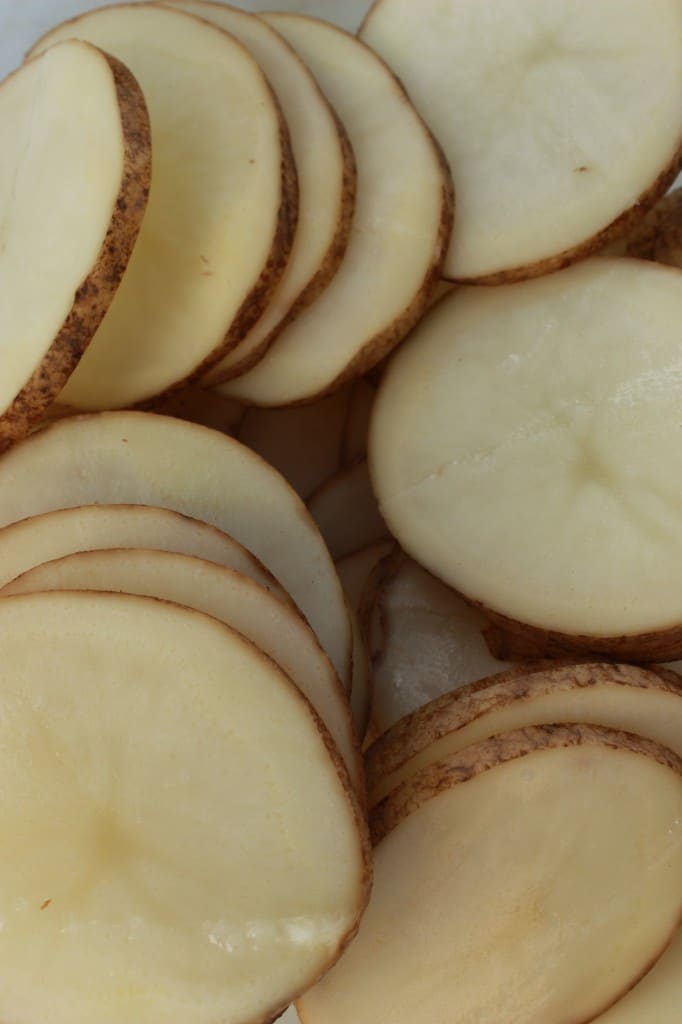 Make sure each potato slice is covered, on both sides, with pesto.  You will probably have a little bit left over in the bottom of the bowl and we will use that to brush on to the potatoes when they are almost done.
Place potatoes on a single layer on a sheet pan and they are ready for the oven.  Since pesto usually has a good amount of olive oil in it, you probably won't need to grease your pan at all.  The potato slices should have no issues with sticking to the pan.
The pesto might get a little bit brown while baking, but don't worry, it won't taste burnt.  It will just add to the crispiness of the potato chips.
What You'll Need:
2 large russet potatoes

1/2 Cup pesto sauce, homemade or store bought

Salt
What To Do:
Preheat oven to 400 degrees F.

Using a mandolin, slice potatoes into rounds, I used the "Thick Slice" attachment.  If you do not have a mandolin, use a sharp knife and slice potatoes into about 1/8 of an inch slices.

Place potato slices in a large bowl and add in pesto sauce.

Use your hands to mix them up and make sure that each slice is coated on both sides.  You may have a little bit of pesto left at the bottom of the bowl, save that because we will brush it on the potatoes right before they are finished.


Lay potatoes out on a sheet pan in a single layer.  I used two sheet pans for the two large potatoes.  Place in the oven and bake for about 35 – 40 minutes.  Check potatoes at 20 minutes and flip them over.  When potatoes are about 3 minutes from being finished, brush a little bit of the extra pesto on to the top of each one, not too much, just a little bit.

When potatoes are finished, take them out of the oven and sprinkle with salt.

Eat immediately, when still warm for best taste.

Enjoy!

I think I could eat this whole stack in one bite!
Cheeto likes to watch me work from the window!