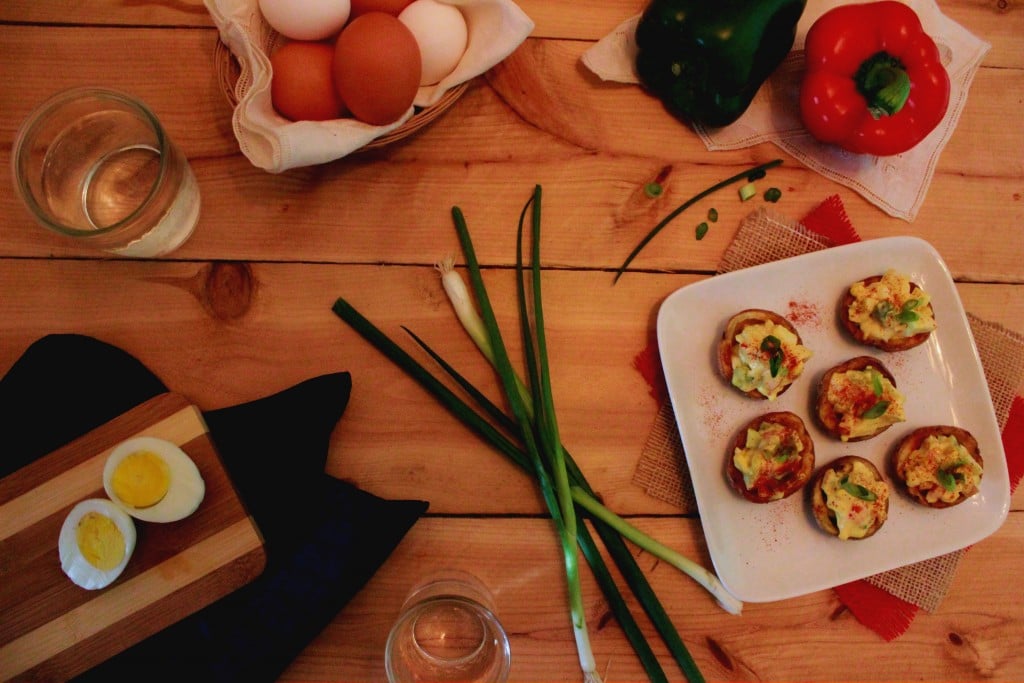 I love entertaining and I love little bite sized appetizers.  Although potato salad might not be considered an elegant food to eat, it becomes a little more elegant when you serve it in a little potato cup!  My husband and I bought our very first house when we moved to Tucson and since then I have been fantasizing about throwing a house warming party where everyone just brings cute little appetizers to eat.  I might want to get on that soon though, because we have been living in our new house for about six months now!  Is it still considered a house warming party when the house is already well warmed after living in it for half a year?!
Every single time I sit down to write up a recipe, I struggle with the same problem: I want to tell you exactly how I made my recipe, but at the same time I want to tell you to use whatever ingredients you want to make it your own.  If you don't like one of the ingredients I used, leave it out, or if you really love one of them, add more.  I like the idea of putting the recipe out there and allowing readers to alter it in ways that will make it really delicious to them, because that is what I find myself doing when I read other people's recipes.  I feel like that philosophy especially rings true with this recipe.  The idea of this recipe is to make potato salad, but leave out the potatoes, and instead stuff the filling into a little potato cup.  I used, and have included, the potato salad recipe that I like to use, but if you have a solid go-to potato salad recipe that you use, by all means use it!  On the other hand, if you have never made potato salad before, or are looking for a way to shake up your own recipe, try mine!  However you decide to make this, I hope you enjoy it!
What you'll need:
1 small bag of baby red potatoes, I used about 12 of them


7 Eggs, hard-boiled and diced

1/3 cup green bell pepper, diced

1/3 cup red bell pepper, diced

2 tablespoons shallot, diced

1/3 cup dill or sweet pickle, diced

2 and 1/2 tablespoons Dijon mustard

A little bit less than 1/3 cup mayonnaise

Olive oil

Salt and pepper

Ground paprika, for garnish

Green onions, chopped diagonally for garnish
What to do:
Hard boil the eggs. I will let you in on my fool-proof, perfect (no dark circles around the yolk) hard-boiled egg recipe

: place the eggs in a sauce pan and cover with water.  Place the sauce pan on the stove and turn the burner on medium – medium/high heat.  Once the water comes to a full boil, keep the heat on for 2 minutes, then turn the heat off and move the sauce pan off the burner.  Let the eggs sit (with the lid on) for about 13 minutes.  Then, run cold water over the eggs, the colder the water the better, it even helps if you put some ice in it.  I have found this method to produce perfect hard-boiled eggs.  The cold water, or ice water, also really helps you get the shell off without a huge mess.

Once the eggs are hard-boiled and peeled, you can dice them up into a small dice.

Pre-heat the oven to 400 degrees.  Wash potatoes and cut them in half.  Take a sharp spoon, melon baller, or measuring spoon and carve out a little bit of the potato insides (pictures below).  Don't take too much, but just enough to be able to put a good amount of filling inside.

  Place potatoes on a sheet pan and drizzle with olive oil and season with a little bit of salt and pepper.  Place in the oven and bake for about 25 minutes or until brown and tender, flipping once.  You can also boil the potatoes until tender if you don't want to roast them, but I love roasted potatoes, so that is how I did it.

In a large bowl add: diced hard-boiled eggs, green pepper, red pepper, shallot, pickle, mustard, mayonnaise.  Mix together all ingredients and season with salt and pepper to taste.

Scoop about one tablespoon of egg filling into each potato, shake a little bit of paprika on top and diagonally sliced green onions, if desired.

If you happen to have some of the filling left over, I recommend putting it on a piece of bread and eating it!

Also, if you are not one to waste food, you can use the scooped out potato balls by drizzling them with a little olive oil, seasoning them with salt and pepper, and roasting for about 15 minutes in a 400 degree oven.  I can tell you from experience that they were delicious!


Enjoy!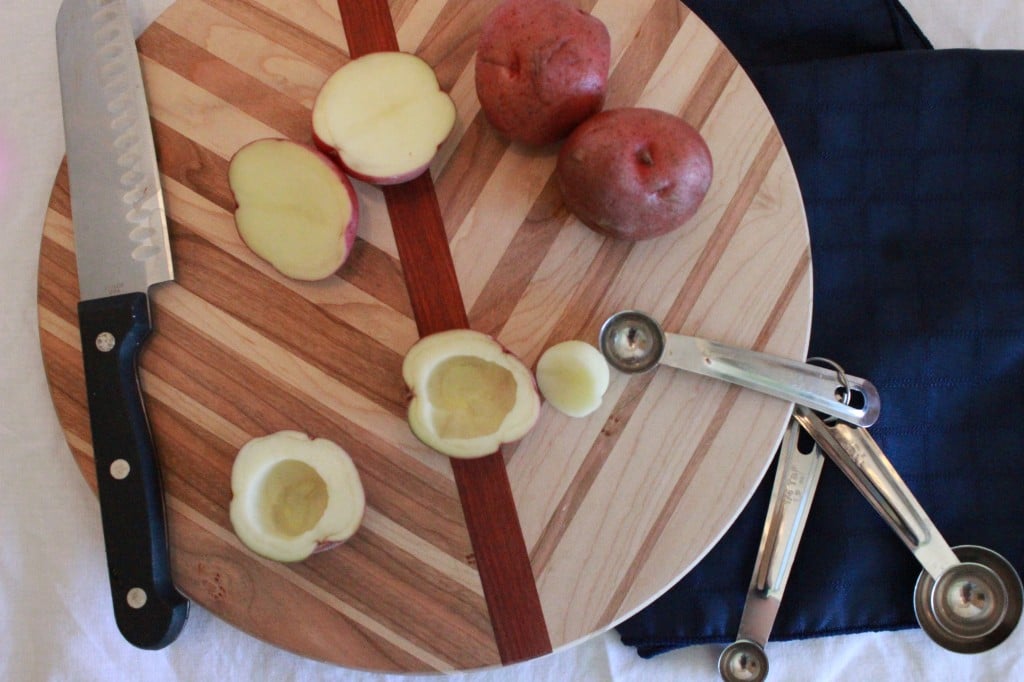 My metal measuring spoon worked great to scoop the inside of the potato out, and like I said above, if you don't want to waste the little ball of potato that you scoop out, just throw it on a sheet pan with some olive oil, salt, and pepper and roast at 400 degrees for about 15 minutes.  They were so good, I think I need to make them again!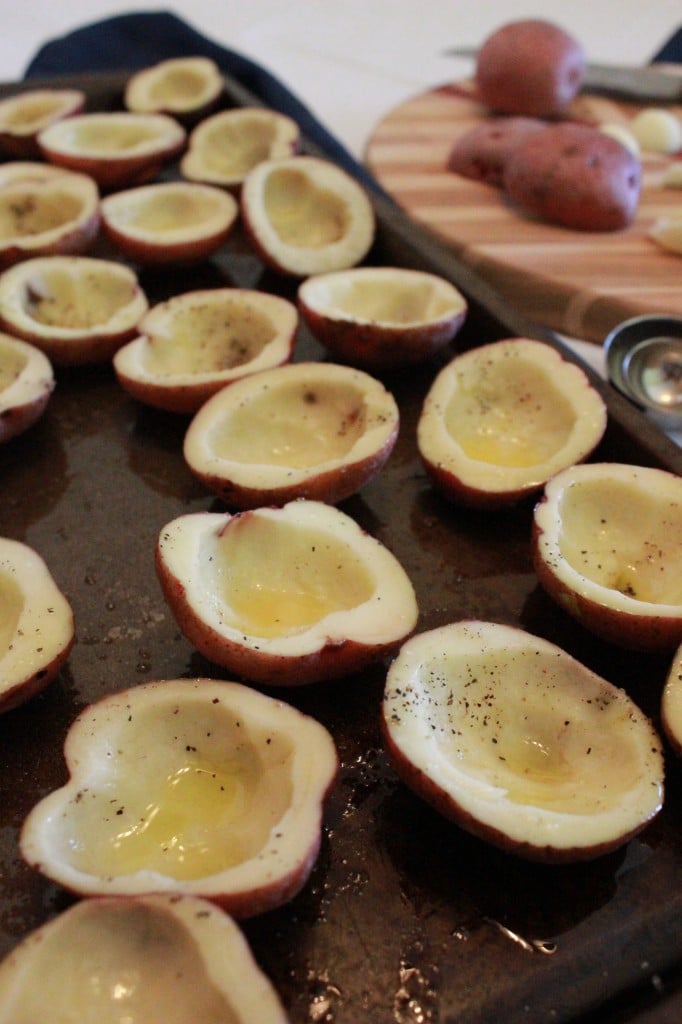 Drizzle with olive oil and season with salt and pepper.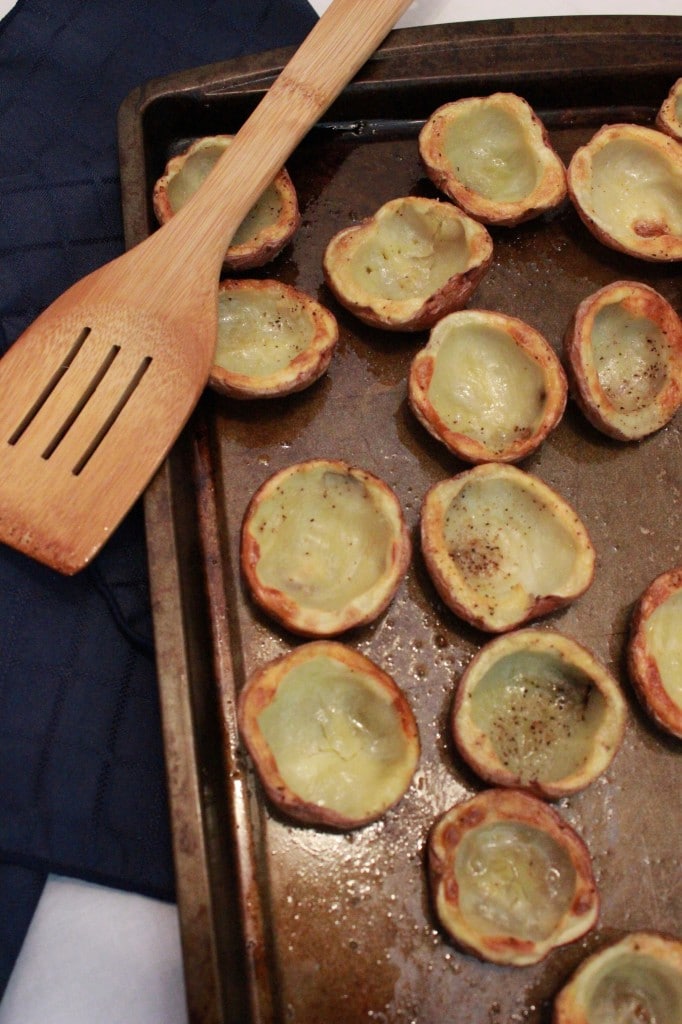 Bake the potato cups until they are fork tender and just turning brown on the tops.  I could eat them just like this!  Making these has got me thinking about what else I can stuff inside of a potato, any suggestions??  I mean, what doesn't go well with potatoes?!
I'm embarrassed to admit that it took me until a few years ago to be able to cook a hard-boiled egg that didn't have a big dark circle around the yolk.  I think it goes back to the first time I ever attempted to make a hard-boiled egg without adult supervision.  It was just before Easter and my friend, Shoshona, was over, we were dying eggs for the amazing Easter egg hunt that her mom would set up for us and neither of us had ever made hard-boiled eggs before.  I don't remember exactly how long we boiled them for, but it definitely wasn't long enough!  We cracked one open and it was pretty much raw yolk with a little bit of hardened egg white around it.  Ever since then I have always boiled my eggs way too long, sometimes I left them on the heat for about 15 minutes after the water had come up to a boil!  A few years ago I decided that making a nice looking hard-boiled egg could be a good skill to have, so I looked it up on the internet and have been making them this way ever since!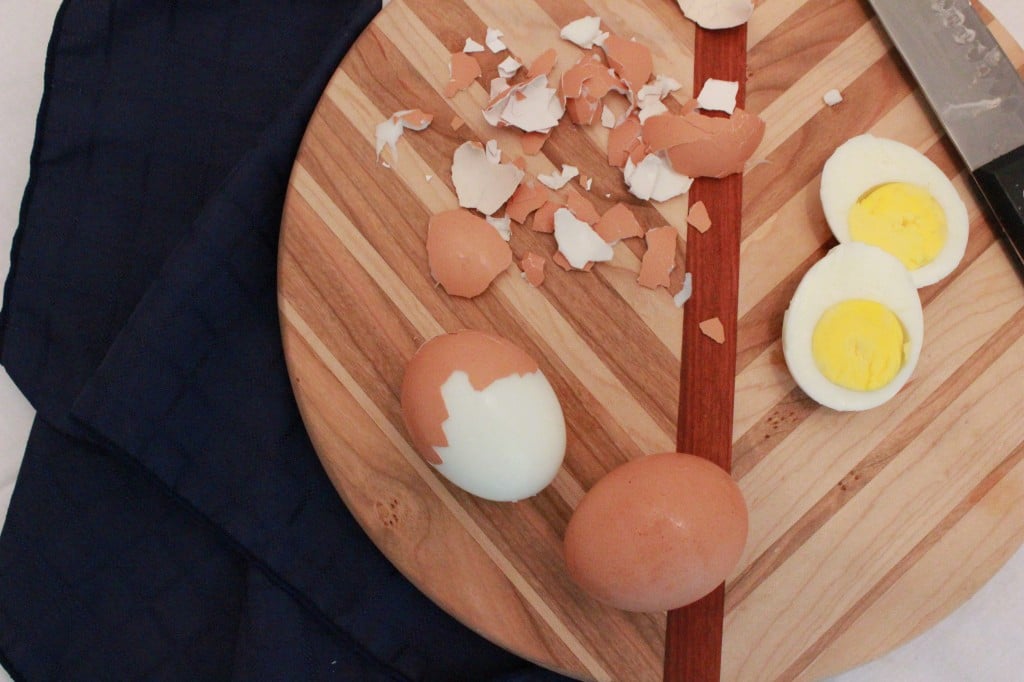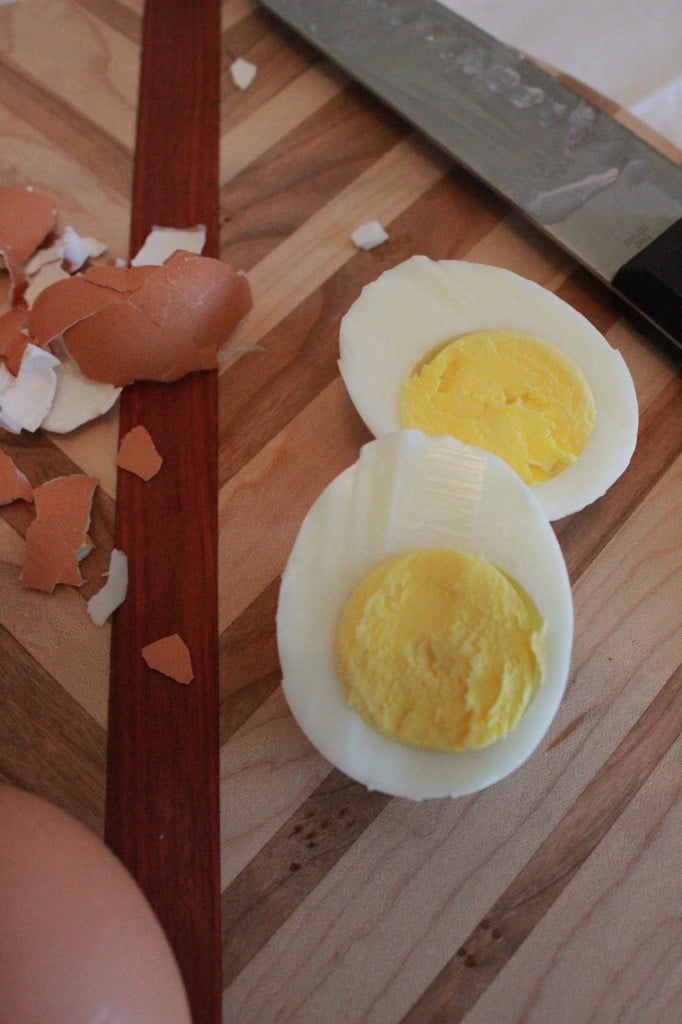 Dice up the eggs into a small enough dice that the pieces will not be too big to fit into the potato cups.  Then mix all the ingredients together, basically like you are making egg salad.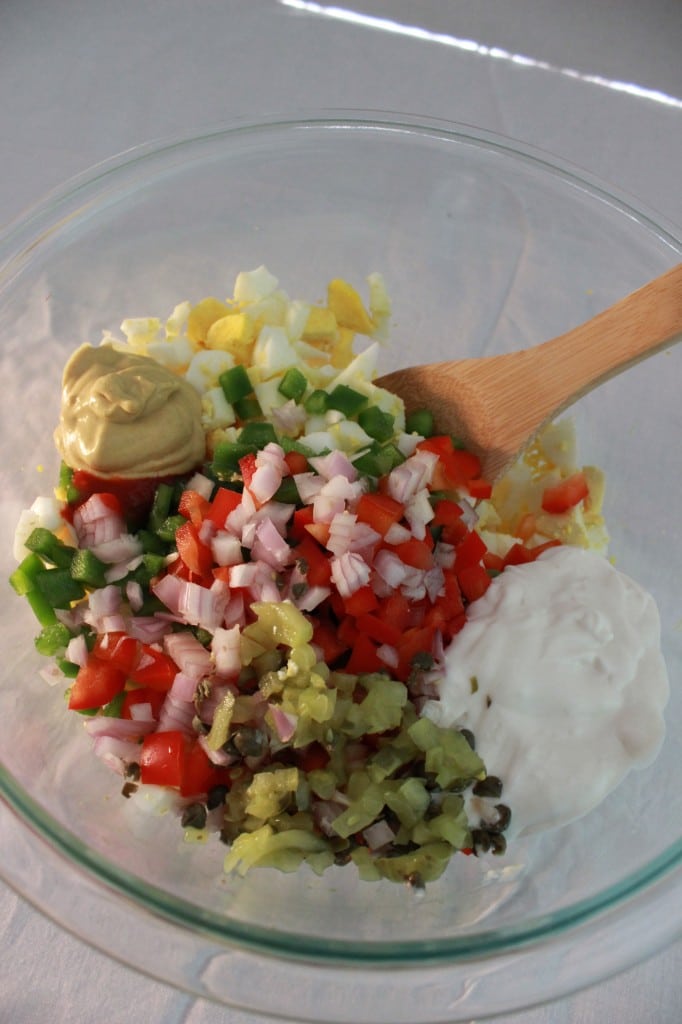 I tried to get a little fancy here and add capers to the salad instead of dill pickles, but after I sliced up all the capers and threw them in I decided that I'm not a big fan of capers.  If you are a caper fan and looking for ways to use up that jar you have in your refrigerator, this would be the perfect place.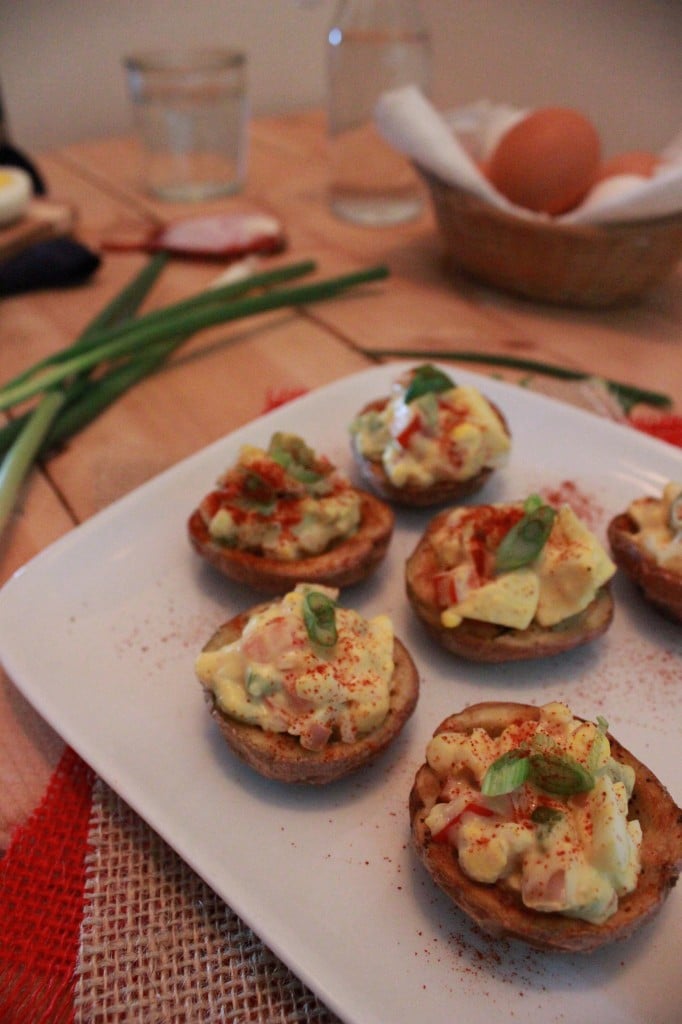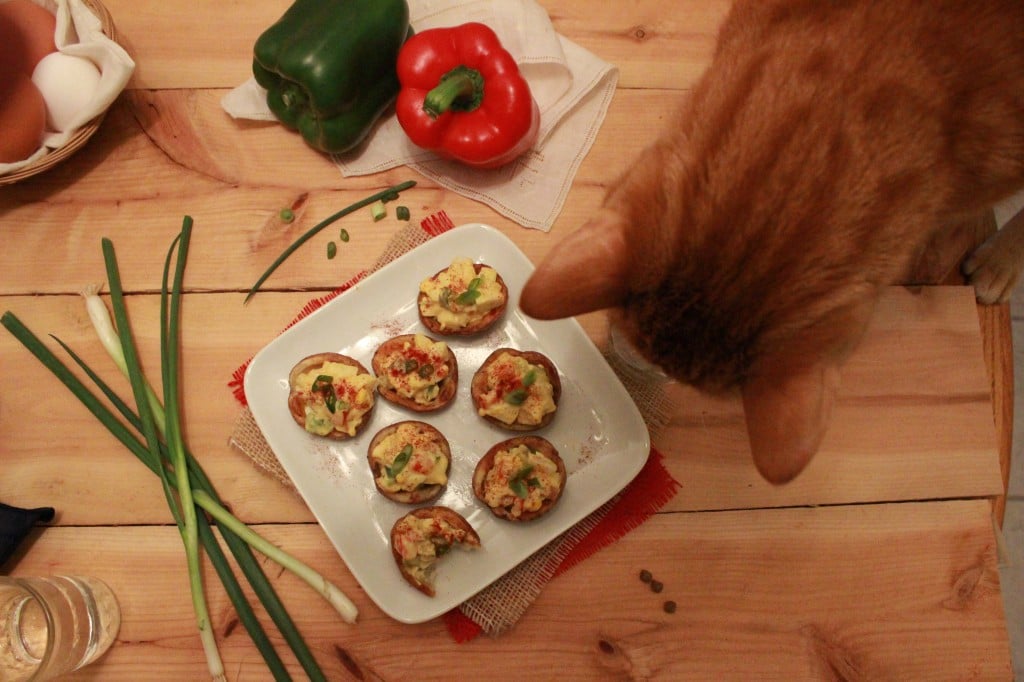 Cheeto might be more interested in the cup of water than the potato salad bits!