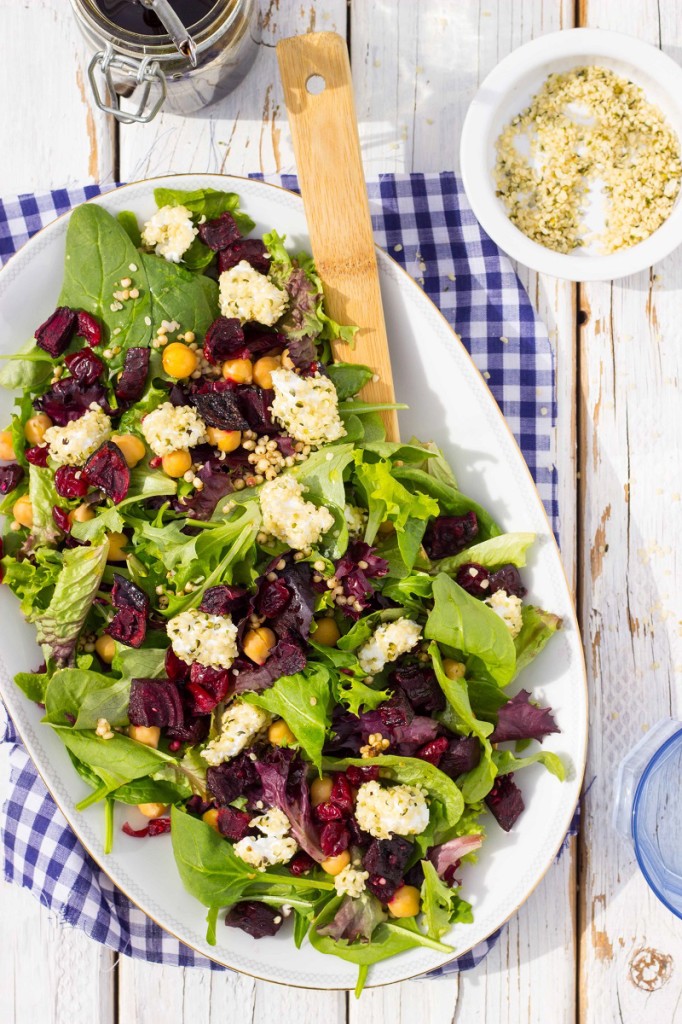 I was sent free samples from Manitoba Harvest for this post, but all opinions are my own!  Giveaway information is located right before recipe.
You guys know that little isle up near the cash register at the grocery store?  The one where they put all the fun stuff like chapstick, ear buds, and mini lint rollers.  All this stuff that you never realized you needed until you see it right before you pull your credit card out to pay for your groceries and snacks that you probably didn't need either?
Well, a few weeks ago I discovered something amazing with my impulse buy!  Raw Shelled Hemp Hearts!  I saw a tiny package of them at the front while I was waiting in the check out lane and I threw them in the cart.  I figured it was much better than buying the chocolate bar right next to them that had originally caught my eye.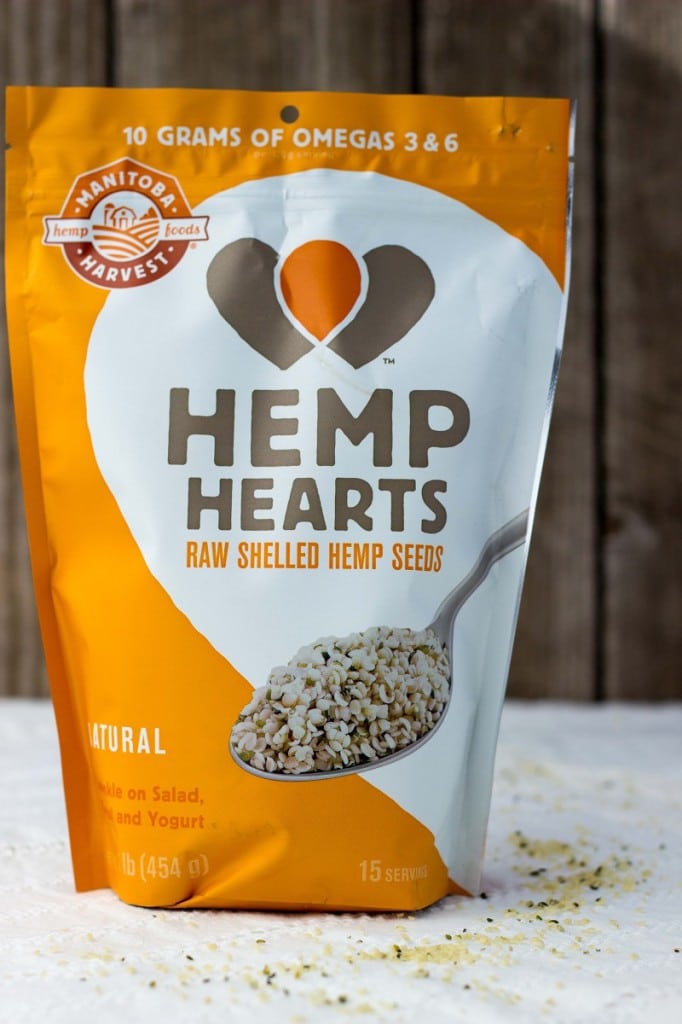 If you aren't familiar with Hemp Hearts, they are a gluten free, vegan, Non-GMO product produced by Manitoba Harvest.  They have 10 grams of protein and omegas in each serving and are the most nutritious part of the hemp seed.  They also go well with everything!!  You can put them in smoothies (awesome smoothie recipe from Traci!), granola, top salads with them, crust goat cheese with them, and sprinkle them onto pretty much everything you eat for a lot of added nutrition and a delicious taste!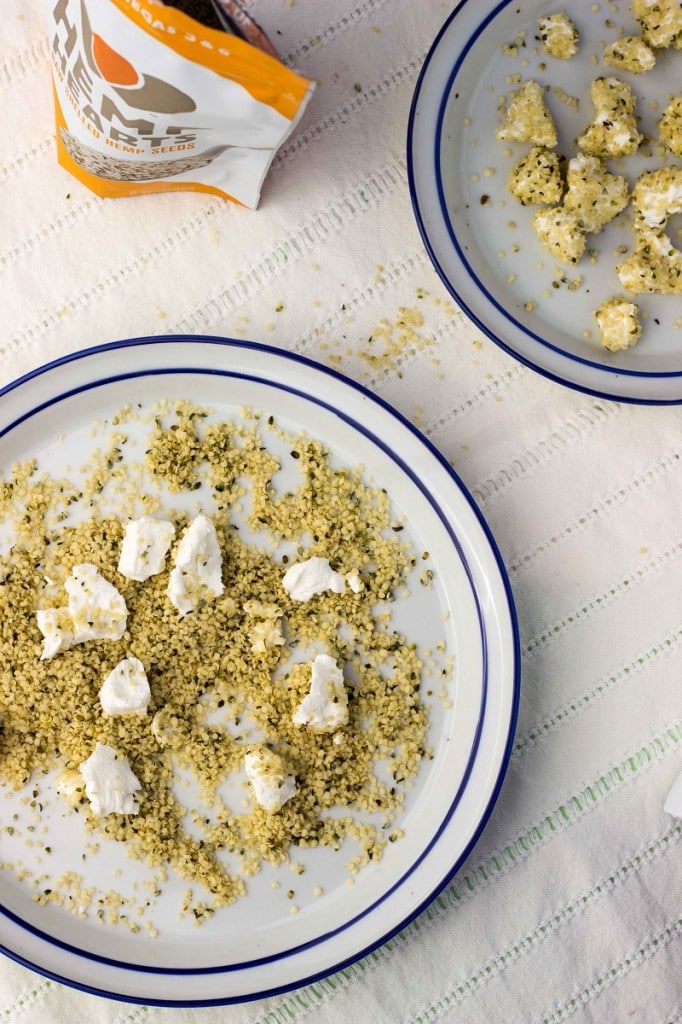 The inspiration for this salad came from a few different things.  First, my love of beets and goat cheese and how amazing they taste together.  Secondly, a few weeks ago we went out to a kinda fancy restaurant and they had a salad called, "The Goat Cheese" on the menu.  It has roasted beets, cranberries, and lots of goat cheese in it.  I got so excited and just had to order it.  Unfortunately, it was small, wimpy, and the only redeeming quality was that it seemed like they used an entire log of goat cheese in it!  I decided to re-create that salad but make it much more filling by adding in some sorghum, garbanzo beans, and some hemp hearts!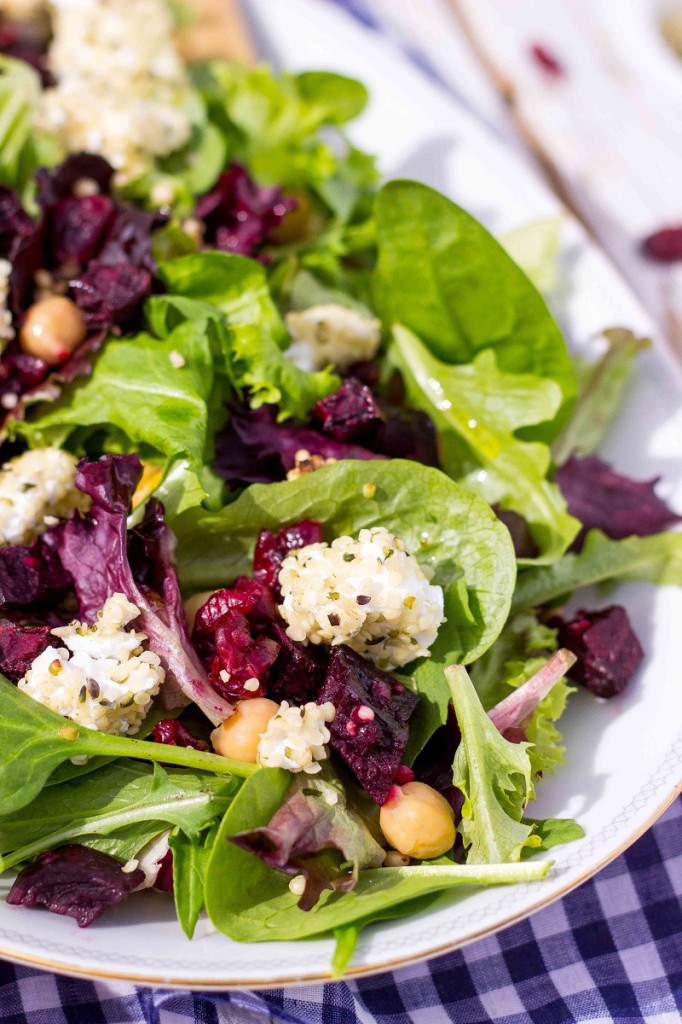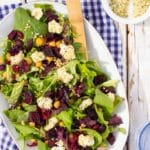 Roasted Beet Salad with Hemp Heart Crusted Goat Cheese
---
Category:

Salad, Gluten Free
Ingredients
4 cup

s peeled and diced beets, 1/2 inch diced

1 teaspoon

olive oil

3/4 teaspoon

salt

1/4 teaspoon

black pepper

1/2 cup

dried sorghum, or other grain of choice

6 cup

s spring mix lettuce

1 1/2 cup

cooked garbanzo beans, about

1

–

15

oz can

2/3 cup

dried cranberries

4 ounce

s goat cheese

1/2 cup

hemp hearts
Balsamic Vinaigrette:
½ cup

olive oil

3 tablespoon

s balsamic vinegar

1

small garlic clove, minced

½ teaspoon

dijon mustard

½ teaspoon

salt

¼ teaspoon

pepper
---
Instructions
Pre-heat the oven to 400 degrees Fahrenheit. Place diced beets on a large sheet pan and drizzle with olive oil and season with salt and pepper. Toss to coat and roast until beets are tender, 20-25 minutes.
Cook sorghum, or desired gain, according to package directions.
Pour the hemp hearts onto a large plate. Crumble goat cheese and place crumbles into hemp hearts. Toss to make sure goat cheese is coated on all sides with hemp hearts.
Place all vinaigrette ingredients into a small bowl and whisk until combined.
In a large bowl, add spring mix, roasted beets, cooked sorghum, garbanzo beans, dried cranberries, and hemp heart crusted goat cheese. Mix and drizzle with desired amount of balsamic vinaigrette.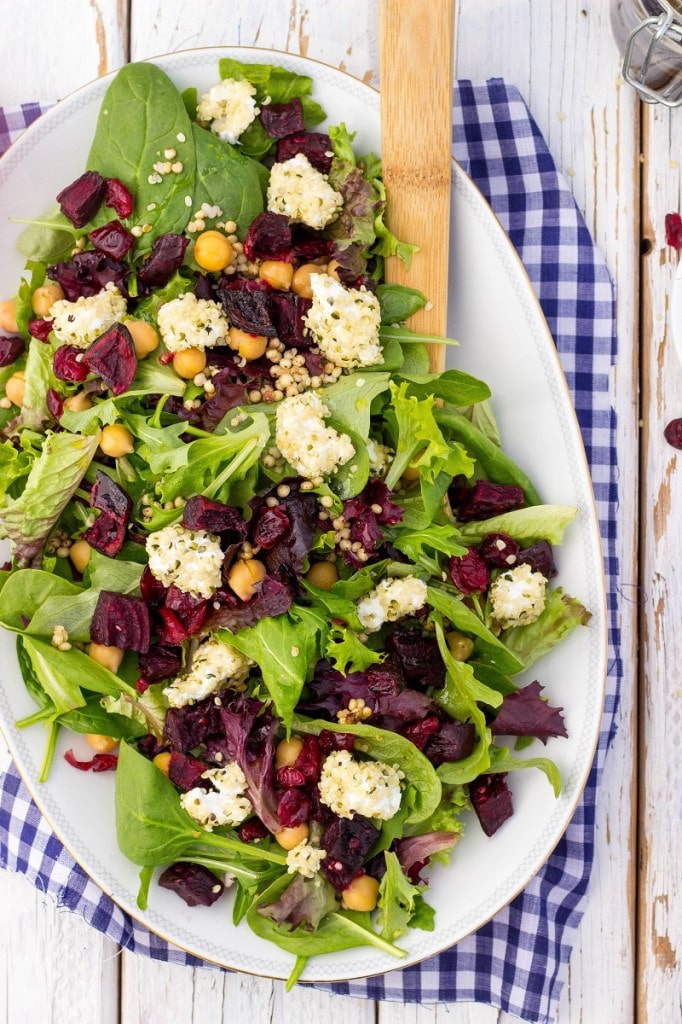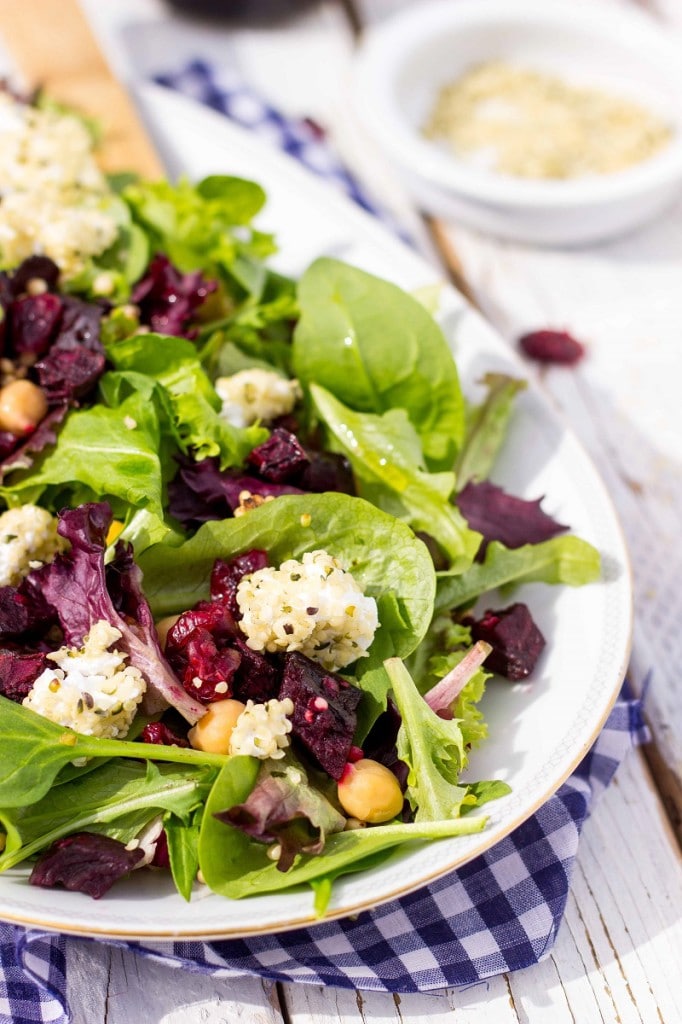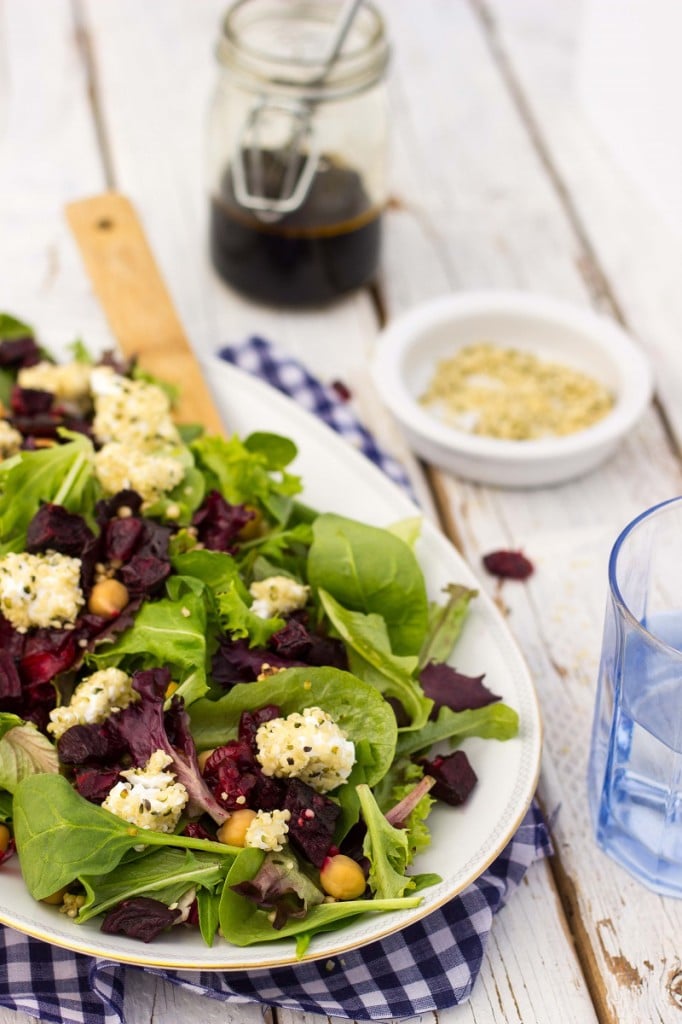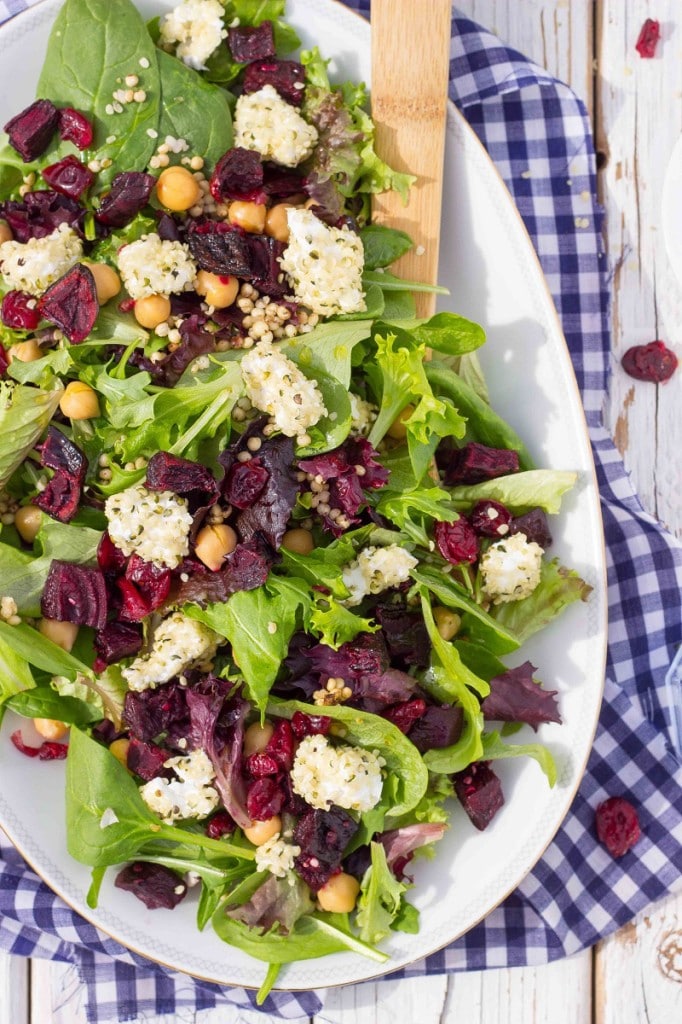 SaveSave