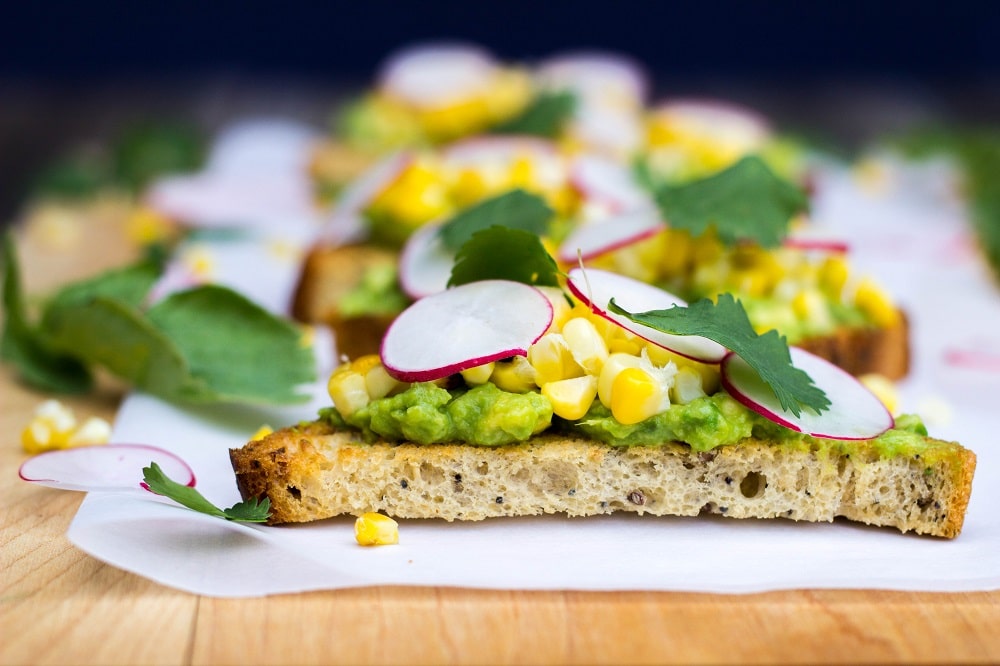 I never used to be a grill type of girl. I would happily season anything that was grill bound, but when it came to the actual grilling, I would hand it off to my husband and not look back. I don't think that I even knew how to turn on our old grill.
It wasn't until about one year ago that I finally decided to make friends with the grill. Actually, it wasn't so much as a choice as it was a necessity. We had just moved to Tucson and we were renting a really small place. In fact, "really small" is an understatement. It was about the size of a one car garage. It was basically a room with a bed, dresser, small table and chair set, and a sink. When it came to cooking, we had a mini fridge, hot plate, microwave, and toaster oven. Thank goodness we also had a grill outside!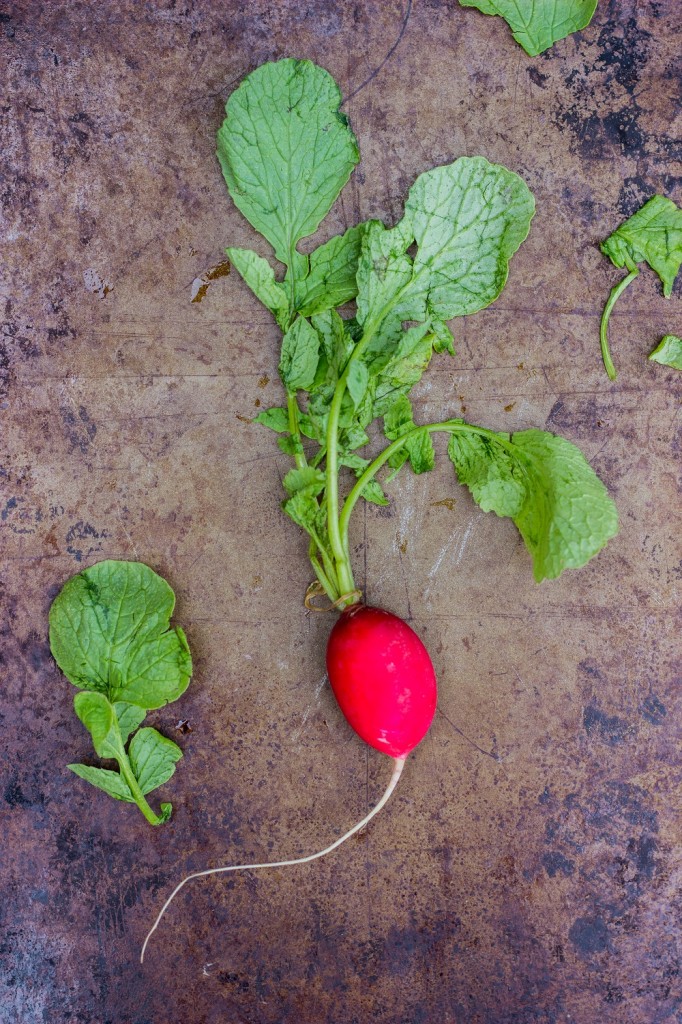 I wasn't working at first (I miss those days!) and Eric was waking up at 4:00 am and working under the hot sun all day, so I did my best to make sure dinner was ready on time. I used the grill for pretty much every meal and I got to be really good friends with it. Towards the end of our stay there I was getting pretty sad because I knew that we would have to leave my new friend behind and we would be reunited with our big clunker of a grill that only my husband knew how to use. Then one day I seasoned the chicken breasts and went outside to throw them on the grill. I bent down to turn the propane on and the propane tank was gone!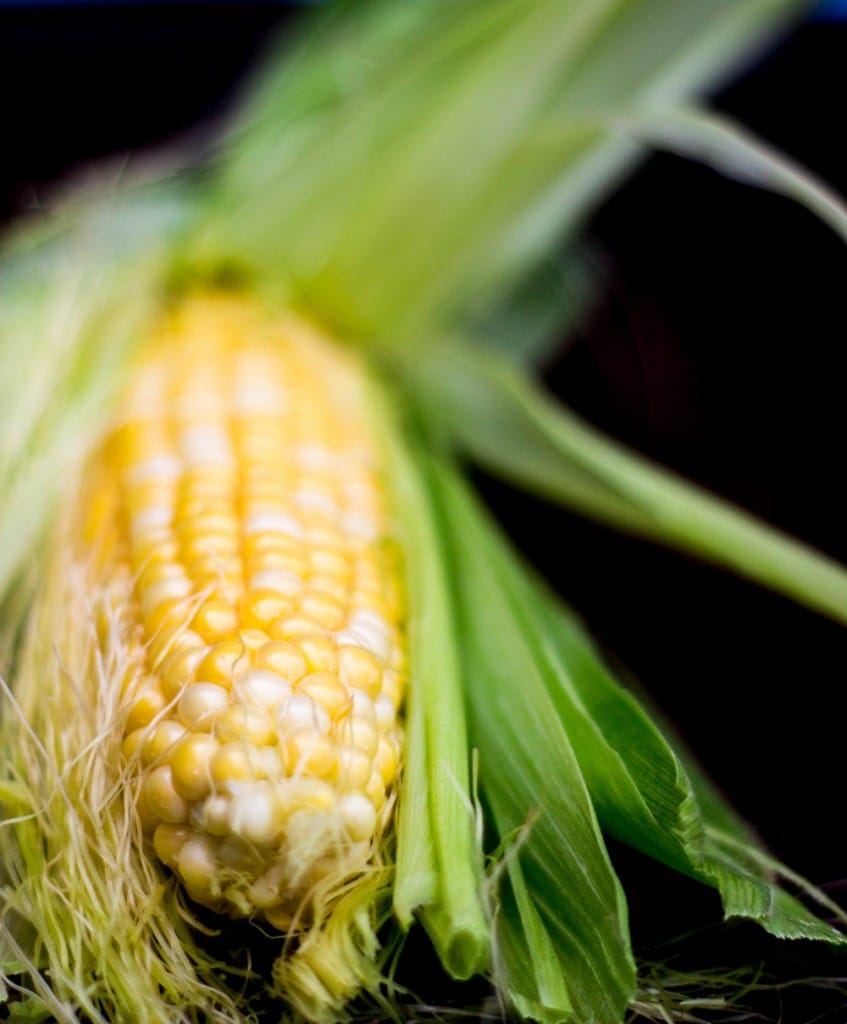 I'm still not exactly sure what happened to that propane tank, but I think I have a good idea. Around here they have something called Brush and Bulky day where you put all the junk that you don't want on the curb and then a big truck comes by and picks it up for you. According to our neighbors, there are a bunch of people that go in front of the truck and pick up all the good stuff for themselves. Unfortunately, our grill just happened to be sitting right next to the curb and someone must have thought that we were getting rid of it. For some reason they only took the propane tank, which happened to belong to us, but not the grill, that belonged to our landlord.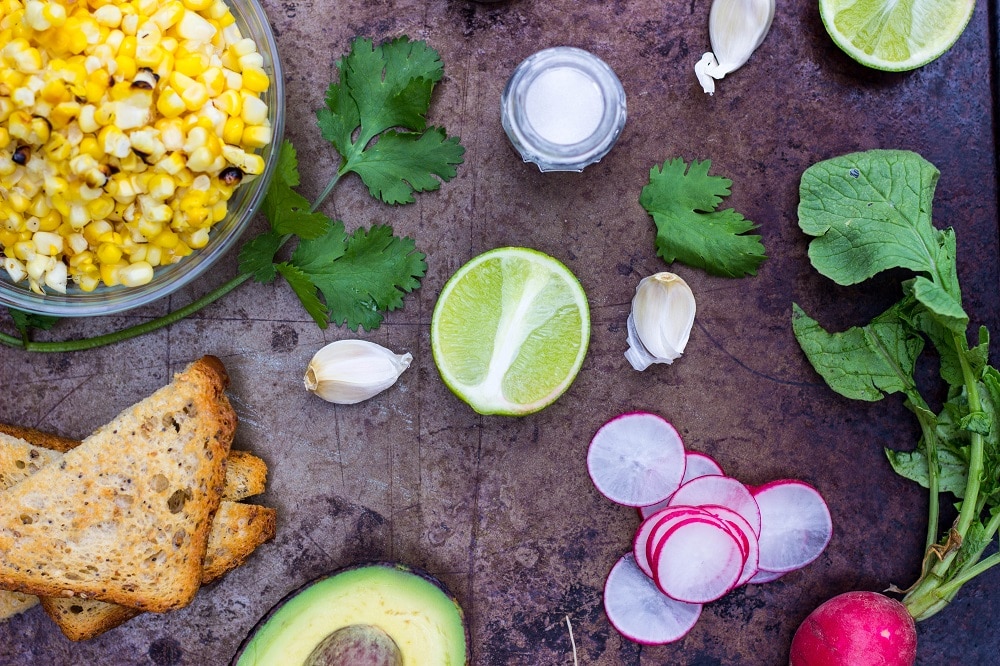 When we told our landlord what had happened, she felt so bad that she said we could keep the grill. Although I'm not sure it was a fair trade I was so happy! When we finally moved out of that small rental, we took the grill with us and I've been using it ever since. You could use frozen or canned corn for this recipe, but I really think that the charred, smokey taste of the grilled corn really makes it taste amazing and takes it to the next level!
Isn't it beautiful?!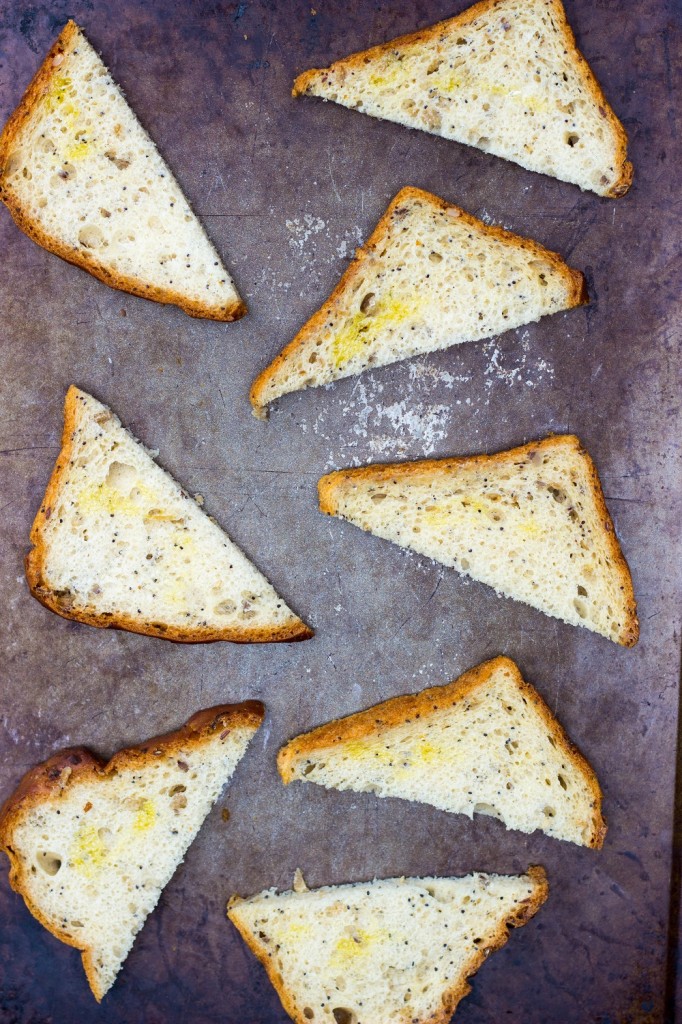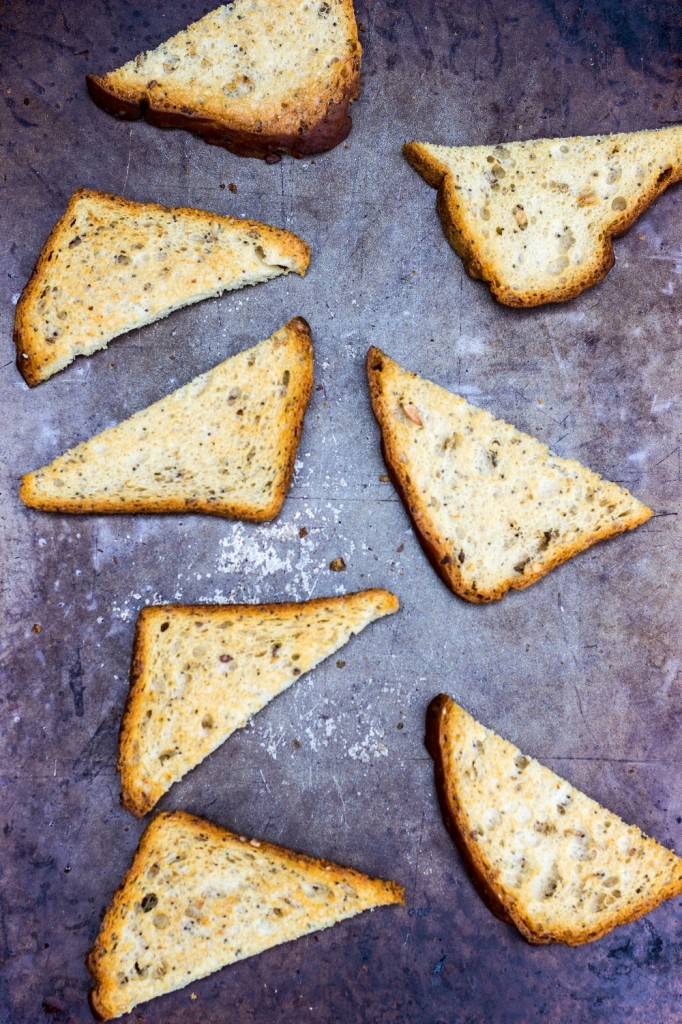 Crostini is basically just toasted bread with toppings on it. I make a lot of different varieties, but this is one of my favorites. I feel like it is a perfect mix of spring and summer flavors, which perfectly mirrors the weather we are having in Tucson right now.
Print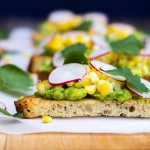 Grilled Corn Crostini with Avocado & Radish
---
Prep Time:

20

Cook Time:

20

Total Time:

40 minutes
Ingredients
2

ears of corn

8

–

10

slices of bread, I used gluten free sandwich bread but you could use any kind you like

2

–

3

radishes, sliced thinly, with a mandolin or by hand

1

large avocado
juice of

1

lime

1

garlic clove, minced
cilantro leaves, for garnish
salt, to taste
olive oil
---
Instructions
Peel the top half of the corn husk down and remove all the corn silk. Fold the corn husk back around the corn and soak in water for about 10 minutes.
Turn the grill on medium heat. Take the corn out of the water and shake off excess water. Place the corn on the grill and grill for a total of about 20 minutes, or until corn is tender and cooked through, flipping occasionally. Set aside and let cool.
Preheat the oven to 375 degrees F.
Cut the bread into slices and brush top with olive oil. Place bread onto a large sheet pan and place in the oven for about 10 minutes, until bread is toasted, flipping once.
In a medium sized bowl, mash the avocado and then add in the garlic, lime juice, and season with salt to taste. Mix until ingredients are combined.
Once corn has cooled, cut the kernels off with a sharp knife.
Assemble the crostini
Spread 1 – 2 tablespoons of avocado mixture on the bread, then top with corn and radish slices. Garnish with cilantro leaves, if desired.
Nutrition
Serving Size:

4

Calories:

299

Sugar:

7

Sodium:

361

Fat:

10

Saturated Fat:

2

Unsaturated Fat:

8

Trans Fat:

0

Carbohydrates:

47

Protein:

9

Cholesterol:

0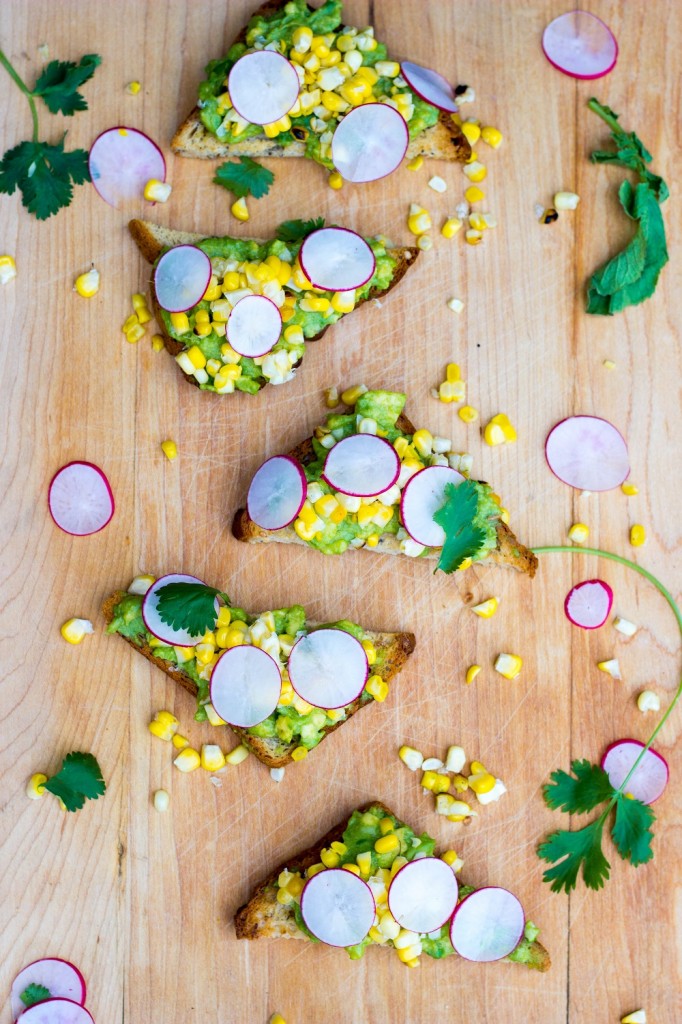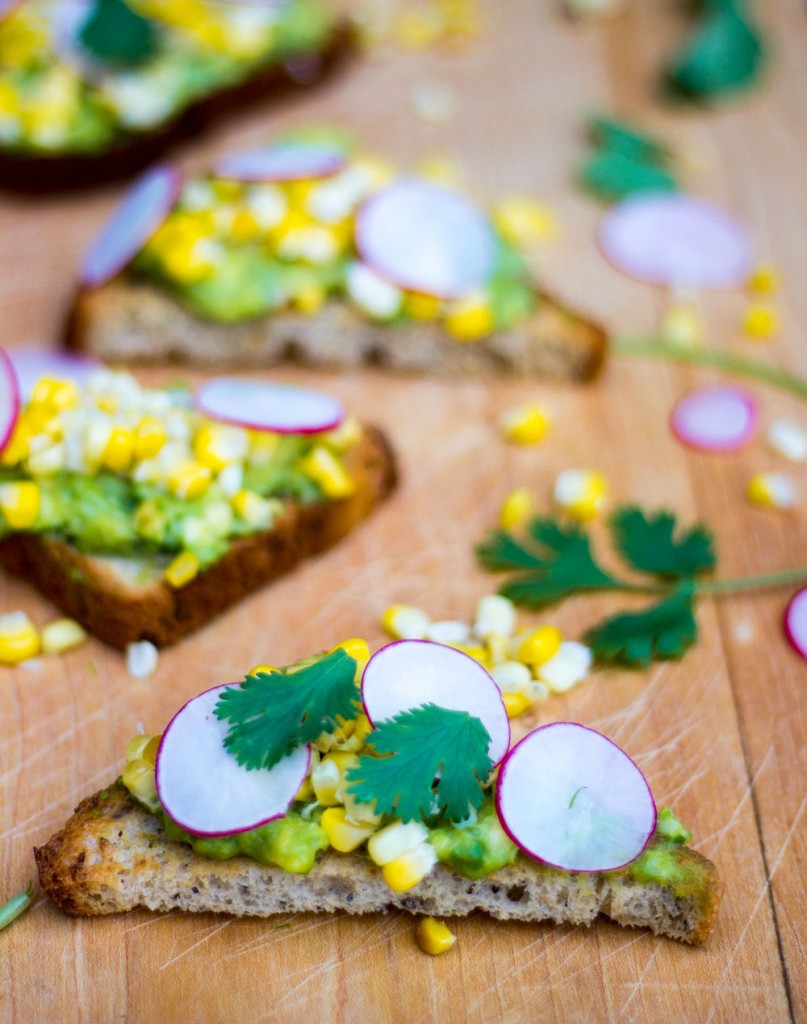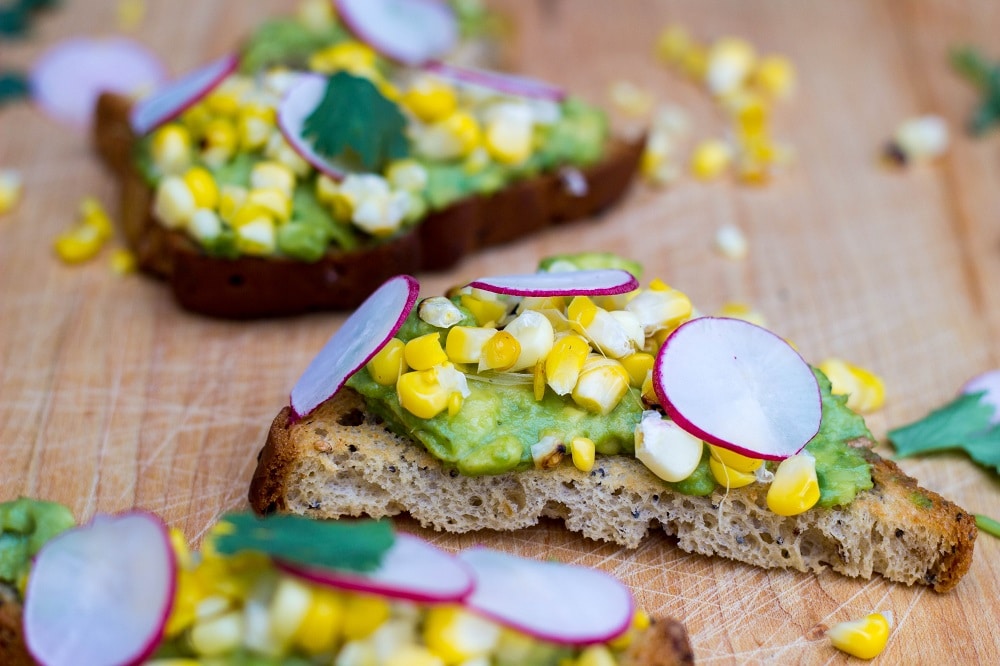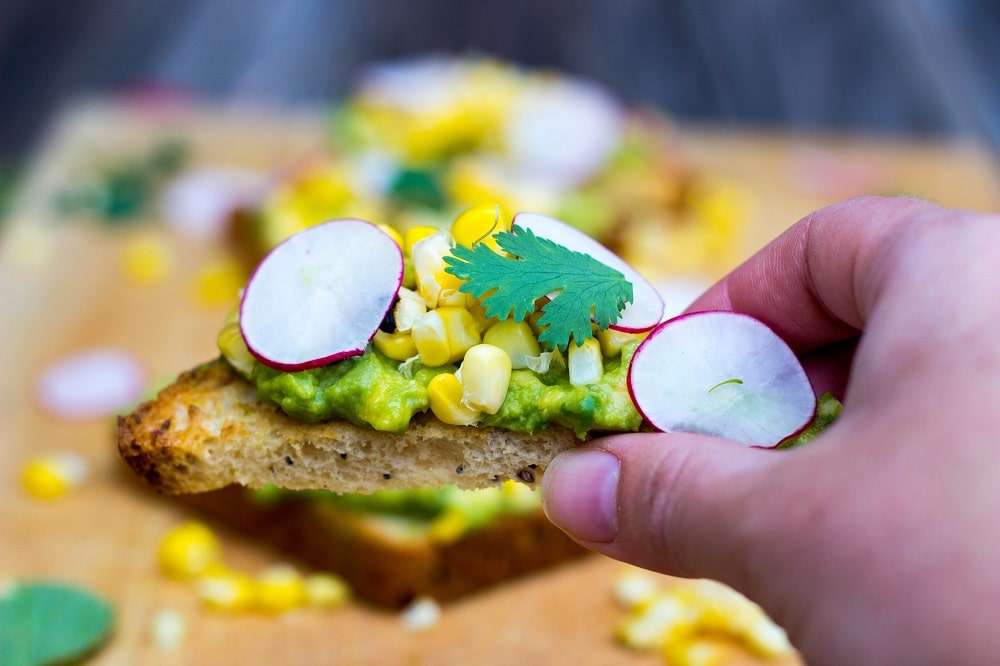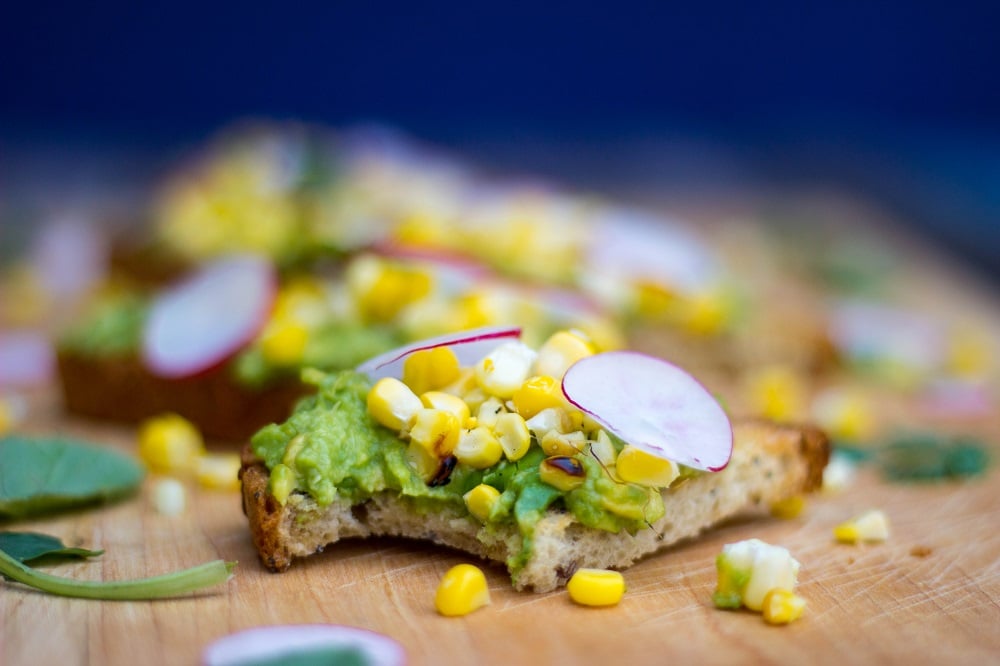 Cheeto's favorite part was when I filled a large bowl up with water to soak the corn in. He might have a little bit of an obsession with water!