I might be mildly addicted to garlic.  I've always enjoyed the taste of garlic and used it in my recipes, but I think my addiction really started about 5 years ago.  I had to go to the doctor and I was really nervous about being there.  When they took my blood pressure it was really high, high like I think they thought I was about to have a heart attack high.  The doctors were convinced that I had high blood pressure and wanted me to monitor it several times a day.  I was convinced, and still am, that I just had a severe case of white coat syndrome, which unfortunately has grown into a severe case of blood pressure cuff syndrome.  Now, not only do I fear going to the doctor because of the possibility that something could be seriously wrong with me, but also because I know they are going to put that scary, suffocating blood pressure cuff on my arm.  My heart starts to race the moment they pull it out, and then I get even more nervous that I am going to get a high reading.  It is a viscous cycle, that always ends with me having to convince the doctor that my face isn't always this red, and I don'talways feel like my heart is going to pound out of my chest.  Thankfully, I am young and in fairly good shape, so it doesn't usually take too much convincing.
I bet you are wondering how this all ties into my garlic addiction, but I promise that I'm going somewhere with this.  Although I never believed the doctors that I really had high blood pressure, the thought did cross my mind a few times.  I began looking on the internet for natural remedies to lower my blood pressure, just in case it really was high, and I came across garlic.  I figured that I already loved to eat garlic, so if I just upped my garlic intake a little bit more, not only would I enjoy eating more of it, but it could also help with the blood pressure.  I also need to tell you that this was all happening around the time that my husband and I started dating.  To up my garlic intake, I started eating raw garlic cloves and putting a ton of raw garlic into the food I was cooking, sometimes so much that my husband couldn't stand to eat it.
Then one day came the "garlic" talk.  I think this talk came before the "where is this relationship going" talk, and now that I think about it, maybe it had to come before he could even think about having that talk with me.  I was eating so much garlic that I constantly smelled of it and a few times when he came over for dinner he claimed that he could smell the garlic before he even opened the door, now I'm not sure if that was really true or not, but it did catch my attention.  I liked him enough that I wanted to have the "where is this relationship going" talk, so I toned down the garlic.  I still use it, but not with such a heavy hand as before.
That brings me to this roasted garlic recipe.  When you roast the garlic it takes on a sweeter note and is much, much less strong and pungent.  Preparing garlic this ways allows me to have my garlic and eat it too!  If you are a garlic lover this recipe is for you, especially if your significant other is not quite as much of a garlic lover as you are.
Cut the top off of the garlic bulbs.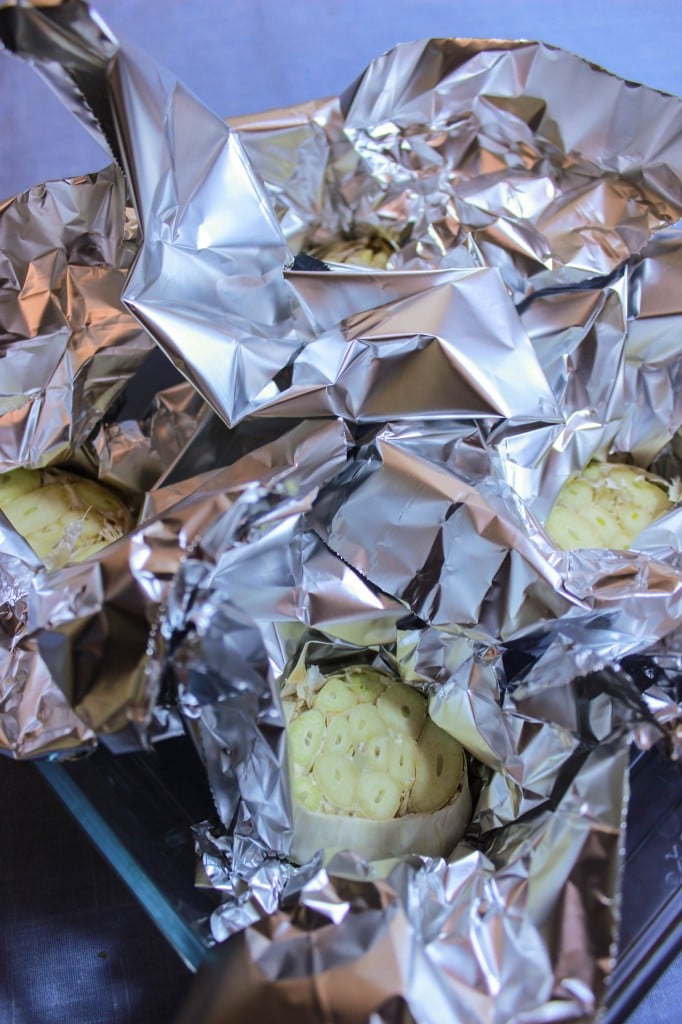 Wrap each bulb in tin foil and liberally pour olive oil over the top.  I used about 1 teaspoon for each one, more or less depending on the size of your garlic.
Bake the garlic in the oven for about 40 minutes, or until it is soft and brown in color.
You can pick each clove out with a fork, or if you let it cool a little bit you can squeeze out all the cloves from the bottom.
What You'll Need:
Garlic, whole bulbs, I only used 4, but you can use however many you want
Olive oil
Tin foil
What To Do:
Pre-heat the oven to 400 degrees F.
Cut the top of each garlic bulb off, you don't want to cut too much, but just enough that you have cut the top off of each individual clove inside.
Make a little pouch with the tin foil for each garlic bulb and place garlic inside, cut side up.
Drizzle a generous amount of olive oil over the top of each one, I didn't measure, but I probably used about 1 teaspoon for each one.
Seal tin foil pouches up and place into or onto any oven safe dish.
Bake in the oven for about 40 minutes, or until garlic is soft and light brown in color.
Enjoy on bread, in pasta, hummus, pizza, or with a fork!
I like to eat it on bread, but really, the possibilities are endless.  Anyone have any other favorite ways to eat roasted garlic?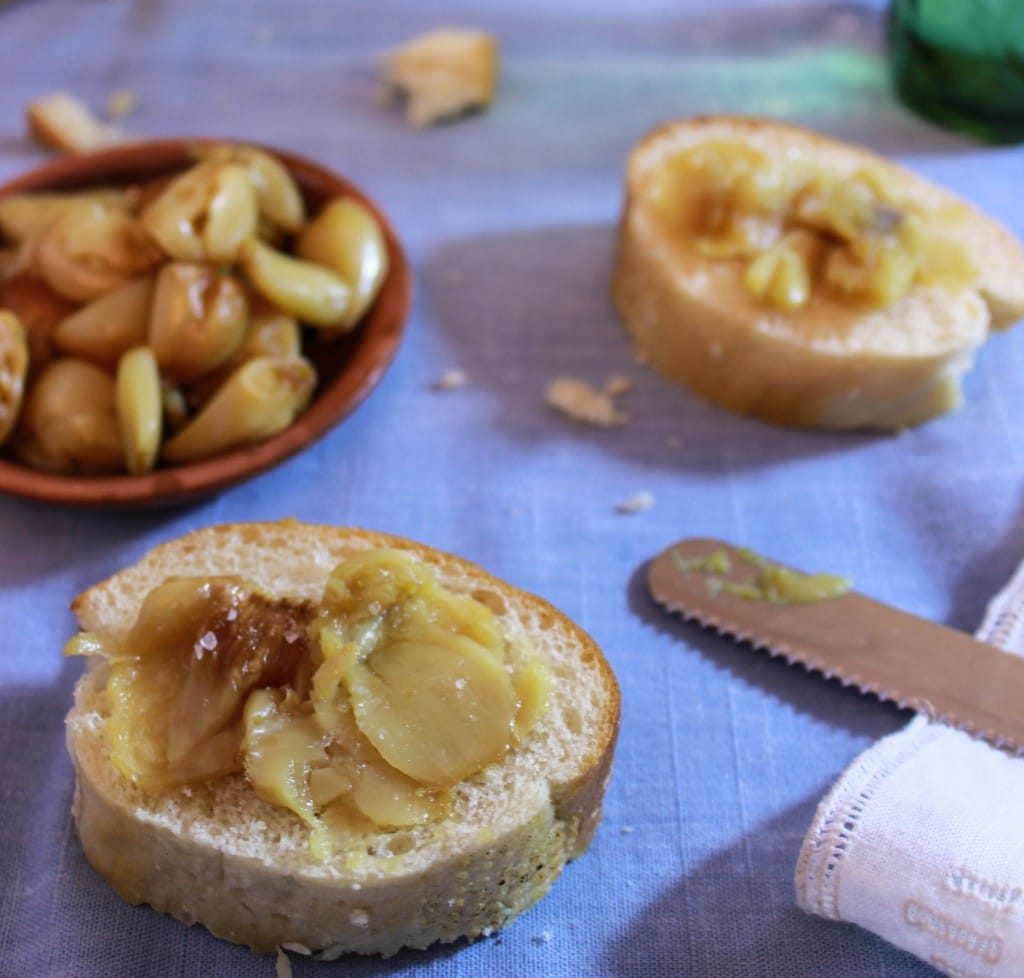 I'm not even gonna try, Cheeto has no interest in roasted garlic!