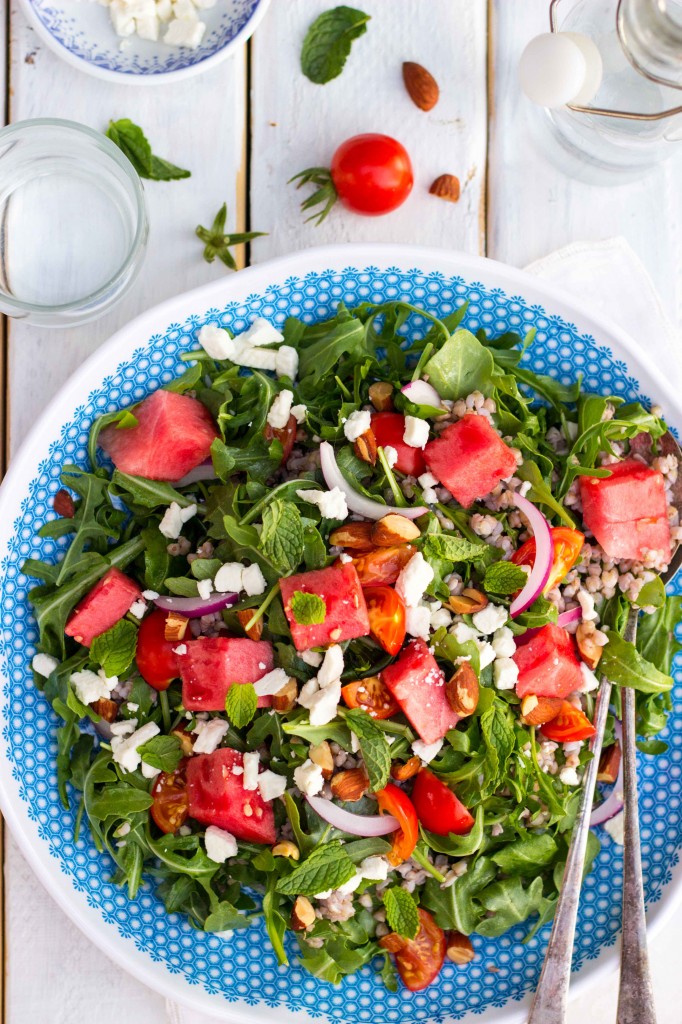 I really love the combonation of watermelon, arugula, and feta, especially in the summertime, and I was so excited to make this salad, but I have to tell you that I originally had much different plans for it.
I wanted it to be a pretty filling salad, so I knew that I wanted to add some type of grain to it. Quinoa is usually my go to gluten free grain when making salads, but I really wanted to change things up this time. Then, I saw this post on Cookie & Kate and I immediately knew that I wanted to use sorghum in my arugula salad. I ran to the healthfood store and scoured the shelves for sorghum but it was nowhere to be found. I checked for about ten minutes and even went back a second time a few days later, hoping that maybe I would find it with a fresh pair of eyes. I went to two other grocery stores, and nothing. I finally decided to go to Whole Foods, which I tend to avoid because it is farther away from my house and I usually spend about 100 extra dollars on "healthy" junk food. I only ventured to whole foods because I was absolutely sure they would sell sorghum, but as you can probably tell by the title of this recipe, I never found it. However, I did find a huge bag of Red Hot Blues that were on sale! I'm still on the lookout for sorghum, because I really do want to try it, but I ended up settling on buckwheat for this salad and it worked great!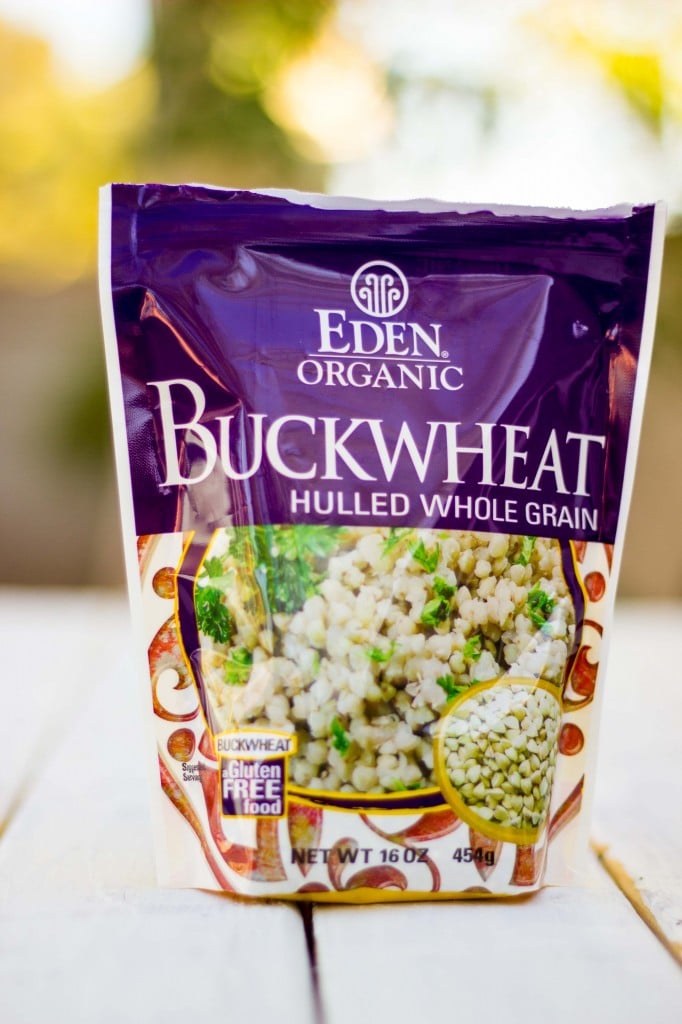 I also had really exciting plans to make a watermelon balsamic vinaigrette to dress this salad with, but unfortunately it ended up looking like mud and didn't taste much better either. I'm still intrigued by the idea of it and I may still work on it, but for now I decided to use a simple balsamic reduction as a dressing and it did not disappoint! As frustrated as I was with the sorghum incident and the dressing flop, being able to use my own tomatoes really made me happy.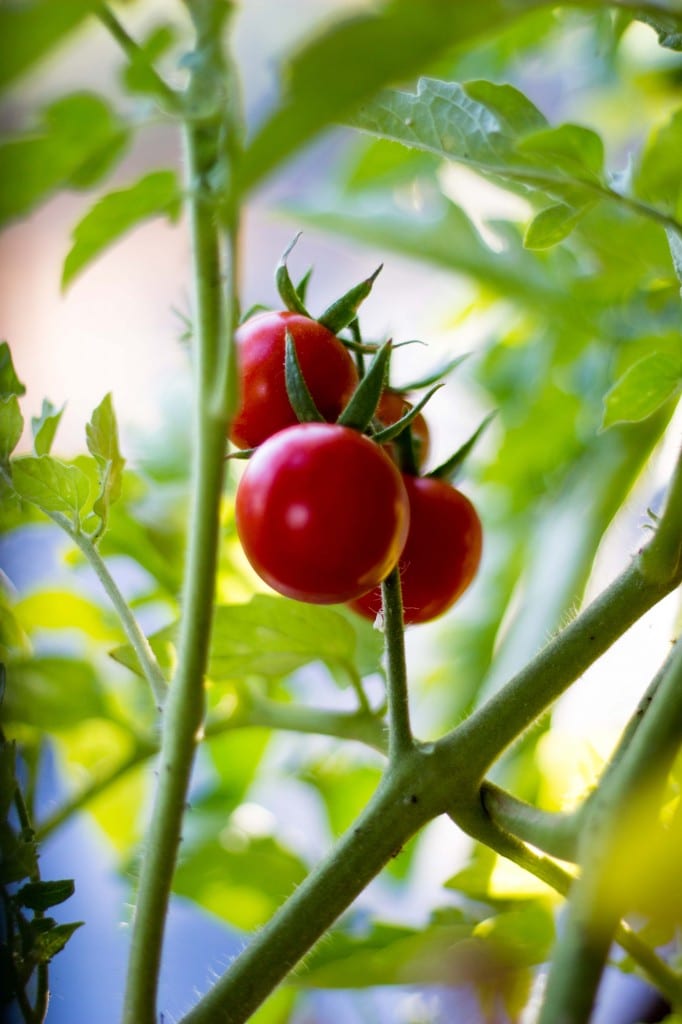 There is just something so exciting about eating vegetables, or fruit that you have grown from seed, even if it is so hot here that a few of the tomatoes boiled before I could get to them. Boiling might be a bit of an exaggeration, but they were all shriveled up and really warm to the touch! It kinda looked like I was growing a bush of sun dried tomatoes, which come to think of it doesn't sound like such a bad thing afterall!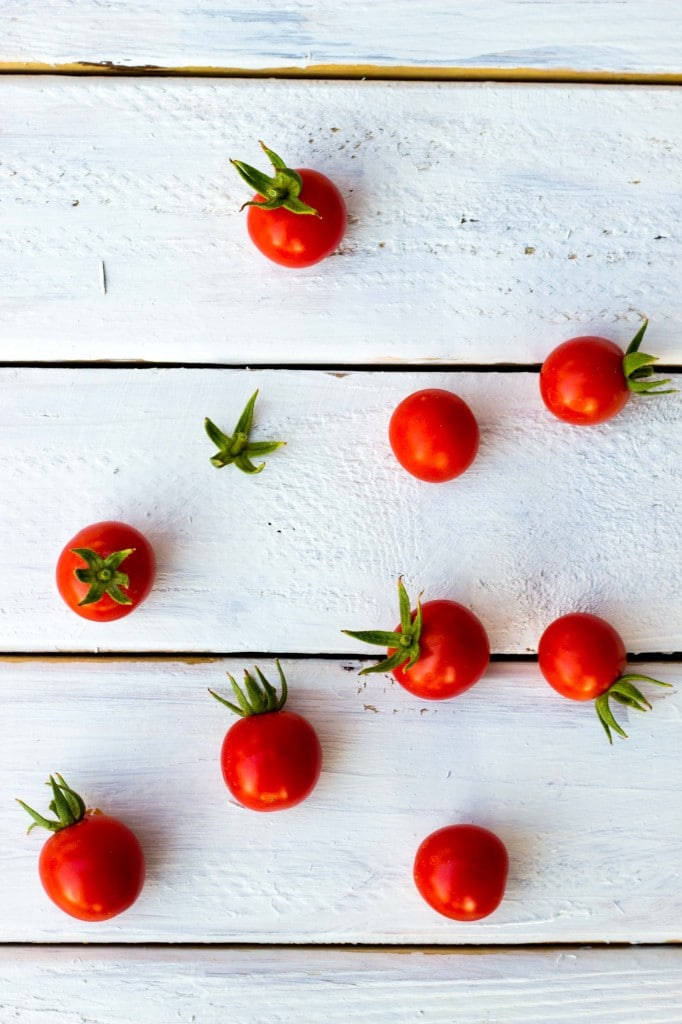 This is how I'm spending my summer; watering my tomato plants so they don't wilt and drinking white wine with ice cubes, so that I won't melt! Have I mentioned how classy I am yet?!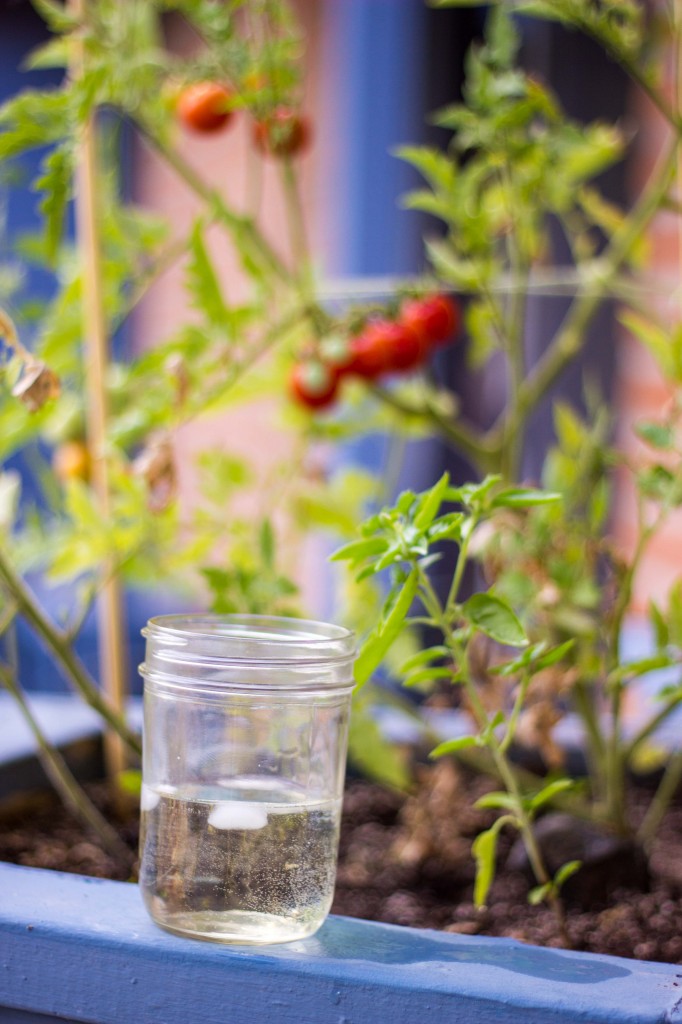 P.S. if you are anything like me and you are obsessed with pretty plates and bowls, I bought this blue plate after I saw it used in this post on Love and Lemons. I loved this blue serving dish so much I went right over to Q Squared (not an affiliate link, I just love this collection!) and bought one for myself!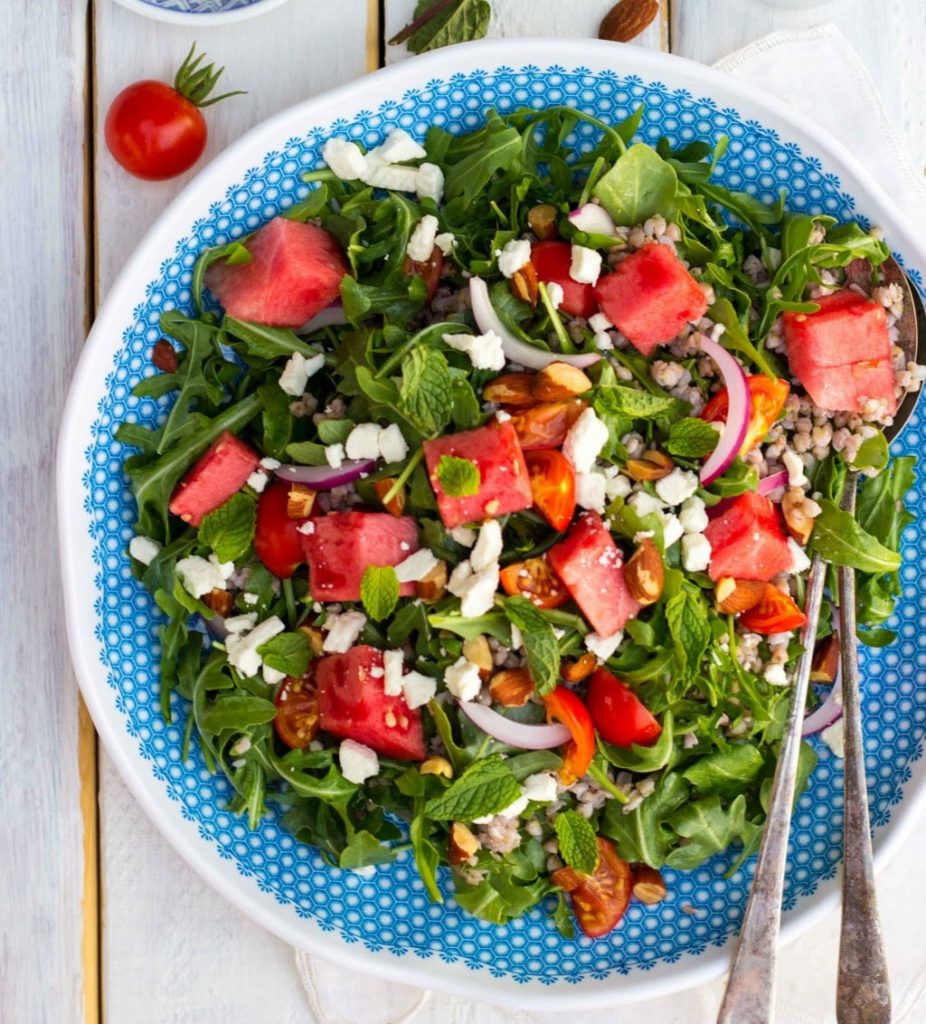 I dressed my salad with a very simple mixture of olive oil and balsamic reduction sauce (recipe link to balsamic reduction). This salad would also be delicious with a balsamic vinaigrette dressing (recipe link to balsamic vinaigrette).
Print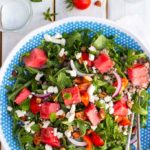 Summer Arugula Salad with Watermelon, Feta & Buckwheat
---
Cook Time:

30 mins

Total Time:

30 mins

Yield:

4

-

6

1

x
Category:

Salad, Lunch, Gluten Free
Ingredients
1 cup

buckwheat, dried

4 cups

arugula, packed

2 cups

watermelon, medium diced

1/2 cup

feta, crumbled

1/2

red onion, thinly sliced

1 cup

cherry tomatoes, cut in half

10

mint leaves

1/2 cup

toasted almonds, chopped

2

–

3

teaspoons olive oil

2

–

3

tablespoons balsamic vinegar or balsamic reduction*
Salt
---
Instructions
Bring 2 cups of water to a boil in a medium sized saucepan. Rinse the buckwheat and add it to the boiling water. Reduce to a simmer and simmer buckwheat for 25 – 30 minutes, or until all the water has evaporated. Let cool for about 15 minutes.
In a large bowl, add the buckwheat, arugula, watermelon, tomatoes, red onion, mint, feta, and almonds. Dress with about 2 – 3 teaspoons of olive oil, 2 tablespoons of balsamic vinegar, or balsamic reduction, and a pinch of salt. Mix until all ingredients are combined.
Feel free to dress with your favorite balsamic vinaigrette, if desired.
Notes
*Links to balsamic reduction and balsamic vinaigrette recipes above.
Ingredient measurements are personal preference, feel free to add as little or as much of each salad ingredient as you would like.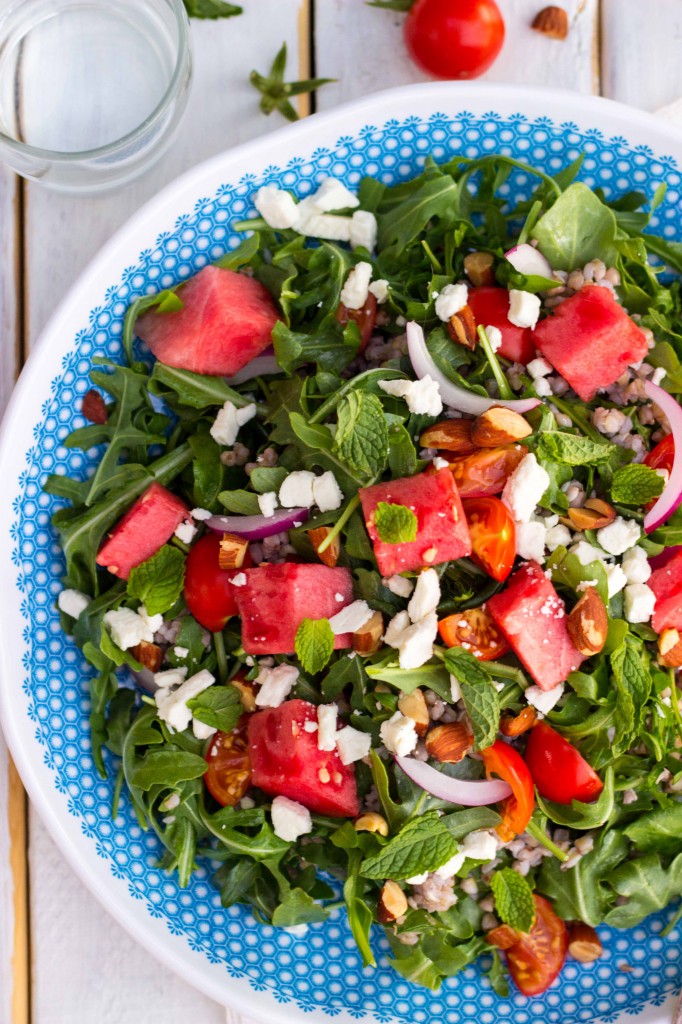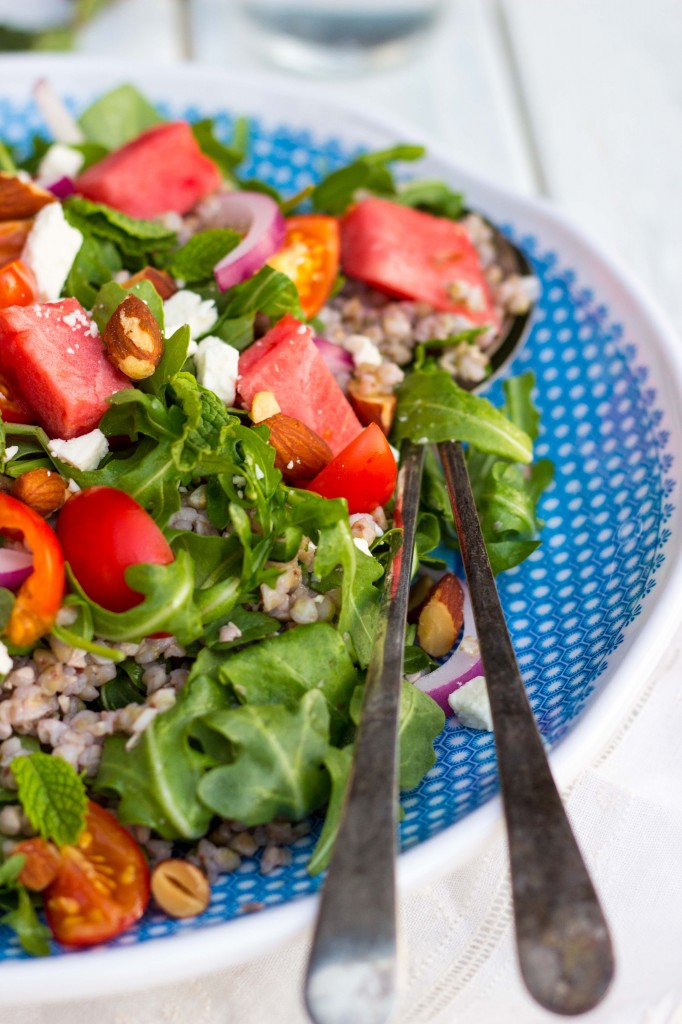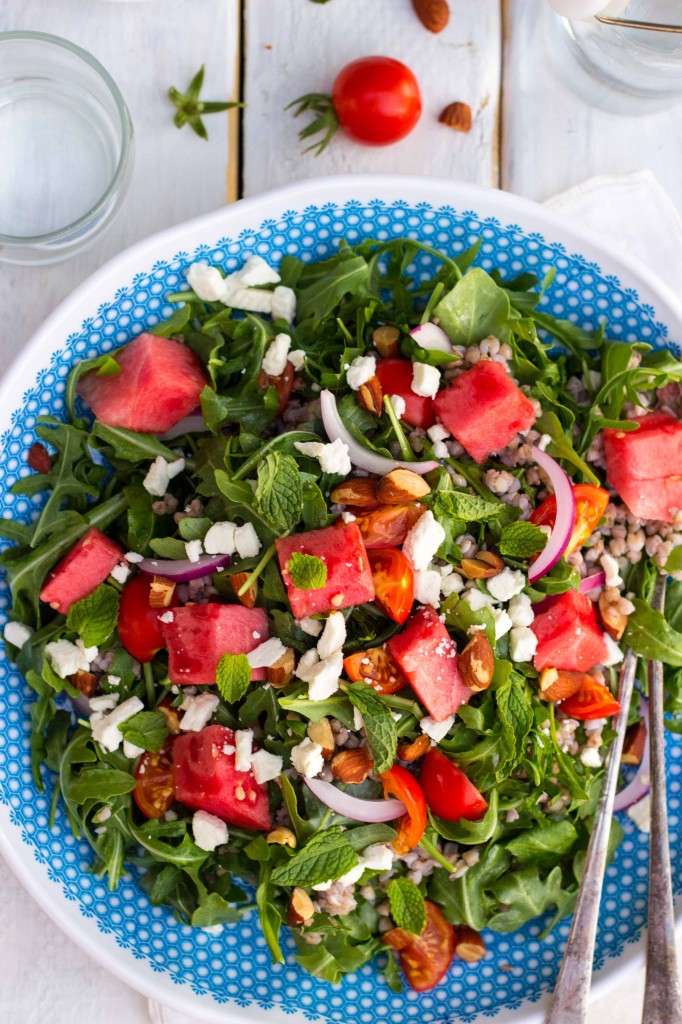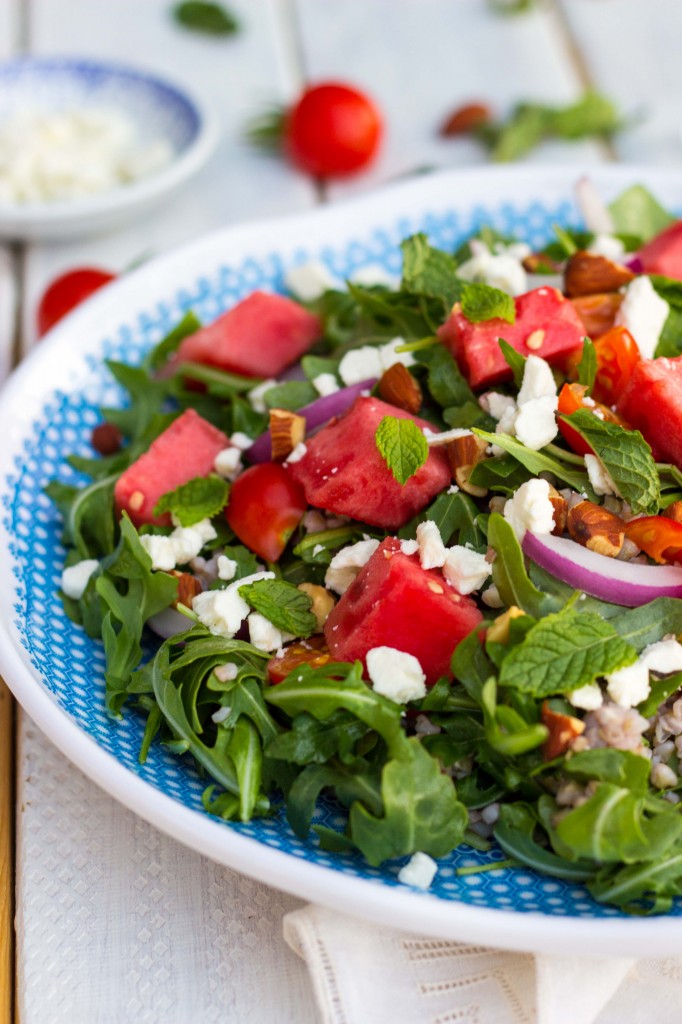 Cheeto is crossing his paws that this is a huge bag of cat treats!