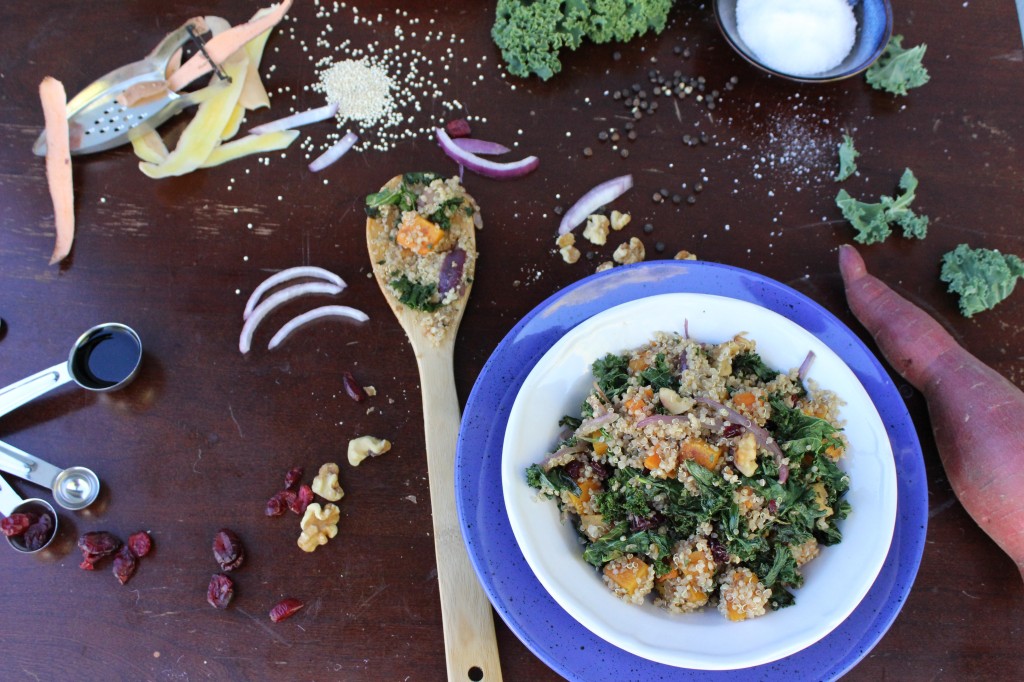 Ok, you may be thinking that there is no winter in Tucson, but in my defense I started making this recipe when I lived in Montana, and trust me, there is definitely a winter in Montana!  You can really make this dish anytime of the year, but squash and kale always make me think of the winter time.  I started making this dish last winter when I started experimenting with a gluten and dairy free diet to help  with some stomach issues I was having.  We were getting invited a lot of holiday parties and potlucks and I was always worried that there would be nothing for me to eat there.  This salad was great because not only did everyone else love it as much as I love it, but if I was ever in a situation where this salad was the only gluten-free dish at the party, it was enough to fill me up and satisfy me for the evening. 
The first time I made this salad I happened to have half of a butternut squash left over and a few sweet potatoes on hand, so I used half the butternut squash and one sweet potato.  You can also feel free to use only butternut squash or only sweet potatoes, whatever suits your fancy!
Ingredients:
1 whole butternut squash, 2 sweet potatoes, or 1/2 butternut squash and 1 sweet potato
1 cup dried quinoa
1/2 red onion
5 – 6 cups kale, about the size of a small bunch
1/2 cup walnuts
1 – 2 handfuls dried cranberries
2 tablespoons balsamic vinegar
Salt and pepper
Olive oil
Directions:
Cook the quinoa according to instructions on box.
Preheat the oven to 400 degrees.
Peel butternut squash and/or sweet potatoes and cut into bite size pieces.
Place onto a sheet pan and drizzle with olive oil and season with salt and pepper.
Make sure all the pieces are coated and put into the 400 degree oven.
Bake for about 1/2 hour, flipping half way though ( a little less time if you are only using sweet potatoes).
Cut onion into thin slices, lengthwise.
When the squash/potatoes are ten minutes from being finished, throw the onion slices onto the sheet pan and toss with squash/potatoes.
Rip kale into bite size pieces and place on a sheet pan, drizzle with olive oil and season with salt and pepper, toss to coat.
Place kale into the 400 degree oven and bake for about ten minutes, flipping once.
Toast walnuts for a few minutes until you smell them, either on a sheet pan or on the stove.  One toasted, chop into small pieces.
In a large bowl, mix together: quinoa, butternut squash/sweet potatoes, kale, onions, walnuts, and cranberries.
Add two tablespoons of balsamic vinegar, (or more or less depending on your love of it!).
Season with salt and pepper to taste.
Enjoy warm or cold!