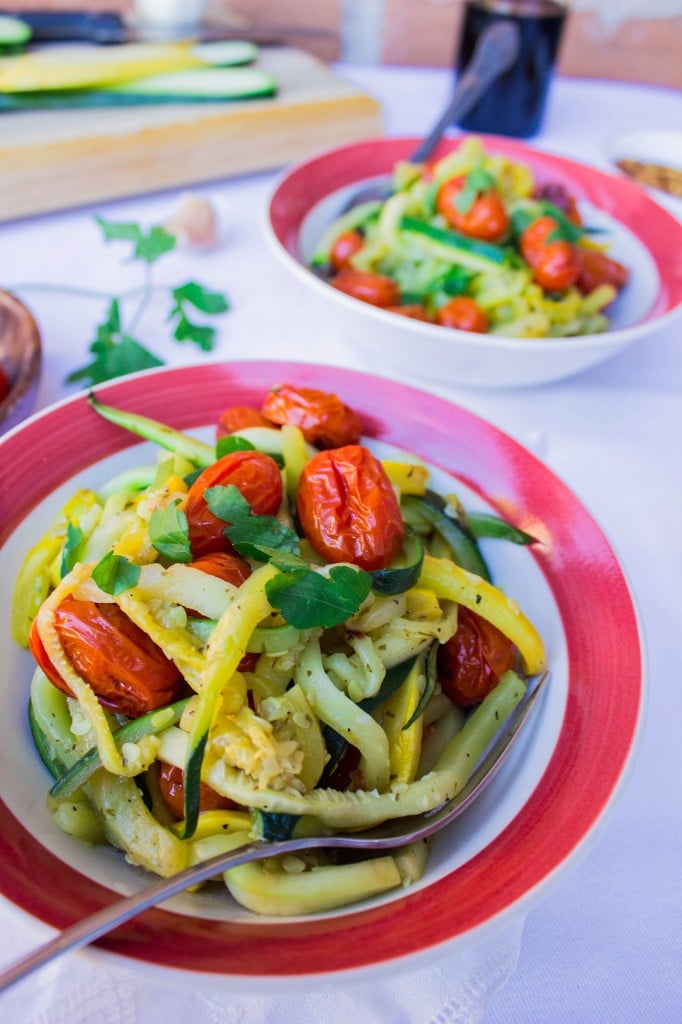 Ok, I know what you are going to say. Nothing can possibly take the place of your beloved pasta, and, not to worry, I'm not going to try to convince you otherwise. I still eat a lot of pasta (corn pasta), it is my go-to "I'm tired and I want dinner now" meal, and I don't plan on giving it up anytime soon. But, since I'm still struggling to lose that holiday weight and since it is almost summertime (at least in this side of the country), which means bathing suit season, eek! I'm trying to incorporate a few more vegetables into my diet. If you are anything like my husband and the idea of eating only zucchini, squash, and tomatoes for dinner scares you, you could always add in a little bit of regular pasta, maybe about 1/4 of how much you would usually make and then supplement the rest with this veggie spaghetti recipe.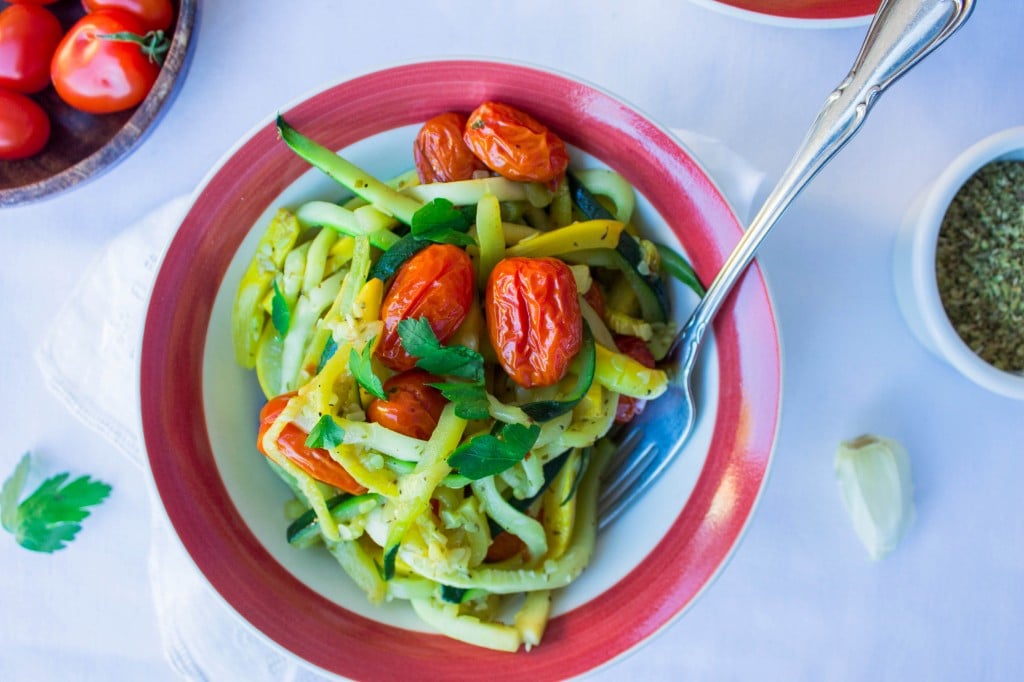 I love tomatoes. I thoroughly enjoy them in every form they come in, tomato sauce, salsa, ketchup, but, up until now, my favorite way to eat them was raw, sometimes by themselves, sometimes with a little sprinkle of salt. I knew that I had to add some tomato element to this dish, because let's face it, you can't call something pasta if it doesn't have tomatoes in it, right?. So, I decided to roast the tomatoes with a little bit of balsamic vinegar. I was a little nervous because I had never made roasted tomatoes before and I once tried to roast kale with balsamic vinegar and it turned into a sticky mess. I'm trying to broaden my cooking skills, so I figured, why not? Let's give it at try!

I seasoned them with salt and pepper and drizzled some balsamic vinegar and olive oil over them and then threw them in the oven. A few minutes later the house smelled amazing. My husband, who I was not expecting to enjoy this dish very much (the verdict is still out on whether he really liked it or not), even came into the kitchen and exclaimed how great it smelled. Twenty minutes later I pulled the cherry tomatoes out of the oven, they were gooey and caramelized and splitting open a little bit. I put one in my mouth and I was in heaven. These balsamic roasted cherry tomatoes are one of the best things I have ever eaten, no joke! I had to remind myself that I made these tomatoes to use in a dish, not just to eat like candy. And yes, I did just compare tomatoes to candy. If you think I'm crazy, you have to try these. That night I laid in bed dreaming up all the other recipes that I could use them in. So, if you love these balsamic roasted cherry tomatoes as much as I do, you are in luck because they will be making many more appearances!
Just look at those little bites of roasted perfection!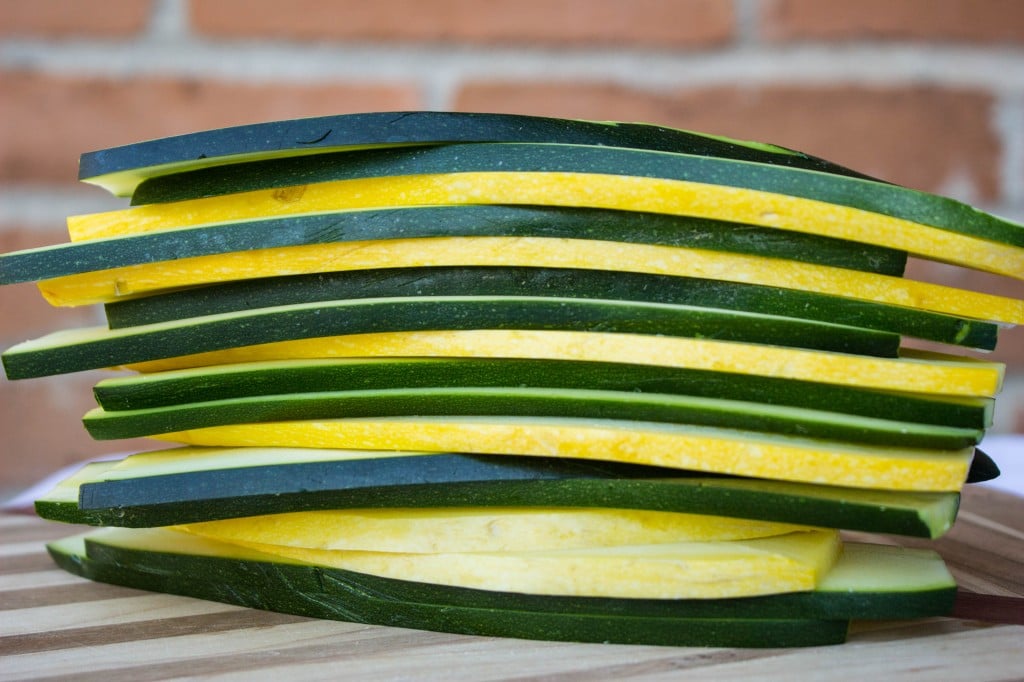 I used my mandolin to slice the zucchini and squash, but this recipe isn't too technical, so if you don't have a mandolin you can definitely get away with hand slicing them. Just try to make sure you get them as close to 1/8th inch as you can.
Once you have them sliced lengthwise, stack them up a few at a time and cut them into thin strips. Then, throw them in a hot pan and cook them until they are soft.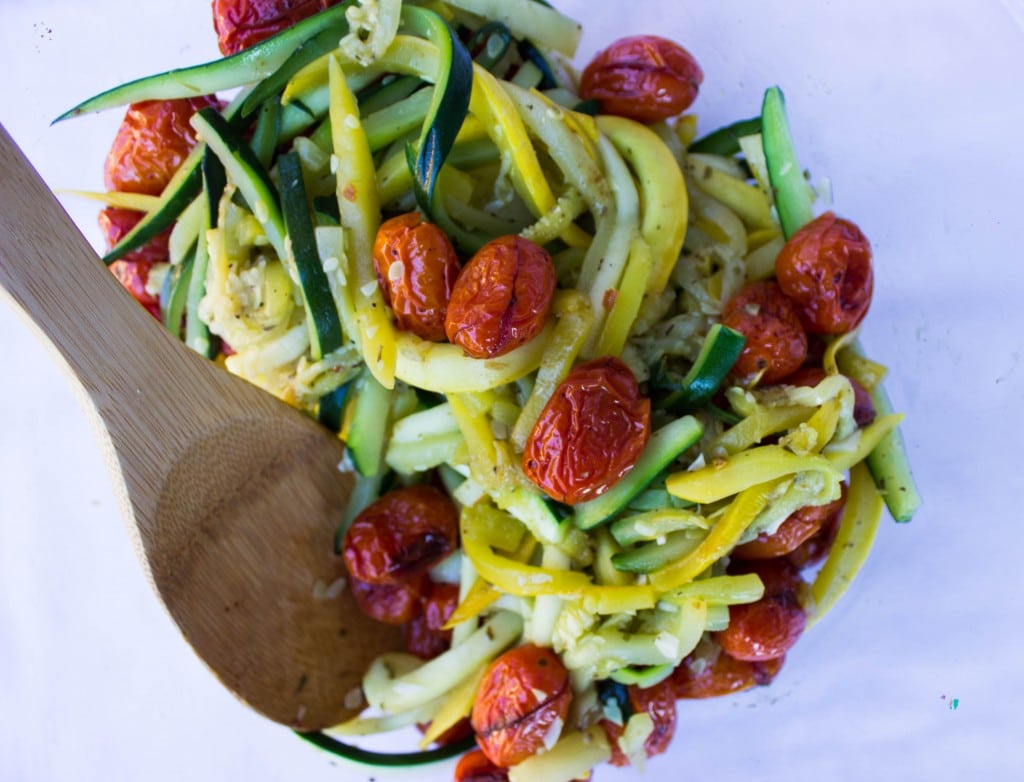 Combine tomatoes and squash mixture and you've got yourself some veggie pasta!
Print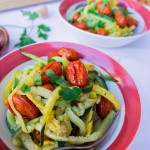 Zucchini Pasta with Balsamic Roasted Tomatoes
---
Prep Time:

15

Cook Time:

30

Total Time:

45 minutes
Ingredients
1

large zucchini

1

large yellow squash

3 cup

s cherry tomaotes

1 tablespoon

balsamic vinegar

1/2 teaspoon

garlic, minced

1

pinch red pepper flakes
Olive oil
Salt
Pepper
Parsley for garnish, if desired
---
Instructions
Preheat the oven to 325 degrees F.
Place tomatoes on a sheet pan and drizzle with olive oil (about 1 tsp), balsamic vinegar, salt (1/4 tsp), and pepper (1/8 tsp). Toss to coat and place in the oven.
Bake tomatoes for about 20 minutes, or until they are tender and splitting open.
While the tomatoes are in the oven prepare the "spaghetti".
Using a mandolin, slice the zucchini and squash (lengthwise) about 1/8 inch thick. If you do not have a mandolin use a sharp knife and cut them as close to 1/8 inch as you can.
Once you have all your slices, stack a few of them up at a time and cut them into thin strips with a large, sharp knife.
Heat a large pan over medium heat and add 1 teaspoon of olive oil. Then add zucchini and squash strips. Season with salt (1/4 tsp), pepper (1/8 tsp), garlic, and a pinch of red pepper flakes.
Cook on medium heat for about 15 minutes until zucchini and squash are tender.
In a large bowl, mix together the zucchini and squash mixture with the tomatoes.
Serve and garnish with chopped parsley, if desired.
Enjoy!
Notes
A little bit of water will come out of the zucchini and squash as it cooks, so try to drain some of the water out when you are plating it.
Nutrition
Serving Size:

4

Calories:

78

Sugar:

13

Sodium:

50

Fat:

1

Saturated Fat:

0

Unsaturated Fat:

0

Trans Fat:

0

Carbohydrates:

18

Protein:

2

Cholesterol:

0
Dig in and enjoy!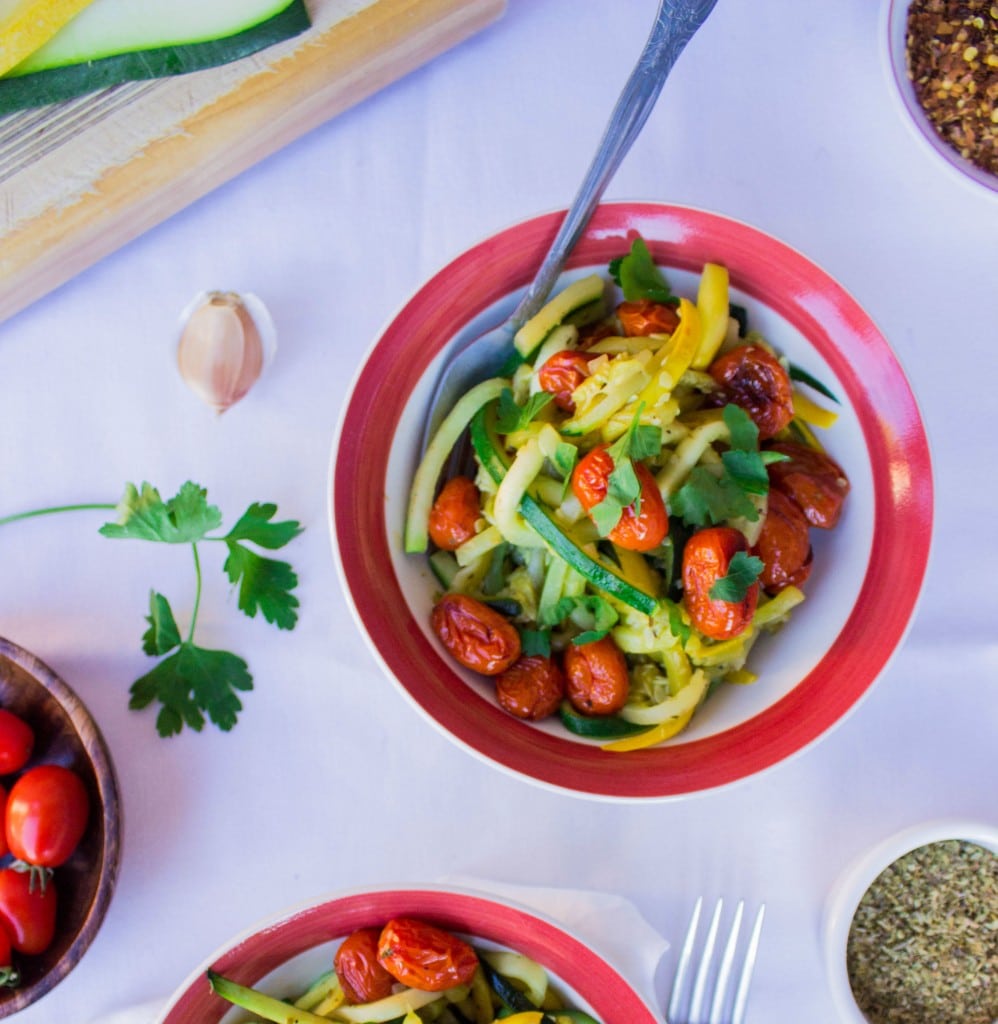 You can even twirl it around your fork like you would do with regular pasta!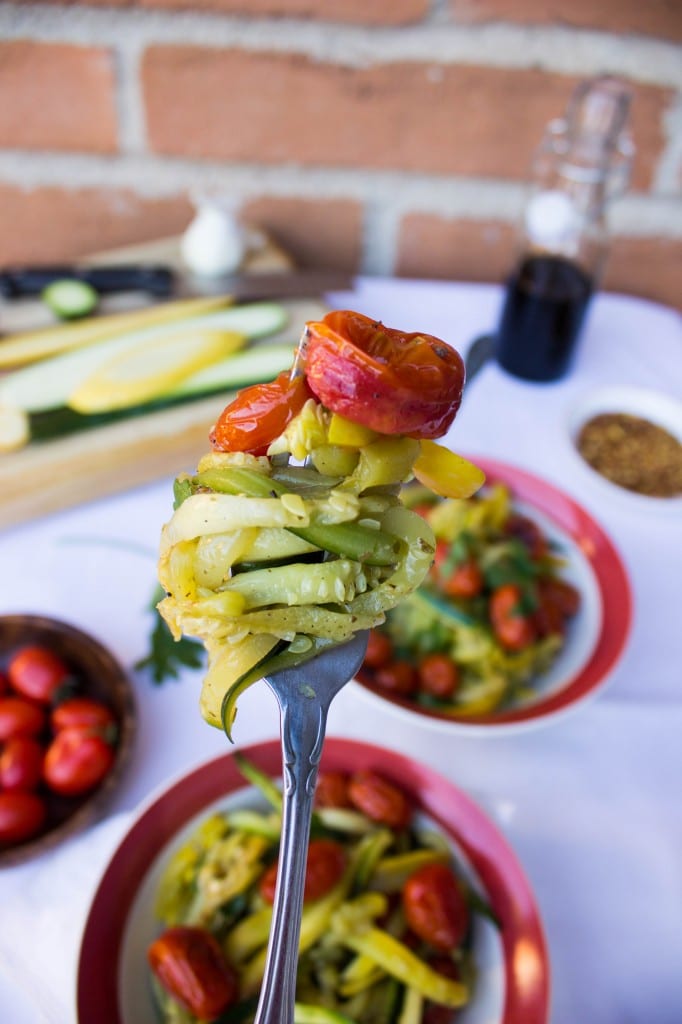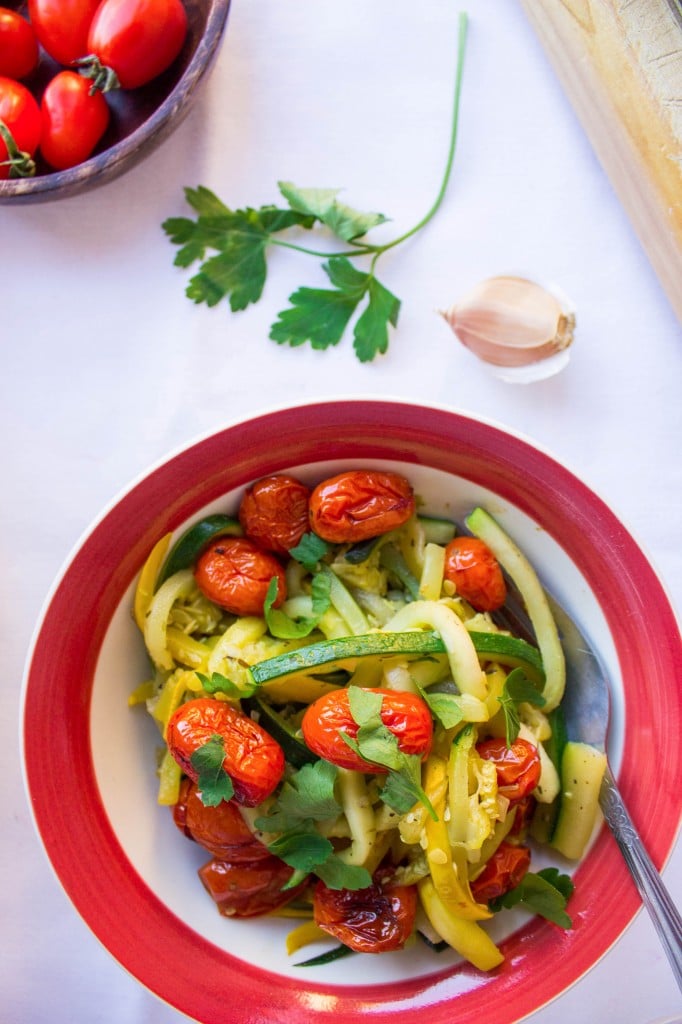 Cheeto is very interested in watching Eric do yard work.