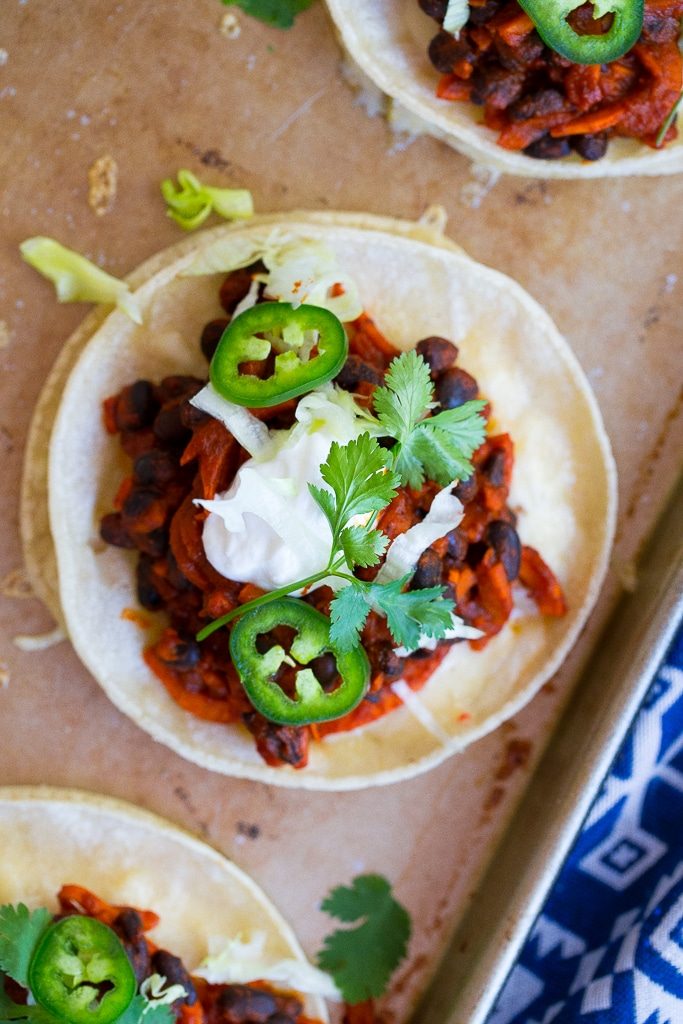 I saw this funny cartoon yesterday that had two women sitting together and one of them said, "Gosh, we really flew through March, I can't believe it's over already" and the other one said, "Umm, it's May". And then some screaming happened, haha! That kinda sums up how I'm feeling right now. But, it also means that it's time for 30-Minute Thursday! Which, I love because not only can I provide you all with a bunch of delicious recipes that only take 30 minutes to make, but it also makes me think a little harder on a recipe to share with you.
Scroll to the bottom of the page for more 30 Minute recipes from some awesome bloggers! I finally got a spiralizer (thanks Dad and Kathy!) and now I'm as obsessed with it as everyone else is.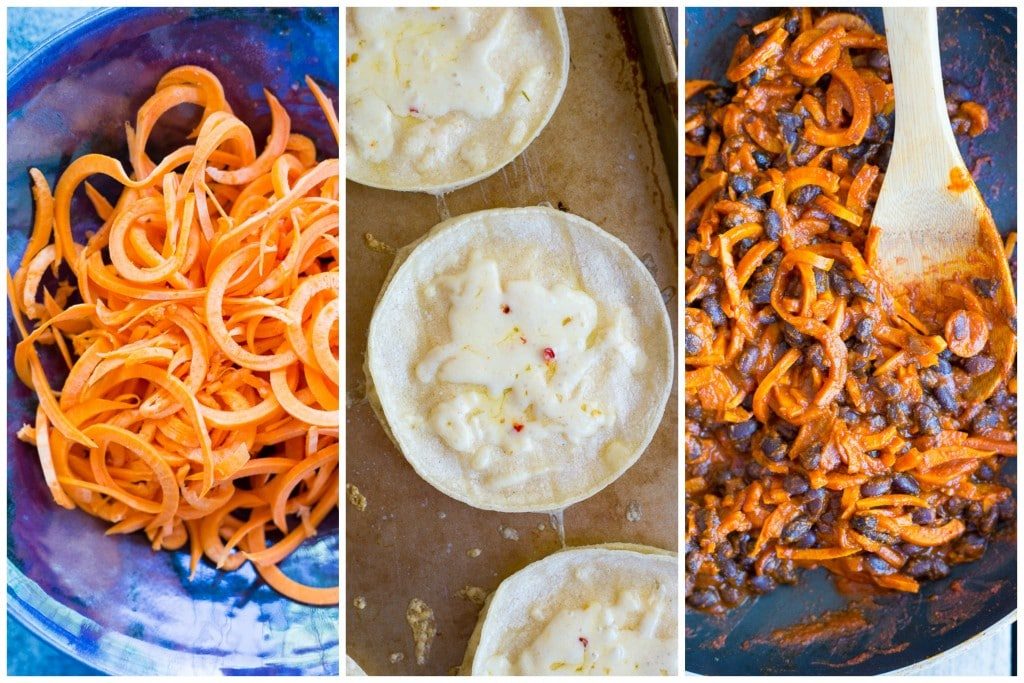 So, you could just chop the sweet potatoes up really thinly, but it's so much more fun to make noodles out of them! They only take about 10 minutes to cook up in the skillet, compared to the 40 minutes I usually spend roasting them, and they look really pretty on these Inside Out Enchiladas.
And, in case you are wondering, yes, I did just make this concept up but I think it should totally be a thing! You get the same great taste of enchiladas in just 30 minutes and, let's face it, they are much prettier to look at than regular enchiladas 🙂 All you do is melt some cheese between two tortillas and then top the tortillas with your favorite enchilada toppings! I plan on using this method much more now and I think you will too once you try it!
Print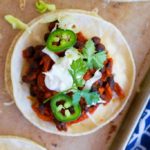 Inside Out Enchiladas with Black Beans & Spiralized Sweet Potato
---
Prep Time:

10 mins

Cook Time:

20 mins

Total Time:

30 minutes

Yield:

6

Category:

Entree, Gluten Free
Ingredients
1 medium sweet potato, peeled and spiralized
3 teaspoons olive oil
1 teaspoon ground cumin
1 teaspoon paprika
1/2 teaspoon granulated garlic
1/2 teaspoon salt
1/4 teaspoon black pepper
1 (15 ounce) can black beans, drained and rinsed
1 (10 ounce) can enchilada sauce
12 corn tortillas
2-3 cups shredded cheese, your favorite kind
---
Instructions
Pre-heat oven to 400 degrees Fahrenheit. Heat a large pan over medium heat and add the olive oil, spiralized sweet potato and all the spices. Stir and let cook for 10 minutes, stirring occasionally, with a lid on.
While the sweet potato is cooking, lay out 6 tortillas on a large sheet pan and cover each with a small handful of shredded cheese. Top with another tortilla and sprinkle a little bit more cheese on top. Place tortillas in the oven and bake until cheese is melted, about 5-7 minutes.
Once sweet potato has softened, add the black beans and enchilada sauce and cook for another 5 minutes. It may seems soupy at first, but the enchilada sauce will be absorbed as it cooks.
To assemble: place an equal amount of sweet potato and black bean mixture on top of each cheesy tortilla and top with any other desired enchilada toppings (plain Greek yogurt, lettuce, cilantro, jalapenos, etc…)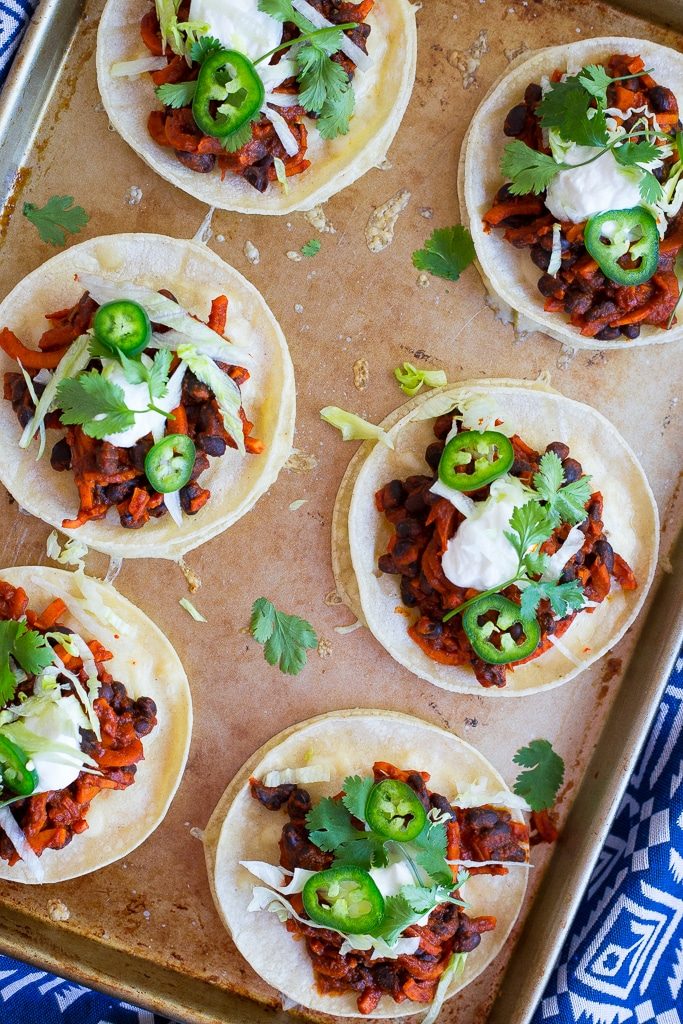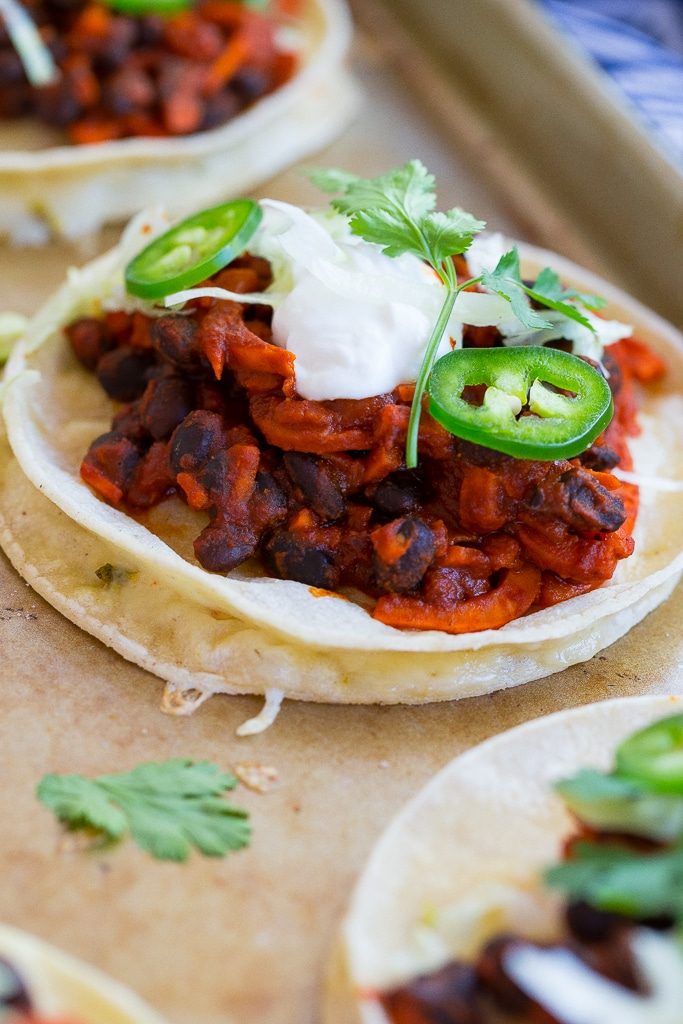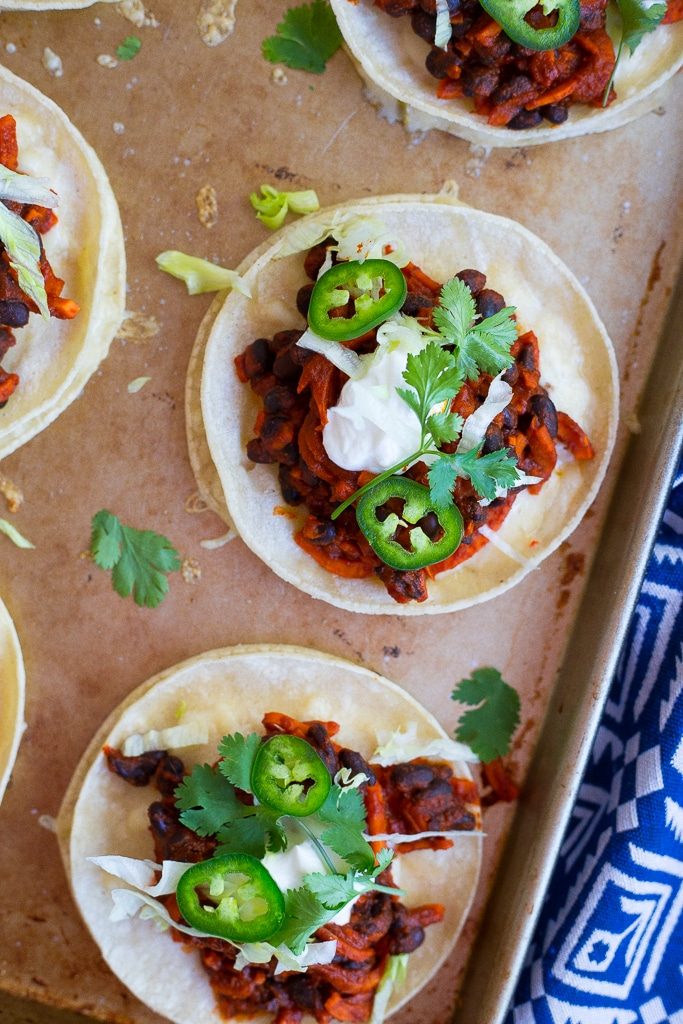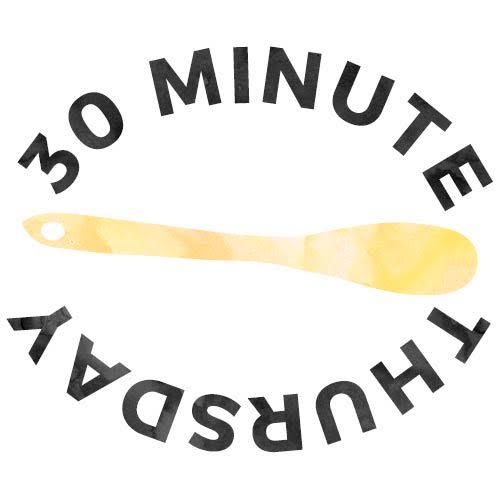 *Not all recipes are vegetarian or gluten free, but most can be adapted to be so!
Southwestern Kale Chickpea Salad with Greek Yogurt Caesar Dressing
Baked Honey Garlic Chicken from Pumpkin N' Spice
Chicken Taco Pizza from My Kitchen Craze
Plantain and Black Bean Tacos with Chimichurri Sauce from Floating Kitchen
20 Minute Ground Beef Tacos from Bake.Eat.Repeat
Fish Tacos with Strawberry Avocado Salsa from Flavor the Moments
Honey Lime Chicken Quesadillas from The Recipe Rebel
Tropical Grilled Chicken Mexican Salad Bowls from Whole and Heavenly Oven
Mexican Quinoa and Sweet Potato Skillet from Kristine's Kitchen
Balsamic Grilled Chicken with Strawberry Mint Salsa from With Salt and Wit
Mango Shrimp Tostadas from Flying on Jess Fuel