These apple crisps are packed with fruit and are great for an easy and delicious dessert that you can go back for!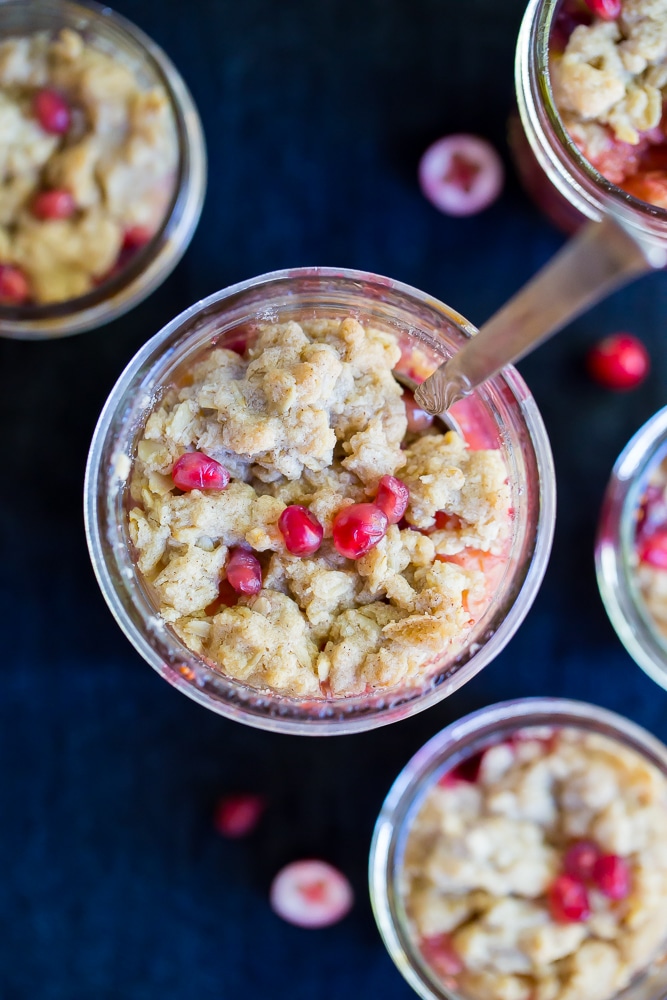 I'm really excited about this post today, although it is very overdue! My friend, Alanna, wrote a cookbook and I get to share one of the recipes with you! If you're not familiar with her, she runs the blog, The Bojon Gourmet, and has the most amazing photography I've ever seen! I first discovered her site soon after I started blogging. I remember clicking to her site from Foodgawker to look at a recipe and then spending about an hour just staring at all her beautiful photographs. She also has an orange cat she likes to take pictures of so I automatically knew she was a good person 🙂
Alanna's book is called, Alternative Baker: Reinventing dessert with gluten-free grains and flours. I'm so impressed with this cookbook because I can barely get some gluten free baked goods to come out using pre-mixed gluten free flour, let alone coming up with tons of different flour combinations myself and making as many delicious desserts as she does with them.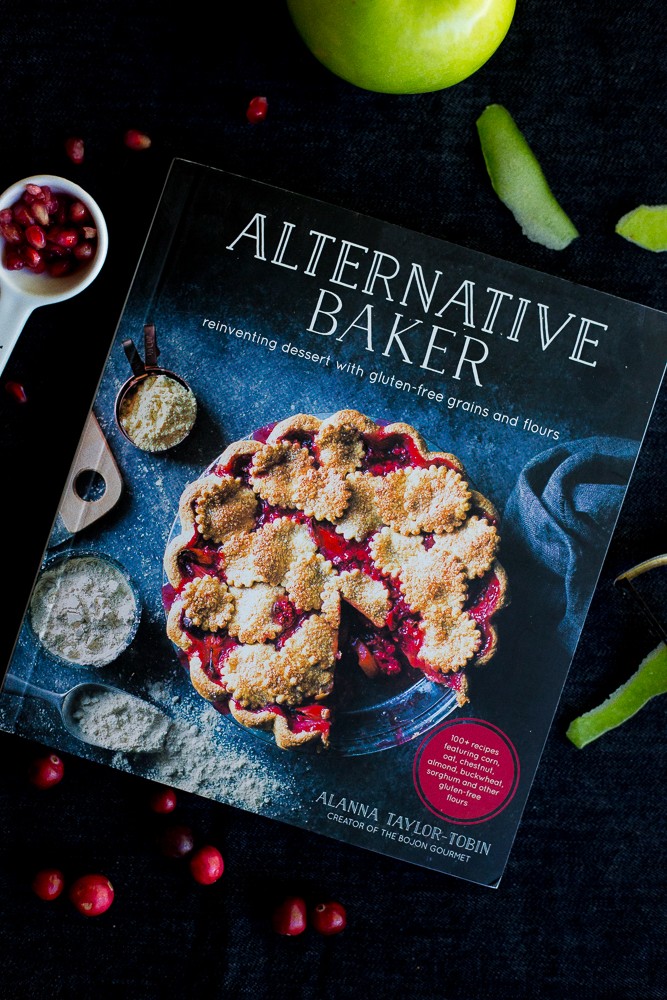 Today I'm sharing Alanna's Apple Cranberry Pomegranate Crisps with Brown Sugar Teff Streusel. I feel like they are perfect for this time of year because even if you are trying to eat a little healthier in the new year, these are packed with tons of fruit so you can feel good about eating them.
I love a good apple crisp and these ones are made extra good by adding in some tart cranberries and pomegranate. The teff flour is slightly earthy tasting and gives the crisp a really nice flavor. I also love that Alanna baked these in mason jars because I'm a slight mason jar addict! If you don't have mason jars, or want to cook a large crisp, you are certainly welcome to bake it in a big pan instead.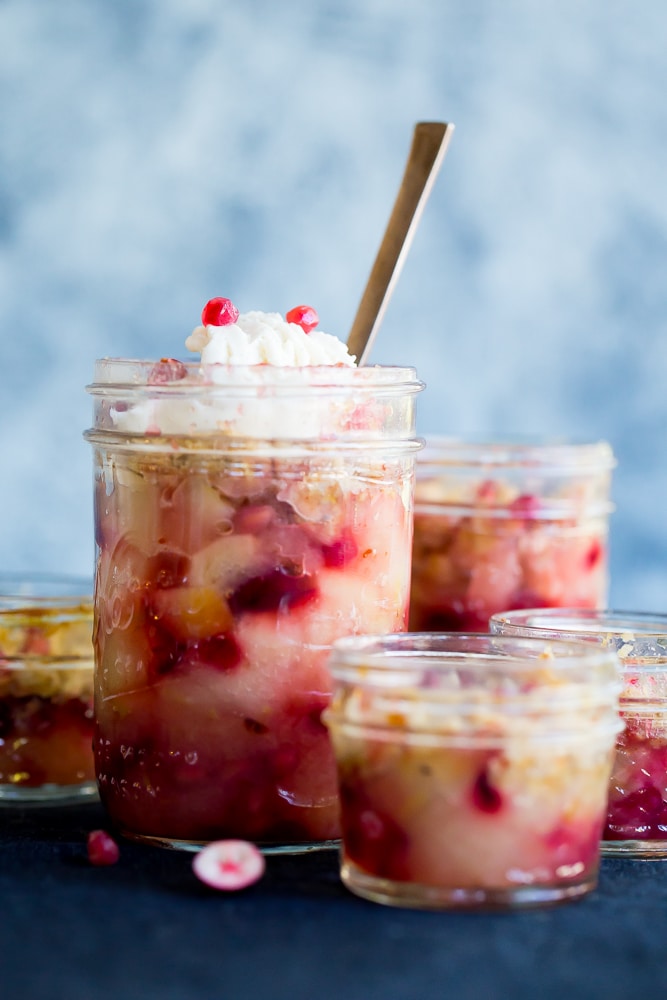 Alternative Baker is the perfect cookbook if you're interested in exploring new types of gluten free flours or if you just want to eat some delicious desserts that happen to use alternative flours. Alanna is a recovering pasty chef (as she puts it 🙂 ) and this book is filled with all kinds of cakes, pies, tarts, puddings, cookies and more!
Some of my favorite recipes from the book are: Sweet Potato Bourbon Cheesecake Bites with Mesquite-Pecan Crust, Rosy Rhubarb Roulade Cake, Cashew Lime Blondies and Buckwheat Bergamot Double Chocolate Cookies. Just to name a few!
Print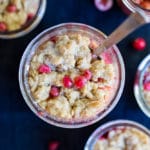 Apple Cranberry Pomegranate Crisps with Brown Sugar Teff Streusel from Alternative Baker
---
Filling:
1

lb tart baking apples, such as Granny Smith (about

3

large)

1/2 cup

coarsely chopped fresh or frozen cranberries

1/2 cup

fresh or frozen pomegranate arils

2 tbsp

granulated cane sugar

1 tbsp

fresh lemon juice

1 tsp

corn starch
Streusel:
1/4 cup

teff flour

2 tbsp

sweet white rice flour

1 tbsp

tapioca flour

1/2 cup

GF old-fashioned rolled oats

1/4 cup

packed brown sugar

1/2 teaspoon

fine sea salt

1/4

ts ground cinnamon

4 tbsp

cold, unsalted butter, cut into small pieces
---
Instructions
Position a rack in the center of the oven and preheat to 350 degrees Fahrenheit.
To make the filling, peel the apples, cut the flesh off the core and cut into 1/2-inch chunks. You should have about 3 cups.
In a large bowl, toss together the apple chunks, chopped cranberries, pomegranate arils, sugar, lemon juice and cornstarch until evenly combined. Pack the mixture into 6-8 small 4-ounce heatproof jars (such as canning jars), filling the jars to the top. Use your hands to really pack the fruit down; it will reduce as it cooks.
Place the jars on a rimmed baking sheet and cover loosely with a piece of foil. Bake until the fruit is bubbling vigorously, 25-35 minutes. Remove from the oven and uncover.
To make the streusel, in a medium-sized bowl, stir together the teff, sweet rice and tapioca flours with the oats, brown sugar, salt and cinnamon. Add the butter pieces and rub them into the flour mixture with your fingertips until the butter is blended in and the mixture forms large clumps.
Wen the fruit has cooked, divide the streusel evenly among the ramekins, pinching some of it into chunks the size of hazelnuts and leaving the rest loose-don't pack it down. Bake the crisps until the streusel is golden, 18-22 more minutes.
Let the crisps cool slightly, then serve warm topped with scoops of vanilla ice cream, if desired. They are best shortly after baking when the streusel is crisp, but will keep at room temperature for up to a day, or chilled for up to 3 days. Reheat in a 350 degree oven before serving.
Category:

Dessert, Gluten Free, Vegan