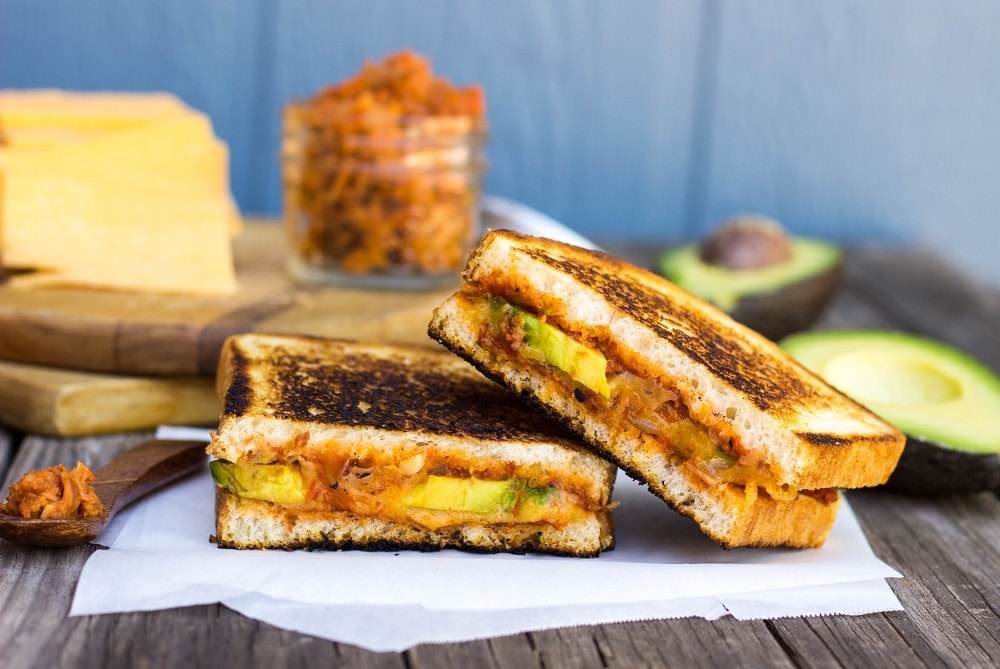 Did you know that it is National Grilled Cheese month?! This might just be more exciting than my birthday month! Grilled cheese has been a staple in my diet since I had teeth big enough to take a bite. With the help of french fries and chocolate milk it got me through my picky childhood days and it really came through for me in my college days when I was less than enthusiastic about the cafeteria food, i.e veggie moussaka and fried calamari.
So, to celebrate grilled cheese in its month of glory, I knew that I had to make one amazing grilled cheese sandwich. I first heard about tomato bacon jam a year ago on a food network show. It was being used on a pizza in place of pizza sauce and I immediately fell in love with it. I googled a recipe for it a few times, but never got around to making it. Then, a few weeks ago I heard that April was National Grilled Cheese month and I honestly couldn't think of a better way to celebrate than with a tomato bacon jam grilled cheese. I mean, can you think of a better way to celebrate?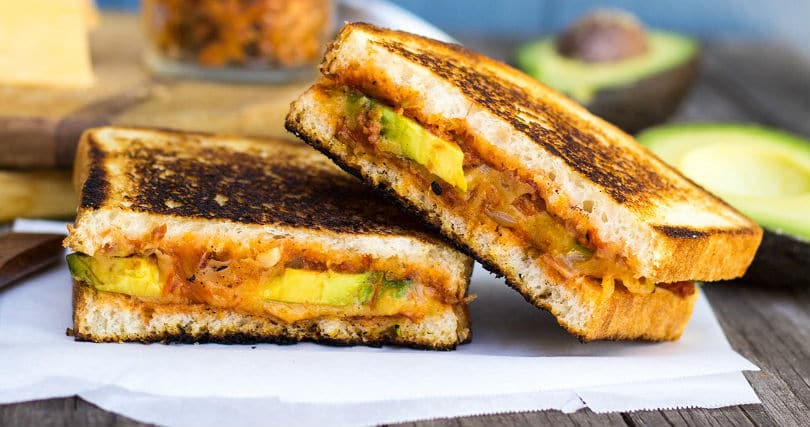 I've been having a love affair with roasted tomatoes ever since I made my zucchini pasta with roasted tomatoes, so I decided to roast my tomatoes for the jam. If you prefer, you can skip this step and just cook them on the stove with all the other delicious ingredients.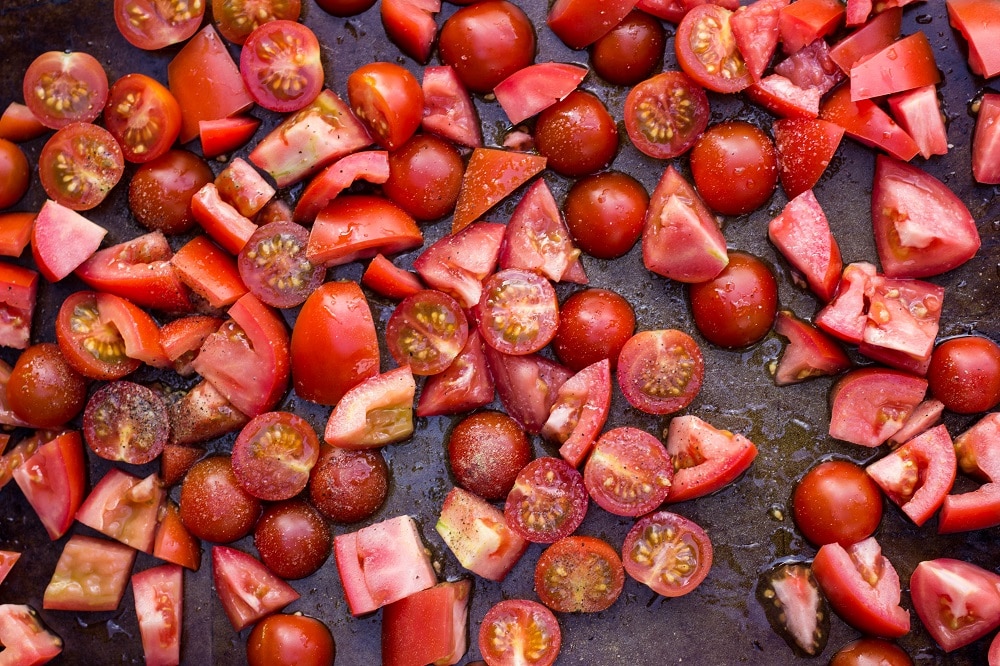 Obviously, you gotta have bacon for this wonderous bacon and tomato jam. I crisped mine up to perfection in a few batches on the stove. And I most certainly did not sneak a piece, or two, or three before I got the chance to add the bacon to the jam… And Cheeto didn't get to taste test the bacon either…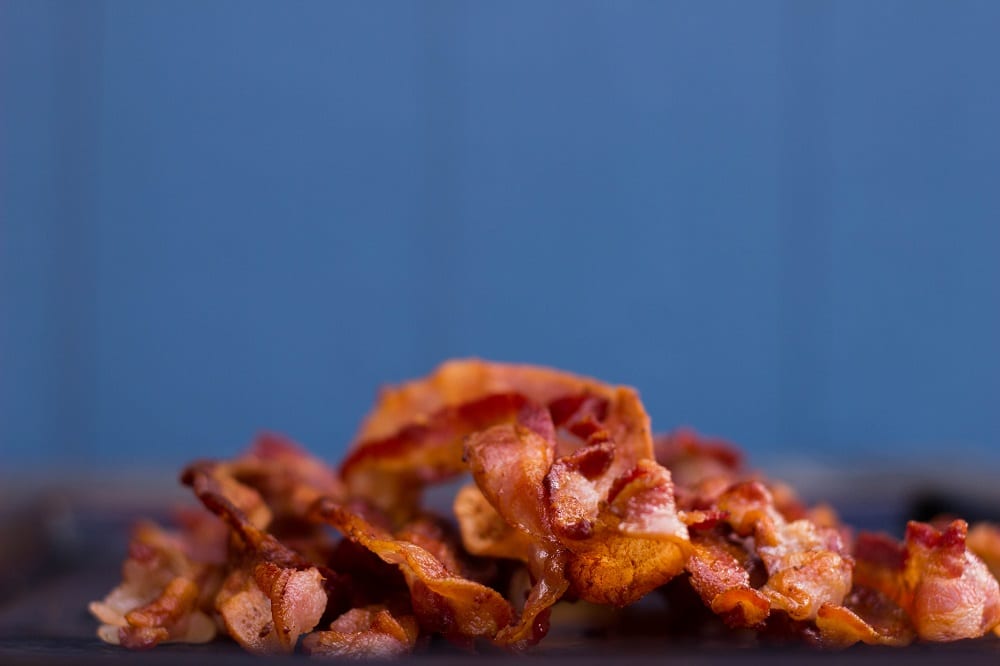 Then I put the tomatoes, bacon, and a bunch of other tasty ingredients into a pot and cooked it.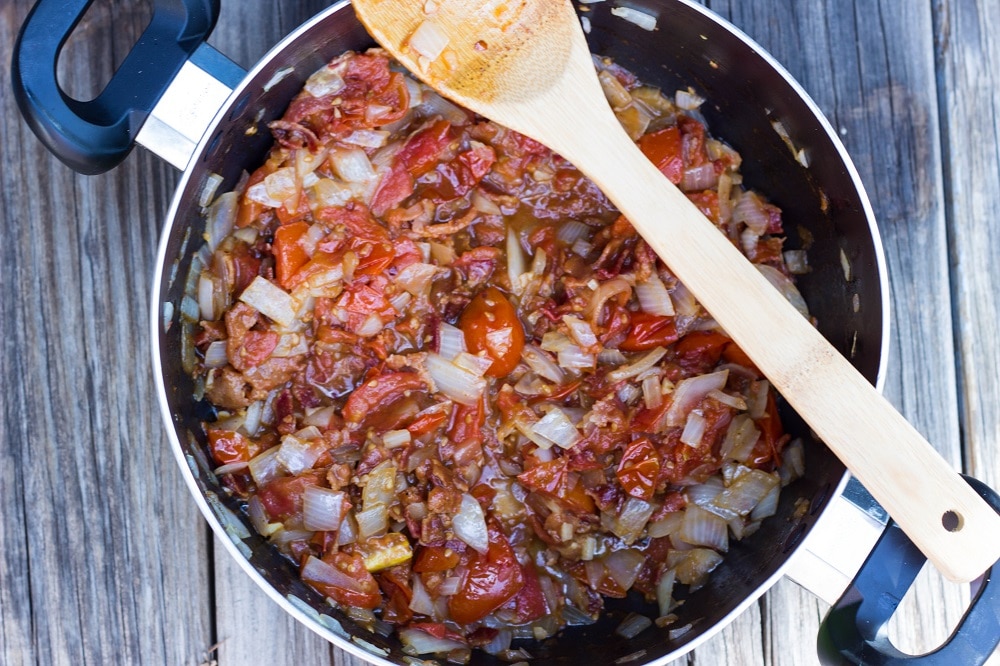 It may not look the most appetizing, but I promise it tastes good! You really can't go wrong with bacon and tomatoes… I buzzed mine a little bit with my immersion blender, but it is totally optional. If you don't blend it a little bit, it will have a chunkier texture, but still delicious.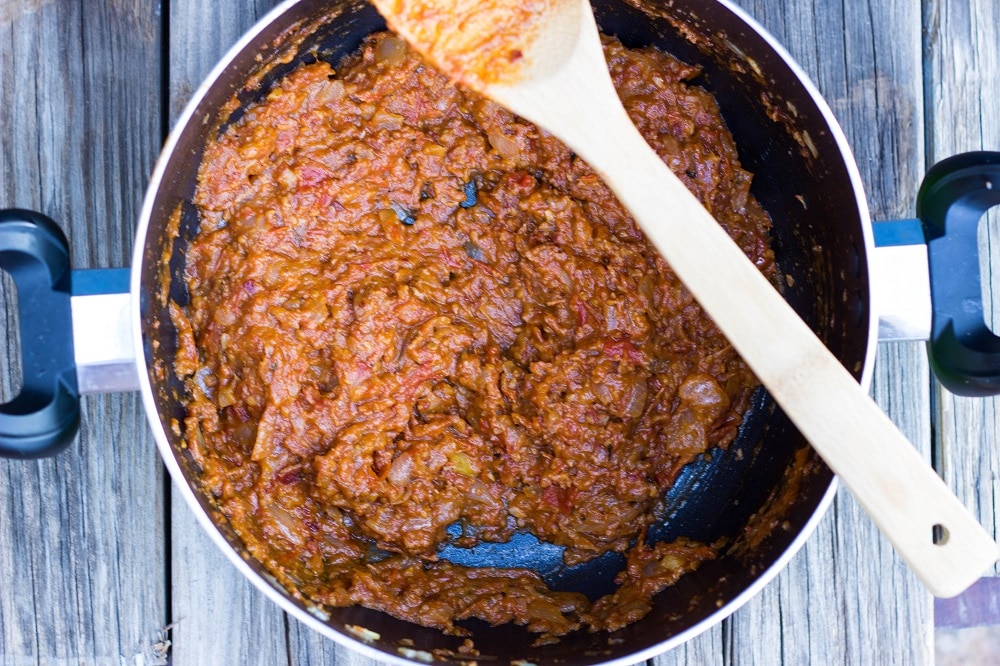 Here it is, the heavenly bacon tomato jam in all its glory! It has all the flavors you would ever want in one bite. The jam is a little sweet from the brown sugar and tomatoes, a little acidic from the balsamic vinegar, and a lot of bacony from all the delicious bacon we added to it! Make sure that you give it a taste with a spoon to make sure that it tastes amazing! And, yes, that was me just giving you permission to eat it with a spoon!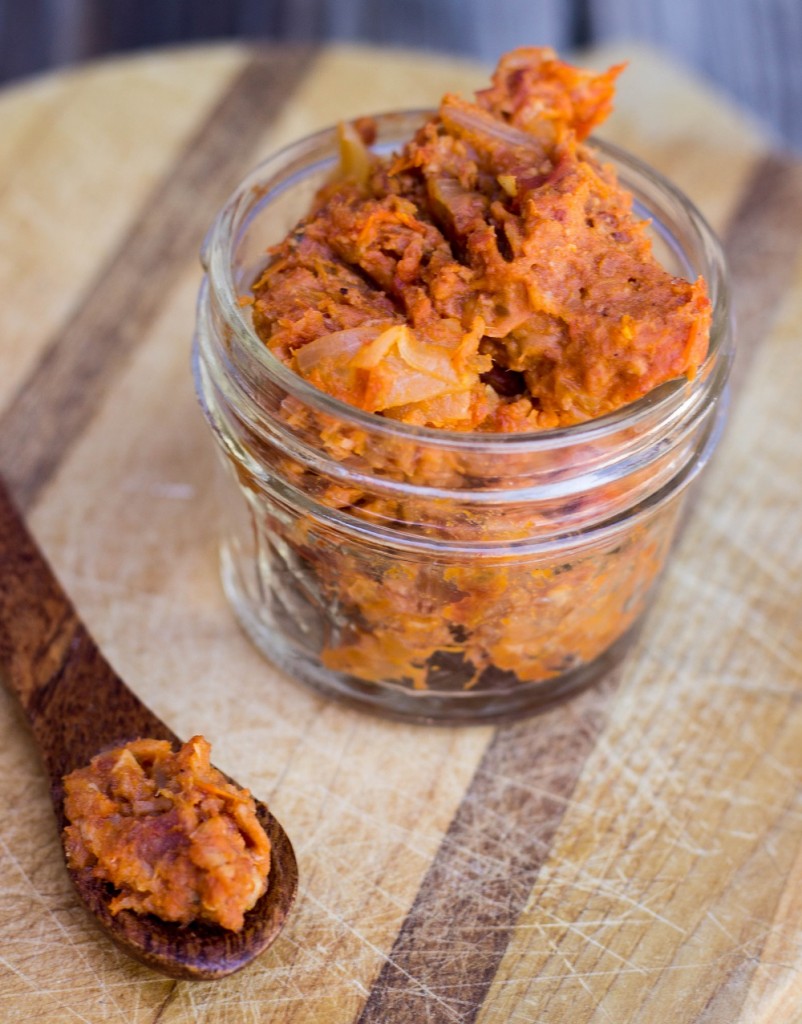 Then, just for the heck of it, I'm going to add some melted sharp cheddar cheese and some creamy avocado! Assemble the grilled cheese by spreading about 2 tablespoons of the jam on each side of the bread and then topping it with cheese and avocado slices. Butter each side of the bread and place it in a warm skillet. Brown each side, make sure the cheese is melted, and you have yourself one of the best grilled cheese sandwiches you will ever eat!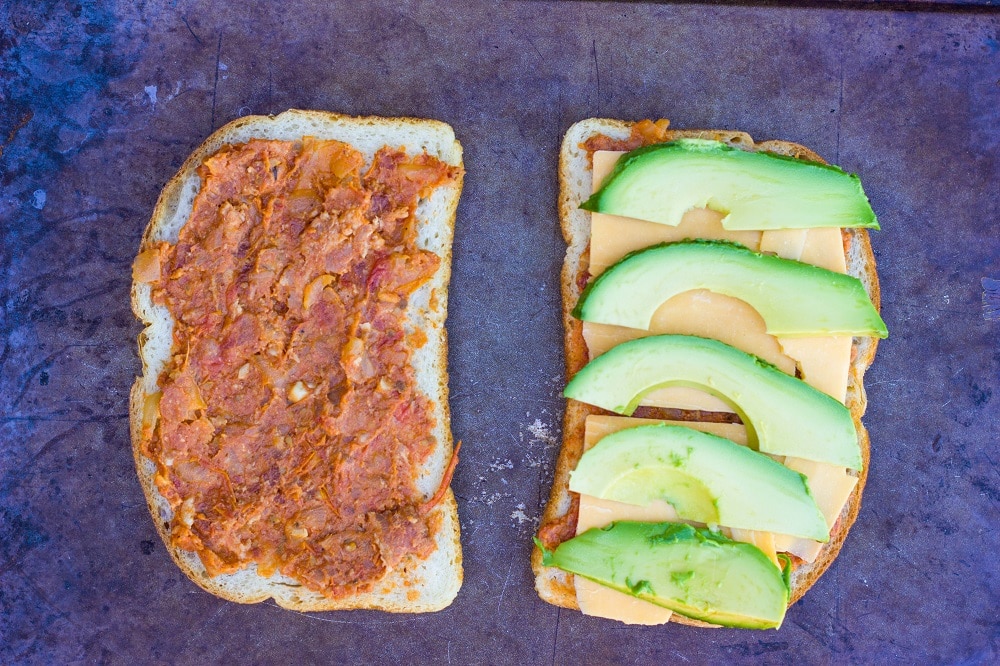 Print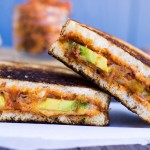 Bacon & Tomato Jam Grilled Cheese with Avocado
---
Prep Time:

45

Cook Time:

10

Total Time:

55 minutes
Ingredients
Bacon & Tomato Jam
1

pound bacon

1.5

pounds tomatoes, I used a mix of cherry tomatoes and roma tomatoes

1

yellow onion, small diced

2

garlic cloves, minced

1 tablespoon

balsamic vinegar

2 tablespoon

s brown sugar

1 teaspoon

dijon mustard

1/2 teaspoon

thyme leaves, dried

1/2 teaspoon

paprika
pinch of red pepper flakes

2 teaspoon

s of reserved bacon grease
salt
pepper
olive oil
Sandwiches
Sourdough bread, or bread of your choice
Sharp cheddar cheese
Avocado
Butter
---
Instructions
Bacon & Tomato Jam
Preheat the oven to 375 degrees F.
Dice the tomatoes into bite size pieces and place on a baking sheet. Drizzle with 1 teaspoon of olive oil and 1/4 teaspoon salt, 1/8 teaspoon pepper. Mix to coat tomatoes.
Place tomatoes in the oven for approximately 20 – 25 minutes, until tomatoes are soft and beginning to caramelize.
Cook the bacon in a pan, until it is crispy. You may need to cook it in a few batches. Reserve 2 teaspoons of bacon grease.
In a large pot, on medium heat, add the two teaspoons of bacon grease, the onion, 1/4 teaspoon salt, and 1/8 teaspoon pepper, and the garlic. Cook for a few minutes until onion is translucent.
Then add the tomatoes, balsamic vinegar, brown sugar, dijon mustard, thyme, paprika, red pepper flakes and stir.
Crumble the bacon into small pieces and add it to the pot.
Cook the tomato bacon mixture for about 20 minutes, stirring occasionally.
If desired, using a food processor, blender, or immersion blender, blend the bacon tomato jam until it reaches your desired consistency.
Make the Grilled Cheese Sandwiches
Heat a large pan over medium heat.
Butter two slices of bread.
Place each slice, butter side down, on a plate or cutting board and spread with about 2 tablespoons each of bacon jam.
Top one side with cheese and avocado slices and then place the other side on top.
Place into the heated pan, butter side down, and cook until each side is brown and toasted and cheese is melted, flipping grilled cheese half way through.
Enjoy!
Notes
Makes about 4 – 6 sandwiches, depending on how big your bread slices are. I would recommend getting a large chunk of cheese and two avocados.
Nutrition
Calories:

3021

Sugar:

99

Sodium:

6008

Fat:

130

Saturated Fat:

43

Unsaturated Fat:

75

Trans Fat:

0

Carbohydrates:

352

Protein:

131

Cholesterol:

235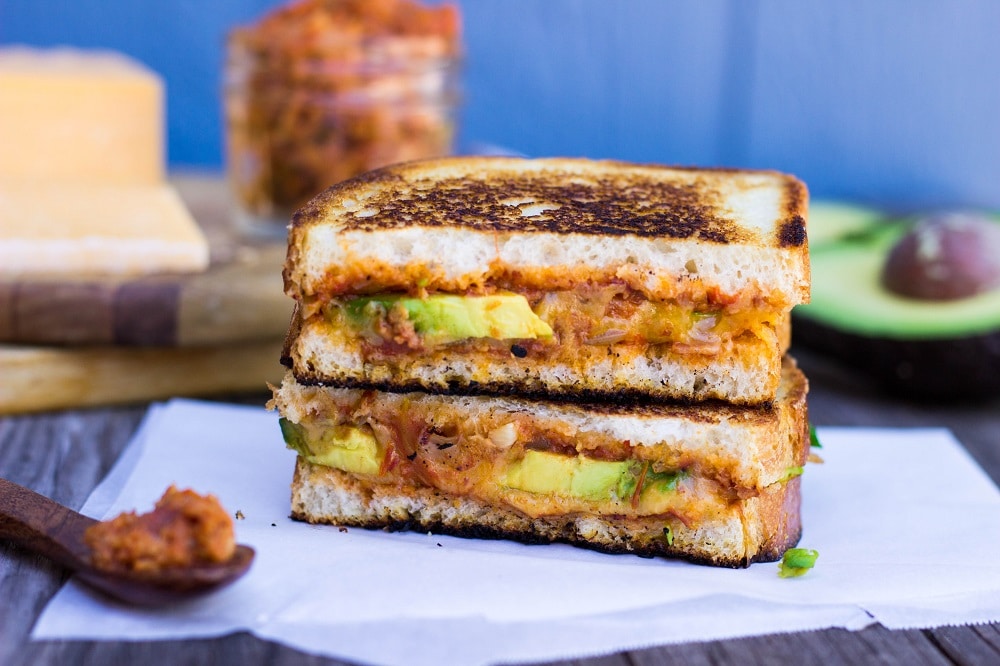 Cheeto is very serious about this bacon & tomato jam!