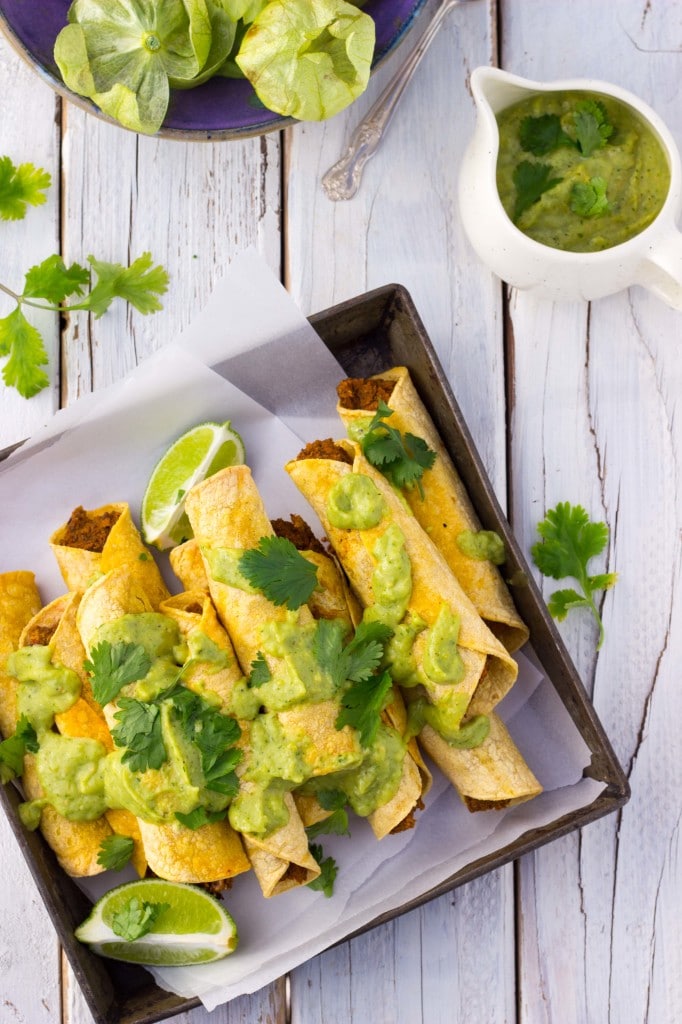 Taquitos and I go way back.  When I was in high school, I used to go over to a friend's house everyday after school and we would eat taquitos as our afternoon snack.  They were microwaved and probably had some type of fake cheese inside of them, but I loved them.  I loved them so much that a few years ago I went hunting for the cheese ones in the frozen section and was so excited when I found them.  I got them home, heated them up, and they didn't taste at all how I remembered them tasting.  Although, there might have been something else clouding up my memory (and making things taste better than they actually tasted) back then, if you know what I mean!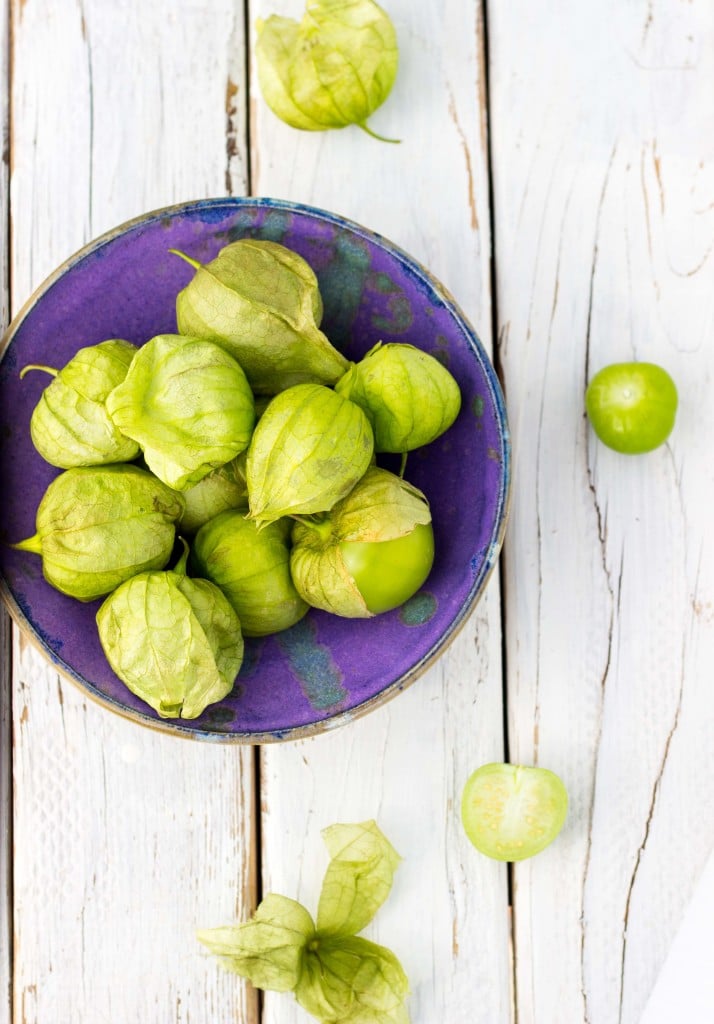 If you know me, you know that I love sweet potatoes and black beans and Mexican food, so this dish probably isn't a surprise to you at all.  I just googled the word "taquito" to make sure I knew the correct definition and although it says they are usually stuffed with cheese, chicken, or beef, I decided to take a walk on the wild side and not use any of those ingredients in mine.  Instead, these are stuffed with a roasted sweet potato and black bean mixture and dipped into a roasted tomatillo and avocado dip.  If you ask me, these are pretty much the best flavors ever and you won't miss any of those traditional taquito fillings!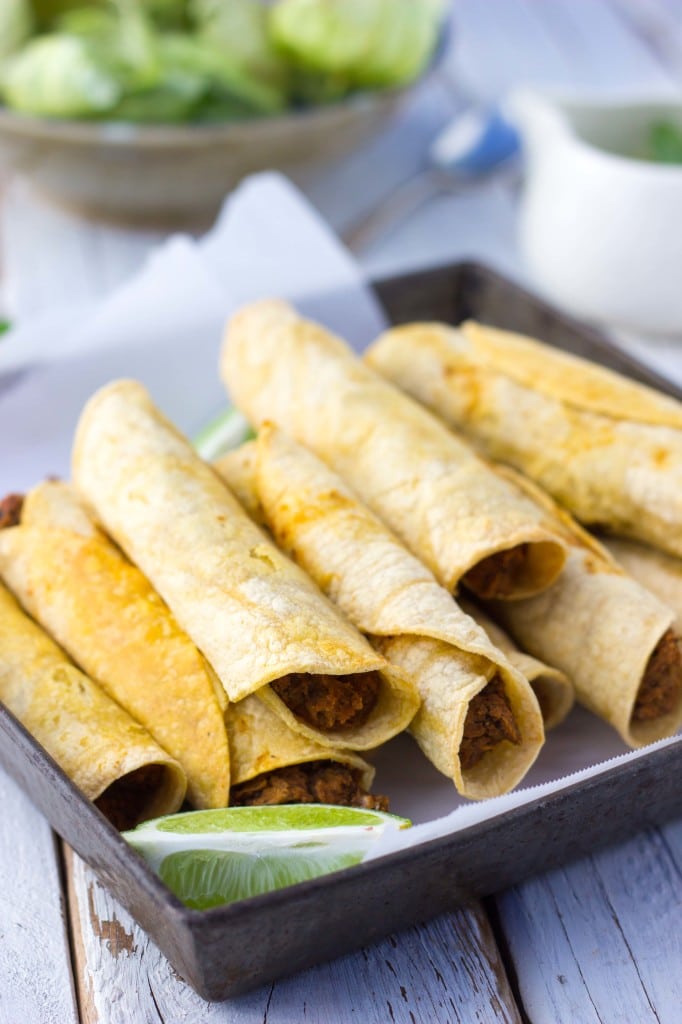 I've also baked these taquitos rather than frying them, so you can eat the entire pan and not feel bad about it!  At least that is what I did…  These will also go well on your Superbowl menu!  Or as an appetizer, dinner, midnight snack, etc…  You get the point!
Print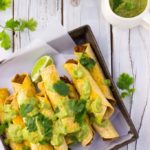 Baked Taquitos with Black Beans & Sweet Potato
---
1

large sweet potato, peeled and cut into 1/2 inch cubes (about

5 cups

diced)

1 teaspoon

olive oil
Heaping

1/4 teaspoon

salt

1/8 teaspoon

pepper

3 cups

black beans

4 tablespoons

water

1 teaspoon

cumin

1 teaspoon

paprika

1/2 teaspoon

garlic powder

1/2 teaspoon

salt

1/8 teaspoon

pepper

1/4 teaspoon

smoked paprika

12

–

14

corn tortillas
Olive oil for brushing
Roasted Tomatillo & Avocado Dip
10

–

12

tomatillos, husk removed and washed

2

cloves garlic, peeled

1

jalapeno, cut in half

1

shallot, peeled and cut in half

1

avocado, cut in half, seed removed and scooped out of skin
Juice from

1/2

a lime

1

handful cilantro leaves

3/4 teaspoons

salt
---
Instructions
Pre-heat oven to 400 degrees Fahrenheit. Place diced sweet potatoes on a large baking sheet and add olive oil, salt, and pepper. Toss to coat and roast for about 20 minutes, flipping once.
In a food processor add, roasted sweet potatoes, black beans, water, cumin, paprika, garlic powder, salt, pepper, and smoked paprika. Blend until everything is combined.
Make the dip: turn the oven the broil. On a large baking sheet, place whole tomatillos, garlic cloves, jalapeno, and shallot. Broil for about 7-10 minutes and let cool. Once cooled, Add broiled ingredients as well as the remainder of the dip ingredients to a blender and blend until smooth. Set aside.
Reduce oven temperature to 350 degrees Fahrenheit. Warm corn tortillas in a pan over medium heat until they soften (this will prevent corn torillias from breaking when you roll them) Place about 1/4 cup of black bean and sweet potato mixture into each tortilla and roll up.
Brush a large baking sheet with olive oil and place taquitos on. Brush the top of each taquito with a small amount of olive oil. Bake taquitos until crispy and beginning to brown, 15-20 minutes, flipping once. Dip taquitos into dip and enjoy!
Category:

Entree, Appetizer, Gluten Free, Vegan