I love blueberries, in fact, they might be my favorite fruit.  Unfortunately, they can be kind of expensive sometimes.  When I was a kid my mom would take us to the blueberry farm every summer and we would pick bags and bags of blueberries.  I don't remember what kind of desserts we made with all of our blueberries, but I'm guessing that a lot of them got eaten before we made it home.  I have some really great memories of picking blueberries all day and then going for a nice, refreshing swim in the creek afterwards.  Unfortunately, for this crisp, I had to settle for store bought blueberries, which still taste great, they are just not quite as fun to pick out.
I have to be honest, I've eaten a lot of different kinds of crisps and I usually find myself eating the buttery, sugary, crispy topping off and leaving the fruit behind.  I really enjoy fruits like apples and peaches, but for some reason I am not a huge fan of them after they are baked.   I know that might sound crazy and I am probably the only person in the universe that doesn't like apple pie, but I'm going to admit it, I am not a huge fan of apple pie.  There, I said it.  I can be OK with it if the crust is extra buttery and the ratio of ice cream to apples is 5 to 1, but there is just something about most cooked fruit that does not suit my fancy.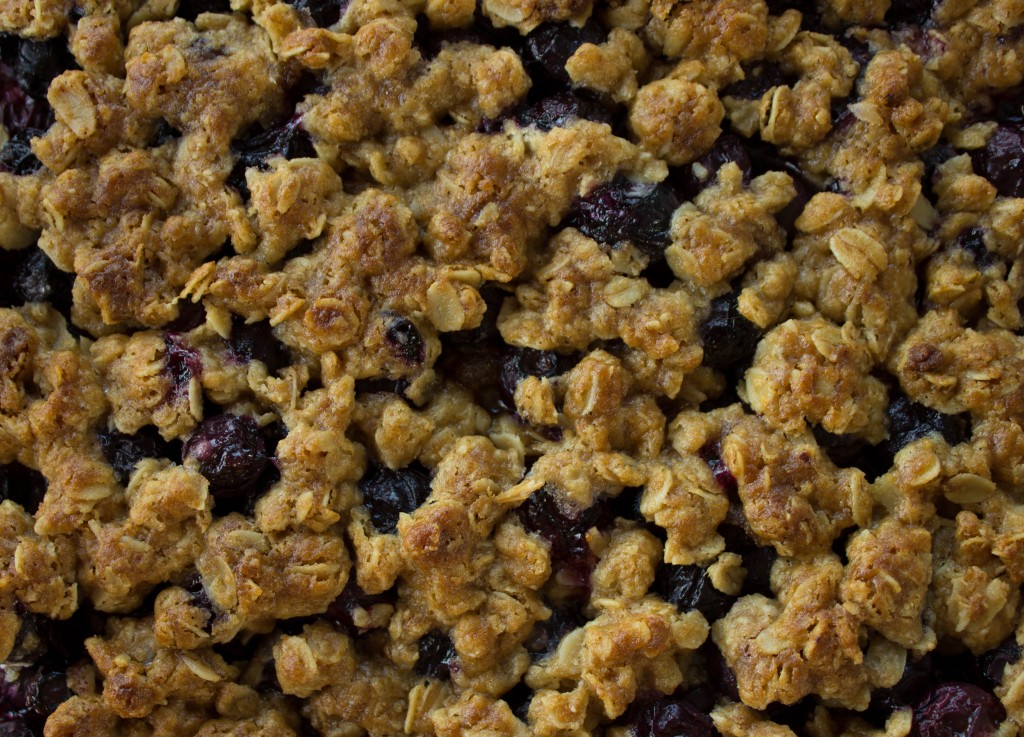 Blueberries, on the other hand, are sweet and delicious and taste amazing fresh, cooked, blended, and are even great frozen for a cool treat in the summertime.  I've been wanting to make something with blueberries for a while now, but didn't think I would be able to find them anywhere this time of year.  Fortunately for me, Arizona doesn't celebrate winter and the grocery store just happened to have a sale on blueberries this weekend.  I've also been looking for an excuse to make something with butter and sugar (not that I really  need an excuse for that) so a blueberry crisp seemed like the perfect idea!
I used an 8×8 baking dish to make mine, because with just my husband and I figured if I made a larger pan one of two things would happen, either we wouldn't be able to eat all of it and the precious blueberries would end up in the trash or we would eat the entire pan in one day and my pants would fit a little bit tighter the next day.  I knew that I could never let me precious blueberries end up in the trash, so that option was out, and I'm still trying to hang on to my New Year's resolutions (although, they are kind of hanging by a thread at this point) so I decided to sidestep both of those options by making a smaller batch.  If you would like to make a large batch in a 9×13 pan, I would suggest just doubling the recipe.
As much as I love blueberries, the buttery, crunchy topping is so delicious I thought about making an extra serving of it just to eat by itself.  After a lot of though, I decided against that idea, however, once it was all mixed up I did take about 3 taste tests just to make absolutely sure it was perfect.
Add the blueberries and all of the filling ingredients to a medium sized bowl and mix until blueberries are coated evenly.
Add all of the topping ingredients to a small bowl and use your fingers to mix them into a homogeneous mixture.
Pour the blueberry mixture into your pan, then evenly top with crisp mixture.  Place into a 350 degree oven until topping is crispy and blueberries are bubbly.
What You'll Need:
Filling:
4 Cups blueberries, fresh

1/4 Cup white sugar

1 Tablespoon brown sugar

1/4 Teaspoon cinnamon

1/4 Teaspoon vanilla extract

1 Tablespoon lemon juice

1 Tablespoon cornstarch
   Topping:
3/4 Cups old fashioned rolled oats, if making gluten free make sure oats are gluten free
1/3 Cup flour, or gluten free flour
1/2 Cup brown sugar
4 Tablespoons butter, softened, if making dairy free use non-dairy butter substitute such as Earth Balance
1 Pinch of cinnamon
1 Pinch of salt
Vanilla ice cream or whip cream, if desired.
What To Do:
Preheat the oven to 375 degrees F.

In a medium sized bowl, mix together all filling ingredients: blueberries, white sugar, brown sugar, cinnamon, vanilla extract, lemon juice, and cornstartch.  Make sure that each ingredient is evenly spread throughout.


Pour blueberry filling into an 8×8 baking dish.

In a small bowl, mix together all topping ingredients: oats, flour, brown sugar, butter, cinnamon, and salt.  You may need to use your hands to make sure it forms one homogeneous mixture, where everything is sticking together.

Spread topping out evenly over blueberries.

Place pan into the 375 degree oven for 30 – 40 minutes, until topping is crispy and filling is hot and bubbly.

Eat hot out of the oven or cold.  Top with ice cream or whip cream if desired.

Enjoy!

There really isn't much better than warm blueberries, crispy, buttery, crunchy topping, and vanilla ice cream!
Cheeto is really good at gravitating towards colors that he knows compliment his bright orange color, I, on the other hand, am not so great at taking pictures of Cheeto while he is gravitating towards things.