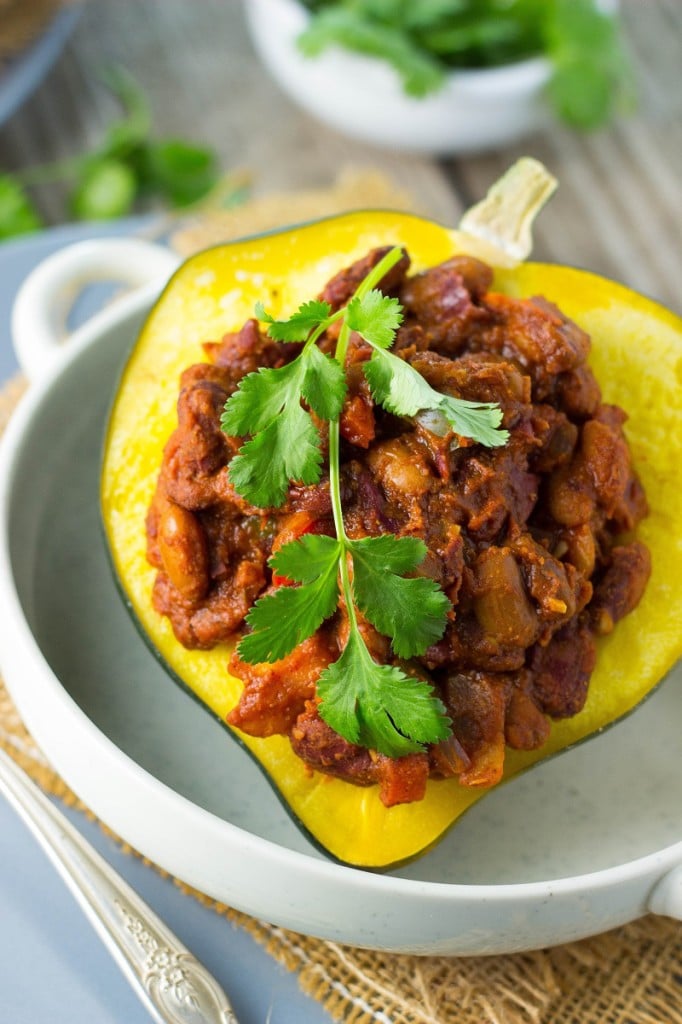 There is just something so enjoyable about one dish meals to me, especially one dish meals that you can actually eat the dish that it is served in! We eat a lot of chili in this house. I know it is more of a warming winter dish, but what I love most about chili is that you can make it all times of the year and adapt the ingredients to whichever season it is.
I've seen a lot of chili recipes that use butternut squash or other winter vegetables, but I decided to mix it up a little bit and make my traditional chili recipe and serve it inside of this roasted acorn squash. Don't you just love it when soups or stews are served inside of edible bowls?! This way you get a little bit of acorn squash in every single bite!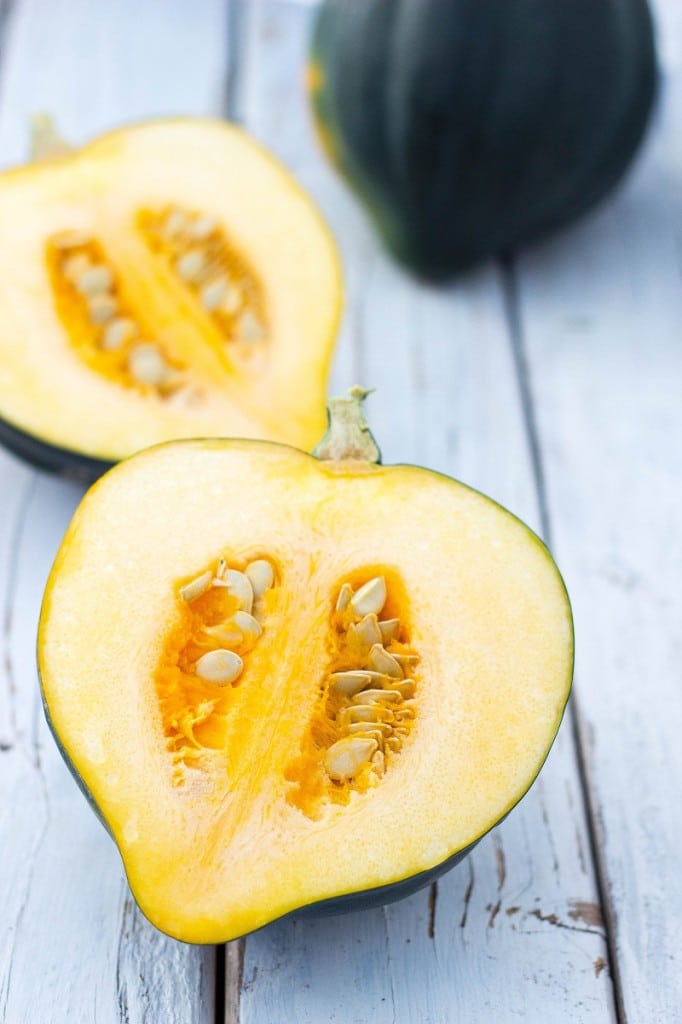 I feel like I haven't been eating nearly enough winter squash this season, but my excuse is that it has been sunny and 80 here the last few weeks and I haven't exactly been in the mood for hot foods. It is kinda crazy to me that other parts of the country are getting tons of snow and ice and I'm breaking a sweat while checking the mail! It makes it hard to really feel like cooking seasonal recipes for the blog because all I can think about is grilling and eating salads on the patio. But, as I said before, chili is one of those recipes that I like to eat all year round just because it is so darn tasty. So, I hope that you will enjoy this recipe whether you are buried in 20 feet of snow or packing those winter coats away to make room for the shorts and t-shirts 🙂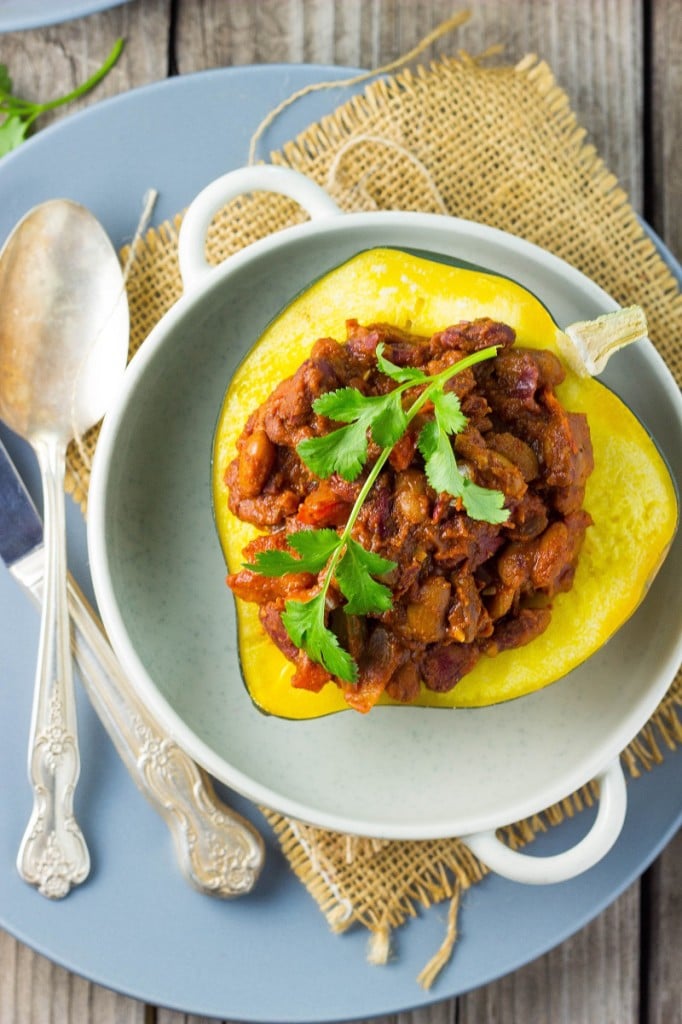 Print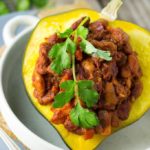 Chili Stuffed Acorn Squash
---
Total Time:

1 hour

Yield:

4

1

x
2

whole acorn squash

1 teaspoon

olive oil, plus more for roasting acorn squash

2/3 cup

diced onion

2

clove garlic, minced

1/2 cup

diced red pepper

1/2 cup

diced green pepper

1 cup

diced tomato

1 1/4 teaspoon

salt

1/4 teaspoon

black pepper

3 cups

cooked beans, I used 1 can pinto and 1 can kidney

2 tablespoons

tomato taste

2 teaspoons

chili powder

2 teaspoons

cumin

1 teaspoon

paprika

1/4 teaspoon

smoked paprika

1/2 teaspoon

dried oregano

1/2 teaspoon

brown sugar, or coconut sugar

1 tablespoon

water, or more depending on how thick you want your chili
Cilantro, for garnish if desired
---
Instructions
Pre-heat the oven to 375 degrees Fahrenheit. Cut the acorn squash in half, lengthwise, and scoop out the seeds. Drizzle the insides with a small amount of olive oil and season with salt and pepper. Place the squash, cut side down, in an oven safe dish and fill with 1/4 inch water. Bake squash for 30-40 minutes, until tender.
While squash is baking, make the chili. Heat a large pot over medium heat and drizzle with olive oil. Add the onion, garlic, peppers, tomato, salt and pepper and stir for 3-5 minutes until tender. Add the remaining chili ingredients. Stir until everything is combined and simmer until squash is finished baking.
Once squash is done, scoop about 1 cup of chili into each squash bowl. Top with your favorite chili toppings.
Prep Time:

20 mins

Cook Time:

40 mins

Category:

Entree, Gluten Free, Vegan