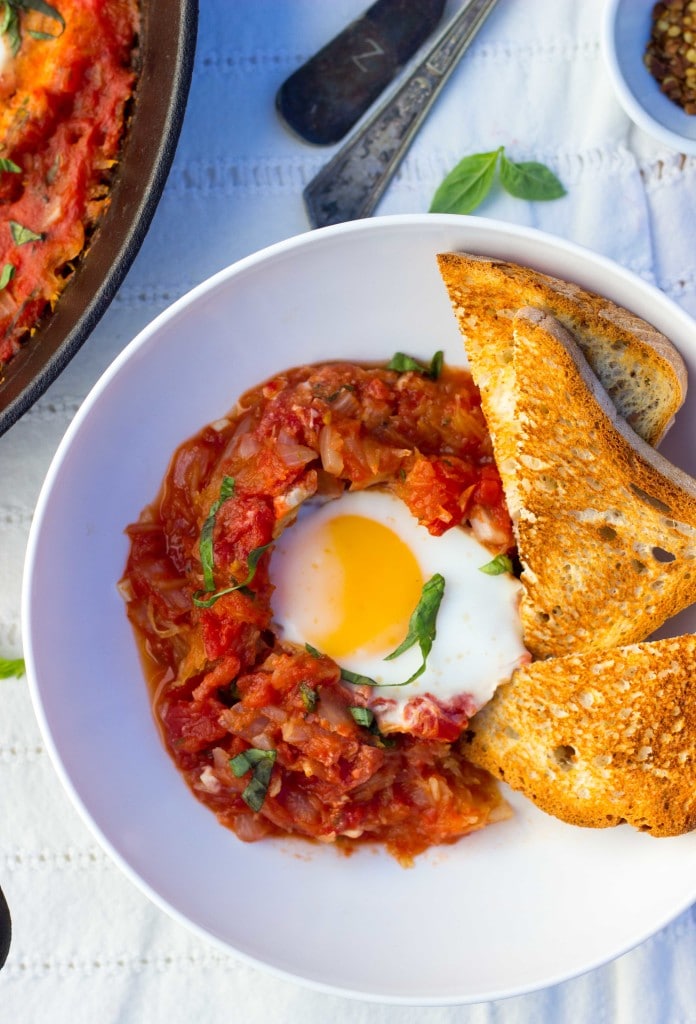 If I were in purgatory there is nothing else I would rather be there with than spaghetti squash! Ok, maybe I can think of a few more things I would want by my side, but spaghetti squash would definitely make the list! I love all winter squash, but I especially love spaghetti squash because it has such a different texture than the others and you can do so many fun things with it.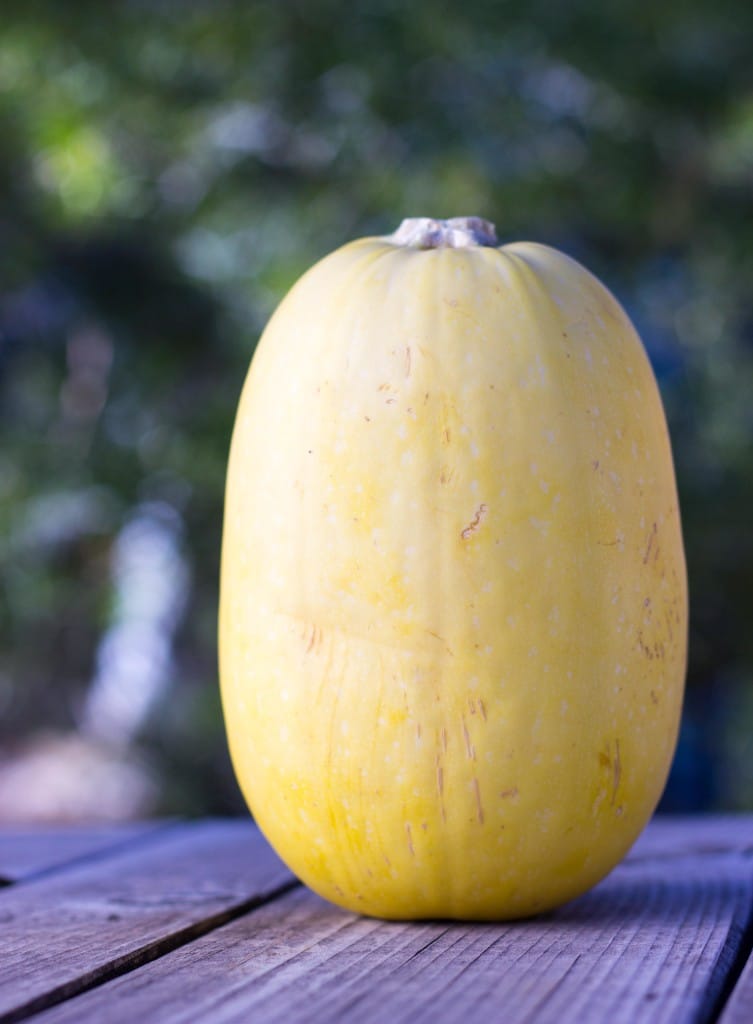 I'll be honest with you, the first time I heard about Eggs in Purgatory, I was completely grossed out. For some reason the idea of eggs and tomato sauce didn't sit well in my mind and it wasn't until years later that I got up the courage to actually try it and realized that eggs and tomato sauce is one of the best combinations ever. And you know what makes them even better?? When you pair them with warm toast and spaghetti squash! Because what has spaghetti squash ever made worse?! These spaghetti squash enchiladas are still one of my favorite enchilada recipes.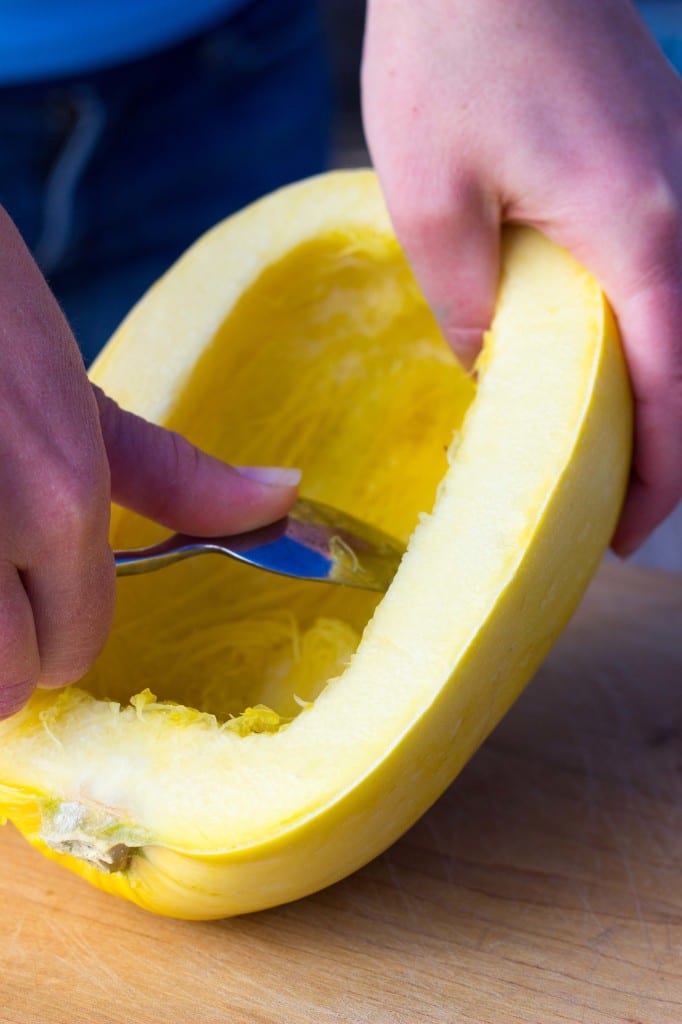 I'm using the exact same spaghetti squash harvesting (that word sounds funny to use here, but it is kinda what I am doing!) method as I used with my enchiladas. Most recipes involving spaghetti squash require you to roast them for about an hour, but c'mon, I want my spaghetti squash and I want it now! Since I don't really care about the spaghetti squash being in long "noodle" form for this dish, my quick method works perfectly.
All you have to do is cut the squash open and then, using a sturdy metal spoon, scrape all of the yummy squash out. It comes out in small pieces that are perfect for this eggs in purgatory with spaghetti squash dish. Then, you saute them in a pan with some olive oil for about 10 minutes and voila, you have perfectly cooked spaghetti squash that you can throw into all kinds of delicious dishes, like this eggs in purgatory!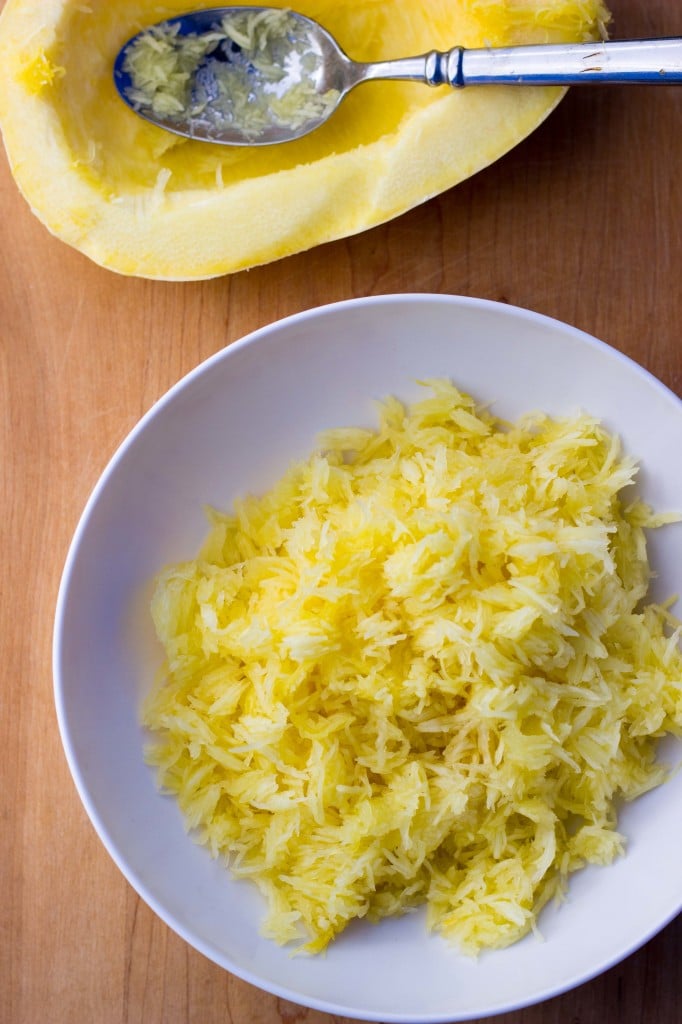 Although eggs in purgatory is traditionally a breakfast dish (I have also heard that it is a great hangover cure 🙂 ) this version is so good and so filling that I would recommend it for breakfast, lunch, and dinner! It is also a great dish to serve for Christmas morning breakfast because we all know that Christmas breakfast needs to be almost as special as Christmas dinner!
Print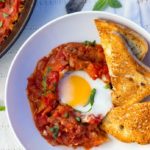 Eggs In Purgatory With Spaghetti Squash
---
Total Time:

35 minutes

Yield:

4

-6

1

x
1

whole spaghetti squash

1 teaspoon

olive oil

1/2 teaspoon

dried oregano

1/2 teaspoon

salt
Red pepper flakes, to taste

3 cups

tomato sauce (homemade tomato sauce recipe below)

4

eggs

1 tablespoon

chopped basil, for garnish
Bread for serving, if desired
Tomato Sauce Recipe – Makes 3 cups:
1

–

28

ounce can of San Marzano style whole tomatoes

1 teaspoon

olive oil

1/2

small yellow onion, diced

1

clove garlic, minced

1/2 teaspoon

dried oregano

1 teaspoon

salt

2 tablespoons

chopped basil leaves
Red pepper flakes, to taste
---
Instructions
Pre-heat oven to 375 degrees F.
If making homemade tomato sauce: Heat a medium sized pot over medium heat, add the olive oil, onion, garlic, oregano, and salt. Cook until onions are beginning to soften, 3-5 minutes. Add the entire can of tomatoes into the pot and either smash them with a potato masher or squeeze them with your hands to break them up a little bit. Season with red pepper flakes to taste and cook for 15 minutes, stirring occasionally. Turn the heat off and stir in the fresh basil leaves.
While the sauce is cooking, cut the spaghetti squash in half. Using a sturdy metal spoon, scrape out the inside of the squash (see photos above for tutorial). You should get about 2 1/2 cups of squash.
Heat a large oven safe pan over medium heat. Add olive oil, spaghetti squash, salt, dried oregano, and red pepper flakes. Cook until squash is tender and cooked through, ten minutes.
Add the tomato sauce and stir. Make 4 small indents in the spaghetti squash and tomato mixture. Crack the eggs and place each one into one of the indents. Place pan in the oven and bake until eggs are cooked to desired state. Sprinkle with 1 tablespoon of chopped basil and serve with toast, if desired.
Prep Time:

15 mins

Cook Time:

20 mins

Category:

Breakfast, Gluten Free