Elijah Wheeler Lassance was born on July 15th weighing 7 pounds, 5 ounces and was 21.5 inches long!
Ever since I found out I was pregnant I had planned to write my birth story for the blog.  I've always enjoyed reading other blogger's birth stories and I was hoping I would be able to write about how amazing and wonderful the birth process was.  Aside from the fact that I grew a tiny human and birthed him into the world, there wasn't much that was amazing and wonderful about the process.
In fact, it was REALLY long, painful and traumatic.  I almost decided not to share it with anyone, but I think that writing it all down will help me process it.  Warning:  It's kinda long!
My original birth plan consisted of having the baby at a birth center with a midwife.  I wanted an all natural birth without any interventions and I wanted to stay far away from the hospital.  We had hired a doula to help with pain relief and I felt like I was really ready for this.  I later found out that "Birth Preferences" was a much better name for the birth plan and that you can plan and prepare as much as you want, but in the end you really have no control over what is going to happen.  Out of all the things on my birth plan the only thing that I got was a vaginal birth, which at one point was very close to not happening.
Elijah's original due date was July 2nd.  I really wanted my sister to be here for the birth so we decided that she was going to fly in on June 30th and stay for two weeks.  When she booked her tickets I thought that there was no way he wouldn't be here by then.  We imaged that she would be here for a few days where it would just be the two of us hanging out, then I would have the baby and we would cuddle and play with him for the rest of the time.  As the days went by and there was no sign of baby coming we all started to get really antsy.  It was 100+ degrees outside so there wasn't much we could do to entertain ourselves.  At my 40 week checkup I was only 1 cm dilated.  The birth center has a rule that you can only give birth there if you go into labor sometime between 37 and 41 weeks.  If you go past 41 weeks you still get to use the midwife but you have to have the baby at the hospital.  I was really set on having this baby at the birth center so I tried a few "natural" methods to try to get him to come.  None of them seemed to be working and on the afternoon of my 41st week I decided to drink some castor oil to see if that would help get things going.  I kept being torn between wanting to just let him come on his own and wanting to have a birth center birth.  I also really didn't want to be induced.
It was disgusting and really uncomfortable and I immediately regretted drinking it.  But then about three hours later I felt what I thought were contractions.  It was a little hard to distinguish them from the stomach cramps I had been having from the castor oil but I started timing them and it became increasingly apparent that they were contractions.  They were coming about every 3-4 minutes and lasting about 45 seconds.  I called the midwife and she said that since it was before midnight on my 41st week that if things kept progressing I would be able to have the baby at the birth center.  I was really excited and also couldn't believe that after all this waiting I was finally in labor!  I couldn't sleep at all because the contractions were pretty painful and coming often.  I let my husband and sister get some rest and then called the doula to come over at about 2AM in the morning.  The contractions remained steady and constant through the night and I was excited about the progress I thought I was making.
The next morning the midwife called me to come in so she could check me.  I figured I probably wasn't too far dilated and that we would come right back home afterward, but we brought all our stuff just in case.  When we got to the birth center she checked me and I was 3 cm dilated, which was great news as I was only 1 cm the day before.  She said we could stay if we wanted so we all settled in hoping it wouldn't be too long until the baby was there.  Pretty much as soon as we got there my contractions slowed way down.  They were now only about 10 minutes apart and I couldn't' seem to get them to speed up.  I drank some chamomile tea, we went walking (in the 100 degree heat) and I bounced on an exercise ball while using a breast pump for what seemed like hours.  At one point the contractions went back to being 5 minutes apart, but that was short lived.  I was getting so discouraged and exhausted at that point.  Not only did I have to deal with the discomfort of the contractions but I also had to work really hard to get them to come on.
Before I knew it, it was 9PM at night and the next midwife had come on.  She told us that since I had already been in labor for so long and I had now passed the 41 week mark that I would need to go to the hospital to have a non-stress test and if that looked ok I could go home for the night and labor there.  At this point I had risked out of the birth center and knew that I would be having this baby in the hospital.  It was so late and I was so tired but we drove over to the hospital for the NST.  I met another really great midwife there who checked me for dilation and I was told that after almost 24 hours of labor I was still only at 3 cm.  They hooked me up to monitoring machines for about 30 minutes and she said that everything looked good to her but it would have to be approved by the head doctor.  A few minutes later she came into the room and said that the test did not look ok to her and that they wanted to keep me for observation for 24 hours.  They wanted to give me morphine so I could sleep through the contractions but it made me a little nervous so I declined.  My husband, sister and I all slept in the hospital room that night and I was surprisingly able to get some sleep through all the contractions.
The next morning one of the midwives came into check me and talk about our options.  When she told me that I was still only 3 cm dilated I had a breakdown.  I had been laboring with painful contractions for over 30 hours at that point and I hadn't progressed at all.  She told me she could either break my water or give me pitocin to help speed things up.  I was heartbroken at this point because I knew both of those options caused really painful contractions and I was still hoping to have my natural birth.  I finally opted for the breaking of the water and within 30 minutes my contractions had sped up and were feeling much more painful.  I honestly don't remember how long I went through that, it all seems like such a blur right now, but the contractions were getting so intense that I was starting to doubt I would be able to continue on.  I requested that the midwife come in and check me and told myself that I would stay all natural if I had progressed quite a bit but I would consider the epidural if I hadn't.  She checked me and told me I was still only at 3 cm dilated.  That was one of the most discouraging points of my labor and I broke down and decided that if I was ever going to get through this and have enough energy to actually push the baby out then I needed to get the epidural.  This was going against everything I ever imagined my birth to be like but I just couldn't take it any longer.
The anesthesiologist came in and gave me the epidural and within minutes I was feeling pretty good.  The pain was gone and I was able to relax and sleep.  And I'm pretty sure I slept for a long time.  At this point I really lost track of time but do remember that the midwife had changed and the nurses kept changing because their shifts were over.  Hours after I got the epidural a new midwife came in to check me and again told me I was only about 3 cm dilated.  I didn't have the energy to show how discouraged and dissapointed I was.  I'm pretty sure I had been in labor for over 50 hours by then and I was done.  She told me that my contractions didn't' seem to be strong enough to be pushing the baby down and that she wanted to give me pitocin to help strengthen them.  Pitocin was another thing that was definitely not on my birth plan, but at this point I felt like I had no other option.  I had also already had the epidural so I knew I wouldn't feel the pain of the pitocin contractions.
They started the pitocin, I slept more and when the midwife came back to check my progress a few hours later she told me that I was at about 6 cm.  That was the best news I had heard since I went into labor!  By then my water had been broken for a long time and I was starting to get a fever.  I would sleep for hours and then wake up covered in sweat.  Then I would sleep for a few more hours, wake up for a few minutes and then go back to sleep.  I had no idea what day it was or what time it was.  I was having really bad back pain the entire labor.  It went away with the epidural, but as the baby started to drop lower and lower, it was coming back and the epidural didn't even seem to help it.  The midwife and nurse both agreed that baby was causing me back pain and was being rather slow at progressing because he was in the posterior position (meaning that his spine was right on my spine and he was face up).  They were thinking that he probably wouldn't be able to fit out if he stayed in that position so they had me lay with a big exercise ball in between my legs for what felt like hours.
During that time, my temperature creeped up to 101 so they started giving me antibiotics.  A really helpful nurse finally had me lay with my leg in the stirup and after a while that finally got the baby to turn into the correct position.  I was feeling really intense urges to push so the nurse checked me once more to make sure I was finally at 10 cm.  Upon checking me she said she thought she felt the umbilical cord coming down before the baby's head.  Not even a minute after she said that, about 15 people rushed into the room.  All I remember is the midwife saying that if that really is the cord then this is an emergency.  Someone starts shaving me and I can see them suiting Eric up getting him ready for the OR.  Meanwhile, with each contraction I can't help but start pushing.  While I'm pushing, there is a nurse in my face making me sign an informed consent for a C-Section and there is a surgeon checking me with what feels like his entire arm up there.  He says that he doesn't think it is the umbilical cord because it isn't pulsing, so then they bring in another surgeon so he can feel and then the midwife checks again too.   After lots of panic they finally agree that it is not the umbilical cord and that I just need to go ahead and push this baby out.  By this time I'm thoroughly mentally and emotionally exhausted and have a fever on top of it.  As much as I really didn't want the C-section, a little part of me was going to be glad that it was all going to be over soon.  I really can't thank that surgeon enough though for saving me from an unnecessary C-section.
I finally start to push and it is exhausting.  I have Eric on one side of me fanning me the entire time, my sister on the other side feeding me ice cubes in between each push and the doula massaging me and encouraging me.  I pushed for about two hours and there were so many times I kept thinking in my head, "what if I can't physically do this?".  I was so tired and light headed, but somehow I managed to find the strength for the final stage.  When his head was finally starting to show the midwife had me reach down and feel it and it was the craziest feeling ever.  I knew that I only had a few more pushes at that point.  Everything was such a blur, but I do remember hearing the midwife and nurses mention things about the baby's heart rate going up and him being tachycardic but I could't really focus on that.
After days of being in labor, I finally pushed my son out.  The midwife put him on my chest for a split second and then I saw her quickly take him back, cut his cord and hand him off to a bunch of nurses that had gathered in the room.  He was slightly jaundiced and wasn't breathing on his own.  I didn't even know what to think at that point.  The midwife and nurses didn't seem to be phased at all by what was going on, but my husband, sister, doula and I were just sitting there in total shock.  I had finally given birth after days of difficult labor and now the baby had been taken away from me because he wasn't breathing.  The midwife kept saying that it was going to be ok and then a few seconds later I heard his first cry.  It was such a relief, but I was still really worried.  After they got him breathing they had to take him down to the NICU to make sure everything else was ok.  Thankfully, they let my husband go with him.  After they left, the midwife helped me deliver the placenta, stitched me up a little bit and then left.  There was a point where it was just my sister, our doula and I in the room and we just sat there exclaiming over and over again, "what the hell just happened".  I had finally given birth but the baby wasn't with me, on my chest having skin to skin contact just like I had imagined things.  Instead, he has been whisked off to the NICU to be hooked up to machines.  Knowing that my husband was there with him made it so much better though.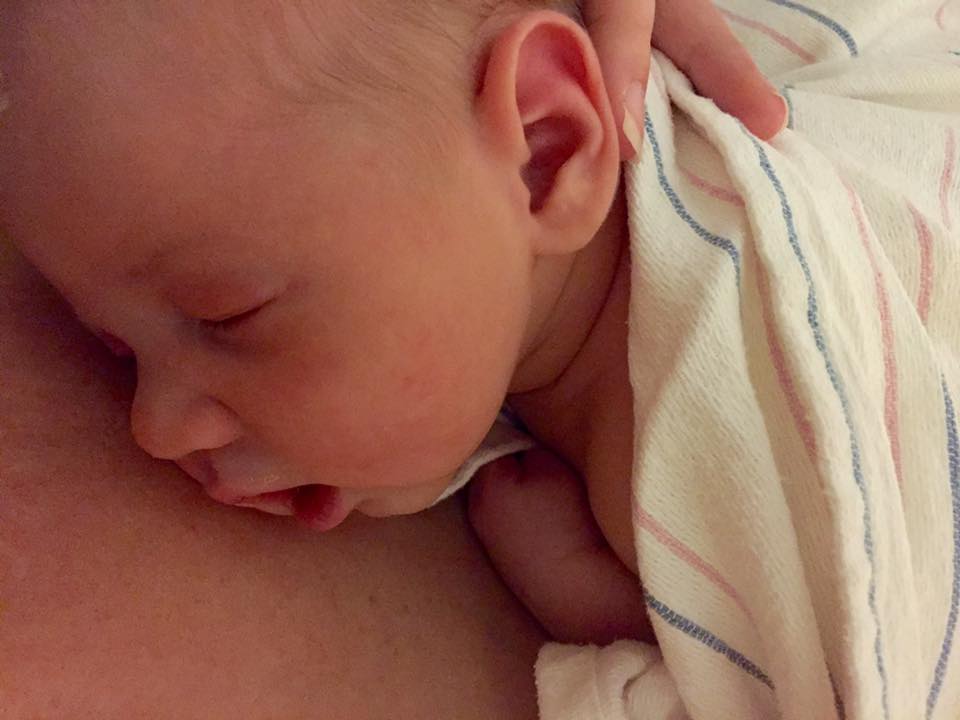 After about two hours they finally wheeled me down there and I got to hold my son for the first time.  He was the most beautiful baby I had ever seen and I felt so awkward holding him and trying to maneuver him!  They only let me stay for a little while and then they transported us to our recovery room.  It felt so sad and strange hanging out in our room without our little baby that I had just given birth to.  I went and visited him a few times during the night and tried to be there every time he was awake for the next few days.  They were monitoring him as well as giving him antibiotics since I had had the fever while in labor.  He was definitely the biggest baby in the NICU and I'm pretty sure he was nice and healthy right after they got him breathing.  They wanted to keep him for 3 days to monitor him just to be safe though.  I wasn't thrilled about that but knew it was probably a good thing.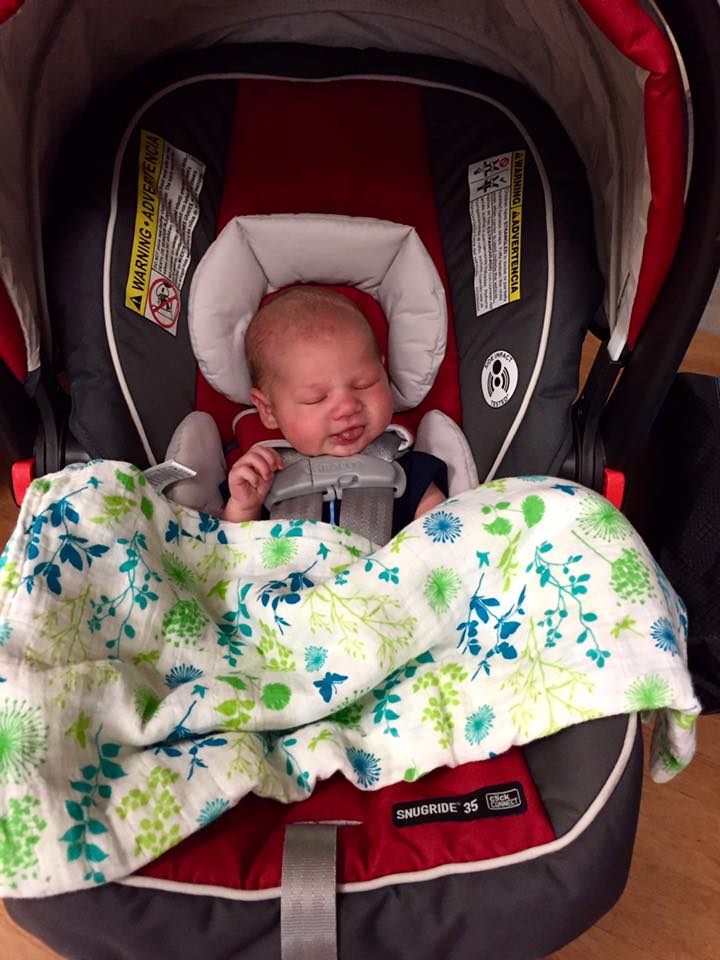 We are finally home altogether now and it has been quite an adjustment.   Parenting is both much harder and more amazing than I had imagined.  I'm still getting used to not being able to do what I want when I want and getting up in the middle of the night is really hard sometimes.  I'm feeling much better now, but I had to spend some time letting go of the birth that I had pictured.  It's easier for me to let go of the things that happened to me that weren't planned, like the epidural and pitocin, but I'm having a harder time letting go of the fact that Elijah didn't get any skin to skin contact with me right after birth.  And that he came into this world being immediately whisked away by strangers.  I can't help but feel so bad for him that things started that way, but I do feel lucky that he is ok and I am making up for hit by giving him lots of skin to skin time and snuggles now that he is home with us!  I was also really worried that breastfeeding would be hard with him in the NICU and that he might never pick it up, but he's been breastfeeding like a champ!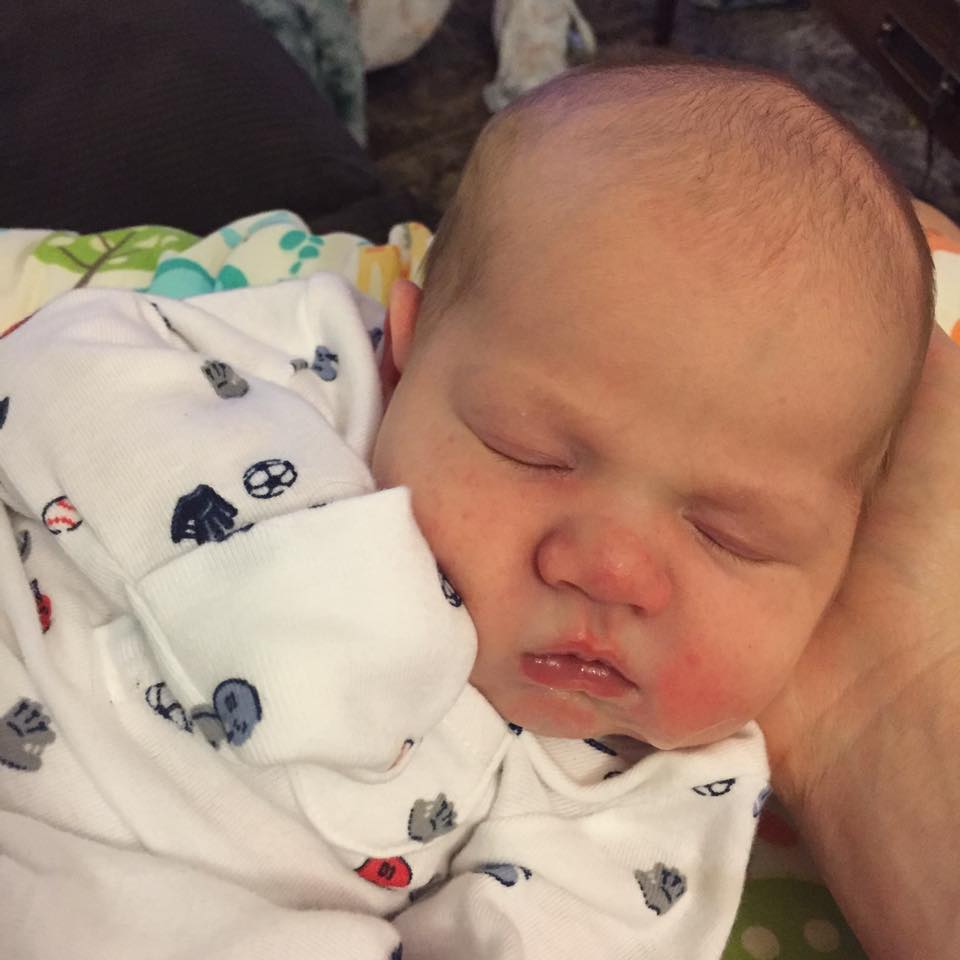 I have some posts lined up to share for the next few weeks, but I also plan on taking some time away from the blog to just enjoy our new little baby.  So, if I take longer than normal to respond or don't post as much as I usually do, that is why 🙂
If you are still reading this, thank you so much!