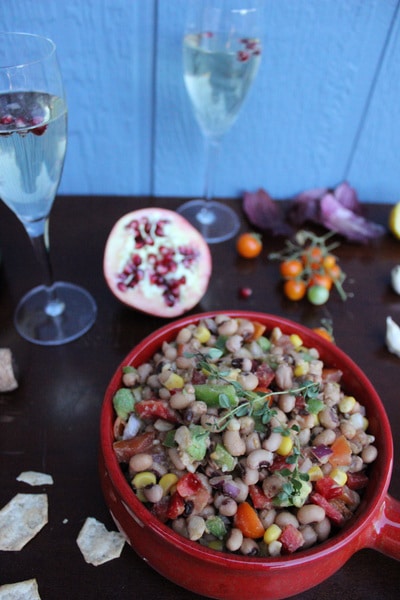 I'm a pretty superstitious person and I also really love traditions, so naturally I'm going to eat black eyed peas on New Years Day!  I few years ago I figured that I could use all the luck I could get in the new year so I bought a can of black eyed peas, microwaved them, and put some garlic salt on them, there might have been some champagne involved in the decision to prepare them that way…  Needless to say, they did not taste very good and since then I have been preparing them in tastier ways, that is how this salad was born.  My husband, who is a very picky eater, also really loves this salad, although it might be because I told him that the more black eyed peas he eats the luckier he will be in the new year!  It is really easy to make and tastes delicious, even if you don't think you are a black eyed pea fan!
Ingredients:
2 15 oz cans black eyed peas, drained and rinsed
1/2 cup corn kernals
1/2 cup red pepper, diced
1/2 cup green pepper, diced
1/2 cup avocado, diced
1/2 cup tomato, diced
1/4 cup red onion, diced
1/2 teaspoon ground cumin
1/2 teaspoon paprika
1/2 teaspoon salt
1/4 teaspoon pepper
1 tablespoon olive oil
2 tablespoons fresh lemon juice
1/2 teaspoon thyme, dried or fresh
1/2 teaspoon garlic, minced
Crackers, if desired
Directions:

Combine all ingredients into a large bowl and stir.
Enjoy with crackers, chips, or with a spoon!