Smoothies are such a great way to pack extra fruit and vegetables in your diet! I've created six healthy smoothie recipes so you will never get bored! All kid friendly too 🙂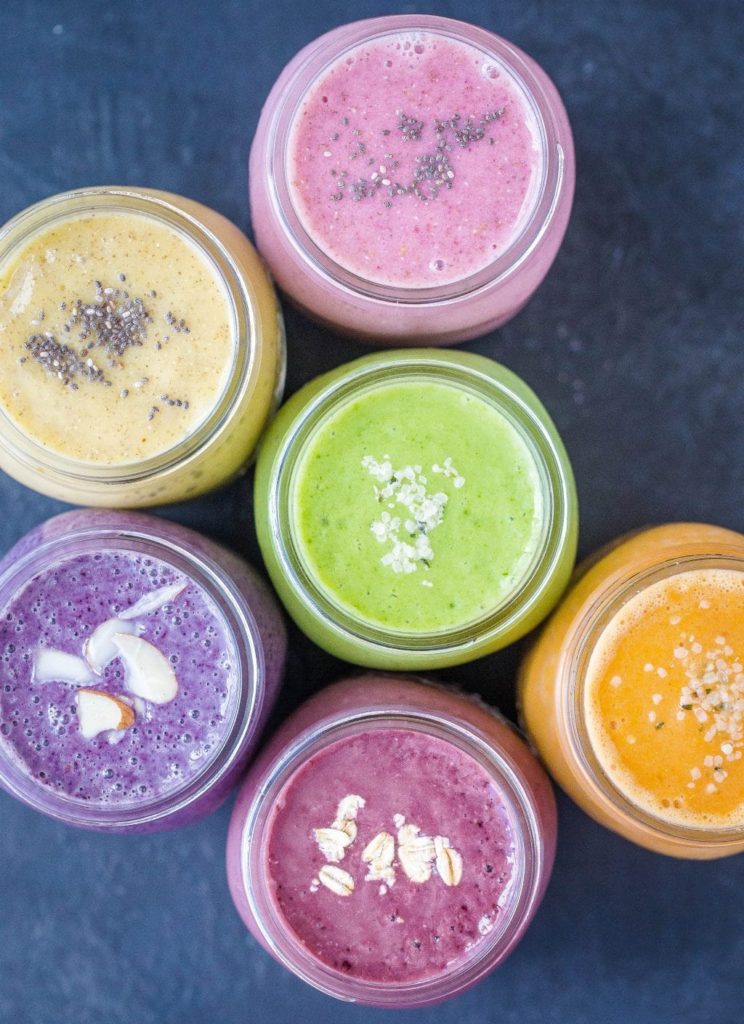 Do you enjoy drinking smoothies? I kinda go through phases where I'm really into them, drinking them every morning and then I forget about them for a while. But, during the summer I'm in full on smoothie drinking mode! They're so healthy, refreshing and the perfect way to pack some extra fruits and veggies into your diet. Today I'm sharing 6 of my favorite Healthy Smoothie Recipes with you! Green smoothies are pretty popular right now but there are so many other fun colors you can make too 🙂
What Is A Smoothie?
There are tons of different flavored smoothie recipes out there, but essentially, a smoothie is a drink made from blended up fruit and/or vegetables. Most of the time smoothies contain fruit and are sweet but you could also make a savory one you are into that.
Aside from fruit and veggies, smoothies can often contain a liquid, sweetener, yogurt and even special add-ins for extra nutrition, such as chia seeds.

How To Make A Healthy Smoothie Recipe
There's really not many ways to mess up a smoothie! Basically, all you do is throw all your ingredients into a blender and blend until smooth. I do have a few tips for you though!
I'm sure you can make a smoothie in a food processor but I prefer to use a high powered blender, like this Vitamix that I have. A regular blender would work too but I love my Vitamix because it makes everything so nice and smooth and I love adding in ingredients like ice, nuts and seeds.
Adding vegetables to your smoothie: I probably wouldn't add lettuce to my smoothie but greens like spinach and kale work great for adding extra nutrition without too much added flavor. I've never added cauliflower to my smoothie before but that seems to be a trend right now. Zucchini also might be a nice addition because it's pretty tasteless but will add some nutrition. For my Beet Cherry smoothie I used steamed beets so they blended up nicely.
Adding fruit to your smoothie: You can pretty much add any fruit you like to your smoothie! I usually always add a banana to my smoothie because it acts as a nice sweetener while also helping to thicken it. Then, after the banana I just use whatever fruit I'm in the mood for. I really love making tropical fruit smoothies, berry smoothies and citrusy smoothies.
I love using frozen fruit in my healthy smoothie recipes because it makes them kind of like a milkshake and I love the thickness and coldness it adds. I usually just buy bags of frozen fruit that's already diced up and it makes smoothie prep so easy! If you don't use frozen fruit I would suggest adding in some ice just to make your smoothie a bit more refreshing. It's totally optional though!
Yogurt is another great way to thicken your smoothie and can be a great way to add extra protein. You can use regular or dairy free yogurt.
I usually use enough fruit to make my smoothie sweet enough for my liking, but you like want it even sweeter, you can add pure maple syrup, honey, dates or fruit juice.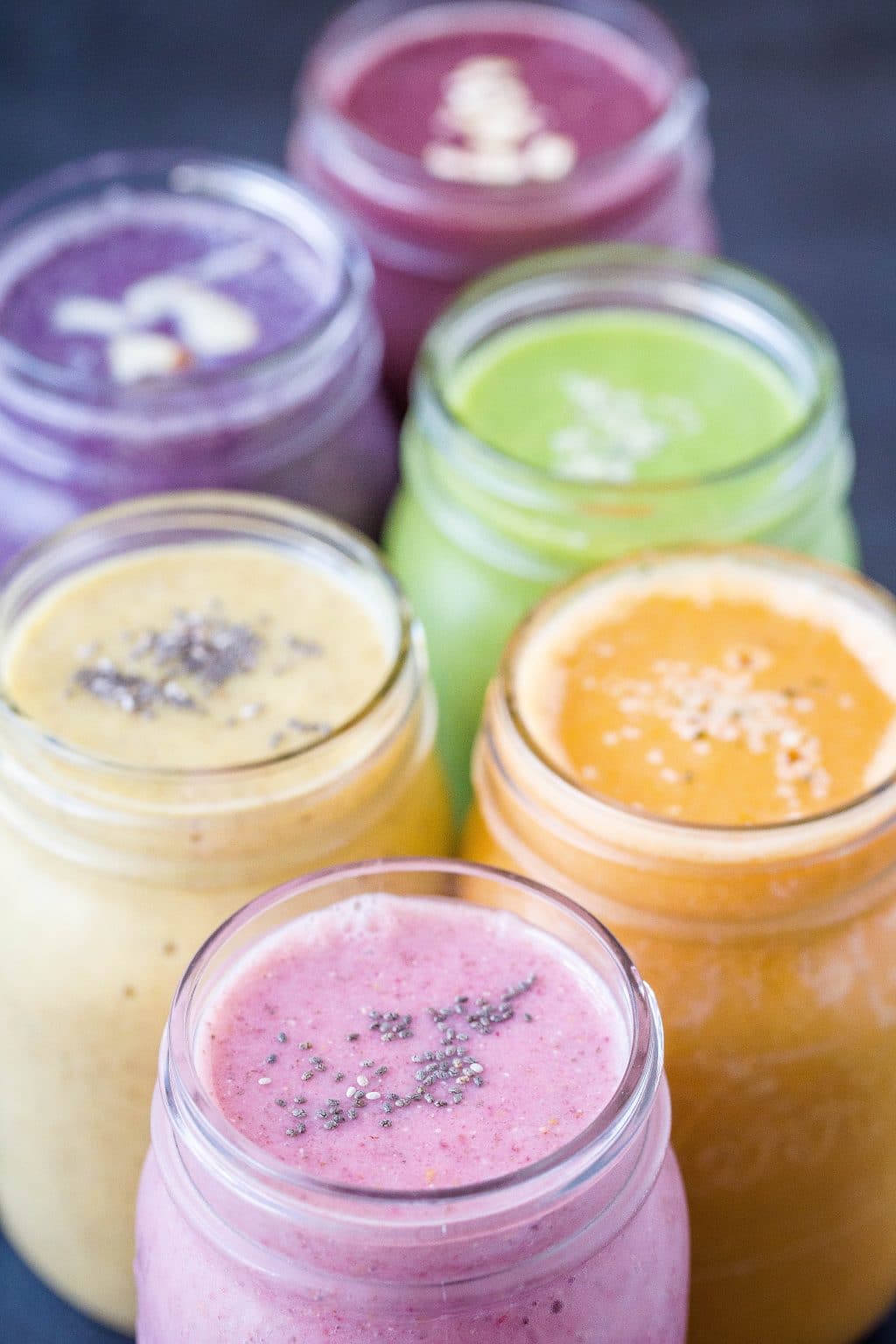 What Kind Of Liquid Should I Use In My Smoothie?
This is really up to you! If I have almond milk on hand I will usually use that but if not I just use water and it works great! You can use any other milk product (non-dairy or dairy) that you use regularly or you can jazz it up and use juice. I would just steer clear of juices for these healthy smoothie recipes that have tons of added sugar, but that is totally just a personal preference.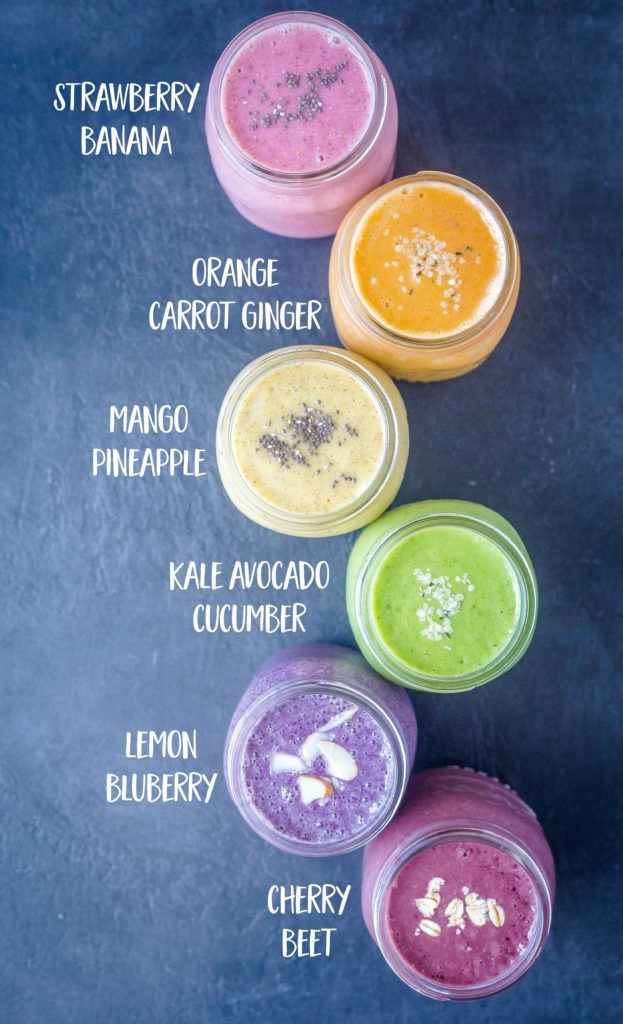 Healthy Smoothie Recipes For Meal Prep
Did you know that you can actually assemble your smoothies ahead of time and either store in the freezer or refrigerator until ready to use? When I do this, I usually add all the ingredients, except for the liquid, into an airtight container and store in the refrigerator for about 3 days and the freezer for up to 3 months.
I like to use glass mason jars for packing my smoothies because it doubles as a container to drink your smoothie out of, but you could also use freezer safe ziplock bags, or these cool reusable bags.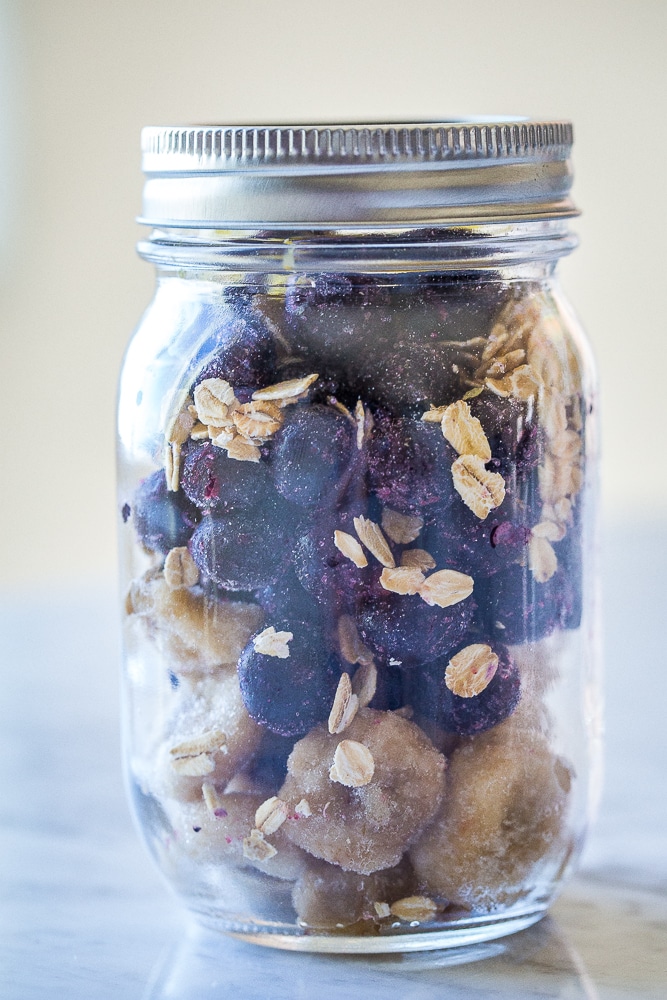 Add In Ideas To Make Your Smoothie Even Healthier!
Below are all Healthy Smoothie Recipes and Nutritional Information!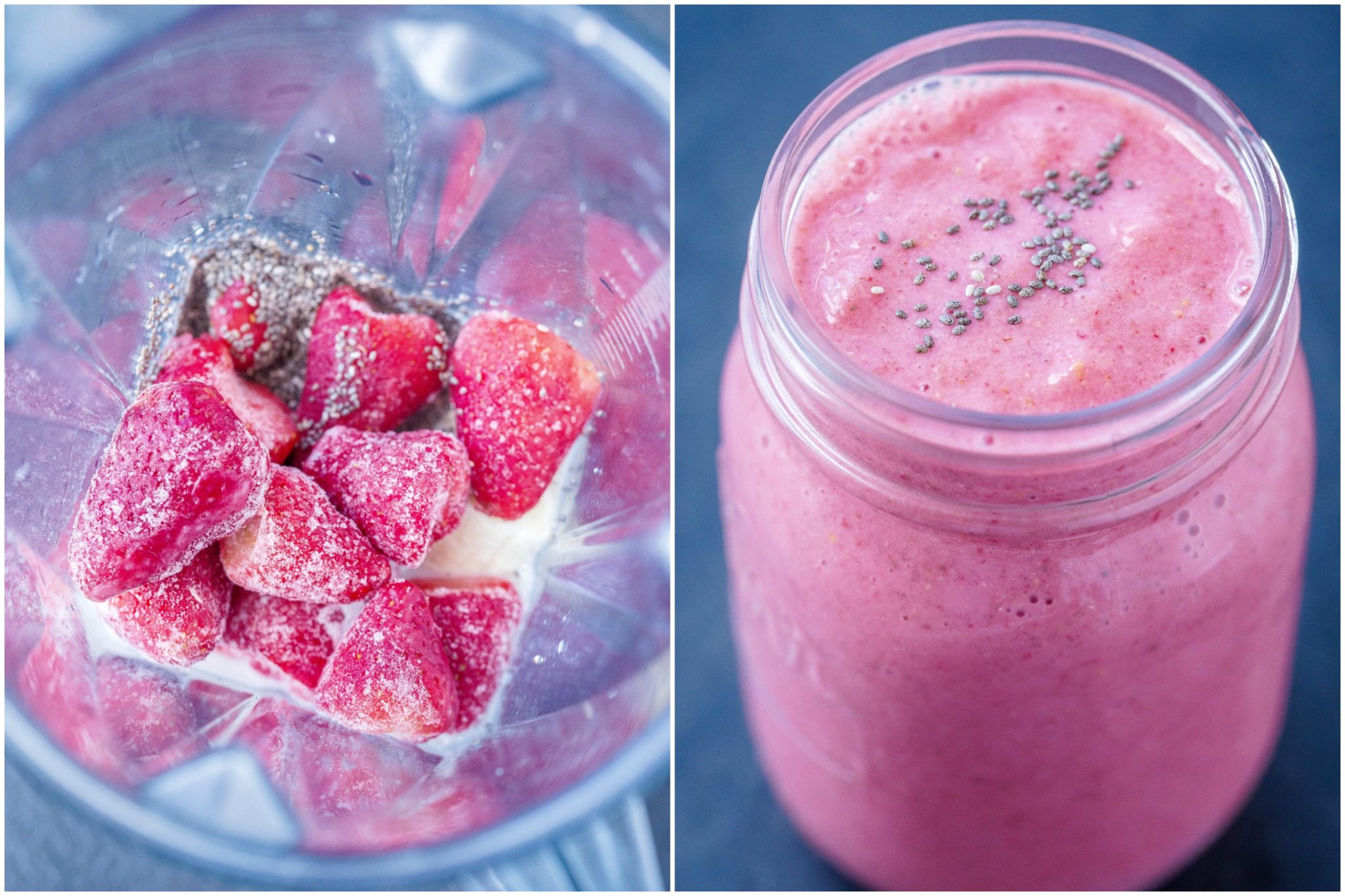 Strawberry Banana Smoothie
This smoothie is simple, easy and super kid friendly! I added a banana extra sweetness and I used frozen strawberries to make it really thick and delicious. I also added in chia seeds for some extra nutrients.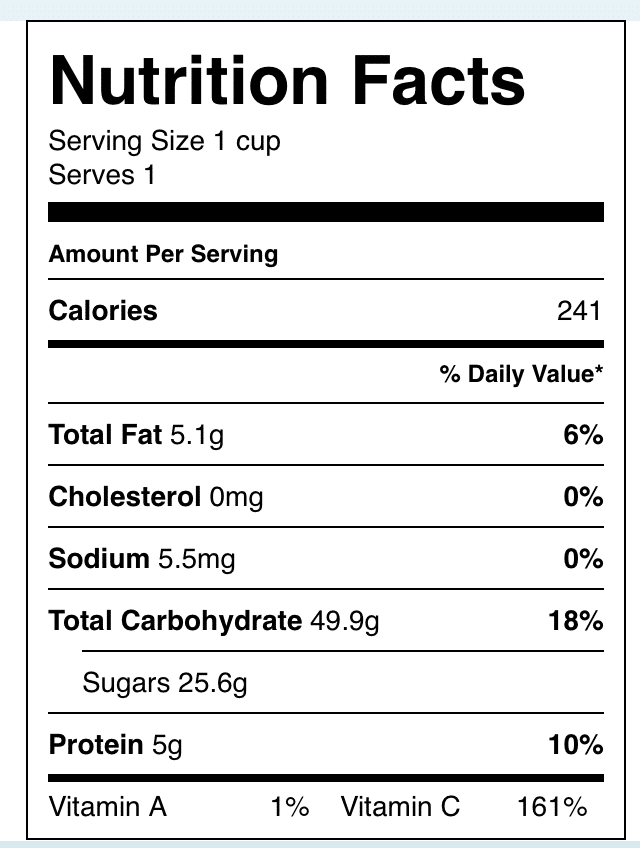 Orange Carrot Ginger Smoothie
This smoothie flavor is so healthy and refreshing! It's packed with fresh carrot, oranges and grated ginger. I like to use frozen banana and ice when I make this smoothie to help thicken it up.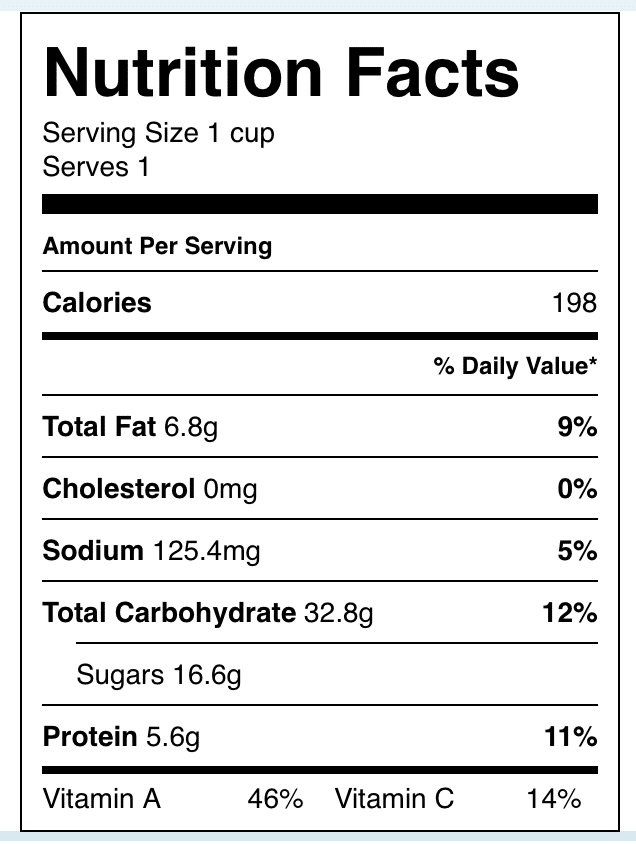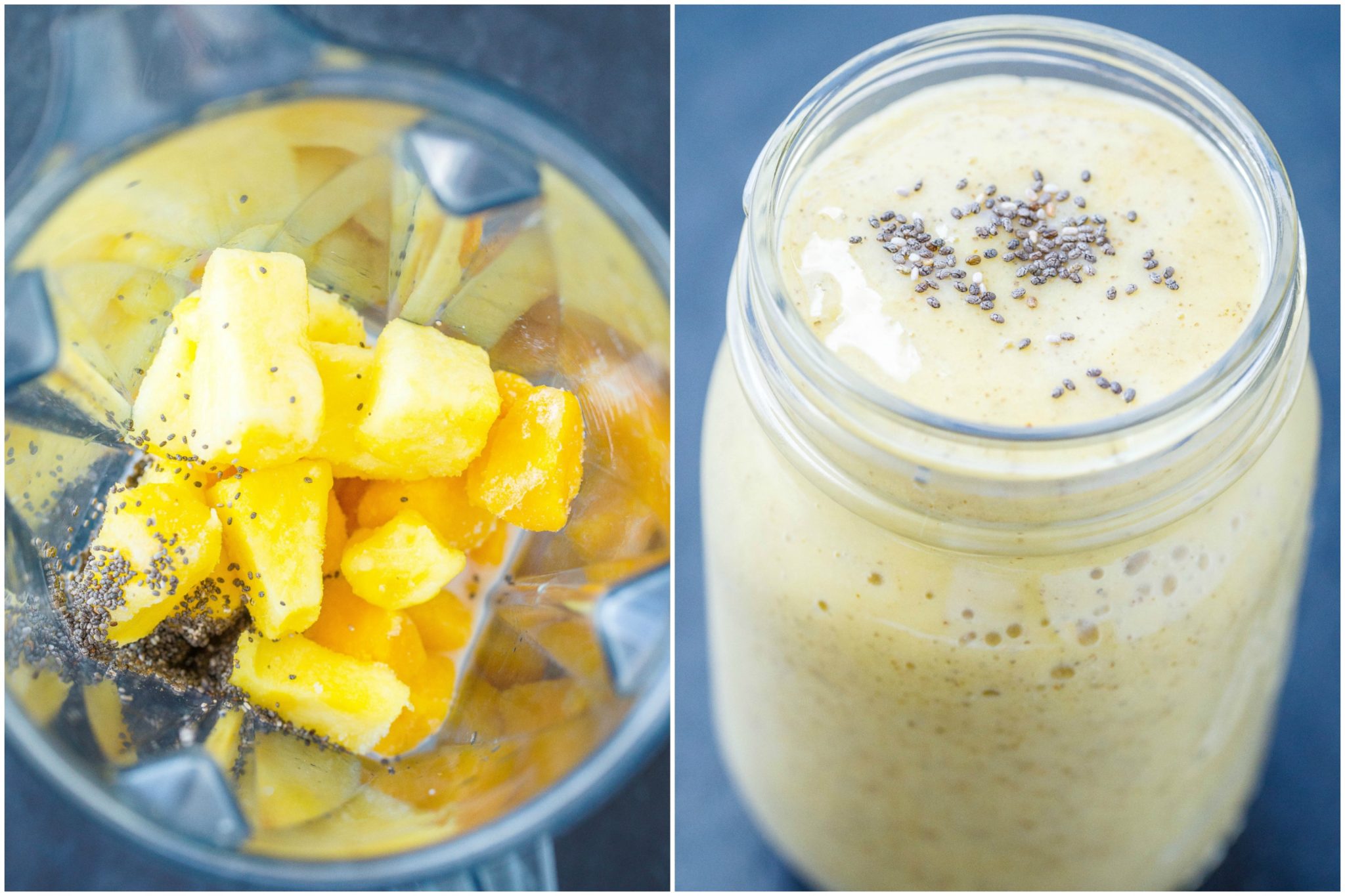 Mango Pineapple Smoothie
This smoothie doesn't need any extra sweetener because the mango and pineapple are both so sweet by themselves. I like to use frozen mango and pineapple to make it thick like a milkshake!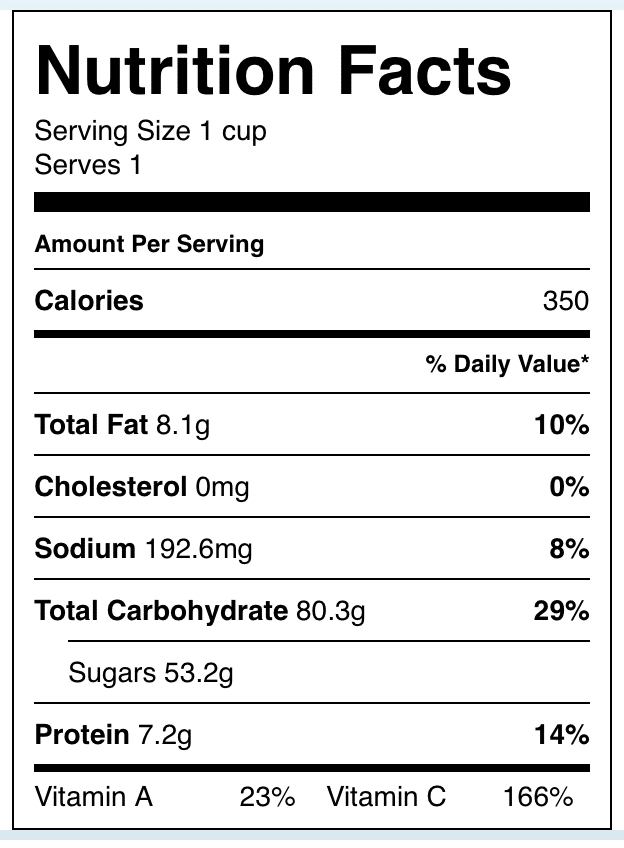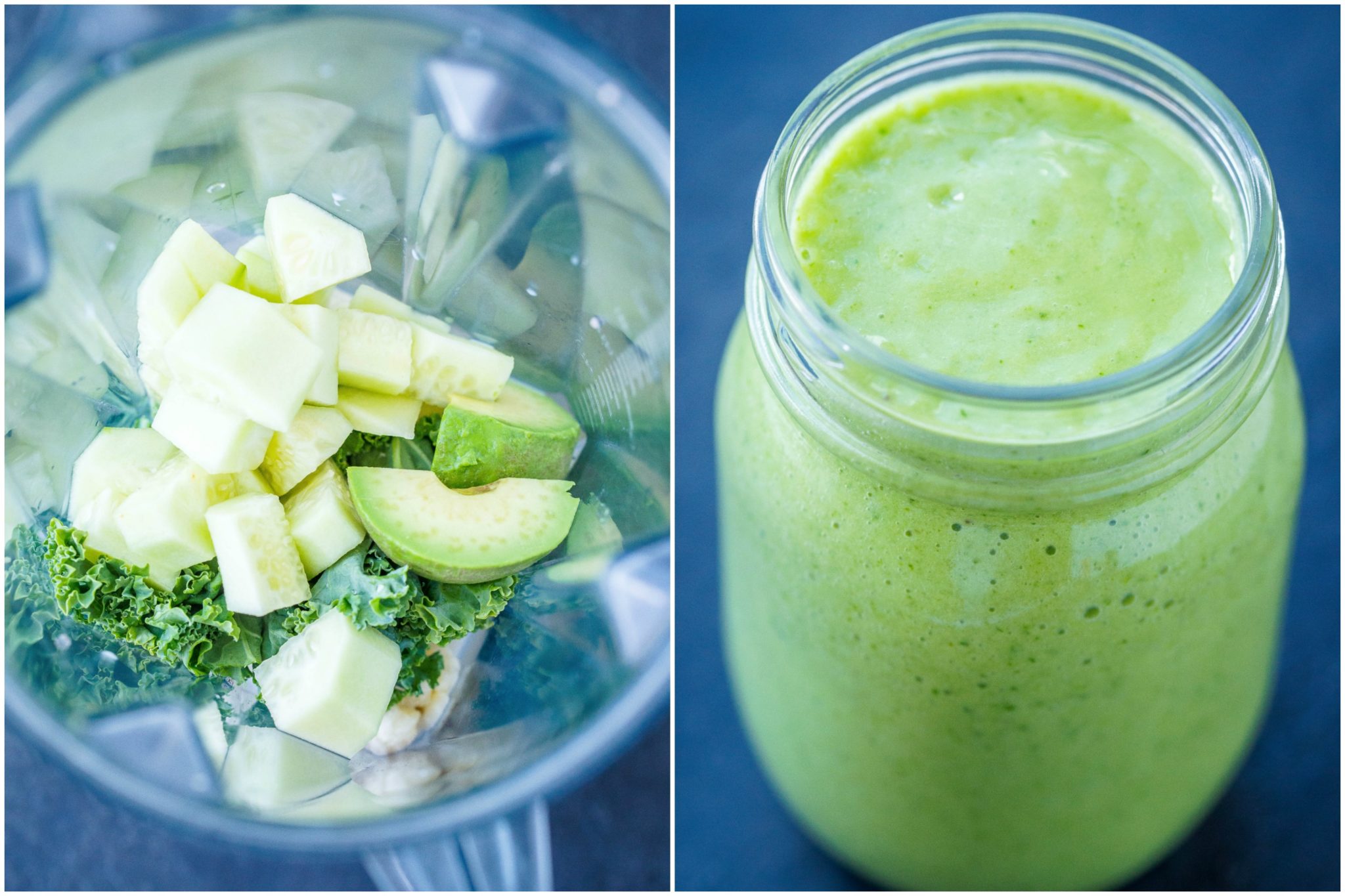 Kale Avocado Cucumber Smoothie (Green Smoothie)
There are several ways you can make a green smoothie. For mine I used kale, cucumber and avocado. I also added a banana for sweetener. This one isn't super sweet so you can add maple syrup, honey or dates to help sweeten it up if you like.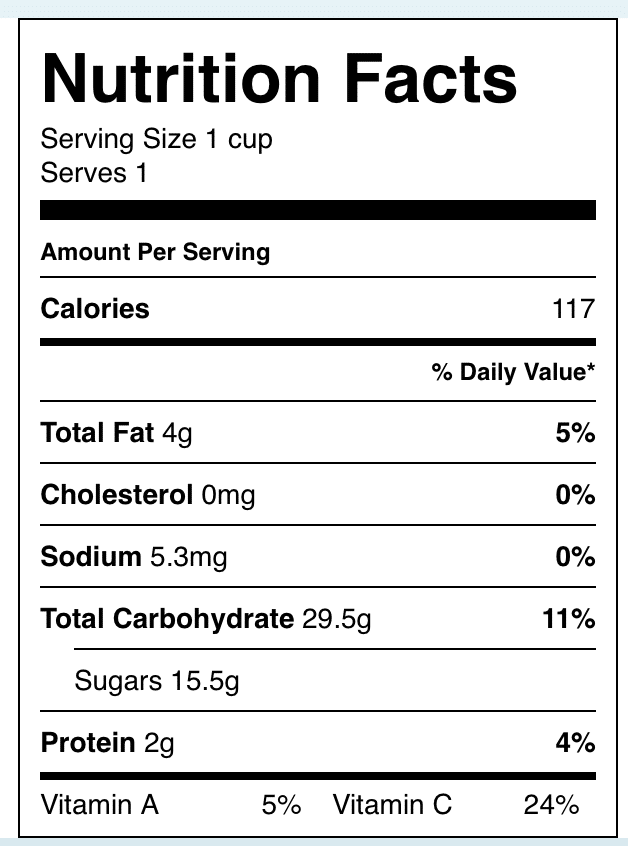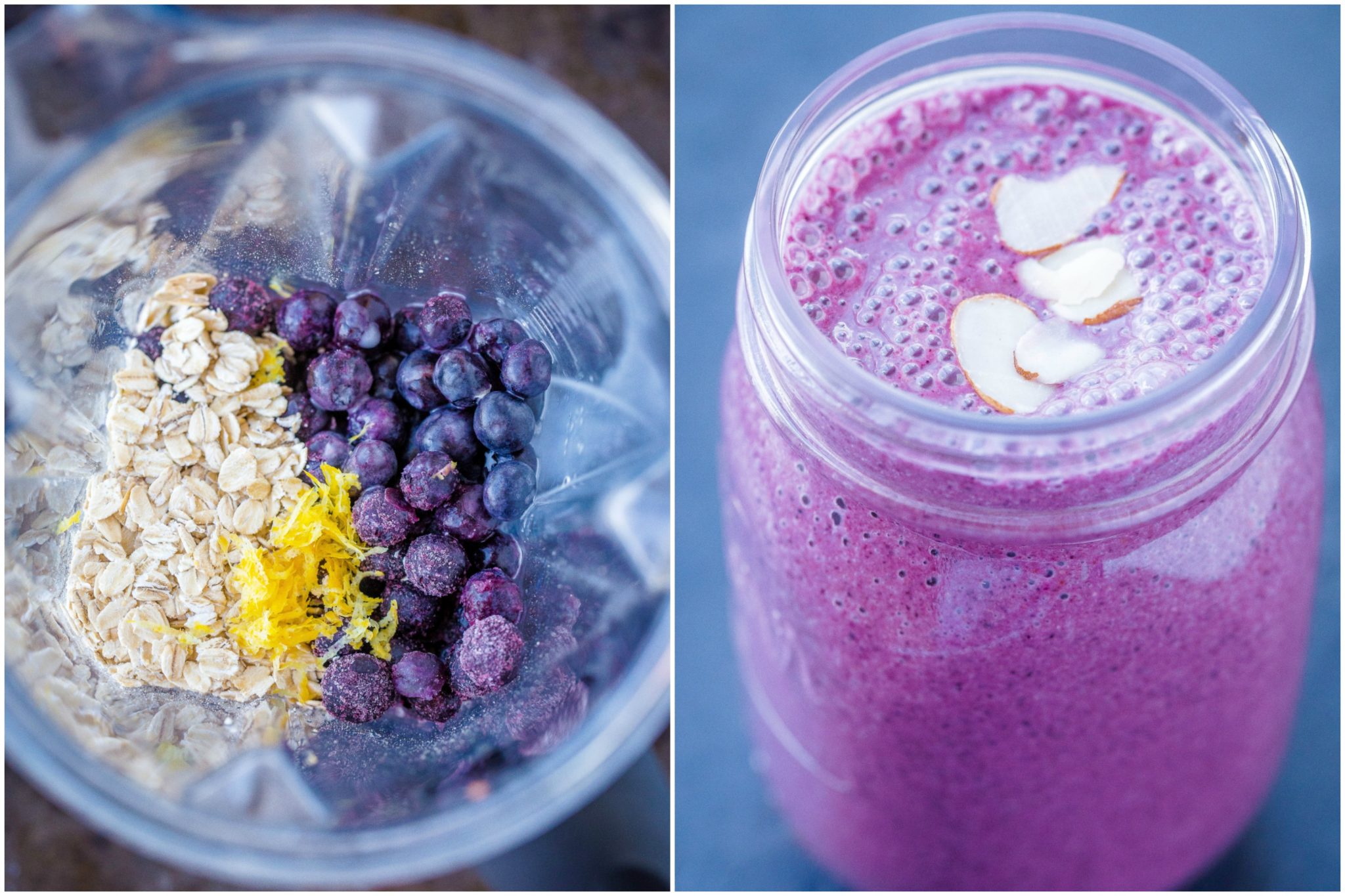 Lemon Blueberry Smoothie
This smoothie is sweet from the blueberries and tangy from the lemon. I like to add oats to mine because it gives it a nice flavor and helps thicken it up. I also added some sliced almonds to mine. I like to use frozen blueberries in mine.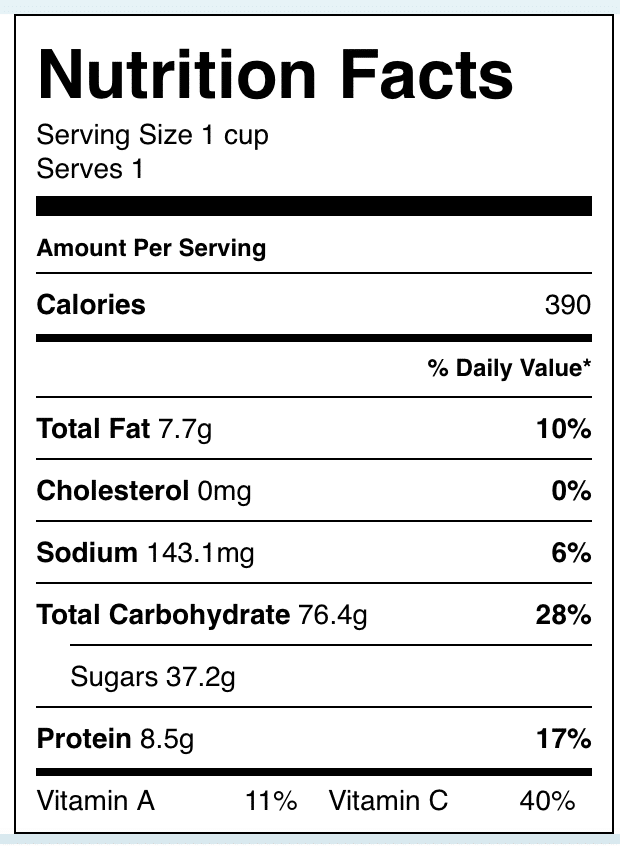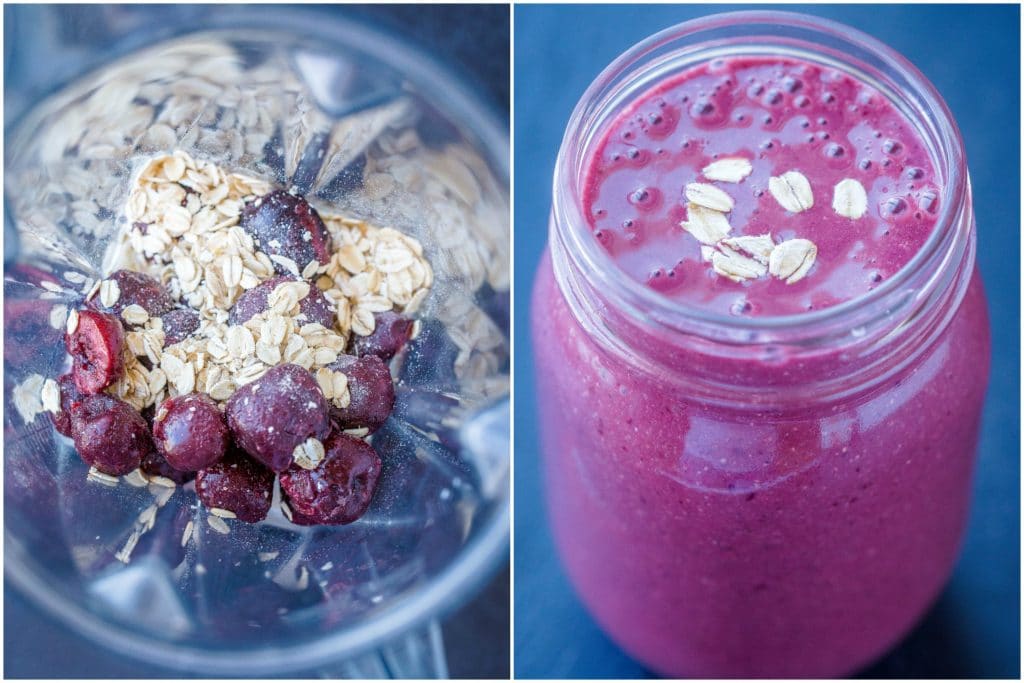 Cherry Beet Smoothie
This one may sound a little strange but beets are sweet and actually go really well with the cherries. The beets also give this smoothie its vibrant color. I like to use frozen cherries in mine.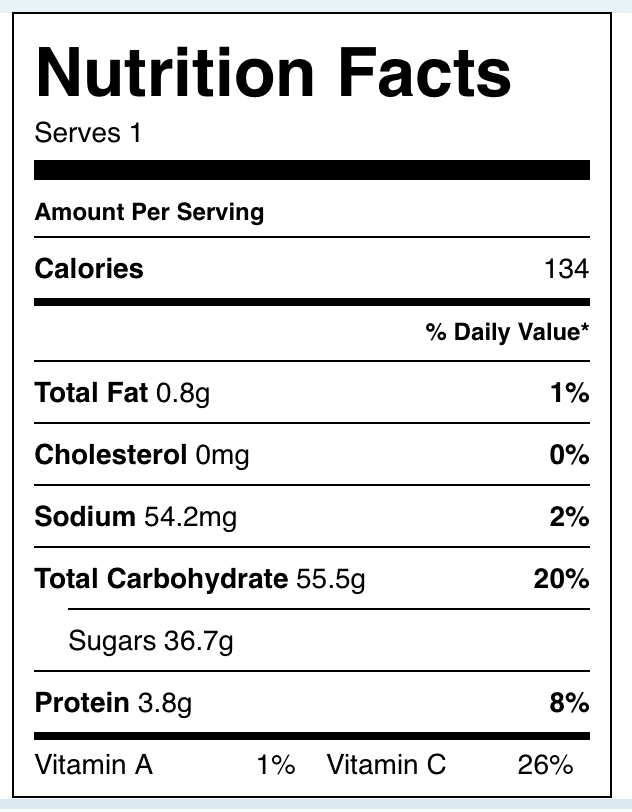 Healthy Smoothie Frequently Asked Questions
Are these smoothie recipes vegan? Yes! These are all vegan because I use a plant based milk.
Are these smoothie recipes gluten free? Yes, all of them contain gluten free ingredients.
My smoothie is too thick, what should I do? Simply add more liquid.
My smoothie is too runny, what should I do? Add in an extra banana or some yogurt.
Can I make the smoothie ahead of time? I wouldn't recommend making your smoothie too far in advance. They are really best when consumed right after making them.
Can I freeze my smoothie? Again, they really taste best when they are enjoyed immediately after making them. You could freeze it, but the consistency and possibly taste would be a little different than if fresh.
Have a question that I didn't answer? Ask me in the comment section below and I will get back to you ASAP!
Print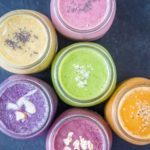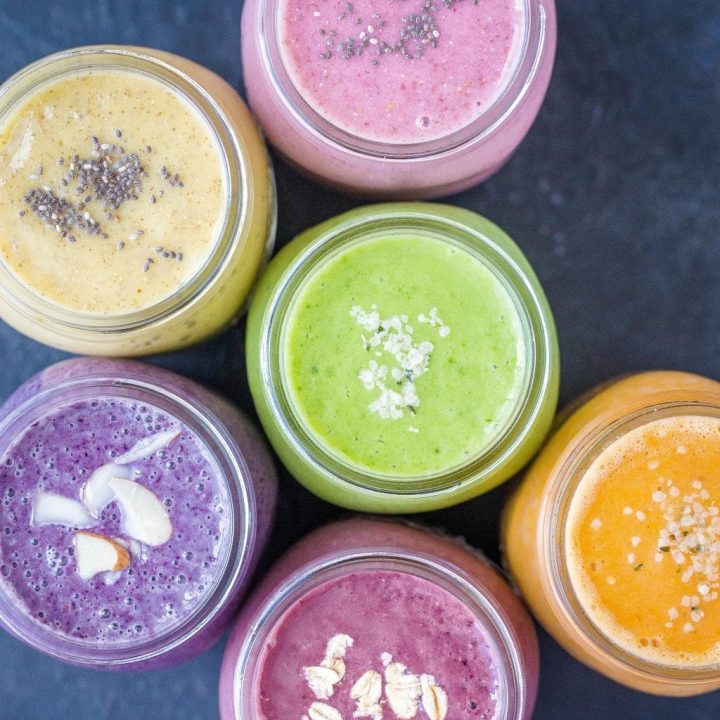 Healthy Smoothie Recipes
---
Author:

Total Time:

5 mins

Yield:

1

1

x

Diet:

Vegan
Description
These Healthy Smoothie Recipes are all super easy to make and the perfect way to start your day!
---
Strawberry Banana
1

banana

1 1/2 cups

frozen strawberries

1 tablespoon

chia seeds

3/4 cup

unsweetened almond milk
Orange Ginger Carrot
1

frozen banana, or regluar

1 cup

fresh orange slices

1/3 cup

grated carrot

1 tablespoon

hemp hearts

1/2 teaspoon

freshly grated ginger

1/2 cup

almond milk

1

handful ice cubes (optional)
Mango Pineapple
1

banana

1 cup

frozen mango slices

1 cup

frozen pineapple slices

1 tablespoon

chia seeds

1 cup

unsweetened almond milk
Kale Avocado Cucumber
1

banana

1/2 cup

curly kale

1/2 cup

peeled cucumber

1/4

medium sized avocado

1 tablespoon

hemp hearts

1

handful ice cubes
Lemon Blueberry
1

banana

1 1/2 cup

frozen blueberries

1/4 cup

old fashioned oats

1/2 teaspoon

lemon zest

1/2 tablespoon

lemon juice

1 tablespoons

sliced almonds (optional)

3/4 cups

unsweetened almond milk
Cherry Beet
1

banana

1 cup

frozen cherries

1/2 cup

cooked beets

1/4 cup

old fashioned oats

3/4 cup

unsweetened almond milk
---
Instructions
Add all ingredients to a high powered blender and blend until smooth, 30 seconds – 1 minute.  Poor into a glass and enjoy.
Notes
I prefer to use frozen fruit in my smoothies because it's convenient and gives my smoothies a nice thick texture, but you can use regular fruit instead.  If not using frozen fruit I would recommend adding in a handful of ice before blending.
You can choose to add in any extras you like to any of these smoothies.  You don't have to use hemp hearts in your smoothie just because that is what I used.
Prep Time:

5 mins

Cook Time:

0 mins

Category:

Smoothie, Drink

Method:

Blender

Cuisine:

American
Keywords: Healthy Smoothie Recipes