These Honey-Miso Summer Salad Bowls are packed with so many delicious flavors!  They're from the awesome Nourishing Superfood Bowls cookbook from Lindsay Cotter.
Happy Thursday!  Today I'm so excited to be sharing these Honey-Miso Summer Salad Bowls from my friend Lindsay's Cookbook!  If you're not familiar with Lindsay Cotter from Cotter CrunchCotter Crunch, you should definitely check out her recipes!
Lindsay has a degree in nutrition and specializes in sports nutrition and gluten free diets, so she really knows her stuff!  Her husband is former pro triathlete and all of these delicious bowls were inspired by needing to keep them both fueled as they went on their adventures together.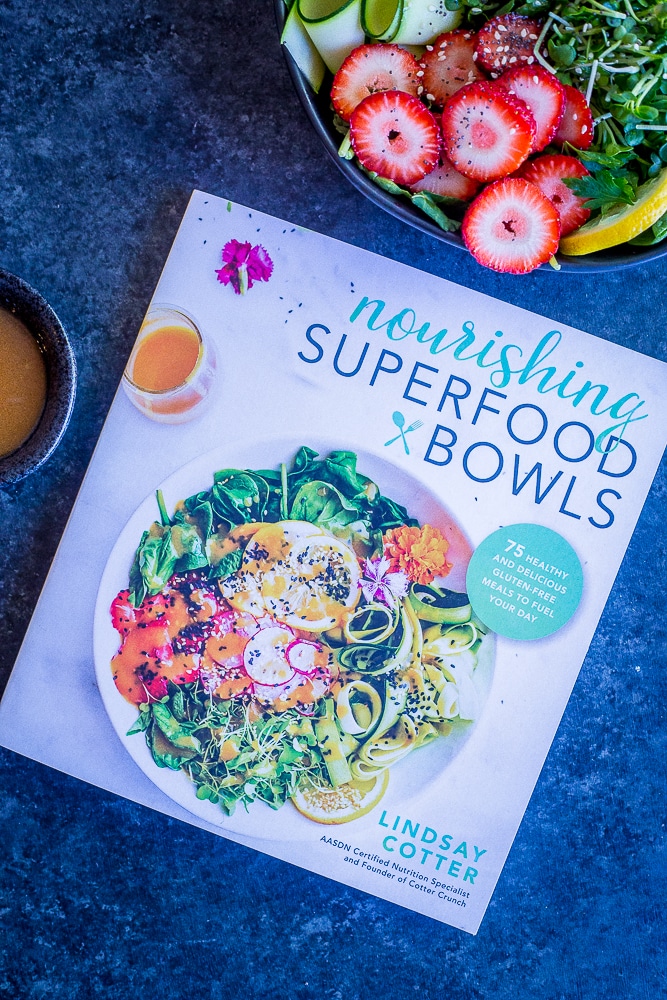 Nourishing Superfood Bowls includes breakfast bowls, lunch bowls, dinner bowls and dessert bowls so there is something for everyone.  While Lindsay isn't vegetarian or vegan she has lots of options for each and they all look amazing.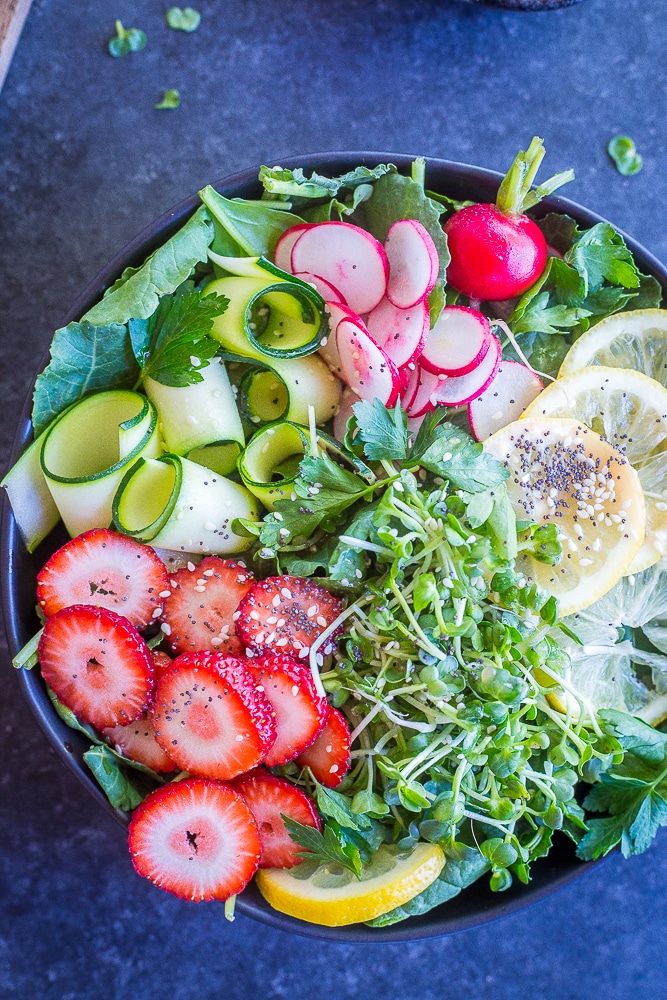 Big bowls of food that are filled with veggies and protein are one of my favorite ways to eat.  I've always been one of those people who mixes everything on their plate together because I love combining all the flavors.  These Superfood Bowls are perfect for that!
Lindsay combines so many great ingredients that are colorful and healthy.  I'm also really big on homemade dressings and she has tons that I can't wait to try! I especially love the Honey-Miso dressing on these Summer Salad Bowls.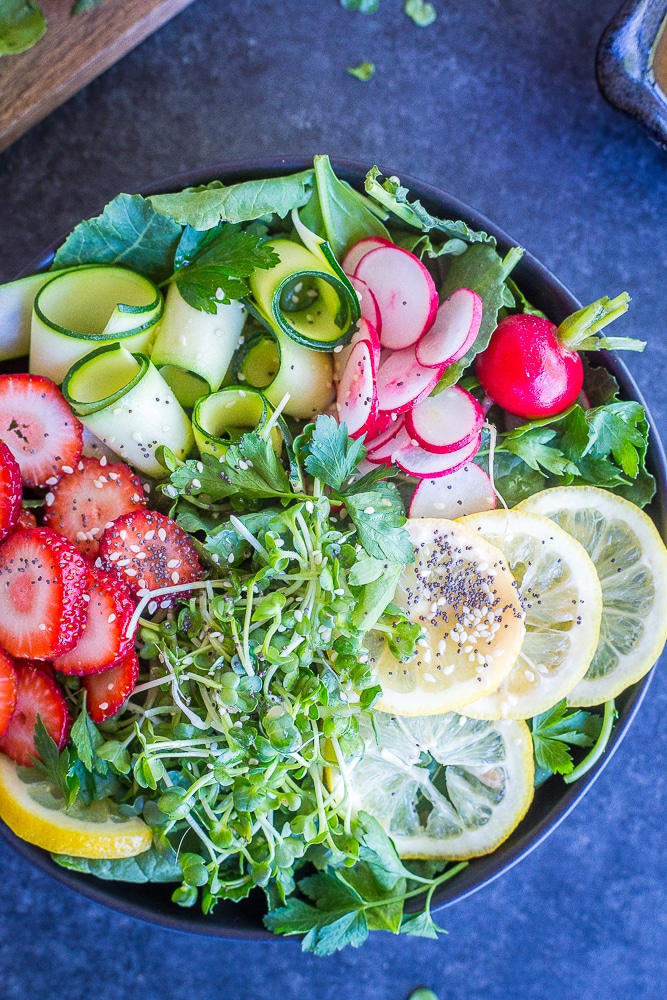 I chose to share these Honey-Miso Summer Salad Bowls with you today because they're so up my alley!  They're packed with veggies, strawberries, lemon and herbs.  They're light, fresh and so perfect for summertime (which it is feeling like here these days!).
I definitely recommend checking out Lindsay's book, especially if you love healthy delicious food that can be eaten together in a big nourishing bowl!  I can't wait to make more of her recipes :). You can find Nourishing Superfood Bowls here.
Print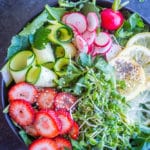 Honey-Miso Summer Salad Bowls
---
Description
A delicious and fresh summer salad packed with veggies and strawberries!
---
3 cups

spinach leaves

1

medium zucchini, shaved into thin slices

1 cup

broccoli, or alfalfa sprouts

1/2 cup

radishes, thinly sliced

1 cup

strawberries, sliced
Lemon slices, for garnish
Fresh basil, for garnish (I used parsley)
Black sesame seeds or toasted sesame seeds, for topping (I used poppy seeds because that's what I had)
Salt, to taste
Cracked black pepper, to taste
Honey-Miso Dressing:
3 tablespoons

white miso paste

3 tablespoons

sesame oil

1 teaspoon

mustard

1/4 cup

honey, or agave syrup

1 tablespoons

rice wine vinegar or red wine vinegar

1 tablespoon

lemon juice
---
Instructions
Place a steam basket in a medium pot and add an inch of water.  Place the spinach in the steamer, cover, bring to a boil and lightly steam the spinach leaves for 3-4 minutes.
In two serving bowls, arrange the steamed spinach zucchini, broccoli sprouts, radishes and strawberries.
To make the dressing, whisk together the white miso paste, sesame oil, mustard, agave, rice vinegar and lemon juice.  Drizzle 1-2 tablespoons of the dressing on top of each bowl.  Save the extra dressing for later use.  It keeps in the fridge for up to 5 days.
Add the lemon slices, fresh basil and sesame seeds for garnish, and season with salt and pepper to taste.
This post contains an affiliate link, thanks so much for supporting She Likes Food!
SaveSave
SaveSave
SaveSave
SaveSave
SaveSave